Abstract
Rationale
Although in a previous study we showed that caffeine and theobromine were the main psychopharmacologically active constituents in a 50-g bar of chocolate, mere activity does not guarantee a role in our liking for the food.
Objectives
Our aim was to see if liking for a drink repeatedly paired with these amounts of caffeine and theobromine would increase compared to a placebo-paired drink.
Methods
Participants (n=64) consumed a 'novel' drink + treatment capsule on six non-consecutive mornings using a double-blind, placebo-controlled independent-sample design. Aspects of liking and intensity of various sensory descriptors for these drinks were measured at every drink collection. Treatment capsules contained either an ecologically relevant dose combination of 19-mg caffeine and 250-mg theobromine or a placebo.
Results
Liking for the drink paired with the methylxanthine-containing capsules increased over time compared to the placebo-paired drink. This highly significant effect was confirmed by subjective, retrospective changes in liking for the drink.
Conclusions
Methylxanthines in amounts found in 50-g chocolate may well contribute to our liking for chocolate, especially to the more acquired taste for dark chocolate.
Access options
Buy single article
Instant access to the full article PDF.
USD 39.95
Price includes VAT (USA)
Tax calculation will be finalised during checkout.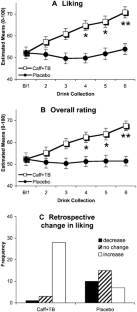 References
Czok G (1974) Zur Frage der biologischen Wirksamkeit von Methylxanthinen in Kakaoprodukten. Z Ernährwiss 13:165–171

De Houwer J, Thomas S, Baeyens F (2001) Associative learning of likes and dislikes: a review of 25 years of research on human evaluative conditioning. Psychol Bull 127:853–869

Desor JA, Maller O, Greene LS (1977) Preference for sweet in humans: infants, children, and adults. In: Weiffenbach JM (ed) Taste and development: the genesis of sweet preference. U.S. Dept. of Health, Education and Welfare, Bethesda, MD, USA, pp 161–172

Di Marzo V, Sepe N, De Petrocellis L, Berger A, Crozier G, Fride E, Mechoulam R (1998) Trick or treat from food endocannabinoids? Nature 396:636

Di Tomaso E, Beltramo M, Piomelli D (1996) Brain cannabinoids in chocolate. Nature 382(6593):677–678

Drewnowski A, Greenwood MR (1983) Cream and sugar: human preferences for high-fat foods. Physiol Behav 30:629–633

Drouillard DD, Vesell ES, Dvorchik BH (1978) Studies on theobromine disposition in normal subjects. Clin Pharmacol Ther 23:296–302

Fredholm BB, Lindström K (1999) Autoradiographic comparison of the potency of several structurally unrelated adenosine receptor antagonists at adenosine A1 and A2A receptors. Eur J Pharmacol 380:197–202

Gendall KA, Joyce PR, Sullivan PF (1997) Impact of definition on prevalence of food cravings in a random sample of young women. Appetite 28:63–72

Gibson EL, Desmond E (1999) Chocolate craving and hunger state: implications for the acquisition and expression of appetite and food choice. Appetite 32:219–240

Hamilton S (1992) Why the lady loves C6H5(CH2)2NH2. New Sci 132:26–28

Hill AJ, Heaton-Brown L (1994) The experience of food craving; a prospective investigation in healthy women. J Psychosom Res 38:801–814

James JE (1991) Caffeine and health. Academic Press, London

James JE (1997) Understanding caffeine: a biobehavioral analysis. Sage Publications Ltd, London

Levey AB, Martin I (1975) Classical conditioning of human "evaluation" responses. Behav Res Ther 13:221–226

Liebowitz MR, Klein DF (1979) Hysteroid dysphoria. Psychiatr Clin North Am 2:555–575

Lotshaw SC, Bradley JR, Brooks LR (1996) Illustrating caffeine's pharmacological and expectancy effects utilizing a balanced placebo design. J Drug Educ 26:13–24

MAFF (1998) Survey of caffeine and other methylxanthines in energy drinks and other caffeine-containing products (updated). Food Surveillance Information Sheet 144

Mela D (1992) The perception and acceptance of dietary fat: What, Who, Why? Tomorrow's Nutr 17(Suppl 1):74–86

Michener W, Rozin P (1994) Pharmacological versus sensory factors in the satiation of chocolate craving. Physiol Behav 56:419–422

Miners JO, Attwood J, Birkett DJ (1982) Theobromine metabolism in man. Drug Metab Dispos 10:672–675

Mumford GK, Evans SM, Kaminski BJ, Preston KL, Sannerud CA, Silverman K, Griffiths RR (1994) Discriminative stimulus and subjective effects of theobromine and caffeine in humans. Psychopharmacology 115:1–8

Pavlov IP (1928) Lectures on conditioned reflexes. Lawrence and Wishart, London

Persson CGA, Karlsson JA, Erjefalt I (1982) Differentiation between bronchodilation and universal adenosine antagonism among xanthine derivatives. Life Sci 30:2181–2189

Pliner P, Rozin P, Cooper M, Woody G (1985) Role of specific postingestional effects and medicinal context in the acquisition of liking for tastes. Appetite 6:243–252

Richardson NJ, Rogers PJ, Elliman NA (1996) Conditioned flavour preferences reinforced by caffeine consumed after lunch. Physiol Behav 60:257–263

Rodin J, Mancuso J, Granger J, Nelbach E (1991) Food cravings in relation to body mass index, restraint and estradiol levels: a repeated measures study in healthy women. Appetite 17:177–185

Rogers PJ, Dernoncourt C (1998) Regular caffeine consumption: a balance of adverse and beneficial effects for mood and psychomotor performance. Pharmacol Biochem Behav 59:1039–1045

Rogers PJ, Smit HJ (2000) Food craving and food "addiction": a critical review of the evidence from a biopsychosocial perspective. Pharmacol Biochem Behav 66:3–14

Rogers PJ, Richardson NJ, Elliman NA (1995) Overnight caffeine abstinence and negative reinforcement of preference for caffeine-containing drinks. Psychopharmacology 120:457–462

Rogers PJ, Martin J, Smith C, Heatherley SV, Smit HJ (2003) Absence of reinforcing, mood and psychomotor performance effects of caffeine in habitual non-consumers of caffeine. Psychopharmacology 167:54–62

Rozin P, Levine E, Stoess C (1991) Chocolate craving and liking. Appetite 17:199–212

Rozin P, Wrzesniewski A, Byrnes D (1998) The elusiveness of evaluative conditioning. Learn Motiv 29:397–415

Schlich P (1993) Uses of change-over designs and repeated measurements in sensory and consumer studies. Food Qual Prefer 4:223–235

Scholey AB, Chandler C, Wesnes K (2000) Interactions between actual and informed caffeine content on subsequent cognitive performance. Proc Br Psychol Soc 8:45

Smit HJ, Blackburn RJ (2004) The role of methylxanthines in the liking for chocolate. Appetite 43:119

Smit HJ, Rogers PJ (2000) Effects of low doses of caffeine on cognitive performance, mood and thirst in low and higher caffeine consumers. Psychopharmacology 152:167–173

Smit HJ, Rogers PJ (2001) Potentially psychoactive constituents of cocoa-containing products. In: Hetherington MM (ed) Food cravings and addiction. Leatherhead Food RA Publishing, Leatherhead, pp 325–349

Smit HJ, Rogers PJ (2002a) Effects of 'energy' drinks on mood and mental performance: critical methodology. Food Qual Prefer 13:317–326

Smit HJ, Rogers PJ (2002b) Effects of caffeine on mood. Pharmacopsychoecologia 15:231–258

Smit HJ, Gaffan EA, Rogers PJ (2004) Methylxanthines are the psycho-pharmacologically active constituents of chocolate. Psychopharmacology 176:412–419

Stavric B (1988) Methylxanthines: toxicity to humans. 3. Theobromine, paraxanthine and the combined effects of methylxanthines. Food Chem Toxicol 26:725–733

Steiner JE (1977) Facial expressions of the neonate infant indicating the hedonics of food-related chemical stimuli. In: Weiffenbach JM (ed) Taste and development: the genesis of sweet preference. U.S. Dept. of Health, Education and Welfare, Bethesda, MD, USA, pp 173–189

Tarka SM Jr, Arnaud MJ, Dvorchik BH, Vesell ES (1983) Theobromine kinetics and metabolic disposition. Clin Pharmacol Ther 34:546–555

Yeomans MR, Spetch H, Rogers PJ (1998) Conditioned flavour preference negatively reinforced by caffeine in human volunteers. Psychopharmacology 137:401–409

Yeomans MR, Jackson A, Lee MD, Steer B, Tinley E, Durlach P, Rogers PJ (2000) Acquisition and extinction of flavour preferences conditioned by caffeine in humans. Appetite 35:131–141
Acknowledgements
A summary of these results was presented as a poster at the annual meeting of the British Feeding and Drinking Group in Bristol, UK, on 25–26 March 2004 (Smit and Blackburn 2004). The authors would like to thank Capsugel and FMC for donating the relevant materials for this study.
About this article
Cite this article
Smit, H.J., Blackburn, R.J. Reinforcing effects of caffeine and theobromine as found in chocolate. Psychopharmacology 181, 101–106 (2005). https://doi.org/10.1007/s00213-005-2209-3
Received:

Accepted:

Published:

Issue Date:
Keywords
Chocolate

Cocoa

Caffeine

Theobromine

Flavour preference conditioning