Abstract
Rationale
Kava-kava extract may be useful as an herbal medicine for treatment of insomnia and anxiety.
Objectives
The present study was undertaken to investigate the effects of kava-kava extract on the sleep–wake cycle in comparison with that of flunitrazepam using sleep-disturbed rats.
Methods
Electrodes for measurement of electroencephalogram (EEG) and electromyogram (EMG) were implanted into the frontal cortex and the dorsal neck muscle of rats. EEG and EMG were recorded with an electroencephalogram. SleepSign ver.2.0 was used for EEG and EMG analysis. Total times of wakefulness, non-rapid eye movement (non-REM) and REM sleep were measured from 09:00 to 15:00.
Results
A significant shortening of the sleep latency in sleep-disturbed rats was observed following the administration of kava-kava extract at a dose of 300 mg/kg, while no effects were observed on the total waking and non-REM sleep time. On the other hand, flunitrazepam showed a significant shortening in sleep latency, decrease in total waking time and increase in total non-REM sleep time. Although the effects of flunitrazepam were antagonized by the benzodiazepine receptor antagonist flumazenil, the effect of kava-kava extract was not antagonized by flumazenil. Kava-kava extract showed a significant increase in delta activity during non-REM sleep in sleep-disturbed rats, whereas a significant decrease in delta power during non-REM sleep was observed with flunitrazepam. Flumazenil caused no significant effect on the changes in delta activity induced by both kava-kava extract and flunitrazepam.
Conclusions
Kava-kava extract is an herbal medicine having not only hypnotic effects, but also sleep quality-enhancement effects.
This is a preview of subscription content,
to check access.
Access this article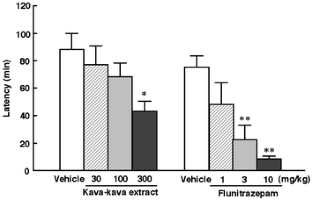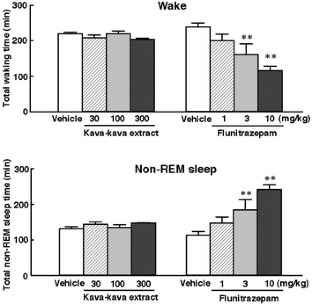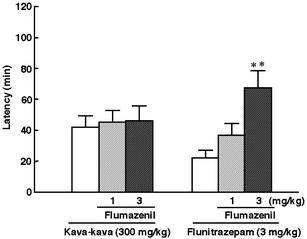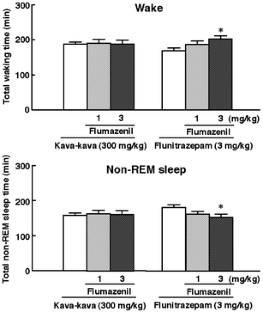 Similar content being viewed by others
References
Aeschbach D, Cajochen C, Tobler I, Dijk D-J, Borbély AA (1994) Sleep in a sitting position: effect of triazolam on sleep stages and EEG power spectra. Psychopharmacology 114:209–214

Ashton H (1994) Guidelines for the rational use of benzodiazepines; when and what to use. Drugs 48:25–40

Boonen G, Häberlein H (1998) Influence of genuine kavapyrone enantiomers on the GABAA binding site. Planta Med 64:504–506

Borbély AA, Åkerstedt T, Benoit O, Holsboer F, Oswald I (1991) Hypnotics and sleep physiology: a consensus report. Eur Arch Psychiatry Clin Neurosci 241:13–21

Faulhaber J, Steiger A, Lancel M (1997) The GABAA agonist THIP produces slow wave sleep and reduces spindling activity in NREM sleep in humans. Psychopharmacology 130:285–291

Freeman HL (1996) Is there a need for a pure hypnotic? Approaches to the co-diagnosis of insomnia and anxiety. J Drug Dev Clin Pract 7:289–302

Frey VR (1991) The central effects of d,l-kawain in EEG-brain-mapping. Fortschr Med 109:53–56

Gaillard J-M, Blois R (1989) Differential effects of flunitrazepam on human sleep in combination with flumazenil. Sleep 12:120–132

Garrett KM, Basmadjian G, Khan IA, Schaneberg BT, Seale TW (2003) Extracts of kava (Piper methysticum) induce acute anxiolytic-like behavioral changes in mice. Psychopharmacology 170:33–41

Gyllenhaal C, Merritt SL, Peterson SD, Block KI, Gochenour T (1999) Efficacy and safety of herbal stimulants and sedatives in sleep disorders. Sleep Med Rev 4:229–251

Huang Z-L, Qu W-M, Li W-D, Mochizuki T, Eguchi N, Watanabe T, Urade Y, Hayaishi O (2001) Arousal effect of orexin A depends on activation of the histaminergic system. Proc Natl Acad Sci U S A 98:9965–9970

Jamieson DD, Duffield PH, Cheng D, Duffield AM (1989) Comparison of the central nervous system activity of the aqueous and lipid extract of kava (Piper methysticum). Arch Int Pharmacodyn 301:66–80

Jussofie A, Schmiz A, Hiemke C (1994) Kavapyrone enriched extract from Piper methysticum as modulator of the GABA binding site in different regions of rat brain. Psychopharmacology 116:469–474

Lancel M, Crönlein TAM, Müller-Preuß P, Holsboer F (1994) Pregnenolone enhances EEG delta activity during non-rapid eye movement sleep in the rat, in contrast to midazolam. Brain Res 646:85–94

Lancel M, Crönlein TAM, Faulhaber J (1996) Role of GABAA receptors in sleep regulation; differential effects of muscimol and midazolam on sleep in rats. Neuropsychopharmacology 15:63–74

Parrino L, Terzano MG (1996) Polysomnographic effects of hypnotic drugs. Psychopharmacology 126:1–16

Paxinos G, Watson C (1986) The rat brain in stereotaxic coordinates, 2nd edn. Academic, San Diego

Quera-Salva MA, Orluc A, Goldenberg F, Guilleminault C (1991) Insomnia and use of hypnotics: study of a French population. Sleep 14:386–391

Shigemoto Y, Shinomiya K, Mio M, Azuma N, Kamei C (2004) Effects of second-generation histamine H1 receptor antagonists on the sleep–wakefulness cycle in rats. Eur J Pharmacol 494:161–165

Shinomiya K, Shigemoto Y, Okuma C, Mio M, Kamei C (2003) Effects of short-acting hypnotics on sleep latency in rats placed on grid suspended over water. Eur J Pharmacol 460:139–144

Shinomiya K, Shigemoto Y, Omichi J, Utsu Y, Mio M, Kamei C (2004) Effects of three hypnotics on the sleep–wakefulness cycle in sleep-disturbed rats. Psychopharmacology 173:203–209

Singh YN (1992) Kava: an overview. J Ethnopharmacol 37:13–45

Smith KK, Dharmaratne HRW, Feltenstein MW, Broom SL, Roach JT, Nanayakkara NPD, Khan IA, Sufka KJ (2001) Anxiolytic effects of kava extract and kavalactones in the chick social separation-stress paradigm. Psychopharmacology 155:86–90

Weyerer S, Dilling H (1991) Prevalence and treatment of insomnia in the community: results from the upper Bavarian field study. Sleep 14:392–398

Wheatley D (2001) Kava and valerian in the treatment of stress-induced insomnia. Phytother Res 15:549–551
About this article
Cite this article
Shinomiya, K., Inoue, T., Utsu, Y. et al. Effects of kava-kava extract on the sleep–wake cycle in sleep-disturbed rats. Psychopharmacology 180, 564–569 (2005). https://doi.org/10.1007/s00213-005-2196-4
Received:

Accepted:

Published:

Issue Date:

DOI: https://doi.org/10.1007/s00213-005-2196-4
Keywords