Abstract
Rationale
Excessive use of cannabis may have long-term effects on cognitive abilities. Mild impairments have been found in several cognitive domains, particularly in memory and attention. It is not clear, however, whether these effects also occur with moderate, recreational use of cannabis. Furthermore, little is known about underlying brain correlates.
Objectives
The aim of this study is to assess brain function in frequent but relatively moderate cannabis users in the domains of working memory and selective attention.
Methods
Functional magnetic resonance imaging was used to examine verbal working memory and visuo-auditory selective attention in ten frequent cannabis users (after 1 week of abstinence) and ten non-using healthy controls. Groups were similar in age, gender and estimated IQ.
Results
Cannabis users and controls performed equally well during the working memory task and the selective attention task. Furthermore, cannabis users did not differ from controls in terms of overall patterns of brain activity in the regions involved in these cognitive functions. However, for working memory, a more specific region-of-interest analysis showed that, in comparison to the controls, cannabis users displayed a significant alteration in brain activity in the left superior parietal cortex.
Conclusion
No evidence was found for long-term deficits in working memory and selective attention in frequent cannabis users after 1 week of abstinence. Nonetheless, frequent cannabis use may affect brain function, as indicated by altered neurophysiological dynamics in the left superior parietal cortex during working memory processing.
Access options
Buy single article
Instant access to the full article PDF.
USD 39.95
Price excludes VAT (USA)
Tax calculation will be finalised during checkout.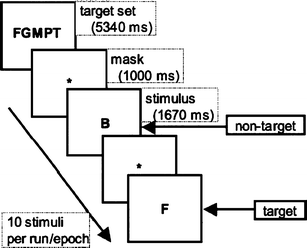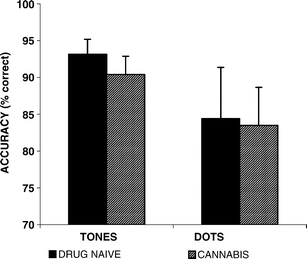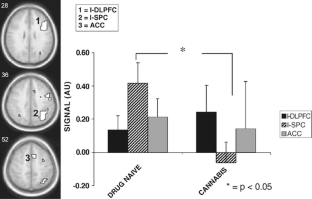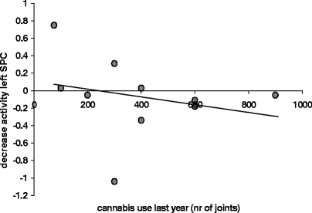 References
Block RI, Ghoneim MM (1993) Effects of chronic marijuana use on human cognition. Psychopharmacology 110:219–228

Bolla KI, Eldreth DA, Matochik JA, Cadet JL (2005) Neural substrates of faulty decision-making in abstinent marijuana users. Neuroimage 26:480–492

Cabeza R, Nyberg L (2000) Imaging cognition II: an empirical review of 275 PET and fMRI studies. J Cogn Neurosci 12:1–47

Callicott JH, Bertolino A, Mattay VS, Langheim FJ, Duyn J, Coppola R, Goldberg TE, Weinberger DR (2000) Physiological dysfunction of the dorsolateral prefrontal cortex in schizophrenia revisited. Cereb Cortex 10:1078–1092

Collins DL, Neelin P, Peters TM, Evans AC (1994) Automatic 3D intersubject registration of MR volumetric data in standardized Talairach space. J Comput Assist Tomogr 18:192–205

Curran HV, Brignell C, Fletcher S, Middleton P, Henry J (2002) Cognitive and subjective dose–response effects of acute oral Delta 9-tetrahydrocannabinol (THC) in infrequent cannabis users. Psychopharmacology 164:61–70

D'Esposito M, Detre JA, Alsop DC, Shin RK, Atlas S, Grossman M (1995) The neural basis of the central executive system of working memory. Nature 378:279–281

D'Esposito M, Aguirre GK, Zarahn E, Ballard D, Shin RK, Lease J (1998) Functional MRI studies of spatial and nonspatial working memory. Brain Res Cogn Brain Res 7:1–13

De Win MML, Jager G, Vervaeke H, Schilt T, Reneman L, Booij J, Verhulst FC, Den Heeten GJ, Ramsey NF, Korf DJ, Van den Brink W (2005) The Netherlands XTC Toxicity (NeXT) Study. Objectives and methods of a study investigating causality, course and clinical relevance. Int J Methods Psychiatr Res 14:167–185

Ehrenreich H, Rinn T, Kunert HJ, Moeller MR, Poser W, Schilling L, Gigerenzer G, Hoehe MR (1999) Specific attentional dysfunction in adults following early start of cannabis use. Psychopharmacology 142:295–301

Eldreth DA, Matochik JA, Cadet JL, Bolla KI (2004) Abnormal brain activity in prefrontal brain regions in abstinent marijuana users. Neuroimage 23:914–920

Fan J, Posner M (2004) Human attentional networks. Psychiatr Prax 31(Suppl 2):S210–S214

Fletcher JM, Page JB, Francis DJ, Copeland K, Naus MJ, Davis CM, Morris R, Krauskopf D, Satz P (1996) Cognitive correlates of long-term cannabis use in Costa Rican men. Arch Gen Psychiatry 53:1051–1057

Funahashi S (2001) Neuronal mechanisms of executive control by the prefrontal cortex. Neurosci Res 39:147–165

Gorter RW, Butorac M, Cobian EP, van der Sluis SW (2005) Medical use of cannabis in the Netherlands. Neurology 64:917–919

Grant I, Gonzalez R, Carey CL, Natarajan L, Wolfson T (2003) Non-acute (residual) neurocognitive effects of cannabis use: a meta-analytic study. J Int Neuropsychol Soc 9:679–689

Hall W, Solowij N (1998) Adverse effects of cannabis. Lancet 352:1611–1616

Hall W, Christie M, Currow D (2005) Cannabinoids and cancer: causation, remediation, and palliation. Lancet Oncol 6:35–42

Jacobsen LK, Mencl WE, Westerveld M, Pugh KR (2004) Impact of cannabis use on brain function in adolescents. Ann N Y Acad Sci 1021:384–390

Jansma JM, Ramsey NF, Slagter HA, Kahn RS (2001) Functional anatomical correlates of controlled and automatic processing. J Cogn Neurosci 13:730–743

Jansma JM, Ramsey NF, van der Wee NJ, Kahn RS (2004) Working memory capacity in schizophrenia: a parametric fMRI study. Schizophr Res 68:159–171

Jonides J, Schumacher EH, Smith EE, Koeppe RA, Awh E, Reuter-Lorenz PA, Marshuetz C, Willis CR (1998) The role of parietal cortex in verbal working memory. J Neurosci 18:5026–5034

Kanayama G, Rogowska J, Pope HG, Gruber SA, Yurgelun-Todd DA (2004) Spatial working memory in heavy cannabis users: a functional magnetic resonance imaging study. Psychopharmacology (Berl) 176:239–247

O'Leary DS, Block RI, Turner BM, Koeppel J, Magnotta VA, Ponto LB, Watkins GL, Hichwa RD, Andreasen NC (2003) Marijuana alters the human cerebellar clock. Neuroreport 14:1145–1151

National Household Survey on Drug Abuse: The NHSDA Report (2003) Characteristics of new marijuana users. Substance Abuse & Mental Health Services Administration, Rockville, MD

Passingham RE (1996) Attention to action. Philos Trans R Soc Lond B Biol Sci 351:1473–1479

Pertwee RG (2002) Cannabinoids and multiple sclerosis. Pharmacol Ther 95:165–174

Pope HG Jr, Gruber AJ, Yurgelun-Todd D (1995) The residual neuropsychological effects of cannabis: the current status of research. Drug Alcohol Depend 38:25–34

Pope HG Jr, Gruber AJ, Yurgelun-Todd D (2001a) Residual neuropsychological effects of cannabis. Curr Psychiatry Rep 3:507–512

Pope HG Jr, Gruber AJ, Hudson JI, Huestis MA, Yurgelun-Todd D (2001b) Neuropsychological performance in long-term cannabis users. Arch Gen Psychiatry 58:909–915

Pope HG Jr, Gruber AJ, Hudson JI, Huestis MA, Yurgelun-Todd D (2002) Cognitive measures in long-term cannabis users. J Clin Pharmacol 42:41S–47S

Pope HG Jr, Gruber AJ, Hudson JI, Cohane G, Huestis MA, Yurgelun-Todd D (2003) Early-onset cannabis use and cognitive deficits: what is the nature of the association? Drug Alcohol Depend 69:303–310

Ramsey NF, van den Brink JS, van Muiswinkel AM, Folkers PJ, Moonen CT, Jansma JM, Kahn RS (1998) Phase navigator correction in 3D fMRI improves detection of brain activation: quantitative assessment with a graded motor activation procedure. Neuroimage 8:240–248

Ramsey NF, Jansma JM, Jager G, van Raalten T, Kahn RS (2004) Neurophysiological factors in human information processing capacity. Brain 127:517–525

Saffran EM, Marin OS (1975) Immediate memory for word lists and sentences in a patient with deficient auditory short-term memory. Brain Lang 2:420–433

Smith EE, Jonides J (1997) Working memory: a view from neuroimaging. Cognit Psychol 33:5–42

Solowij N, Stephens RS, Roffman RA, Babor T, Kadden R, Miller M, Christiansen K, McRee B, Vendetti J (2002) Cognitive functioning of long-term heavy cannabis users seeking treatment. JAMA 287:1123–1131

The Netherlands National Drug Monitor—Annual Report (2003) Trimbos Institute, Utrecht, The Netherlands

Van Vliet IM, Leroy H, Van Megen HGJM (2000) M.I.N.I Internationaal Neuropsychiatrisch Interview. Nederlandse Versie 5.0.0

Warrington EK, Logue V, Pratt RT (1971) The anatomical localisation of selective impairment of auditory verbal short-term memory. Neuropsychologia 9:377–387

Wood S (2004) Evidence for using cannabis and cannabinoids to manage pain. Nurs Times 100:38–40

Worsley KJ, Friston KJ (1995) Analysis of fMRI time-series revisited-again. Neuroimage 2:173–181
Acknowledgements
This research was supported by a grant of The Netherlands Organisation for Health Research and Development as part of their Addiction Program (ZonMW 310-00-036). The study was performed with approval of the Ethics Committee from the University Medical Center Utrecht.
We thank Maartje de Win, Hylke Vervaeke, Mieke Deenen and Judith Bosman for their assistance with subject recruitment and data collection.
About this article
Cite this article
Jager, G., Kahn, R.S., Van Den Brink, W. et al. Long-term effects of frequent cannabis use on working memory and attention: an fMRI study. Psychopharmacology 185, 358–368 (2006). https://doi.org/10.1007/s00213-005-0298-7
Received:

Accepted:

Published:

Issue Date:

DOI: https://doi.org/10.1007/s00213-005-0298-7
Keywords