Abstract
Rationale
Little is known about acute effects of alcohol on memory encoding and retrieval on different limbs (ascending and descending) of the blood alcohol concentration (BAC) curve.
Objectives
This extensive experiment was designed to examine alcohol's effects on memory encoding and retrieval throughout a protracted drinking episode.
Methods
In a 9-h session, male participants consumed either alcohol (1 ml/kg) or placebo (n=32/32) over a period of 90 min and learned various materials in different memory tasks before, during, and after consuming the drinks, while their BAC levels were monitored. A week later, in a similar session, they were tested on learned materials before, during, and after drinking. Mood was assessed throughout both sessions.
Results
Alcohol impaired recall of words more than recognition, and cued recall most severely. Perceptual priming and picture recognition were not affected by alcohol. Alcohol impaired encoding in cued recall, recognition of completed word fragments, and free recall regardless of limb, but impaired retrieval in word recognition only during the ascending BAC. Alcohol increased negative mood on the descending limb during the first session, and on the ascending limb during the second session.
Conclusions
Under naturalistic drinking conditions, alcohol's effects on memory depend on task, memory process, and limb of the BAC curve. The differential effects of alcohol on retrieval during the ascending and descending limbs demonstrate the importance of examining the differential effects on the two limbs.
Access options
Buy single article
Instant access to the full article PDF.
USD 39.95
Price includes VAT (USA)
Tax calculation will be finalised during checkout.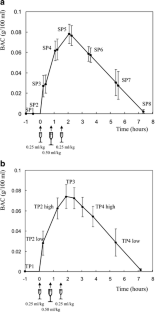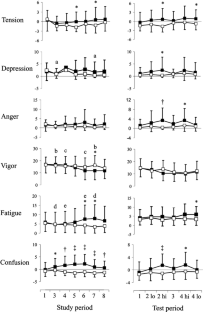 References
Assefi SL, Garry M (2003) Absolut memory distortions: alcohol placebos influence the misinformation effect. Psychol Sci 14:77–80

Babor TF, Berglas S, Mendelson JH, Ellingboe J, Miller K (1983) Alcohol, affect, and the disinhibition of verbal behavior. Psychopharmacology 80:53–60

Battig WF, Montague WE (1969) Category norms for verbal items in 56 categories. A replication and extension of the Connecticut category norms. J Exp Psychol Mon 80:1–46

Bennett RH, Cherek DR, Spiga R (1993) Acute and chronic alcohol tolerance in humans: effects of dose and consecutive days of exposure. Alcohol Clin Exp Res 17:740–745

Birnbaum IM, Parker ES, Hartley JT, Noble EP (1978) Alcohol and memory: retrieval processes. J Verbal Learn Verbal Behav 17:325–335

Connors G, Maisto S (1980) Effects of alcohol, instructions, and consumption rate on motor performance. J Stud Alcohol 41:509–517

Conrod PJ, Peterson JB, Pihl RO, Mankowski S (1997) Biphasic effects of alcohol on heart rate are influenced by alcoholic family history and rate of alcohol ingestion. Alcohol Clin Exp Res 21:140–149

Curran HV, Hildebrandt M (1999) Dissociative effects of alcohol on recollective experience. Conscious Cogn 8:497–509

Duka T, Weissenborn R, Dienes Z (2001) State-dependent effects of alcohol on recollective experience, familiarity and awareness of memories. Psychopharmacology 153:295–306

Earleywine M, Martin CS (1993) Anticipated stimulant and sedative effects of alcohol vary with dosage and limb of the blood alcohol curve. Alcohol Clin Exp Res 17:135–139

Eckardt MJ, File SE, Gessa GL, Grant KA, Guerri C, Hoffman PL, Kalant H, Koob GF, Li TK, Tabakoff B (1998) Effects of moderate alcohol consumption on the central nervous system. Alcohol Clin Exp Res 22:998–1040

Erblich J, Earleywine M (2003) Behavioral undercontrol and subjective stimulant and sedative effects of alcohol intoxication: independent predictors of drinking habits? Alcohol Clin Exp Res 27:44–50

Fillmore MT, Carscadden JL, Vogel-Sprott M (1998) Alcohol, cognitive impairment and expectancies. J Stud Alcohol 62:174–179

Fillmore MT, Vogel-Sprott M, Gavrilescu D (1999) Alcohol effects on intentional behavior: dissociating controlled and automatic influences. Exp Clin Psychopharmacol 7:372–378

Fillmore MT, Dixon MJ, Schweizer TA (2000) Differential effects of alcohol on responses to negatively and positively primed stimuli. J Stud Alcohol 61:872–880

Giancola PR, Zeichner A (1997) The biphasic effects of alcohol on human physical aggression. J Abnorm Psychol 106:598–607

Givens B (2000) Septohippocampal pathway as a site for the memory-impairing effects of ethanol. Hippocampus 10:111–121

Givens B, McMahon K (1995) Ethanol suppresses the induction of long-term potentiation in vivo. Brain Res 688:27–33

Goodwin DW, Powell B, Bremer D, Hoine H, Stern J (1969) Alcohol and recall: state-dependent effects in man. Science 163:1358–1360

Grilly DM (1998) Drugs and human behavior, 3rd edn. Allyn and Bacon, Needham Heights, Massachusetts

Hartley JT, Birnbaum I, Parker ES (1978) Alcohol and storage deficits: kind of processing? J Verbal Learn Verbal Behav 17:635–647

Hartocollis P, Johnson DM (1956) Differential effects of alcohol on verbal fluency. Q J Stud Alcohol 17:183–189

Hashtroudi S, Parker ES, DeLisi LE, Wyatt RJ, Mutter SA (1984) Intact retention in acute alcohol amnesia. J Exp Psychol Learn Mem Cogn 10:156–163

Hayman CAG, MacDonald CA, Tulving E (1993) The role of repetition and associative interference in new semantic learning in amnesia—a case experiment. J Cogn Neurosci 5:375–389

Hiltunen AJ (1997) Acute alcohol tolerance in cognitive and psychomotor performance: influence of the alcohol dose and prior alcohol experience. Alcohol 14:125–130

Holdstock L, de Wit H (1998) Individual differences in the biphasic effects of ethanol. Alcohol Clin Exp Res 22:1903–1911

Hull JG, Bond CF Jr (1986) Social and behavioral consequences of alcohol consumption and expectancy: a meta-analysis. Psychol Bull 99:347–360

Hurst PM, Bagley SK (1972) Acute adaptation to the effects of alcohol. Q J Stud Alcohol 33:358–378

Ilan AB, Gevins A (2001) Prolonged neurophysiological effects of cumulative wine drinking. Alcohol 25:137–152

Jones BM (1973) Memory impairment on the ascending and descending limbs of the blood alcohol curve. J Abnorm Psychol 82:24–32

Jones BM, Vega A (1972) Cognitive performance measured on the ascending and descending limbs of the blood alcohol curve. Psychopharmacology 23:99–114

King A, Houle T, de Wit H, Holdstock L, Schuster A (2002) Biphasic alcohol response differs in heavy versus light drinkers. Alcohol Clin Exp Res 26:827–835

Kvavilashvili L, Ellis JA (1999) The effects of positive and negative placebos on human memory performances. Memory 7:421–437

Lepage M, Habib R, Tulving E (1998) Hippocampal PET activations of memory encoding and retrieval: the HIPER model. Hippocampus 8:313–322

Lukas SE, Mendelson JH, Benedikt RA, Jones B (1986) EEG alpha activity increases during transient episodes of ethanol-induced euphoria. Pharmacol Biochem Behav 25:889–995

Lukas SE, Mendelson JH, Kouri E, Bolduc M, Amass L (1990) Ethanol-induced alterations in EEG alpha activity and apparent source of the auditory P300 evoked response potential. Alcohol 7:471–477

Marczinski CA, Fillmore MT (2005) Compensating for alcohol-induced impairment of control: effects on inhibition and activation of behavior. Psychopharmacology (in press)

Marlatt GA, Rohsenow D (1980) Cognitive processes in alcohol use: expectancy and the balanced placebo design. In: Mello NK (ed) Advances in substance abuse. J.A.I. Press, Greenwich

Maylor EA, Rabbitt PM, Kingstone A (1987) Effects of alcohol on word categorization and recognition memory. Br J Psychol 78:233–239

McNair DM, Lorr M, Droppleman LF (1971) Profile of mood states. Educational and Industrial Testing Services, San Diego

Mellanby E (1919) Alcohol: its absorption into and disappearance from the blood under different conditions. Special report Series no. 31. National Research Council, London

Miller ME, Adesso VJ, Fleming JP, Gino A, Lauerman R (1978) Effects of alcohol on the storage and retrieval processes of heavy social drinkers. J Exp Psychol Hum Learn 4:246–255

Moskowitz H, Daily J, Henderson R (1979) The Mellanby effect in moderate and heavy drinkers. In: Johnston IR (ed) Alcohol, drugs and traffic safety. Australian Government Publishing Service, Canberra, pp 184–189

Mumenthaler MS, Taylor JL, O'Hara R, Yesavage JA (1999) Gender differences in moderate drinking effects. Alcohol Res Health 23:55–64

Nagoshi CT, Noll RT, Wood MD (1992) Alcohol expectancies and behavioral and emotional responses to placebo versus alcohol. Alcohol Clin Exp Res 16:255–260

Nelson TO, McSpadden M, Fromme K, Marlatt GA (1986) Effects of alcohol intoxication on metamemory and on retrieval from long-term memory. J Exp Psychol Gen 115:247–254

Nicholson ME, Wang M, Airhihenbuwa CO, Mahoney BS, Christina R, Maney DW (1992) Variability in behavioral impairment involved in the rising and falling BAC curve. J Stud Alcohol 53:349–356

Nilsson LG, Bäckman L, Karlsson T (1989) Priming and cued recall in elderly, alcohol intoxicated and sleep deprived subjects: a case of functionally similar memory deficits. Psychol Med 19:423–433

Papineau KL, Roehrs TA, Petrucelli N, Rosenthal LD, Roth T (1998) Electrophysiological assessment (The Multiple Sleep Latency Test) of the biphasic effects of ethanol in humans. Alcohol Clin Exp Res 22:231–235

Parker ES, Birnbaum IM, Noble EP (1976) Alcohol and memory: storage and state dependency. J Verbal Learn Verbal Behav 15:691–702

Parker ES, Birnbaum IM, Weingartner H, Hartley JT, Stillman RC, Wyatt RJ (1980) Retrograde enhancement of human memory with alcohol. Psychopharmacology 69:219–222

Parker ES, Morihisa JM, Wyatt RJ, Schwartz BL, Weingartner H, Stillman RC (1981) The alcohol facilitation effect on memory: a dose-response study. Psychopharmacology 74:88–92

Petersen RC (1977) Retrieval failures in alcohol state-dependent learning. Psychopharmacology 55:141–146

Picton TW (1992) The P300 wave of the human event-related potential. J Clin Neurophysiol 9:456–479

Pihl RO, Paylan SS, Gentes-Hawn A, Hoaken PN (2003) Alcohol affects executive cognitive functioning differentially on the ascending versus descending limb of the blood alcohol concentration curve. Alcohol Clin Exp Res 27:773–779

Pishkin V, Lawrence BE, Bourne LE Jr (1983) Cognitive and electrophysiologic parameters during ascending and descending limbs of the blood alcohol curve. Alcohol Clin Exp Res 7:76–82

Ray S, Bates ME, Ely BM (2004) Alcohol's dissociation of implicit and explicit memory processes: implications of a parallel distributed processing model of semantic priming. Exp Clin Psychopharmacol 12:118–125

Rimm DC, Sininger RA, Faherty JD, Whitley MD, Perl MB (1982) A balanced placebo investigation of the effects of alcohol vs. alcohol expectancy on simulated driving behavior. Addict Behav 7:27–32

Salinsky MC, Storzbach D, Dodrill CB, Binder LM (2001) Test-retest bias, reliability, and regression equations for neuropsychological measures repeated over a 12–16-week period. J Int Neuropsychol Soc 7:597–605

Schacter DL (1994) Priming and multiple memory systems: perceptual mechanisms of implicit memory. In: Schacter DL, Tulving A (eds) Memory systems 1994. MIT Press, Cambridge, pp 233–268

Schreckenberger M, Amberg R, Scheurich A, Lochmann M, Tichy W, Klega A, Siessmeier T, Grunder G, Buchholz HG, Landvogt C, Stauss J, Mann K, Bartenstein P, Urban R (2004) Acute alcohol effects on neuronal and attentional processing: striatal reward system and inhibitory sensory interactions under acute ethanol challenge. Neuropsychopharmacology 29:1527–1537

Shipley WC (1940) A self-administering scale for measuring intellectual impairment and deterioration. J Psychol 9:371–377

Sinclair JG, Lo GF (1986) Ethanol blocks tetanic and calcium-induced long-term potentiation in the hippocampal slice. Gen Pharmacol 17:231–233

Snodgrass JG, Feenan K (1990) Priming effects in picture fragment completion: support for the perceptual closure hypothesis. J Exp Psychol Gen 119:276–296

Sutker PB, Tabakoff B, Goist KC Jr, Randall CL (1983) Acute alcohol intoxication, mood states and alcohol metabolism in women and men. Pharmacol Biochem Behav 18:349–354

Tracy JI, Bates ME (1999) The selective effects of alcohol on automatic and effortful memory processes. Neuropsychology 13:282–290

Tulving E (1972) Episodic and semantic memory. In: Tulving E, Donaldson W (eds) Organization of memory. Academic, New York, pp 381–403

Tulving E (1981) Similarity relations in recognition. J Verbal Learn Verbal Behav 20:479–496

Tulving E (1983) Elements of episodic memory. Clarendon, Oxford

Tulving E, Watkins OC (1977) Recognition failure of words with a single meaning. Mem Cogn 5:513–522

Tulving E, Kapur S, Craik FI, Moscovitch M, Houle S (1994) Hemispheric encoding/retrieval asymmetry in episodic memory: positron emission tomography findings. Proc Natl Acad Sci U S A 15:2016–2020

Wendt PE, Risberg J (2001) Ethanol reduces rCFB activation of left dorsolateral prefrontal cortex during a verbal fluency task. Brain Lang 77:197–215

White AM (2000) Ethanol, memory, and hippocampal function: a review of recent findings. Hippocampus 10:88–93

Zachary RA (1986) Shipley institute of living scale, revised manual. Western Psychological Services, Los Angeles
Acknowledgements
Endel Tulving's research is supported by the Natural Sciences and Engineering Research Council of Canada and by an endowment by Anne and Max Tanenbaum in support of research in cognitive neuroscience. Data collection was supported by the National Institute on Alcohol Abuse and Alcoholism.
About this article
Cite this article
Söderlund, H., Parker, E.S., Schwartz, B.L. et al. Memory encoding and retrieval on the ascending and descending limbs of the blood alcohol concentration curve. Psychopharmacology 182, 305–317 (2005). https://doi.org/10.1007/s00213-005-0096-2
Received:

Accepted:

Published:

Issue Date:
Keywords
Alcohol

Memory

Encoding

Retrieval

Mood

Ascending

Descending

Limb