Abstract
Rationale
Since two recent meta-analyses on sleep changes associated with placebo in clinical trials suggested a beneficial effect of placebo treatments, pointing to a dissociation between subjective and objective measures of sleep, the current experiment was directly aimed to assess the effects of an inert compound, administered with the suggestion that it was a hypnotic substance in subjects with mild sleep complaints.
Objectives
The aim of this study was to compare subjective, behavioral, polysomnographic (PSG), and quantitative electroencephalographic (EEG) changes during a night preceded or not by the intake of two 50-mg lactose capsules.
Methods
Ten female students, selected by the Pittsburgh Sleep Quality Index, slept for three consecutive nights in a sleep laboratory, with the experimental (EXP) night defined by the administration of two 50-mg lactose pills. Self-ratings of sleep quality and performance were assessed upon morning awakening of baseline (BSL) and EXP nights.
Results
The EXP nights were self-rated as more restful and characterized by a decreased number of nocturnal awakenings than the BSL nights. PSG measures showed that wakefulness after sleep onset significantly decreased during the EXP night as compared to the BSL night. The EXP nights also showed an increase of 0.5–4.0 Hz power during nonrapid eye movement sleep and a decrease of EEG activity in the beta frequency range during rapid eye movement sleep only at central brain sites. A specific improvement of behavioral measures was also found upon morning awakening after the EXP night compared to the BSL night.
Conclusions
The administration of an inert pill improves both the subjective and objective quality of sleep. The reduced sleep fragmentation and the effects on some quantitative EEG markers of sleep homeostasis suggest that the experimental manipulation induced coherent changes in the subsequent sleep, resembling an enhancement of sleep pressure. The regional differences of EEG activity suggest the involvement of a specific physiological mechanism distinct from that of effective treatments.
Access options
Buy single article
Instant access to the full article PDF.
US$ 39.95
Tax calculation will be finalised during checkout.
Subscribe to journal
Immediate online access to all issues from 2019. Subscription will auto renew annually.
US$ 119
Tax calculation will be finalised during checkout.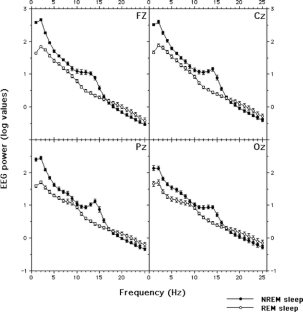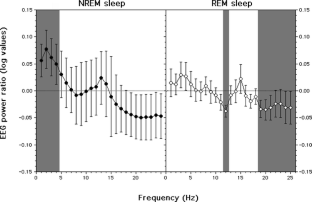 Notes
1.

Actually, the length of sleep [weekdays, 415.4±38.5 min; weekends, 424.1±89.8 min; F(1,9)=0.09; p=0.76] and the time of sleep onset [weekdays, 12:02 a.m. ±63.9 min; weekends, 12.32 a.m. ±60.7 min; F(1,9)=2.44; p=0.15] were not different during weekdays vs weekends.
References
Aeschbach D, Dijk DJ, Trachsel L, Brunner DP, Borbely AA (1994) Dynamics of slow-wave activity and spindle frequency activity in the human sleep EEG. Effect of midazolam and zopiclone. Neuropsychopharmacology 11:237–244

American Sleep Disorders Association (ASDA) and Sleep Research Society (1992) Atlas Task Force report EEG arousals: scoring rules and examples. Sleep 15:173–184

Borbely AA, Mattmann P, Loepfe M, Strauch I, Lehmann D (1985) Effect of benzodiazepine hypnotics on all-night sleep EEG spectra. Hum Neurobiol 4:189–194

Brunner DP, Dijk DJ, Munch M, Borbely AA (1991) Effect of zolpidem on sleep and sleep EEG spectra in healthy young men. Psychopharmacology 104:1–5

Buysse DJ, Reynolds CF, Monk TH, Berman SR, Kupfer DJ (1989) The Pittsburgh Sleep Quality Index: a new instrument for psychiatric practice and research. Psychiatry Res 28:193–213

Carr-Kaffashan L, Woolfolk RL (1979) Active and placebo effects in treatment of moderate and severe insomnia. J Consult Clin Psychol 47:1072–1080

Casagrande M, Violani C, Curcio G, Bertini M (1997) Assessing vigilance through a brief pencil and paper Letter Cancellation Task (LCT): effects of one night of sleep deprivation and of the time of day. Ergonomics 40:613–630

Cervena K, Dauvilliers Y, Espa F, Touchon J, Matousek M, Billiard M, Besset A (2004) Effect of cognitive behavioural therapy for insomnia on sleep architecture and sleep EEG power spectra in psychophysiological insomnia. J Sleep Res 13:385–393

Cook IA, Leuchter AF, Morgan M, Witte E, Stubbeman WF, Abrams M, Rosenberg S, Uijtdehaage SH (2002) Early changes in prefrontal activity characterize clinical responders to antidepressants. Neuropsychopharmacology 27:120–131

De Gennaro L, Ferrara M, Bertini M (2001) EEG arousals in normal sleep: variations induced by total and selective slow-wave sleep deprivation. Sleep 24:673–679

De Gennaro L, Ferrara M, Cristiani R, Curcio G, Martiradonna V, Bertini M (2003) Alexithymia and dream recall upon spontaneous morning awakening. Psychosom Med 65:301–306

De Gennaro L, Martina M, Ferrara M, Curcio G, Cristiani R (2004) The relationship between alexithymia, depression and sleep complaints. Psychiatry Res 128:253–258

De Valck E, Cluydts R, Pirrera S (2004) Effect of cognitive arousal on sleep latency, somatic and cortical arousal following partial sleep deprivation. J Sleep Res 13:295–304

Dijk DJ, Beersma DGM, Daan S, van den Hoofdakker RH (1989) Effects of seganserin, a 5-HT2 antagonist, and temazepam on human sleep stages and EEG power spectra. Eur J Pharmacol 171:207–218

Dinges DF, Orne EC, Evans FJ, Orne MT (1981) Performance after naps in sleep-conductive and alerting environments. In: Jonson L, Tepas D, Colquhoun W, Colligon M (eds) Biological rhythms, sleep and shift work, advances in sleep research, Vol 7. Spectrum, New York pp 539–551

Ferrara M, De Gennaro L, Curcio G, Cristiani R, Corvasce C, Bertini M (2002) Regional differences of the human sleep electroencephalogram in response to selective slow-wave sleep deprivation. Cereb Cortex 12:737–748

Finelli LA, Borbely AA, Achermann P (2001) Functional topography of the human nonREM sleep electroencephalogram. Eur J Neurosci 13:2282–2290

Hall M, Buysse DJ, Nowell PD, Nofzinger EA, Houck P, Reynolds CF, Kupfer DJ (2000) Symptoms of stress and depression as correlates of sleep in primary insomnia. Psychosom Med 62:227–230

Hrobjartsson A, Gotzsche PC (2001) Is the placebo powerless? An analysis of clinical trials comparing placebo with no treatment. N Engl J Med 344:1594–1602

Kecklund G, Akerstedt T (2004) Apprehension of the subsequent working day is associated with a low amount of slow wave sleep. Biol Psychol 66:169–176

Krystal AD, Edinger JD, Wohlgemuth WK, Marsh GR (2002) NREM sleep EEG frequency spectral correlates of sleep complaints in primary insomnia subtypes. Sleep 25:630–640

Landolt HP, Finelli LA, Roth C, Buck A, Achermann P, Borbely AA (2000) Zolpidem and sleep deprivation: different effect on EEG power spectra. J Sleep Res 9:175–183

Leuchter AF, Cook IA, Witte EA, Morgan M, Abrams M (2002) Changes in brain function of depressed subjects during treatment with placebo. Am J Psychiatry 159:122–129

Leuchter AF, Morgan M, Cook IA, Dunkin J, Abrams M, Witte E (2004) Pretreatment neurophysiological and clinical characteristics of placebo responders in treatment trials for major depression. Psychopharmacology 177:15–22

Mathur R, Douglas NJ (1995) Frequency of EEG arousals from nocturnal sleep in normal subjects. Sleep 18:330–333

Mayberg HS, Silva AJ, Brannan SK, Tekell JL, Mahurin RK, McGinnis S, Jerabek PA (2002) The functional neuroanatomy of the placebo effect. Am J Psychiatry 159:728–737

McCall WV, D'Agostino R Jr, Dunn A (2003) A meta-analysis of sleep changes associated with placebo in hypnotic clinical trials. Sleep Med 4:57–62

Nowell PD, Mazumdar S, Buysse DJ, Dew MA, Reynolds CF III, Kupfer DJ (1997) Benzodiazepines and zolpidem for chronic insomnia: a meta-analysis of treatment efficacy. JAMA 278:2170–2177

Perlis ML, Smith MT, Andrews PJ, Orff H, Giles DE (2001) Beta/Gamma EEG activity in patients with primary and secondary insomnia and good sleepers control. Sleep 24:110–117

Petrovic P, Kalso E, Petersson KM, Ingvar M (2002) Placebo and opioid analgesia: imaging a shared neuronal network. Science 295:1737–1740

Price NJ, Rogers NL, Fox CG, Szuba MP, Van Dongen HP, Dinges DF (2002) Sleep physiology following 88 h total sleep deprivation: effects of recovery sleep duration. Sleep 25(Suppl):A92–A93

Quitkin FM (1999) Placebos, drug effects, and study design: a clinician's guide. Am J Psychiatry 156:829–836

Rechtschaffen A, Kales A (1968) A manual of standardized terminology, techniques and scoring system for sleep stages of human subjects. UCLA Brain Information Service, Los Angeles

Shapiro AK, Shapiro E (1997) The powerful placebo: from ancient priest to modern physician. Johns Hopkins University Press, Baltimore

Smith MT, Perlis ML, Park A, Smith MS, Pennington J, Giles DE, Buysse DJ (2002) Comparative meta-analysis of pharmacotherapy and behavior therapy for persistent insomnia. Am J Psychiatry 159:5–11

Steinmark SW, Borkovec TD (1974) Active and placebo treatment effects on moderate insomnia under counterdemand and positive demand instructions. J Abnorm Psychol 83:157–163

Trachsel L, Dijk DJ, Brunner DP, Klene C, Borbely AA (1990) Effect of zopiclone and midazolam on sleep and EEG spectra in a phase-advanced sleep schedule. Neuropsychopharmacology 3:11–18

Walsh JK, Roth T, Randazzo A, Erman M, Jamieson A, Scharf M, Schweitzer PK, Ware JC (2000) Eight weeks of non-nightly use of zolpidem for primary insomnia. Sleep 23:1087–1096
About this article
Cite this article
Fratello, F., Curcio, G., Ferrara, M. et al. Can an inert sleeping pill affect sleep? Effects on polysomnographic, behavioral and subjective measures. Psychopharmacology 181, 761–770 (2005). https://doi.org/10.1007/s00213-005-0035-2
Received:

Accepted:

Published:

Issue Date:
Keywords
Placebo effect

Polysomnography

Sleep continuity

Behavioral measures

Subjective measures

Pittsburgh Sleep Quality Index (PSQI)