Abstract
Rationale
Liking, cravings and addiction for chocolate ("chocoholism") are often explained through the presence of pharmacologically active compounds. However, mere "presence" does not guarantee psycho-activity.
Objectives
Two double-blind, placebo-controlled studies measured the effects on cognitive performance and mood of the amounts of cocoa powder and methylxanthines found in a 50 g bar of dark chocolate.
Methods
In study 1, participants (n=20) completed a test battery once before and twice after treatment administration. Treatments included 11.6 g cocoa powder and a caffeine and theobromine combination (19 and 250 mg, respectively). Study 2 (n=22) comprised three post-treatment test batteries and investigated the effects of "milk" and "dark" chocolate levels of these methylxanthines. The test battery consisted of a long duration simple reaction time task, a rapid visual information processing task, and a mood questionnaire.
Results
Identical improvements on the mood construct "energetic arousal" and cognitive function were found for cocoa powder and the caffeine+theobromine combination versus placebo. In chocolate, both "milk chocolate" and "dark chocolate" methylxanthine doses improved cognitive function compared with "white chocolate". The effects of white chocolate did not differ significantly from those of water.
Conclusions
A normal portion of chocolate exhibits psychopharmacological activity. The identical profile of effects exerted by cocoa powder and its methylxanthine constituents shows this activity to be confined to the combination of caffeine and theobromine. Methylxanthines may contribute to the popularity of chocolate; however, other attributes are probably much more important in determining chocolate's special appeal and in explaining related self-reports of chocolate cravings and "chocoholism".
Access options
Buy single article
Instant access to the full article PDF.
US$ 39.95
Tax calculation will be finalised during checkout.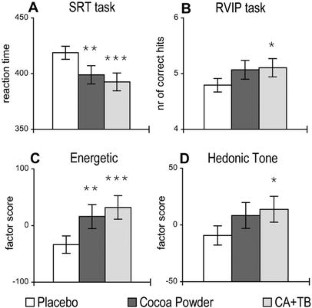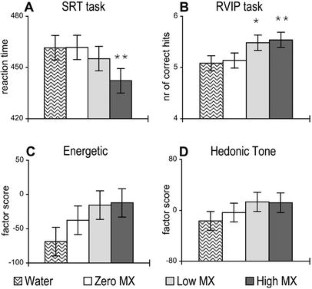 References
Barone JJ, Roberts H (1984) Human consumption of caffeine. In: Dews PB (ed) Caffeine: perspectives from recent research. Springer-Verlag, Berlin, pp 59–73

Coe SD, Coe MD (1996) The true history of chocolate. Thames and Hudson Ltd, London

Czok G (1974) Zur Frage der biologischen Wirksamkeit von Methylxanthinen in Kakaoprodukten. Zeitschrift Ernährungswissenschaft 13:165–171

Di Marzo V, Sepe N, De Petrocellis L, Berger A, Crozier G, Fride E, Mechoulam R (1998) Trick or treat from food endocannabinoids? Nature 396:636

Drewnowski A, Greenwood MR (1983) Cream and sugar: human preferences for high-fat foods. Physiol Behav 30:629–633

Drewnowski A, Krahn DD, Demitrack MA, Nairn K, Gosnell BA (1992) Taste responses and preferences for sweet high-fat foods: evidence for opioid involvement. Physiol Behav 51:371–379

Drouillard DD, Vesell ES, Dvorchik BH (1978) Studies on theobromine disposition in normal subjects. Clin Pharmacol Ther 23:296–302

Fredholm BB, Lindström K (1999) Autoradiographic comparison of the potency of several structurally unrelated adenosine receptor antagonists at adenosine A1 and A2A receptors. Eur J Pharmacol 380:197–202

Fredholm BB, Bättig K, Holmén J, Nehlig A, Zvartau EE (1999) Actions of caffeine in the brain with special reference to factors that contribute to its widespread use. Pharmacol Rev 51:83–133

Gibson EL, Desmond E (1999) Chocolate craving and hunger state: implications for the acquisition and expression of appetite and food choice. Appetite 32:219–240

Hamilton S (1992) Why the lady loves C6H5(CH2)2NH2. New Scientist 132:26–28

James A (1990) The good, the bad and the delicious: the role of confectionery in British society. Sociol Rev 38:666–688

James JE (1991) Caffeine and health. Academic, London

Landau SI (1986) International dictionary of medicine and biology. Wiley, New York

Liebowitz MR, Klein DF (1979) Hysteroid dysphoria. Psychiatr Clin N Am 2:555–575

Lloyd HM, Green MW, Rogers PJ (1994) Mood and cognitive performance effects of isocaloric lunches differing in fat and carbohydrate content. Physiol Behav 56:51–56

Lorr M, McNair DM (1988) Profile of mood states Bi-polar form. Educational and Industrial Testing Service, San Diego

MacDiarmid JI, Hetherington MM (1995) Mood modulation by food: an exploration of affect and cravings in "chocolate addicts". Br J Clin Psychol 34:129–138

MAFF (1998) Survey of caffeine and other methylxanthines in energy drinks and other caffeine-containing products (updated). Food Surveillance Information Sheet 144

Merck (1996) The Merck Index: an encyclopedia of chemicals, drugs, and biologicals, 12th edn. Merck & Co., Inc., Whitehouse Station, N.J.

Michener W, Rozin P (1994) Pharmacological versus sensory factors in the satiation of chocolate craving. Physiol Behav 56:419–422

Mumford GK, Evans SM, Kaminski BJ, Preston KL, Sannerud CA, Silverman K, Griffiths RR (1994) Discriminative stimulus and subjective effects of theobromine and caffeine in humans. Psychopharmacology 115:1–8

Mumford GK, Benowitz NL, Evans SM, Kaminski BJ, Preston KL, Sannerud CA, Silverman K, Griffiths RR (1996) Absorption rate of methylxanthines following capsules, cola and chocolate. Eur J Clin Pharmacol 51:319–325

Reynolds JEF (ed) (1993) Martindale: the extra pharmacopoeia. Pharmaceutical Press, London

Rogers PJ (1994) Mechanisms of moreishness and food craving. In: Warburton DM (ed) Pleasure, the politics and the reality. Wiley, Chichester, pp 38–49

Rogers PJ, Dernoncourt C (1998) Regular caffeine consumption: a balance of adverse and beneficial effects for mood and psychomotor performance. Pharmacol Biochem Behav 59:1039–1045

Rogers PJ, Smit HJ (2000) Food craving and food "addiction": a critical review of the evidence from a biopsychosocial perspective. Pharmacol Biochem Behav 66:3–14

Rogers PJ, Martin J, Smith C, Heatherley SV, Smit HJ (2003) Absence of reinforcing, mood and psychomotor performance effects of caffeine in habitual non-consumers of caffeine. Psychopharmacology 167:54–62

Rozin P (1987) Sweetness, sensuality, sin, safety and socialization: some speculations. In: Dobbing J (ed) Sweetness. Springer-Verlag, London, pp 99–111

Rozin P, Levine E, Stoess C (1991) Chocolate craving and liking. Appetite 17:199–212

Smit HJ, Rogers PJ (2000) Effects of low doses of caffeine on cognitive performance, mood and thirst in low and higher caffeine consumers. Psychopharmacology 152:167–173

Smit HJ, Rogers PJ (2001) Potentially psychoactive constituents of cocoa-containing products. In: Hetherington MM (ed) Food cravings and addiction. Leatherhead Food RA Publishing, Leatherhead, pp 325–349

Smit HJ, Rogers PJ (2002a) Effects of "energy" drinks on mood and mental performance: critical methodology. Food Qual Pref 13:317–326

Smit HJ, Rogers PJ (2002b) Effects of caffeine on mood. Pharmacopsychoecologia 15:231–258

Stavric B (1988) Methylxanthines: toxicity to humans. 3. Theobromine, paraxanthine and the combined effects of methylxanthines. Food Chem Toxicol 26:725–733

Tarka SMJ (1982) The toxicology of cocoa and methylxanthines: a review of the literature. CRC Crit Rev Toxicol 9:275–312

Thayer RE (1989) The biopsychology of mood and arousal. Oxford University Press, New York

Tomaso Ed, Beltramo M, Piomelli D (1996) Brain cannabinoids in chocolate. Nature 382:677–678

Wakeling IN, MacFie HJH (1995) Designing consumer trials balanced for first and higher orders of carry-over effect when only a subset of k samples from t may be tested. Food Qual Pref 6:299–308
Acknowledgement
H.J.S. was supported by a grant from Reading Scientific Services Ltd, Reading, UK.
About this article
Cite this article
Smit, H.J., Gaffan, E.A. & Rogers, P.J. Methylxanthines are the psycho-pharmacologically active constituents of chocolate. Psychopharmacology 176, 412–419 (2004). https://doi.org/10.1007/s00213-004-1898-3
Received:

Accepted:

Published:

Issue Date:
Keywords
Chocolate

Cocoa

Caffeine

Theobromine

Mood

Performance