Abstract
Rationale
Many neuropsychological studies have documented deficits in working memory among recent heavy cannabis users. However, little is known about the effects of cannabis on brain activity.
Objective
We assessed brain function among recent heavy cannabis users while they performed a working memory task.
Methods
Functional magnetic resonance imaging was used to examine brain activity in 12 long-term heavy cannabis users, 6–36 h after last use, and in 10 control subjects while they performed a spatial working memory task. Regional brain activation was analyzed and compared using statistical parametric mapping techniques.
Results
Compared with controls, cannabis users exhibited increased activation of brain regions typically used for spatial working memory tasks (such as prefrontal cortex and anterior cingulate). Users also recruited additional regions not typically used for spatial working memory (such as regions in the basal ganglia). These findings remained essentially unchanged when re-analyzed using subjects' ages as a covariate. Brain activation showed little or no significant correlation with subjects' years of education, verbal IQ, lifetime episodes of cannabis use, or urinary cannabinoid levels at the time of scanning.
Conclusions
Recent cannabis users displayed greater and more widespread brain activation than normal subjects when attempting to perform a spatial working memory task. This observation suggests that recent cannabis users may experience subtle neurophysiological deficits, and that they compensate for these deficits by "working harder"—calling upon additional brain regions to meet the demands of the task.
Access options
Buy single article
Instant access to the full article PDF.
US$ 39.95
Tax calculation will be finalised during checkout.
Subscribe to journal
Immediate online access to all issues from 2019. Subscription will auto renew annually.
US$ 119
Tax calculation will be finalised during checkout.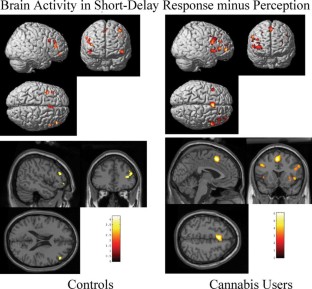 References
American Psychiatric Association (1994) Diagnostic and statistical manual of mental disorders, 4th edn. American Psychiatric Association, Washington

Baker SC, Frith CD, Frackowiak RS, Dolan RJ (1996) Active representation of shape and spatial location in man. Cereb Cortex 4:612–619

Block RI, Ghoneim MM (1993) Effects of chronic marijuana use on human cognition. Psychopharmacology 110:219–228

Bolla KI, Brown K, Eldreth D, Tate K, Cadet JL (2002) Dose-related neurocognitive effects of marijuana use. Neurology 59:1337–1343

Braver TS, Cohen JD, Nystrom LE, Jonides J, Smith EE, Noll DC (1997) A parametric study of prefrontal cortex involvement in human working memory. Neuroimage 5:49–62

Calhoun VD, Adali T, McGinty VB, Pekar JJ, Watson TD, Pearlson GD (2001) fMRI activation in a visual-perception task: network of areas detected using the general linear model and independent components analysis. Neuroimage 14:1080–1088

Corbetta M, Miezin FM, Dobmeyer S, Shulman GL, Petersen SE (1991) Selective and divided attention during visual discriminations of shape, color, and speed: functional anatomy by positron emission tomography. J Neurosci 8:2383–2402

Courtney SM, Ungerleider LG, Keil K, Haxby JV (1997) Transient and sustained activity in a distributed neural system for human working memory. Nature 386:608–611

Courtney SM, Petit L, Maisog JM, Ungerleider LG, Haxby JV (1998) An area specialized for spatial working memory in human frontal cortex. Science 279:1347–1351

Desmond JE, Chen SH, DeRosa E, Pryor MR, Pfefferbaum A, Sullivan EV (2003) Increased frontocerebellar activation in alcoholics during verbal working memory: an fMRI study. Neuroimage 19:1510–1520

D'Esposito M, Detre JA, Alsop DC, Shin RK, Atlas S, Grossman M (1995) The neural basis of the central executive system of working memory. Nature 378:279–281

D'Esposito M, Aguirre GK, Zarahn E, Ballard D, Shin RK, Lease J (1998) Functional MRI studies of spatial and nonspatial working memory. Cogn Brain Res 7:1–13

D'Esposito M, Postle BR, Ballard D, Lease J (1999) Maintenance versus manipulation of information held in working memory: an event-related fMRI study. Brain Cogn 41:66–86

Ernst T, Chang L, Jovicich J, Ames N, Arnold S (2002) Abnormal brain activation on functional MRI in cognitively asymptomatic HIV patients. Neurology 59:1343–1349

First MB, Spitzer RL, Gibbon M, Williams JBW (1996) Structured clinical interview for DSM-IV axis I disorders. Biometrics Research Department, New York State Psychiatric Institute, New York

Fletcher JM, Page JB, Francis DJ, Copeland K, Naus MJ, Davis CM, Morris R, Krauskopf D, Satz P (1996) Cognitive correlates of long-term cannabis use in Costa Rican men. Arch Gen Psychiatry 53:1051–1057

Friston KJ, Ashburner J, Poline JB, Frith CD, Heather JD, Frackowiak RSJ (1995a) Spatial registration and normalization of images. Hum Brain Mapp 2:165–189

Friston KJ, Holmes AP, Worsley KJ, Poline JP, Frith CD, Frackowiak RSJ (1995b) Statistical parametric maps in functional imaging: a general linear approach. Hum Brain Mapp 2:189–210

Goldman-Rakic PS (1995) Cellular basis of working memory. Neuron 14:477–485

Gruber SA, Rogowska J, Holcomb P, Soraci S, Yurgelun-Todd DA (2002) Stroop performance in normal control subjects: an fMRI study. Neuroimage 16:349–360

Jonides J, Smith EE, Koeppe RA, Awh E, Minoshima S, Mintun MA (1993) Spatial working memory in humans as revealed by PET. Nature 363:623–625

Loeber RT, Yurgelun-Todd D (1999) Human neuroimaging of acute and chronic marijuana use: implications for frontocerebellar dysfunction. Hum Psychopharmacol Clin Exp 14:291–304

Luks T, Simpson G, Feiwell R, Miller W (2002) Evidence for anterior cingulate cortex involvement in monitoring preparatory attentional set. Neuroimage 17:792–802

Mathew RJ, Wilson WH, Tant SR (1989) Acute changes in cerebral blood flow associated with marijuana smoking. Acta Psychiatr Scand 79:118–128

Mathew RJ, Wilson WH, Humphreys DF, Lowe JV, Wiethe KE (1992) Regional cerebral blood flow after marijuana smoking. J Cereb Blood Flow Metab 12:750–758

Mathew RJ, Wilson WH, Coleman RE, Turkington TG, DeGrado TR (1997) Marijuana intoxication and brain activation in marijuana smokers. Life Sci 60:2075–2089

Munk MH, Linden DE, Muckli L, Lanfermann H, Zanella FE, Singer W, Goebel R (2002) Distributed cortical systems in visual short-term memory revealed by event-related functional magnetic resonance imaging. Cereb Cortex 12:866–876

O'Leary DS, Block RI, Flaum M, Schultz SK, Boles Ponto LL, Watkins GL, Hurtig RR, Andreasen NC, Hichwa RD (2000) Acute marijuana effects on rCBF and cognition: a PET study. Neuroreport 11:3835–3841

O'Leary DS, Block RI, Koeppel JA, Flaum M, Schultz SK, Andreasen NC, Boles Ponto LL, Watkins GL, Hurtig RR, Hichwa RD (2002) Effects of smoking marijuana on brain perfusion and cognition. Neuropsychopharmacology 26:802–816

O'Leary DS, Block RI, Turner BM, Koeppel J, Magnotta VA, Ponto LB, Watkins GL, Hichwa RD, Andreasen NC (2003) Marijuana alters the human cerebellar clock. Neuroreport 14:1145–1151

Pfefferbaum A, Desmond JE, Galloway C, Menon V, Glover GH, Sullivan EV (2001) Reorganization of frontal systems used by alcoholics for spatial working memory: an fMRI study. Neuroimage 14:7–20

Pope HG Jr, Yurgelun-Todd DA (1996) The residual cognitive effects of heavy marijuana use in college students. JAMA 275:521–527

Pope HG Jr, Gruber AJ, Hudson JI, Huestis MA, Yurgelun-Todd DA (2001) Neuropsychological performance in long-term cannabis users. Arch Gen Psychiatry 58:909–915

Posner MI, Petersen SE (1990) The attention system of the human brain. Annu Rev Neurosci 13:25–42

Rowe JB, Passingham RE (2001) Working memory for location and time: activity in prefrontal area 46 relates to selection rather than maintenance in memory. Neuroimage 14:77–86

Rowe JB, Toni I, Josephs O, Frackowiak RS, Passingham RE (2000) The prefrontal cortex: response selection or maintenance within working memory? Science 288:1656–1660

Solowij N, Stephens RS, Roffman RA, Babor T, Kadden R, Miller M, Christiansen K, McRee B, Vendetti J (2002) Cognitive functioning of long-term heavy cannabis users seeking treatment. JAMA 287:1123–1131

Smith EE, Jonides J (1999) Storage and executive processes in the frontal lobes. Science 283:1657–1661

Smith EE, Jonides J, Koeppe RA (1996) Dissociating verbal and spatial working memory using PET. Cereb Cortex 6:11–20

Substance Abuse and Mental Health Services Administration (2002) Results from the 2001 national household survey on drug abuse: vol I. Summary of national findings (Office of Applied Studies, NHSDA Series H-17, DHHS Publication No. SMA 02-3758). Rockville, MD Available online at http://www.samhsa.gov/oas/nhsda/2k1nhsda/vol1/toc.htm

Talairach J, Tournoux P (1988) Co-planar stereotaxic atlas of thehuman brain: 3-dimensional proportional system: an approach to cerebralimaging. Thieme Medical Publishers, New York

Tapert SF, Brown GG, Kindermann SS, Cheung EH, Frank LR, Brown SA (2001) fMRI measurement of brain dysfunction in alcohol-dependent young women. Alcohol Clin Exp Res 25:236–245

Uftring SJ, Wachtel SR, Chu D, McCandless C, Levin DN, de Wit H (2001) An fMRI study of the effect of amphetamine on brain activity. Neuropsychopharmacology 25:925–935

Volkow ND, Gillespie H, Mullani N, Tancredi L, Grant C, Valentine A, Hollister L (1996) Brain glucose metabolism in chronic marijuana users at baseline and during marijuana intoxication. Psychiatry Res 67:29–38

Wagner AD, Maril A, Bjork RA, Schacter DL (2001) Prefrontal contributions to executive control: fMRI evidence for functional distinctions within lateral prefrontal cortex. Neuroimage 14:1337–1347

Yurgelun-Todd DA, Gruber SA, Hanson RA, Baird AA, Renshaw PF, Pope HG Jr (1998) Residual effects of marijuana use: an fMRI study. College on problems of drug dependence. Annual meeting, Scottsdale, Arizona. In: Harris LS (ed) NIDA monograph 179. United States Government Printing Office, Washington, p 78

Yurgelun-Todd DA, Simpson NS, Gruber SA, Renshaw PF, Pope HG Jr (2001) Cerebral blood volume changes after a 28-day washout period in chronic marijuana smokers: a DSC-MRI study. College on problems of drug dependence. Annual meeting, Scottsdale, Arizona. Drug Alcohol Depend 63[Suppl 1]:S175
Acknowledgments
Supported in part by NIDA Grant R01 12483 (to Dr. Yurgelun-Todd) and NIDA Grant 5 R37 DA-10346 (to Dr. Pope).
About this article
Cite this article
Kanayama, G., Rogowska, J., Pope, H.G. et al. Spatial working memory in heavy cannabis users: a functional magnetic resonance imaging study. Psychopharmacology 176, 239–247 (2004). https://doi.org/10.1007/s00213-004-1885-8
Received:

Accepted:

Published:

Issue Date:
Keywords
Cannabis

Substance dependence

fMRI

Working memory

Cognitive function