Abstract
Rationale
Neurotensin (NT) agonists have been proposed as potential antipsychotics based exclusively upon their ability to inhibit dopamine-2 (D2) receptor transmission. Several other pharmacological mechanisms have been implicated in enhancing the antipsychotic profile produced by D2 inhibition alone. These include inhibition of 5-HT2A and α1-adrenoceptors. Recently, we reported that systemic administration of the neurotensin agonist PD149163 blocks deficits in prepulse inhibition (PPI) of the startle reflex produced by the 5-HT2A receptor agonist DOI. This suggested that NT agonists could inhibit 5-HT2A modulation of neurotransmission.
Objective
To determine if other peripherally administered NT agonists shared this effect, we examined the effects of NT69L, another NT agonist, on DOI-induced PPI deficits. In addition, to determine if NT agonists also inhibit α1-adrenoceptor neurotransmission, we examined the effects of PD149163 and NT69L on PPI deficits induced by the α1-adrenoceptor agonist, cirazoline.
Methods
In the NT69L/DOI study, rats received subcutaneous (SC) injections of NT69L (0, 0.1, 1, or 2 mg/kg) followed 30 min later by SC saline or DOI (0.5 mg/kg). In the NT agonist/cirazoline studies, animals received SC injections of either PD149163 (0, 0.01, 0.1, or 1 mg/kg) or NT69L (0, 0.01, 0.1, or 1 mg/kg) followed 30 min later by SC saline or cirazoline (0.7 mg/kg). Animals were tested in startle chambers 20 min later.
Results
In all three experiments the PPI disruption produced by DOI and cirazoline was blocked by the NT agonists.
Conclusions
These findings provide strong evidence that NT agonists inhibit 5-HT2A and α1-adrenoceptor modulation of neurotransmission, pharmacological effects that, in conjunction with their known inhibition of dopamine transmission, strengthen the antipsychotic potential of NT agonists.
Access options
Buy single article
Instant access to the full article PDF.
US$ 39.95
Tax calculation will be finalised during checkout.
Subscribe to journal
Immediate online access to all issues from 2019. Subscription will auto renew annually.
US$ 119
Tax calculation will be finalised during checkout.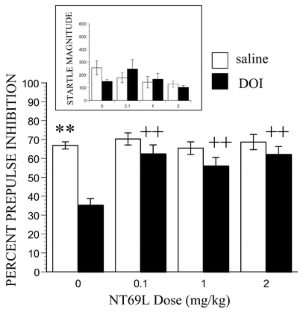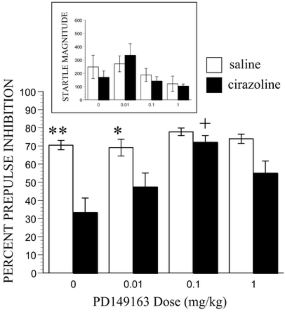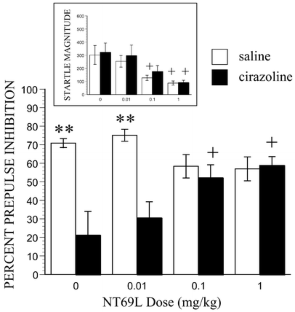 References
Alexander MJ, Leeman SE (1998) Widespread expression in adult rat forebrain of mRNA encoding high-affinity neurotensin receptor. J Comp Neurol 402:475–500

Allen GV, Cechetto DF (1995) Neurotensin in the lateral hypothalamic area: origin and function. Neuroscience 69:533–544

Binder EB, Kinkead B, Owens MJ, Nemeroff CB (2001) The role of neurotensin in the pathophysiology of schizophrenia and the mechanism of action of antipsychotic drugs. Biol Psychiatry 50:856–872

Boudin H, Pelaprat D, Rostene W, Beaudet A (1996) Cellular distribution of neurotensin receptors in rat brain: immunohistochemical study using an antipeptide antibody against the cloned high affinity receptor. J Comp Neurol 373:76–89

Boules M, Cusack B, Zhao L, Fauq A, McCormick DJ, Richelson E (2000) A novel neurotensin peptide analog given extracranially decreases food intake and weight in rodents. Brain Res 865:35–44

Boules M, Warrington L, Fauq A, McCormick D, Richelson E (2001) A novel neurotensin analog blocks cocaine- and d-amphetamine-induced hyperactivity. Eur J Pharmacol 426:73–76

Braff DL, Geyer MA (1990) Sensorimotor gating and schizophrenia. Human and animal model studies. Arch Gen Psychiatry 47:181–188

Burns MJ (2001) The pharmacology and toxicology of atypical antipsychotic agents. J Toxicol Clin Toxicol 39:1–14

Carasso BS, Bakshi VP, Geyer MA (1998) Disruption in prepulse inhibition after alpha-1 adrenoceptor stimulation in rats. Neuropharmacology 37:401–404

Cooper J, Bloom FE, Roth RH (1996) The biochemical basis of neuropharmacology, 7th edn. Oxford University Press, Oxford

Cusack B, Boules M, Tyler BM, Fauq A, McCormick DJ, Richelson E (2000) Effects of a novel neurotensin peptide analog given extracranially on CNS behaviors mediated by apomorphine and haloperidol. Brain Res 856:48–54

Emson PC, Goedert M, Horsfield P, Rioux F, St Pierre S (1982) The regional distribution and chromatographic characterisation of neurotensin-like immunoreactivity in the rat central nervous system. J Neurochem 38:992–999

Ereshefsky L (1999) Pharmacologic and pharmacokinetic considerations in choosing an antipsychotic. J Clin Psychiatry 60(Suppl 10):20–30

Feifel D, Minor KL, Dulawa S, Swerdlow NR (1997) The effects of intra-accumbens neurotensin on sensorimotor gating. Brain Res 760:80–84

Feifel D, Reza TL, Wustrow DJ, Davis MD (1999) Novel antipsychotic-like effects on prepulse inhibition of startle produced by a neurotensin agonist. J Pharmacol Exp Ther 288:710–713

Feifel D, Melendez G, Shilling PD (2003) A systemically administered neurotensin agonist blocks disruption of prepulse inhibition produced by a serotonin-2a agonist. Neuropsychopharmacology 28:651–653

Feifel D, Melendez G, Shilling PD (2004) Reversal of sensorimotor gating deficits in Brattleboro rats by acute administration of clozapine and a neurotensin agonist, but not haloperidol: a potential predictive model for novel antipsychotic effects. Neuropsychopharmacology 29:731–738

Gerlach J (1991) New antipsychotics: classification, efficacy, and adverse effects. Schizophr Bull 17:289–309

Gerlach J, Peacock L (1995) New antipsychotics: the present status. Int Clin Psychopharmacol 10(Suppl 3):39–48

Geyer MA, Krebs-Thomson K, Braff DL, Swerdlow NR (2001) Pharmacological studies of prepulse inhibition models of sensorimotor gating deficits in schizophrenia: a decade in review. Psychopharmacology 156:117–154

Hertel P, Byskov L, Didriksen M, Arnt J (2001) Induction of tolerance to the suppressant effect of the neurotensin analogue NT69L on amphetamine-induced hyperactivity. Eur J Pharmacol 422:77–81

Hommer DW, Zahn TP, Pickar D, van Kammen DP (1984) Prazosin, a specific alpha 1-noradrenergic receptor antagonist, has no effect on symptoms but increases autonomic arousal in schizophrenic patients. Psychiatry Res 11:193–204

Jolas T, Aghajanian GK (1996) Neurotensin excitation of serotonergic neurons in the dorsal raphe nucleus of the rat in vitro. Eur J Neurosci 8:153–161

Jolas T, Aghajanian GK (1997) Neurotensin and the serotonergic system. Prog Neurobiol 52:455–468

Kalivas PW, Nemeroff CB, Prange AJ Jr (1984) Neurotensin microinjection into the nucleus accumbens antagonizes dopamine-induced increase in locomotion and rearing. Neuroscience 11:919–930

Kinkead B, Nemeroff CB (2002) Neurotensin: an endogenous antipsychotic? Curr Opin Pharmacol 2:99–103

Mai JK, Triepel J, Metz J (1987) Neurotensin in the human brain. Neuroscience 22:499–524

Mansbach RS, Geyer MA, Braff DL (1988) Dopaminergic stimulation disrupts sensorimotor gating in the rat. Psychopharmacology 94:507–514

Marwaha J, Hoffer BJ, Geller HM, Freedman R (1981) Electrophysiologic interactions of antipsychotic drugs with central noradrenergic pathways. Psychopharmacology 73:126–133

Meltzer HY (2002) Mechanism of action of atypical antipsychotic drugs. In: Davis KLC, Joseph Coyle D, Nemeroff C (eds) Neuropsychopharmacology: the fifth generation of progress. American College of Neuropsychopharmacology

Morilak DA, Garlow SJ, Ciaranello RD (1993) Immunocytochemical localization and description of neurons expressing serotonin2 receptors in the rat brain. Neuroscience 54:701–717

Nemeroff CB, Luttinger D, Hernandez DE, Mailman RB, Mason GA, Davis SD, Widerlov E, Frye GD, Kilts CA, Beaumont K, Breese GR, Prange AJ Jr (1983) Interactions of neurotensin with brain dopamine systems: biochemical and behavioral studies. J Pharmacol Exp Ther 225:337–345

Nemeroff CB, Levant B, Myers B, Bissette G (1992) Neurotensin, antipsychotic drugs, and schizophrenia. Basic and clinical studies. Ann N Y Acad Sci 668:146–156

Shilling PD, Richelson E, Feifel D (2003) The effects of systemic NT69L, a neurotensin agonist, on baseline and drug-disrupted prepulse inhibition. Behav Brain Res 143:7–14

Sipes TA, Geyer MA (1994) Multiple serotonin receptor subtypes modulate prepulse inhibition of the startle response in rats. Neuropharmacology 33:441–448

Sipes TE, Geyer MA (1995) DOI disruption of prepulse inhibition of startle in the rat is mediated by 5-HT(2A) and not by 5-HT(2C) receptors. Behav Pharmacol 6:839–842

Sipes TE, Geyer MA (1997) DOI disrupts prepulse inhibition of startle in rats via 5-HT2A receptors in the ventral pallidum. Brain Res 761:97–104

Tohyama M, Takatsuji M (1998) Atlas of neuroactive substances and their receptors in rat. Oxford University Press, Oxford

Tyler-McMahon BM, Stewart JA, Farinas F, McCormick DJ, Richelson E (2000) Highly potent neurotensin analog that causes hypothermia and antinociception. Eur J Pharmacol 390:107–111

Varty GB, Higgins GA (1995a) Examination of drug-induced and isolation-induced disruptions of prepulse inhibition as models to screen antipsychotic drugs. Psychopharmacology 122:15–26

Varty GB, Higgins GA (1995b) Reversal of dizocilpine-induced disruption of prepulse inhibition of an acoustic startle response by the 5-HT2 receptor antagonist ketanserin. Eur J Pharmacol 287:201–205

Varty GB, Bakshi VP, Geyer MA (1999) M100907, a serotonin 5-HT2A receptor antagonist and putative antipsychotic, blocks dizocilpine-induced prepulse inhibition deficits in Sprague-Dawley and Wistar rats. Neuropsychopharmacology 20:311–321

Wadenberg ML, Hertel P, Fernholm R, Hygge Blakeman K, Ahlenius S, Svensson TH (2000) Enhancement of antipsychotic-like effects by combined treatment with the alpha1-adrenoceptor antagonist prazosin and the dopamine D2 receptor antagonist raclopride in rats. J Neural Transm 107:1229–1238

Wustrow DJ, Davis MD, Akunne HC, Corbin AE, Wiley JN, Wise LD, Heffner TG (1995) Reduced amide bond neurotensin 8–13 mimetics with potent in vivo activity. Bioorg Med Chem Lett 5:997–1002
Acknowledgements
D.F. and P.D.S. were supported in part by NIMH grant (MH62451). E.R. was supported by MH27692, The Forrest C. Lattner Foundation, and the Mayo Foundation for Medical Education and Research. The experiments described here comply with the current laws of the USA. We are grateful to the NIH Chemical Synthesis Program and SRI International for providing PD149163.
About this article
Cite this article
Shilling, P.D., Melendez, G., Priebe, K. et al. Neurotensin agonists block the prepulse inhibition deficits produced by a 5-HT2A and an α1 agonist. Psychopharmacology 175, 353–359 (2004). https://doi.org/10.1007/s00213-004-1835-5
Received:

Accepted:

Published:

Issue Date:
Keywords
NT69L

PD149163

Serotonin

Norepinephrine

Schizophrenia

Antipsychotic drugs