Abstract
Rationale
Although the detrimental effects of nicotine in early brain development and the addictive properties in adulthood are well known, little is known about the neurobiological effects of nicotine in adolescence. An important question is whether adolescents and adults differ in the development of nicotine sensitization and drug-cue conditioning.
Objective
To examine the behavioral effects of multiple, repeated injections of nicotine on both sensitization and drug-cue conditioning in the adolescent rat, and to compare this profile with the adult rat.
Methods
Sixteen male adolescent (28 day) and 16 young adult (70 day) rats were given injections of either saline or nicotine and tested for motor activity for 90 min for ten consecutive days. Following 4 days of no testing, animals were given a sham injection and placed in the testing apparatus for 90 min. A dose–response curve for nicotine was also generated using two additional groups of ten adolescent and ten adult male rats.
Results
Adolescent rats, unlike adults, did not exhibit signs of nicotine-cue conditioning, and displayed less robust sensitization to the locomotor effects of nicotine than adults. Dose–response testing revealed differences in adolescent responsivity to nicotine in measures of rearing, but not ambulation. Initial exposure to nicotine resulted in increased sensitivity to the motor-activating effects of nicotine but less sensitivity to the depressant effects of nicotine in rearing in adolescents.
Conclusions
Adolescent animals display different long-term neuroadaptive responses to nicotine than adult animals, possibly related to immature or still-developing plasticity mechanisms in the prefrontal cortex.
Access options
Buy single article
Instant access to the full article PDF.
US$ 39.95
Tax calculation will be finalised during checkout.
Subscribe to journal
Immediate online access to all issues from 2019. Subscription will auto renew annually.
US$ 119
Tax calculation will be finalised during checkout.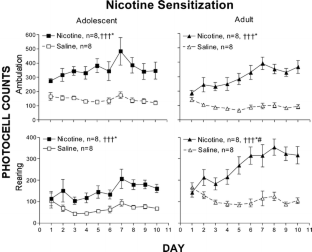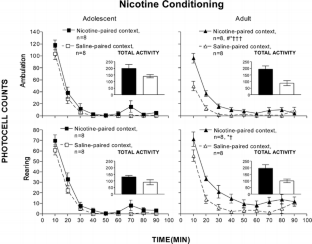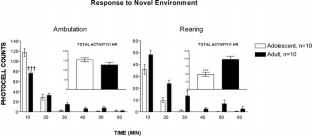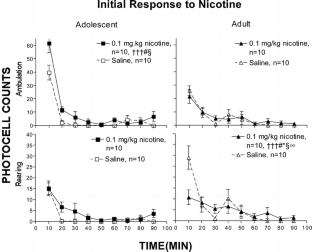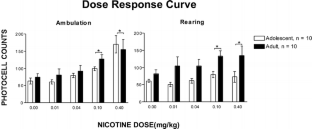 References
Abreu-Villaca Y, Seidler FJ, Tate CA, Slotkin TA (2003) Nicotine is a neurotoxin in the adolescent brain: critical periods, patterns of exposure, regional selectivity, and dose thresholds for macromolecular alterations. Brain Res 979:114–128

Adriani W, Macri S, Pacifici R, Laviola G (2002) Peculiar vulnerability to nicotine oral self-administration in mice during early adolescence. Neuropsychopharmacology 27:212–224

Arnsten AF (1998) The biology of being frazzled. Science 280:1711–1712

Badiani A, Browman KE, Robinson TE (1995) Influence of novel versus home environments on sensitization to the psychomotor stimulant effects of cocaine and amphetamine. Brain Res 674:291–298

Bolanos CA, Glatt SJ, Jackson D (1998) Subsensitivity to dopaminergic drugs in periadolescent rats: a behavioral and neurochemical analysis. Brain Res Dev Brain Res 111:25–33

Canales JJ, Iversen SD (2000) Dynamic dopamine receptor interactions in the core and shell of nucleus accumbens differentially coordinate the expression of unconditioned motor behaviors. Synapse 36:297–306

Chassin L, Presson CC, Sherman SJ, Edwards DA (1990) The natural history of cigarette smoking: predicting young-adult smoking outcomes from adolescent smoking patterns. Health Psychol 9:701–716

Cheeta S, Irvine EE, Tucci S, Sandhu J, File SE (2001) In adolescence, female rats are more sensitive to the anxiolytic effect of nicotine than are male rats. Neuropsychopharmacology 25:601–607

Childress A, Ehrman R, McLellan AT, O'Brien C (1988) Conditioned craving and arousal in cocaine addiction: a preliminary report. NIDA Res Monogr 81:74–80

Childress AR, Mozley PD, McElgin W, Fitzgerald J, Reivich M, O'Brien CP (1999) Limbic activation during cue-induced cocaine craving. Am J Psychiatry 156:11–18

Clarke PB, Kumar R (1983) The effects of nicotine on locomotor activity in non-tolerant and tolerant rats. Br J Pharmacol 78:329–337

Colby SM, Tiffany ST, Shiffman S, Niaura RS (2000) Are adolescent smokers dependent on nicotine? A review of the evidence. Drug Alcohol Depend 59 (Suppl. 1):S83–S95

DiFranza JR, Rigotti NA, McNeill AD, Ockene JK, Savageau JA, Cyr DS, Coleman M (2000) Initial symptoms of nicotine dependence in adolescents [in process citation]. Tob Control 9:313–319

Faraday MM, Scheufele PM, Rahman MA, Grunberg NE (1999) Effects of chronic nicotine administration on locomotion depend on rat sex and housing condition. Nicotine Tob Res 1:143–151

Faraday MM, Elliott BM, Grunberg NE (2001) Adult vs. adolescent rats differ in biobehavioral responses to chronic nicotine administration. Pharmacol Biochem Behav 70:475–489

Federal Interagency Forum on Child and Family Statistics (2001) America's children: key national indicators of well-being. Federal Interagency Forum on Child and Family Statistics. US Government Printing Office, Washington, DC

Fray PJ, Sahakian BJ, Robbins TW, Koob GF, Iversen SD (1980) An observational method for quantifying the behavioural effects of dopamine agonists: contrasting effects of d-amphetamine and apomorphine. Psychopharmacology 69:253–259

Giedd JN, Blumenthal J, Jeffries NO, Castellanos FX, Liu H, Zijdenbos A, Paus T, Evans AC, Rapoport JL (1999) Brain development during childhood and adolescence: a longitudinal MRI study [letter]. Nat Neurosci 2:861–863

Gilpin EA, Choi WS, Berry C, Pierce JP (1999) How many adolescents start smoking each day in the United States? J Adolesc Health 25:248–255

Grant S, London ED, Newlin DB, Villemagne VL, Liu X, Contoreggi C, Phillips RL, Kimes AS, Margolin A (1996) Activation of memory circuits during cue-elicited cocaine craving. Proc Natl Acad Sci USA 93:12040–12045

Hakan RL, Ksir CJ (1988) Nicotine induced locomotor activity in rats: the role of Pavlovian conditioning. Pharmacol Biochem Behav 29:661–665

Hotsenpiller G, Wolf ME (2002) Conditioned locomotion is not correlated with behavioral sensitization to cocaine: an intra-laboratory multi-sample analysis. Neuropsychopharmacology 27:924–929

Kelley BM, Middaugh LD (1999) Periadolescent nicotine exposure reduces cocaine reward in adult mice. J Addict Dis 18:27–39

Klein LC (2001) Effects of adolescent nicotine exposure on opioid consumption and neuroendocrine responses in adult male and female rats. Exp Clin Psychopharmacol 9:251–261

Kolb B, Nonneman AJ (1976) Functional development of prefrontal cortex in rats continues into adolescence. Science 193:335–336

Laviola G, Wood RD, Kuhn C, Francis R, Spear LP (1995) Cocaine sensitization in periadolescent and adult rats. J Pharmacol Exp Ther 275:345–357

Levin ED, Rezvani AH, Montoya D, Rose JE, Swartzwelder HS (2003) Adolescent-onset nicotine self-administration modeled in female rats. Psychopharmacology 169:141–149

Lewis DA, Sesack SR, Levey AI, Rosenberg DR (1998) Dopamine axons in primate prefrontal cortex: specificity of distribution, synaptic targets, and development. Adv Pharmacol 42:703–706

London ED, Ernst M, Grant S, Bonson K, Weinstein A (2000) Orbitofrontal cortex and human drug abuse: functional imaging. Cereb Cortex 10:334–342

Nauta WJ (1971) The problem of the frontal lobe: a reinterpretation. J Psychiatr Res 8:167–187

Neisewander JL, Baker DA, Fuchs RA, Tran-Nguyen LT, Palmer A, Marshall JF (2000) Fos protein expression and cocaine-seeking behavior in rats after exposure to a cocaine self-administration environment. J Neurosci 20:798–805

Planeta CS, Marin MT (2002) Effect of cocaine on periadolescent rats with or without early maternal separation. Braz J Med Biol Res 35:1367–1371

Ragozzino ME, Detrick S, Kesner RP (1999) Involvement of the prelimbic–infralimbic areas of the rodent prefrontal cortex in behavioral flexibility for place and response learning. J Neurosci 19:4585–4594

Reid MS, Ho LB, Berger SP (1996) Effects of environmental conditioning on the development of nicotine sensitization: behavioral and neurochemical analysis. Psychopharmacology 126:301–310

Reid MS, Ho LB, Berger SP (1998) Behavioral and neurochemical components of nicotine sensitization following 15-day pretreatment: studies on contextual conditioning. Behav Pharmacol 9:137–148

Sahakian BJ, Robbins TW, Morgan MJ, Iversen SD (1975) The effects of psychomotor stimulants on stereotypy and locomotor activity in socially-deprived and control rats. Brain Res 84:195–205

Schiltz CA, La Vaute TM, Kelley AE, Landry CF (2003) Cues associated with nicotine alter gene expression in rat prefrontal cortex. Program no. 716.14. Abstract viewer/itinerary planner. Society for Neuroscience, Washington, DC

Schroeder BE, Kelley AE (2002) Conditioned Fos expression following morphine-paired contextual cue exposure is environment specific. Behav Neurosci 116:727–732

Schroeder BE, Holahan MR, Landry CF, Kelley AE (2000) Morphine-associated environmental cues elicit conditioned gene expression. Synapse 37:146–158

Schroeder BE, Binzak JM, Kelley AE (2001) A common profile of prefrontal cortical activation following exposure to nicotine- or chocolate-associated contextual cues. Neuroscience 105:535–545

Seeman P (1999) Images in neuroscience. Brain development. X. Pruning during development. Am J Psychiatry 156:168

Seeman P, Bzowej NH, Guan HC, Bergeron C, Becker LE, Reynolds GP, Bird ED, Riederer P, Jellinger K, Watanabe S et al (1987) Human brain dopamine receptors in children and aging adults. Synapse 1:399–404

Slawecki CJ, Ehlers CL (2002) Lasting effects of adolescent nicotine exposure on the electroencephalogram, event related potentials, and locomotor activity in the rat. Brain Res Dev Brain Res 138:15–25

Slawecki CJ, Ehlers CL (2003) The effects of corticotropin-releasing factor on the cortical EEG are reduced following adolescent nicotine exposure. Neuropeptides 37:66–73

Slawecki CJ, Gilder A, Roth J, Ehlers CL (2003) Increased anxiety-like behavior in adult rats exposed to nicotine as adolescents. Pharmacol Biochem Behav 75:355–361

Slotkin TA (2002) Nicotine and the adolescent brain: insights from an animal model. Neurotoxicol Teratol 24:369–384

Sowell ER, Thompson PM, Holmes CJ, Batth R, Jernigan TL, Toga AW (1999a) Localizing age-related changes in brain structure between childhood and adolescence using statistical parametric mapping. Neuroimage 9:587–597

Sowell ER, Thompson PM, Holmes CJ, Jernigan TL, Toga AW (1999b) In vivo evidence for post-adolescent brain maturation in frontal and striatal regions. Nat Neurosci 2:859–861

Spear LP, Brake SC (1983) Periadolescence: age-dependent behavior and psychopharmacological responsivity in rats. Dev Psychobiol 16:83–109

Spear LP, Horowitz GP, Lipovsky J (1982) Altered behavioral responsivity to morphine during the periadolescent period in rats. Behav Brain Res 4:279–288

Thiel CM, Huston JP, Schwarting RK (1998) Hippocampal acetylcholine and habituation learning. Neuroscience 85:1253–1262

Thiel CM, Muller CP, Huston JP, Schwarting RK (1999) High versus low reactivity to a novel environment: behavioural, pharmacological and neurochemical assessments. Neuroscience 93:243–251

Thompson PM, Giedd JN, Woods RP, MacDonald D, Evans AC, Toga AW (2000) Growth patterns in the developing brain detected by using continuum mechanical tensor maps. Nature 404:190–193

Trauth JA, Seidler FJ, McCook EC, Slotkin TA (1999) Adolescent nicotine exposure causes persistent upregulation of nicotinic cholinergic receptors in rat brain regions. Brain Res 851:9–19

Trauth JA, McCook EC, Seidler FJ, Slotkin TA (2000a) Modeling adolescent nicotine exposure: effects on cholinergic systems in rat brain regions. Brain Res 873:18–25

Trauth JA, Seidler FJ, Slotkin TA (2000b) An animal model of adolescent nicotine exposure: effects on gene expression and macromolecular constituents in rat brain regions [in process citation]. Brain Res 867:29–39

Trauth JA, Seidler FJ, Ali SF, Slotkin TA (2001) Adolescent nicotine exposure produces immediate and long-term changes in CNS noradrenergic and dopaminergic function. Brain Res 892:269–280

Van Eden CG, Uylings HB (1985a) Cytoarchitectonic development of the prefrontal cortex in the rat. J Comp Neurol 241:253–267

Van Eden CG, Uylings HB (1985b) Postnatal volumetric development of the prefrontal cortex in the rat. J Comp Neurol 241:268–274

Vastola B, Douglas L, Varlinskaya E, Spear L (2002) Nicotine-induced conditioned place preference in adolescent and adult rats. Physiol Behav 77:107

Wallace BC (1989) Psychological and environmental determinants of relapse in crack cocaine smokers. J Subst Abuse Treat 6:95–106

Walter S, Kuschinsky K (1989) Conditioning of nicotine effects on motility and behaviour in rats. Naunyn Schmiedebergs Arch Pharmacol 339:208–213

Xu Z, Seidler FJ, Cousins MM, Slikker W, Jr, Slotkin TA (2002) Adolescent nicotine administration alters serotonin receptors and cell signaling mediated through adenylyl cyclase. Brain Res 951:280–292

Zahrt J, Taylor JR, Mathew RG, Arnsten AF (1997) Supranormal stimulation of D1 dopamine receptors in the rodent prefrontal cortex impairs spatial working memory performance. J Neurosci 17:8528–8535
Acknowledgments
This work was supported by National Institute on Drug Abuse grants DA13780 and DA14464 to A.E.K. T.L.S. was supported by training grant NIGMS GM07507 and by National Institute on Drug Abuse Predoctoral National Research Service Award DA00003. Additional support was also provided by the TERN Network of the Robert Wood Johnson Foundation and National Institute on Mental Health grant 1 R24 MH 67346-01.
About this article
Cite this article
Schochet, T.L., Kelley, A.E. & Landry, C.F. Differential behavioral effects of nicotine exposure in adolescent and adult rats. Psychopharmacology 175, 265–273 (2004). https://doi.org/10.1007/s00213-004-1831-9
Received:

Accepted:

Published:

Issue Date:
Keywords
Adolescence

Drug-cue conditioning

Nicotine

Rats