Abstract
Rationale
Lower (0.001–1.0 mg/kg) doses of the opioid antagonist naltrexone produce few behavioral effects in otherwise drug-free rats responding for ICSS, but reduce response rates by up to 75% after a single dose of morphine.
Objectives
The present study represents an effort to verify that other opioid antagonists produce this acute opioid dependence effect, and to characterize their relative pharmacological profiles.
Methods
We implanted bipolar electrodes in the lateral hypothalamus of adult male rats, and then trained them to lever-press on an "autotitration" ICSS schedule, where responding on a "reset" lever allows the rat to control the frequency of stimulation; performance stabilized at approximately 1.5 responses/s.
Results
During twice-weekly test sessions, cumulative doses of five of seven opioid antagonists produced significant response rate decreases (30–80%) in saline-pretreated rats; nalorphine (ED25=15.6 mg/kg) > naltrexone (ED25=13.1 mg/kg)>naloxone (ED25=7.3 mg/kg)>levallorphan (ED25=13.96 mg/kg)>(−)cyclazocine (ED25=0.028 mg/kg). A single MOR pretreatment (10 mg/kg, 4 h) significantly enhanced the rate-decreasing effects of six of the seven agonists tested; by 10-fold (−) cyclazocine>13-fold (nalorphine)>93-fold (levallorphan)>972-fold (naloxone)>2190-fold (naltrexone). The pure non-selective antagonist diprenorphine potently decreased rates after MOR pretreatment (ED25=0.01 mg/kg), but did not after saline pretreatment. The mixed opioid agonist-antagonist drug nalbuphine (1.0–30 mg/kg) did not affect responding after either saline or MOR.
Conclusions
Antagonists with a high affinity for, and a lack of intrinsic activity at, the μ-opioid receptor precipitate the greatest behavioral changes in rats acutely dependent on MOR.
Access options
Buy single article
Instant access to the full article PDF.
US$ 39.95
Tax calculation will be finalised during checkout.
Subscribe to journal
Immediate online access to all issues from 2019. Subscription will auto renew annually.
US$ 119
Tax calculation will be finalised during checkout.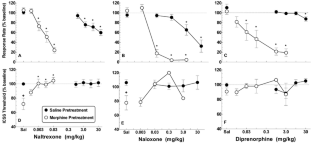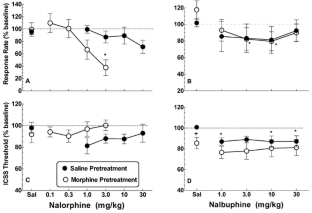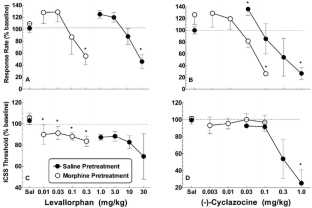 References
Adams JU, Holtzman SG (1990) Pharmacologic characterization of the sensitization to the rate-decreasing effects of naltrexone induced by acute opioid pretreatment in rats. J Pharmacol Exp Ther 253:483–489

Adams JU, Holtzman SG (1991) Naltrexone-sensitizing effects of centrally administered morphine and opioid peptides. Eur J Pharmacol 193:67–73

Balster RL (1985) Behavioral studies of tolerance and dependence. In: Seiden LS, Balster RL (eds) Behavioral pharmacology: the current status. Alan R. Liss, New York, pp 403–418

Bauco P, Wang Y, Wise RA (1993) Lack of sensitization or tolerance to the facilitating effect of ventral tegmental area morphine on lateral hypothalamic brain stimulation reward. Brain Res 617:303–308

Bickel WK, Stitzer ML, Liebson IA, Bigelow GE (1988) Acute physical dependence in man: effects of naloxone after brief morphine exposure. J Pharmacol Exp Ther 244:126–132

Bläsig J, Herz A, Reinhold K, Zieglgansberger S (1973) Development of physical dependence on morphine in respect to time and dosage and quantification of the precipitated withdrawal syndrome in rats. Psychopharmacologia 33:19–38

Carlezon WA Jr, Wise RA (1993) Phencyclidine-induced potentiation of brain stimulation reward: acute effects are not altered by repeated administration. Psychopharmacology 111:402–408

Easterling KW, Holtzman SG (1997a) Intracranial self-stimulation in rats: sensitization to an opioid antagonist following acute or chronic treatment with mu opioid agonists. J Pharmacol Exp Ther 281:188–199

Easterling KW, Holtzman SG (1997b) Parametric changes in response equilibrium during an intra-cranial self stimulation (ICSS) task: can reward value be assessed independently of absolute threshold? Neurosci Biobehav Rev 21:55–65

Easterling KW, Holtzman SG (1999) Discriminative stimulus effects of naltrexone after a single dose of morphine in the rat. J Pharmacol Exp Ther 288:1269–1277

Eisenberg RM, Sparber SB (1979) Changes in plasma corticosterone levels as a measure of acute dependence upon levorphanol in rats. J Pharmacol Exp Ther 211:364–369

Eissenberg T, Greenwald MK, Johnson RE, Liebson IA, Bigelow GE, Stitzer ML (1996) Buprenorphine's physical dependence potential: antagonist-precipitated withdrawal in humans. J Pharmacol Exp Ther 276:449–459

Emmerson PJ, Clark MJ, Mansour A, Akil H, Woods JH, Medzihradsky F (1996) Characterization of opioid agonist efficacy in a C6 glioma cell line expressing the m opioid receptor. J Pharmacol Exp Ther 278:1121–1127

Esposito R. Kornetsky C (1977) Morphine lowering of self-stimulation thresholds: lack of tolerance with long-term administration. Science 195:189–191

Gellert VF, Sparber SB (1977) A comparison of the effects of naloxone upon body weight loss and suppression of fixed-ratio operant behavior in morphine-dependent rats. J Pharmacol Exp Ther 201:44–54

Greenwald MK, June HL, Stitzer ML, Marco AP (1996) Comparative clinical pharmacology of short-acting mu opioids in drug abusers. J Pharmacol Exp Ther 277:1228–1236

Holtzman SG, Villarreal JE (1973) Operant behavior in the morphine-dependent rhesus monkey. J Pharmacol Exp Ther 184:528–541

Jasinski DR, Martin WR, Haertzen CA (1967) The human pharmacology and abuse potential of N-allylnoroxymorphone (naloxone). J Pharmacol Exp Ther 157:420–426

Kalinichev M, Holtzman SG (2003) Changes in urination/defecation, auditory startle response, and startle-induced ultrasonic vocalizations in rats undergoing morphine withdrawal: similarities and differences between acute and chronic dependence. J Pharmacol Exp Ther 304:603–609

Kenakin T (1997) Pharmacologic analysis of drug-receptor interaction, 3rd edn. Lippincott-Raven, Philadelphia

Kornetsky C, Bain G (1990) Brain stimulation reward: a model for drug-induced euphoria. In: Adler MW, Cowan A (eds) Testing and evaluation of drugs of abuse. Wiley-Liss, New York, pp 211–231

Kornetsky C, Esposito RU, McLean S, Jacobson JO (1979) Intracranial self-stimulation thresholds: a model for the hedonic effects of drugs of abuse. Arch Gen Psychiatry 36:289–292

Lee KO, Akil H, Woods JH, Traynor JR (1999) Differential binding properties of oripavines at cloned μ- and δ-opioid receptors. Eur J Pharmacol 378:323–330

Leslie FM (1987) Methods used for the study of opioid receptors. Pharmacol Rev 39:197–249

Marcus R, Kornetsky C (1974) Negative and positive intracranial reinforcement thresholds: effects of morphine. Psychopharmacologia 38:1–13

Meyer DR, Sparber SB (1977) Evidence of possible opiate dependence during the behavioral depressant action of a single dose of morphine. Life Sci 21:1087–1094

National Research Council (1996) Guide for the care and use of laboratory animals. National Academy Press, Washington D.C.

O'Brien CP (2001) Drug addiction and drug abuse. In: Hardman JG, Limbird LE (eds) The pharmacological basis of therapeutics. McGraw-Hill, New York, pp 621–642

Oliveto AH, Picker MJ, Dykstra LA (1991) Acute and chronic morphine administration: effects of mixed-action opioids in rats and squirrel monkeys responding under a schedule of food presentation. J Pharmacol Exp Ther 257:8–18

Quirion R, Hammer RP Jr, Herkenham M, Pert CB (1981) Phencyclidine (angel dust)/sigma "opiate" receptor: visualization by tritium-sensitive film. Proc Natl Acad Sci USA 78:5881–5885

Remmers AE, Clark MJ, Mansour A, Akil H, Woods JH, Medzihradsky F (1999) Opioid efficacy in a C6 glioma cell line stably expressing the human kappa opioid receptor. J Pharmacol Exp Ther 288:827–833

Rosenbaum JS, Holford NH, Sadee W (1985) In vivo receptor binding of opioid drugs at the mu site. J Pharmacol Exp Ther 233:735–740

Schaefer GJ (1988) Opiate antagonists and rewarding brain stimulation. Neurosci Biobehav Rev 12:1–17

Schaefer GJ, Michael RP (1986) Changes in response rates and reinforcement thresholds for intracranial self-stimulation during morphine withdrawal. Pharmacol Biochem Behav 25:1269

Schulteis G, Markou A, Gold LH, Stinus L, Koob GF (1994) Relative sensitivity to naloxone of multiple indices of opiate withdrawal: a quantitative dose-response analysis. J Pharmacol Exp Ther 271:1391–1398

Selley DE, Liu QX, Childers SR (1998) Signal transduction correlates of Mu opioid agonist intrinsic efficacy: receptor-stimulated [35S]GTPgammaS binding in mMOR-CHO cells and rat thalamus. J Pharmacol Exp Ther 285:496–505

Vanderschuren LJMJ, De Vries TJ, Wardeh G, Hogenboom FACM, Schoffelmeer ANM (2001) A single exposure to morphine induces long-lasting behavioural and neurochemical sensitization in rats. Eur J Neurosci 14:1533–1538

Van Wolfswinkel L, Van Ree JM (1985) Effects of morphine and naloxone on thresholds of ventral tegmental electrical self-stimulation. Naunyn-Schmiedeberg's Arch Pharmacol 330:84–92

Villarreal JE, Karbowski MG (1974) The actions of narcotic antagonists in morphine-dependent rhesus monkeys. In: Braude MC, Harris LS, May EL, Smith JP, Villarreal JE (eds) Narcotic antagonists. Raven Press, New York, pp 273–289

Way EL, Loh HH, Shen FH (1969) Simultaneous quantitative assessment of morphine tolerance and physical dependence. J Pharmacol Exp Ther 167:1–8

Wei E, Loh HH, Way EL (1973) Quantitative aspects of precipitated abstinence in morphine-dependent rats. J Pharmacol Exp Ther 184:398–403

White-Gbadebo D, Holtzman SG (1994) Acute sensitization to opioid antagonists. Pharmacol Biochem Behav 47:559–566

Young AM (1986) Effects of acute morphine pretreatment on the rate-decreasing and antagonist activity of naloxone. Psychopharmacology 88:201–208
Acknowledgments
The authors are grateful to Christina Kittipatarin for expert technical assistance, and to Merck & Co., Roche Laboratories, and the National Institute on Drug Abuse for generously providing some of the drugs that were used in this study. This investigation was supported by grant DA00541 and by Senior Scientist Award K05 DA00008, both from the National Institutes of Health. Portions of this work were presented at the 62nd annual meeting of the College on Problems of Drug Dependence (2000, San Juan, PR).
About this article
Cite this article
Easterling, K.W., Holtzman, S.G. In rats, acute morphine dependence results in antagonist-induced response suppression of intracranial self-stimulation. Psychopharmacology 175, 287–295 (2004). https://doi.org/10.1007/s00213-004-1829-3
Received:

Accepted:

Published:

Issue Date:
Keywords
Intracranial self-stimulation

Sensitization

Naltrexone

Morphine

Physical dependence

Opioid withdrawal

Levallorphan

Nalbuphine

Nalorphine

Cyclazocine

Diprenorphine