Abstract
Rationale
Animal experiments have provided evidence that the striatum and medial prefrontal cortex play a predominant role in the acquisition and maintenance of drug-seeking behavior.
Objectives
Alcohol-associated stimuli that were regularly paired with alcohol intake may become conditioned cues and elicit a motivational response that triggers relapse in alcohol-dependent patients.
Methods
We used functional magnetic resonance imaging and visual alcohol-associated and control cues to assess brain activation in ten abstinent alcoholics and control subjects. Patients were followed for 3 months, and alcohol intake was recorded.
Results
Alcohol-related versus neutral visual stimuli activated the putamen, anterior cingulate and adjacent medial prefrontal cortex in alcoholics compared with healthy controls. Cue-induced activation of these brain areas was pronounced in the five alcoholics who subsequently relapsed during the observation period. A multiple regression analysis showed that, in alcoholics, the amount of subsequent alcohol intake was associated with the intensity of cue-induced brain activation but not the severity of alcohol craving, amount of previous alcohol intake or duration of abstinence before scanning.
Conclusions
This pilot study showed that cue-induced activation of the anterior cingulate, medial prefrontal cortex and striatum may play a role in the attribution of incentive salience to alcohol-associated stimuli, thus increasing the motivational value and attentional processing of alcohol cues. Functional brain imaging may help to identify a group of alcoholics with an otherwise undetected high risk of relapse.
Access options
Buy single article
Instant access to the full article PDF.
US$ 39.95
Tax calculation will be finalised during checkout.
Subscribe to journal
Immediate online access to all issues from 2019. Subscription will auto renew annually.
US$ 119
Tax calculation will be finalised during checkout.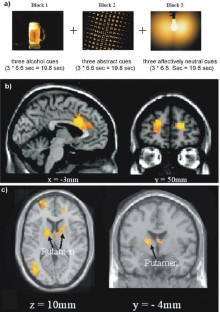 References
Arnow BA, Desmond JE, Banner LL, Glover GH, Solomon A, Polan ML, Lue TF, Atlas SW (2002) Brain activation and sexual arousal in healthy, heterosexual males. Brain 125:1014–1023

Blood AJ, Zatorre RJ (2001) Intensely pleasurable responses to music correlate with activity in brain regions implicated in reward and emotion. Proc Natl Acad Sci U S A 98:11818–11823

Bradley MM, Lang PJ (1994) Measuring emotion: the self-assessment manikin and the semantic differential. J Behav Ther Exp Psychiatry 25:49–59

Braus DF, Wrase J, Grusser S, Hermann D, Ruf M, Flor H, Mann K, Heinz A (2001) Alcohol-associated stimuli activate the ventral striatum in abstinent alcoholics. J Neural Transm 108:887–894

Breiter HC, Rosen BR (1999) Functional magnetic resonance imaging of brain reward circuitry in the human. Ann NY Acad Sci 877:523–547

Breiter HC, Aharon I, Kahneman D, Dale A, Shizgal P (2001) Functional imaging of neural responses to expectancy and experience of monetary gains and losses. Neuron 30:619–639

Buechel C, Dolan RJ, Armony JL, Friston KJ (1999) Amygdala-hippocampal involvement in human aversive trace conditioning revealed through event-related functional magnetic resonance imaging. J Neurosci 19:10869–10876

Childress AR, Mozley PD, McElgin W, Fitzgerald J, Reivich M, O'Brien CP (1999) Limbic activation during cue-induced cocaine craving. Am J Psychiatry 156:11–18

Delgado MR, Nystrom LE, Fissell C, Noll DC, Fiez JA (2000) Tracking the hemodynamic responses to reward and punishment in the striatum. J Neurophysiol 84:3072–3077

Di Chiara G (2002) Nucleus accumbens shell and core dopamine: differential role in behavior and addiction. Behav Brain Res 7:75–114

Everitt BJ, Wolf ME (2002) Psychomotor stimulant addiction: a neural systems perspective. J Neurosci 22:3312–3320

First MB, Spitzer RL, Gibbon M, Williams J (1997) Structured clinical interview for DSM-IV personality disorders, (SCID-II). American Psychiatric Press, Inc., Washington, DC

First MB, Spitzer RL, Gibbon M, Williams J (2001) Structured clinical interview for DSM-IV-TR axis I disorders, research version, patient edition with psychotic screen (SCID-I/P W/PSY SCREEN). Biometrics Research, New York State Psychiatric Institute, New York

Friston KJ, Holmes AP, Worsley K, Poline JB, Frith CD, Frackowiak RSJ (1995) Statistical parametric maps in functional brain imaging: a general linear approach. Hum Brain Mapp 2:189–210

Fuster JM (1997) The prefrontal cortex. Anatomy, physiology, and neuropsychology of the frontal lobe. Lippincott-Raven, Philadelphia

Garavan H, Pankiewicz J, Bloom A, Cho JK, Sperry L, Ross TJ, Salmeron BJ, Risinger R, Kelley D, Stein EA (2000) Cue-induced cocaine craving: neuroanatomical specificity for drug users and drug stimuli. Am J Psychiatry 157:1789–1798

George MS, Anton RF, Bloomer C, Teneback C, Drobes DJ, Lorberbaum JP, Nahas Z, Vincent DJ (2001) Activation of prefrontal cortex and anterior thalamus in alcoholic subjects on exposure to alcohol-specific cues. Arch Gen Psychiatry 58:345–352

Grant S, London ED, Newlin DB, Villemagne VL, Liu X, Contoreggi C, Phillips RL, Kimes AS, Margolin A (1996) Activation of memory circuits during cue-elicited cocaine craving. Proc Natl Acad Sci U S A 93:12040–12045

Grüsser SM, Heinz A, Flor H (2000) Standardized stimuli to assess drug craving and drug memory in addicts. J Neural Transm 107:715–720

Grüsser SM, Heinz A, Raabe A, Wessa M, Podschus J, Flor H (2002) Stimulus-induced craving and startle potentiation in abstinent alcoholics and controls. Eur Psychiatry 17:188–193

Haber SN, Fudge JL, McFarland NR (2000) Striatonigrostriatal pathways in primates form an ascending spiral from the shell to the dorsolateral striatum. J Neurosci 20:2369–2382

Hamilton MA (1960) A rating scale for depression. J Neurol Neurosurg Psychiatry 23:56–62

Heinz A, Dufeu P, Kuhn S, Dettling M, Graf K, Kurten I, Rommelspacher H, Schmidt LG (1996) Psychopathological and behavioral correlates of dopaminergic sensitivity in alcohol-dependent patients. Arch Gen Psychiatry 53:1123–1128

Ito R, Dalley JW, Robbins TW, Everitt BJ (2002) Dopamine release in the dorsal striatum during cocaine seeking behavior under the control of a drug-associated cue. J Neurosci 22:6247–6253

Kampe KK, Frith CD, Dolan RJ, Frith U (2001) Reward value of attractiveness and gaze. Nature 413:589

Knutson B, Fong GW, Adams CM, Varner JL, Hommer D (2001) Dissociation of reward anticipation and outcome with event-related fMRI. Neuroreport 12:3683–3687

Koepp MJ, Gunn RN, Lawrence AD, Cunningham VJ, Dagher A, Jones T, Brooks DJ, Bench CJ, Grasby PM (1998) Evidence for striatal dopamine release during a video game. Nature 393:266–268

Koob GF, Le Moal M (1997) Drug abuse: hedonic homeostatic dysregulation. Science 278:52–58

Lang PJ, Oehman A, Vaitl D (1988) The International affective picture system (photographic slides). Center for Research in Psychophysiology, University of Florida, Gainsville, FL

Lang PJ, Bradley MM, Fitzsimmons JR, Cuthbert BN, Scott JD, Moulder B, Nangia V (1998) Emotional arousal and activation of the visual cortex: an fMRI analysis. Psychophysiology 35:199–210

Lepage M, Ghaffar O, Nyberg L, Tulving E (2000) Prefrontal cortex and episodic memory retrieval mode. Proc Natl Acad Sci U S A 97:506–511

Maas LC, Lukas SE, Kaufman MJ, Weiss RD, Daniels SL, Rogers VW, Kukes TJ, Renshaw PF (1998) Functional magnetic resonance imaging of human brain activation during cue-induced cocaine craving. Am J Psychiatry 155:124–126

Miller WR, Del Boca FK (1994) Measurement of drinking behavior using the Form 90 family of instruments. J Stud Alcohol 12[Suppl]:112–118

Mirenowicz J, Schultz W (1996) Preferential activation of midbrain dopamine neurons by appetitive rather than aversive stimuli. Nature 379:449–451

Modell JG, Mountz JM (1995) Focal cerebral blood flow change during craving for alcohol measured by SPECT. J Neuropsychiatry Clin Neurosci 7:15–22

Moeller C, Wiklund L, Sommer W, Thorsell A, Heilig M (1997) Decreased experimental anxiety and voluntary ethanol consumption in rats following central but not basolateral amygdala lesions. Brain Res 760:94–101

Mucha RF, Geier A, Stuhlinger M, Mundle G (2000) Appetitive effects of drug cues modelled by pictures of the intake ritual: generality of cue-modulated startle examined with inpatient alcoholics. Psychopharmacology 151:428–432

O'Doherty JP, Deichmann R, Critchley HD, Dolan RJ (2002) Neural responses during anticipation of a primary taste reward. Neuron 33:815–826

Robinson TE, Berridge KC (1993) The neural basis of drug craving: an incentive-sensitization theory of addiction. Brain Res Brain Res Rev 18:247–291

Sass H, Soyka M, Mann K, Zieglgansberger W (1996) Relapse prevention by acamprosate. Results from a placebo-controlled study on alcohol dependence. Arch Gen Psychiatry 53:673–680

Schneider F, Habel U, Wagner M, Franke P, Salloum JB, Shah NJ, Toni I, Sulzbach C, Honig K, Maier W, Gaebel W, Zilles K (2001) Subcortical correlates of craving in recently abstinent alcoholic patients. Am J Psychiatry 158:1075–1083

Singleton EG, Henningfield JE, Tiffany ST (1994) Alcohol craving questionnaire: ACQ-Now: background and administration manual. NIDA Addiction Research Center, Baltimore

Skinner HA, Horn JL (1984) Alcohol dependence scale: users guide. Addiction Research Foundation, Toronto

Skinner HA, Sheu WJ (1982) Reliability of alcohol use indices. The lifetime drinking history and the MAST. J Stud Alcohol 43:1157–1170

Talairach J, Tournoux P (1988) Co-planar stereotaxic atlas of the human brain. Thieme, New York

Tiffany ST, Carter BL (1998) Is craving the source of compulsive drug use? Psychopharmacology 12:23–30

Tzschentke TM (1998) Measuring reward with the conditioned place preference paradigm: a comprehensive review of drug effects, recent progress and new issues. Prog Neurobiol 56:613–672

Volkow ND, Wang GJ, Fischman MW, Foltin RW, Fowler JS, Abumrad NN, Vitkun S, Logan J, Gatley SJ, Pappas N, Hitzemann R, Shea CE (1997) Relationship between subjective effects of cocaine and dopamine transporter occupancy. Nature 386:827–830

Wexler BE, Gottschalk CH, Fulbright RK, Prohovnik I, Lacadie CM, Rounsaville BJ, Gore JC (2001) Functional magnetic resonance imaging of cocaine craving. Am J Psychiatry 158:86–95

Wrase J, Grüsser SM, Klein S, Diener C, Hermann D, Flor H, Mann K, Braus DF, Heinz A (2002) Development of alcohol-associated cues and cue-induced brain activation in alcoholics. Eur Psychiatry 17:287–291
Acknowledgments
The Deutsche Forschungsgemeinschaft (He 2597/4-1&4-2) supported this study. We thank Mary J. Breiner (Department of Psychology, Florida State University, Tallahassee, FL) for provision of some pictures of alcoholic and neutral beverages.
About this article
Cite this article
Grüsser, S.M., Wrase, J., Klein, S. et al. Cue-induced activation of the striatum and medial prefrontal cortex is associated with subsequent relapse in abstinent alcoholics. Psychopharmacology 175, 296–302 (2004). https://doi.org/10.1007/s00213-004-1828-4
Received:

Accepted:

Published:

Issue Date:
Keywords
fMRI

Habit formation

Cue-induced brain activation

Relapse

Alcoholism