Abstract
Rationale
Using the place-preference conditioning paradigm, we evaluated the potential of the two most prominent cannabinoids found in marijuana, the psychoactive component Δ9-tetrahydrocannabinol (Δ9-THC) and the nonpsychoactive component cannabidiol (CBD), to potentiate extinction of a cocaine-induced and an amphetamine-induced conditioned place preference in rats.
Methods
To determine the effects of pretreatment with Δ9-THC or CBD on extinction, a cocaine-induced and amphetamine-induced place preference was first established. Rats were then given an extinction trial, during which they were confined to the treatment-paired floor for 15 min. Thirty minutes prior to the extinction trial, they were injected with a low dose of Δ9-THC (0.5 mg/kg), CBD (5 mg/kg) or vehicle. The potential of the CB1 receptor antagonist, SR141716, to reverse the effects of Δ9-THC or CBD was also evaluated. To determine the hedonic effects of CBD, one distinctive floor was paired with CBD (5 mg/kg) and another with saline. Finally, to determine the effect of Δ9-THC or CBD on the establishment and/or the expression of a place preference during four cycles of conditioning trials, rats were injected with Δ9-THC (0.25–1 mg/kg), CBD (5 mg/kg) or vehicle 25 min prior to receiving an injection of amphetamine followed by placement on the treatment floor; on alternate days, they received injections of vehicle followed by saline and placement on the nontreatment floor. The rats then received two test trials; on one trial they were pretreated with the cannabinoid and on the other trial with vehicle.
Results
Δ9-THC and CBD potentiated the extinction of both cocaine-induced and amphetamine-induced conditioned place preference learning, and this effect was not reversed by SR141716. The cannabinoids did not affect learning or retrieval, and CBD was not hedonic on its own.
Conclusions
These results are the first to show that both Δ9-THC, which acts on both CB1 and CB2 receptors, and CBD, which does not bind to CB1 or CB2 receptors, potentiate the extinction of conditioned incentive learning.
Access options
Buy single article
Instant access to the full article PDF.
USD 39.95
Price excludes VAT (USA)
Tax calculation will be finalised during checkout.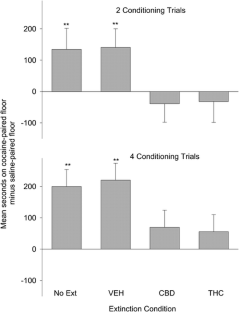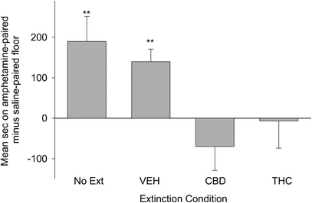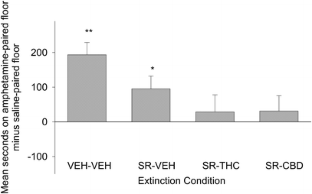 References
Bardo MT, Neisewander JL, Miller JS (1986) Repeated testing attenuates conditioned place preference with cocaine. Psychopharmacology 89:239–243

Brodkin J, Moerschbaecher JM (1997) SR 141716A antagonizes the disruptive effects of cannabinoid ligands on learning in rats. J Pharm Exp Ther 282:1526–1532

Calcagnetti DJ, Schechter MD (1993) Extinction of cocaine-induced place approach in rats: a validation of the "biases" conditioning procedure. Brain Res Bull 30:696–700

Cheer JF, Kendall DA, Marsden CA (2000) Cannabinoid receptors and reward in the rat: a conditioned place preference study. Psychopharm 151:25–30

Cunningham CL (1998) Drug conditioning and drug-seeking behavior. In: O'Donohue W (ed) Learning and Behavior Therapy. Allyn & Bacon, Boston, MA, pp 518–44

Cunningham CL, Henderson CM, Bormann NM (1998) Extinction of ethanol-induced conditioned place preference and conditioned place aversion: effects of naloxone. Psychopharmacology 139:62–70

DeVries TJ, Shaham Y, Homberg JR, Crombag C, Schuurman K, Diegen J, Vanderschuren LJMJ, Schoffelmeer ANM (2001) A cannabinoid mechanism in relapse to cocaine seeking. Nature Med 7:1151–1154

DeWit H, Stewart J (1981) Reinstatement of cocaine-reinforced responding in the rat. Psychopharm 75:134–174

Hajos N, Ledent C, Freund TF (2001) Novel cannabinoid-sensitive receptor mediates inhibition of glutamatergic synaptic transmission in the hippocampus. Neuroscience 106:1–4

Heyser CJ, Hampson RE, Deadwyler SA (1993) Effects of delta-9-tetrahydrocannabinol on delayed match to sample performance in rats: alterations in short-term memory associated with changes in task specific firing of hippocampal cells. J Pharm Exp Ther 264:294–307

Itzhak Y, Martin JL (2001) Cocaine-induced conditioned place preference in mice: induction, extinction and reinstatement by related psychostimulants. Neuropsychopharm 26:130–134

Iversen LL (2000) The Science of Marijuana. Oxford University Press, NY

Kwiatkowska M, Parker LA, Burton P, Mechoulam R (2004) A comparative analysis of the potential of cannabinoids and ondansetron to suppress cisplatin-induced emesis in the Suncus murinus (house musk shrew). Psychopharmacology (in press)

Lichtman AH, Martin BR (1996) Δ-9-Tetrahydrocannabinol impairs spatial memory through a cannabinoid receptor mechanism. Psychopharmacology 126:125–131

Limebeer CL, Parker LA (1999) Delta-9-tetrahydrocannabinol interferes with the establishment and the expression of conditioned rejection reactions produced by cyclophosphamide: a rat model of nausea. Neuroreport 10:3769–3772

Malfait AM, Gallily R, Sumariwalla PF, Malik AS, Andreakos E, Mechoulam R, Feldmann M (2000) The nonpsychoactive cannabis constituent cannabidiol is an oral anti-arthritic therapeutic in murine collagen-induced arthritis. Proc Nat Acad Sci U S A 97:9561–9566

Mallet PE, Beninger RJ (1998a) The cannabinoid CB1 receptor antagonist SR 141716A attenuates the memory impairment produced by Δ9-tetrahydrocannabinol or anandamide. Psychopharmacology 140:11–19

Mallet PE, Beninger RJ (1998b) Δ(9)-tetrahydrocannabinol, but not the endogenous cannabinoid receptor ligand, anandamide, produces conditioned place avoidance. Life Sci 62:2431–2439

Marsicano G, Wotjak CT, Azad SC, Bisogno T, Rammes G, Cascio MG, Hermann H, Tang J, Hofmann C, Zieglgansberger W, DiMarzo V, Lutz B (2002) The endogenous cannabinoid system controls extinction of aversive memories. Nature 418:530–534

Martin BR, Mechoulam R, Razdan RK (1999) Discovery and characterization of endogenous cannabinoids. Life Sci 65:573–95

Mechoulam R, Parker LA, Galilly R (2002) Cannabidiol: an overview of some pharmacological aspects. J Clin Pharmacol 42:11S–19S

Meuller D, Perdikaris D, Stewart J (2000) Persistence and drug-induced reinsttement of a morphine-induced conditioned place preference. Behav Brain Res 136:389–397

Molina-Holgado F, Gonzalez MI, Leret ML (1995) Effects of Δ9-tetrahydrocannabinol on short-term memory in the rat. Physiol Behav 57:177–179

Nakamura EM, da Silva EA, Concilio GV, Wilkinson DA, Masur J (1991) Reversible effects of acute and long-term administration of Δ9-tetrahydrocannabinol (THC) on memory in the rat. Drug Alcohol Depend 28:167–175

Nava F, Carta G, Battasi AM, Bessa GL (2000) D2 dopamine receptors enable delta-9-tetrahydroicannabinol induced memory impairment and reduction of hippocampal extracellular acetylcholine concentration. Br J Pharmacol 130:1201–1210

O'Brien CP, Childress AR, McLellan AT, Ehrman R (1992) Classical conditioning in drug-dependent humans. Ann NY Acad Sci 654:400–415

Parker LA, Gillies T (1995) THC-induced place and taste aversions in Lewis and Sprague-Dawley rats. Behav Neurosci 109:71–78

Parker LA, McDonald RV (2000) Reinstatement of both a conditioned place preference and a conditioned place aversion with drug primes. Pharmacol Biochem Behav 66:559–61

Parker LA, Mechoulam R, Schievert C, Abbott LA (2002) Cannabidiol, a non-psychoactive component of cannabis and its synthetic dimethylheptyl homolog suppress nausea in an experimental model with rats. NeuroReport 13:567–570

Parker LA, Mechoulam R, Fudge M, Schlievert C, Burton PD, Abbott L (2003) Cannabinoid agonists interfere with and SR-141716A potentiates lithium-induced conditioned rejection reactions: a rat measure of nausea. Psychopharmacology 166:156–162

Parker LA, Kwiatkowska M, Burton P, Mechoulam R (2004) Effects of cannabinoids on lithium-induced vomiting in the Suncus murinus (house musk shrew). Psychopharmacology 171:156–161

Robinson TE, Berridge KC (1993) The neural basis of drug craving: an incentive-sensitization theory of addiction. Brain Res Rev 18:247–291

Robinson L, Hinder L, Pertwee RG, Riedel G (2003) Effects of Δ9-THC and WIN-55,212,2 on place preference in the water maze in rats. Psychopharmacology 166:40–50

Schenk S, Partridge B (1999) Cocaine-seeking produced by experimenter-administered drug injections: dose-effect relationships in rats. Psychopharmacology 147:285–290

Stewart J, Wise RA (1992) Reinstatement of heroin self-administration habits: morphine prompts and naltrexone discourages renewed responding after extinction. Psychopharmacology 108:79–84

Sutton MA, Schmidt EF, Choi KH, Schad CA, Whisler K, Simmons D, Daranian DA, Moteggia LM, Neve RL, Self DW (2003) Extinction-induced upregulation in AMPA receptors reduces cocaine-seeking behaviour. Nature 421:70–75

Tzschentke TM, Schmidt WJ (1995) N-Methyl-d-aspartic-acid-receptor antagonists block morphine-induced conditioned place preference in rats. Neurosci Lett 193:37–40

Varvel SA, Lichtman AH (2002) Evaluation of CB1 receptor knockout mice in the Morris water maze. J Pharm Exp Ther 301:915–924

Varvel SA, Hamm RJ, Martin BR, Lichtman AH (2001) Differential effects of Δ9-THC on spatial reference and working memory in mice. Psychopharmacology 157:142–150
Acknowledgements
The research in Canada was supported by the Natural Sciences and Engineering Research Council of Canada and the Canadian Institutes of Health Research; the Research in Jerusalem was supported by the Israel Science Foundation and the National Institute on Drug Abuse (US).
About this article
Cite this article
Parker, L.A., Burton, P., Sorge, R.E. et al. Effect of low doses of Δ9-tetrahydrocannabinol and cannabidiol on the extinction of cocaine-induced and amphetamine-induced conditioned place preference learning in rats. Psychopharmacology 175, 360–366 (2004). https://doi.org/10.1007/s00213-004-1825-7
Received:

Accepted:

Published:

Issue Date:

DOI: https://doi.org/10.1007/s00213-004-1825-7
Keywords