Abstract
Rationale
There is multiple evidence that nicotine—as with ethanol and other drugs of abuse—stimulates dopamine release in the ventral striatum as a central part of the brain reward circuits. Chronic nicotine exposure leads to changes in these dopaminergic reward circuits. During nicotine withdrawal, an impaired dopaminergic function has been reported. On the behavioral level, this seems to result in motivational disturbances in abstaining smokers.
Objectives
To investigate the impact of smoking on dopaminergic function in humans both on a neuroendocrinological and on a neuropsychological level.
Methods
Thirty-seven healthy smokers were assessed whilst smoking (test 1) and after abstaining overnight for 12 h (test 2). A control group of 18 non-smokers was also examined twice. Severity of nicotine dependence, incentive motivation, digit span and verbal fluency were assessed. The sensitivity of central dopamine (DA) D2 receptors was assessed with the apomorphine-induced growth hormone (GH) secretion.
Results
ANOVA revealed that GH response was significantly lower in smokers than in non-smokers (P=0.04). The GH response was significantly inversely correlated with severity of nicotine dependence (r=−0.39). Neuropsychological performance was not influenced by smoking status. After overnight abstinence from nicotine GH response, digit span and verbal fluency were not affected, whereas incentive motivation was significantly impaired in smokers (P=0.04).
Conclusions
Smoking is significantly associated with a reduced sensitivity of central DA D2 receptors. This alteration of dopaminergic sensitivity is stable even after 12 h of abstinence from nicotine. Therefore, the hypothesis that the motivational impairment during withdrawal from nicotine is associated with an altered sensitivity of central DA D2 receptors cannot be supported.
Access options
Buy single article
Instant access to the full article PDF.
US$ 39.95
Tax calculation will be finalised during checkout.
Subscribe to journal
Immediate online access to all issues from 2019. Subscription will auto renew annually.
US$ 119
Tax calculation will be finalised during checkout.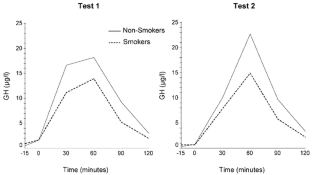 References
al Adawi S, Powell J (1997) The influence of smoking on reward responsiveness and cognitive functions: a natural experiment. Addiction 92:1773–1782

Allan LM, Williams JH, Wellman NA, Tonin J, Taylor E, Feldon J, Rawlins JNP (1995) Effects of tobacco smoking, schizotypy and number of pre-exposures on latent inhibition in healthy subjects. Person Individ Diff 19:893–902

Aymard G, Berlin I, de Brettes B, Diquet B (2003) Pharmacokinetic-pharmacodynamic study of apomorphine's effect on growth hormone secretion in healthy subjects. Fundam Clin Pharmacol 17:473–481

Balfour DJ, Benwell ME, Birrell CE, Kelly RJ, Al Aloul M (1998) Sensitization of the mesoaccumbens dopamine response to nicotine. Pharmacol Biochem Behav 59:1021–1030

Balldin J, Berggren U, Lindstedt G, Sundkler A (1993) Further neuroendocrine evidence for reduced D2 dopamine receptor function in alcoholism. Drug Alcohol Depend 32:159–162

Batra V, Patkar AA, Berrettini WH, Weinstein SP, Leone FT (2003) The genetic determinants of smoking. Chest 123:1730–1739

Benton AL (1968) Differential behavioral effects in frontal lobe disease. Neuropsychologia 6:63–80

Caskey NH, Jarvik ME, Wirshing WC, Madsen DC, Iwamoto-Schaap PN, Eisenberger NI, Huerta L, Terrace SM, Olmstead RE (2002) Modulating tobacco smoking rates by dopaminergic stimulation and blockade. Nicotine Tob Res 4:259–266

Dagher A, Bleicher C, Aston JA, Gunn RN, Clarke PB, Cumming P (2001) Reduced dopamine D1 receptor binding in the ventral striatum of cigarette smokers. Synapse 42:48–53

Dawe S, Gerada C, Russell MA, Gray JA (1995) Nicotine intake in smokers increases following a single dose of haloperidol. Psychopharmacology 117:110–115

DiChiara G, Gessa GL (1978) Pharmacology and neurochemistry of apomorphine. Academic, New York, pp 87–143

Di Chiara G (1999) Drug addiction as dopamine-dependent associative learning disorder. Eur J Pharmacol 375:13–30

Epping-Jordan MP, Watkins SS, Koob GF, Markou A (1998) Dramatic decreases in brain reward function during nicotine withdrawal. Nature 393:76–79

Fabbrini G, Braun A, Mouradian MM, Tamminga CA, Chase TN (1988) Dopamine D-1 receptor agonist stimulation of prolactin secretion in man. J Neural Transm 71:159–163

Fowler JS, Volkow ND, Wang GJ, Pappas N, Logan J, MacGregor R, Alexoff D, Shea C, Schlyer D, Wolf AP, Warner D, Zezulkova I, Cilento R (1996a) Inhibition of monoamine oxidase B in the brains of smokers. Nature 379:733–736

Fowler JS, Volkow ND, Wang GJ, Pappas N, Logan J, Shea C, Alexoff D, MacGregor RR, Schlyer DJ, Zezulkova I, Wolf AP (1996b) Brain monoamine oxidase A inhibition in cigarette smokers. Proc Natl Acad Sci U S A 93:14065–14069

Fowler JS, Wang GJ, Volkow ND, Franceschi D, Logan J, Pappas N, Shea C, MacGregor RR, Garza V (2000) Maintenance of brain monoamine oxidase B inhibition in smokers after overnight cigarette abstinence. Am J Psychiatry 157:1864–1866

Fung YK, Schmid MJ, Anderson TM, Lau YS (1996) Effects of nicotine withdrawal on central dopaminergic systems. Pharmacol Biochem Behav 53:635–640

Heatherton TF, Kozlowski LT, Frecker RC, Fagerström KO (1991) The Fagerstrom test for nicotine dependence: a revision of the Fagerstrom tolerance questionnaire. Br J Addict 86:1119–1127

Heinz A, Dufeu P, Kuhn S, Dettling M, Graf K, Kurten I, Rommelspacher H, Schmidt LG (1996) Psychopathological and behavioral correlates of dopaminergic sensitivity in alcohol-dependent patients. Arch Gen Psychiatry 53:1123–1128

Heinz A, Ragan P, Shoaf S, Linnoila M, Hommer D (2000) Erhöhter Dopaminumsatz bei rauchenden Alkoholabhängigen und Kontrollpersonen. Suchtmed Forsch Prax 2:25–29

Heishman SJ (1998) What aspects of human performance are truly enhanced by nicotine? Addiction 93:317–320

Hildebrand BE, Nomikos GG, Hertel P, Schilstrom B, Svensson TH (1998) Reduced dopamine output in the nucleus accumbens but not in the medial prefrontal cortex in rats displaying a mecamylamine-precipitated nicotine withdrawal syndrome. Brain Res 779:214–225

Houlihan ME, Pritchard WS, Robinson JH (1999) A double blind study of the effects of smoking on heart rate: is there tachyphylaxis? Psychopharmacology 144:38–44

Hughes JR (1992) Tobacco withdrawal in self-quitters. J Consult Clin Psychol 60:689–697

Hughes JR, Higgins ST, Bickel WK (1994) Nicotine withdrawal versus other drug withdrawal syndromes: similarities and dissimilarities. Addiction 89:1461–1470

Jarvik ME, Caskey NH, Wirshing WC, Madsen DC, Iwamoto-Schaap PN, Elins JL, Eisenberger NI, Olmstead RE (2000) Bromocriptine reduces cigarette smoking. Addiction 95:1173–1183

Jorenby DE, Leischow SJ, Nides MA, Rennard SI, Johnston JA, Hughes AR, Smith SS, Muramoto ML, Daughton DM, Doan K, Fiore MC, Baker TB (1999) A controlled trial of sustained-release bupropion, a nicotine patch, or both for smoking cessation. N Engl J Med 340:685–691

Kelley AE, Berridge KC (2002) The neuroscience of natural rewards: relevance to addictive drugs. J Neurosci 22:3306–3311

Koob GF (2000) Neurobiology of addiction. Toward the development of new therapies. Ann NY Acad Sci 909:170–185

Koob GF, Le Moal M (1997) Drug abuse: hedonic homeostatic dysregulation. Science 278:52–58

Lal S (1988) Apomorphine in the evaluation of dopaminergic function in man. Prog Neuropsychopharmacol Biol Psychiatry 12:117–164

Lee MA, Bowers MM, Nash JF, Meltzer HY (1990) Neuroendocrine measures of dopaminergic function in chronic cocaine users. Psychiatry Res 33:151–159

Mansvelder HD, McGehee DS (2002) Cellular and synaptic mechanisms of nicotine addiction. J Neurobiol 53:606–617

Martin-Sölch C, Magyar S, Kunig G, Missimer J, Schultz W, Leenders KL (2001) Changes in brain activation associated with reward processing in smokers and nonsmokers. A positron emission tomography study. Exp Brain Res 139:278–286

McEvoy JP, Freudenreich O, Levin ED, Rose JE (1995) Haloperidol increases smoking in patients with schizophrenia. Psychopharmacology 119:124–126

Murphy MF, Hey K, Johnstone E, Munafo M, Walton R, Willis B, Harrison PJ (2002) Bromocriptine use is associated with decreased smoking rates. Addict Biol 7:325–328

Nakamura H, Tanaka A, Nomoto Y, Ueno Y, Nakayama Y (2000) Activation of fronto-limbic system in the human brain by cigarette smoking: evaluated by a CBF measurement. Keio J Med 49:A122–A124

Nisell M, Nomikos GG, Svensson TH (1994) Systemic nicotine-induced dopamine release in the rat nucleus accumbens is regulated by nicotinic receptors in the ventral tegmental area. Synapse 16:36–44

Pontieri FE, Tanda G, Orzi F, Di Chiara G (1996) Effects of nicotine on the nucleus accumbens and similarity to those of addictive drugs. Nature 382:255–257

Powell J, Dawkins L, Davis RE (2002) Smoking, reward responsiveness, and response inhibition: tests of an incentive motivational model. Biol Psychiatry 51:151–163

Robinson TE, Berridge KC (2001) Incentive-sensitization and addiction. Addiction 96:103–114

Rommelspacher H, Meier-Henco M, Smolka M, Kloft C (2002) The levels of norharman are high enough after smoking to affect monoamineoxidase B in platelets. Eur J Pharmacol 441:115–125

Rose JE, Behm FM, Westman EC, Mathew RJ, London ED, Hawk TC, Turkington TG, Coleman RE (2003) PET studies of the influences of nicotine on neural systems in cigarette smokers. Am J Psychiatry 160:323–333

Rowell PP, Carr LA, Garner AC (1987) Stimulation of [3H]dopamine release by nicotine in rat nucleus accumbens. J Neurochem 49:1449–1454

Salokangas RK, Vilkman H, Ilonen T, Taiminen T, Bergman J, Haaparanta M, Solin O, Alanen A, Syvalahti E, Hietala J (2000) High levels of dopamine activity in the basal ganglia of cigarette smokers. Am J Psychiatry 157:632–634

Schilström B, Rawal N, Mameli-Engvall M, Nomikos GG, Svensson TH (2003) Dual effects of nicotine on dopamine neurons mediated by different nicotinic receptor subtypes. Int J Neuropsychopharmacol 6:1–11

Schmidt K, Nolte-Zenker B, Patzer J, Bauer M, Schmidt LG, Heinz A (2001) Psychopathological correlates of reduced dopamine receptor sensitivity in depression, schizophrenia, and opiate and alcohol dependence. Pharmacopsychiatry 34:66–72

Smolka M, Sander T, Schmidt LG, Samochowiec J, Rommelspacher H, Gscheidel N, Wendel B, Hoehe MR (1999) Mu-opioid receptor variants and dopaminergic sensitivity in alcohol withdrawal. Psychoneuroendocrinology 24:629–638

Snyder FR, Davis FC, Henningfield JE (1989) The tobacco withdrawal syndrome: performance decrements assessed on a computerized test battery. Drug Alcohol Depend 23:259–266

Spanagel R, Weiss F (1999) The dopamine hypothesis of reward: past and current status. Trends Neurosci 22:521–527

Stein EA, Pankiewicz J, Harsch HH, Cho JK, Fuller SA, Hoffmann RG, Hawkins M, Rao SM, Bandettini PA, Bloom AS (1998) Nicotine-induced limbic cortical activation in the human brain: a functional MRI study. Am J Psychiatry 155:1009–1015

Tiffany ST, Drobes DJ (1991) The development and initial validation of a questionnaire on smoking urges. Br J Addict 86:1467–1476

Volkow ND, Wang GJ, Maynard L, Fowler JS, Jayne B, Telang F, Logan J, Ding YS, Gatley SJ, Hitzemann R, Wong C, Pappas N (2002) Effects of alcohol detoxification on dopamine D2 receptors in alcoholics: a preliminary study. Psychiatry Res 116:163–172

Wechsler DA (1945) A standardized memory scale for clinical use. J Psychol 19:87–95

Wiesbeck GA, Mauerer C, Thome J, Jakob F, Boening J (1995) Alcohol dependence, family history, and D2 dopamine receptor function as neuroendocrinologically assessed with apomorphine. Drug Alcohol Depend 40:49–53

Yeomans J, Baptista M (1997) Both nicotinic and muscarinic receptors in ventral tegmental area contribute to brain-stimulation reward. Pharmacol Biochem Behav 57:915–921
Acknowledgements
We are very grateful to Dr. Usama Kalouti and Roswitha Dzuba for their engaged and faithful collaboration during performance of the study. The study was supported by a grant of the DFG (Schm 1370/1-1).
About this article
Cite this article
Smolka, M.N., Budde, H., Karow, A.C. et al. Neuroendocrinological and neuropsychological correlates of dopaminergic function in nicotine dependence. Psychopharmacology 175, 374–381 (2004). https://doi.org/10.1007/s00213-004-1824-8
Received:

Accepted:

Published:

Issue Date:
Keywords
Nicotine

Tobacco

Withdrawal

Dopamine

Motivation

Apomorphine

Growth hormone