Abstract
It is accepted that acetylcholine-mediated neurones modulate memory. As lecithin, carnitine and glucose all influence acetylcholine metabolism, the possibility of synergistic interactions was considered. Four hundred young adult females randomly, and under a double-blind procedure, received capsules for 3 days that contained a placebo, lecithin (1.6 g/day), carnitine (500 mg/day) or carnitine plus lecithin. A battery of cognitive tests was administered prior to taking the capsules, after 3 days of taking the supplements, and for a third time after consuming either a glucose drink or a placebo. Reaction times were more rapid when carnitine and a glucose drink were taken together. Memory was enhanced in those taking a glucose rather than placebo drink. Neither mood nor the ability to sustain attention were influenced by these procedures. The hypothesis that memory would be facilitated by offering supplements of lecithin, carnitine and glucose was not supported.
Access options
Buy single article
Instant access to the full article PDF.
US$ 39.95
Tax calculation will be finalised during checkout.
Subscribe to journal
Immediate online access to all issues from 2019. Subscription will auto renew annually.
US$ 119
Tax calculation will be finalised during checkout.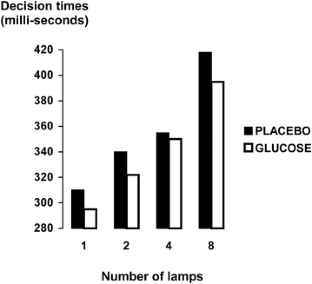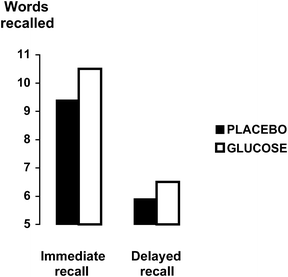 References
Angelucci L, Patacchioli FR, Tagialatela G, Maccari S, Ramacci MT, Ghirardi O (1986a) Brain glucocorticoid receptor and adrenocortical activity are sensitive markers of senescence-retarding treatments in the rat. In: Biggio G, Spano PF, Toffano G, Gessa GL (eds) Modulation of central and peripheral transmitter function. Fidia research series. Symposia in neuroscience, volume 3. Springer, Berlin Heidelberg New York, pp 338–343

Angelucci L, Ghirardi O, Patacchioli FR, Ramacci MT (1986b) Disinhibition of the hypothalamo-pituitary-adrenocortical axis as a marker of brain aging in the rat: a model for the study of anti-aging agents. Clin Neuropharmacol 9:104–106

Bartus RT, Dean RL, Goas JA, et al (1980) Age-related changes in passive avoidance retention: modulation with dietary choline. Science 209:301–303

Benton D (1990) The impact of increasing blood glucose on psychological functioning. Biol Psychol 30:13–19

Benton D, Owens D (1993) Blood glucose and human memory. Psychopharmacology 113:83–88

Benton D, Brett V, Brain PF (1987) Glucose improves attention and reaction to frustration in children. Biol Psychol 24:95–100

Benton D, Owens D, Parker P (1994) Blood glucose memory and attention. Neuropsychologia 32:595–607

Benton D, Ruffin M-P, Lassel T, Nabb S, Messaoudi N, Vinoy S, Desor D, Lang V (2003) The delivery rate of dietary carbohydrates affects cognitive performances in both rats and humans. Psychopharmacology 166:86–90

Blum K, Seifter E, Seifter J (1971) The pharmacology of d- and l-carnitine and d- and l-acetylcarnitine: comparison with choline and acetylcholine. J Pharmacol Exp Ther 178:331–338

Borum PR (1983) Carnitine. Ann Rev Nutr 3:233–259

Capriolli A, Ghirardi O, Ramacci MT, Angelucci L (1990) Age-dependent deficits in radial maze performance in the rat: effect of chronic treatment with acetyl-l-carnitine. Prog Neuropsychopharmacol Biol Psychiatry 14:359–369

Craft S, Zallen G, Baker LD (1992) Glucose and memory in mild senile dementia of the Alzheimer type. J Clin Exp Neuropsychol 14:253–267

Craft S, Dagogo-Jack SE, Wiethop BV, Murphy C, Nevins RT, Fleischman S, Rice V, Newcomer JW, Cryer PE (1993) The effects of hyperglycemia on memory and hormone levels in dementia of the Alzheimer type: a longitudinal study. Behav Neurosci 107:926–940

Drachman DA, Glosser G, Fleming P, Longenecker G (1982) Memory decline in the aged: treatment with lecithin and physostigmine. Neurology 32:944–950

Durkin TP, Messier C, de Boer P, Westerink BHC (1992) Raised glucose levels enhance scopolamine-induced acetylcholine overflow from the hippocampus: an in vivo microdialysis study in the rat. Behav Brain Res 49:181–188

Eysenck HJ (1987) Speed of information processing, reaction time and the theory of intelligence. In: Vernon PA (ed) Speed of information-processing and intelligence. Ablex Publishing Corporation, Norwood, NJ, pp 21–67

Falchetto S, Kato G, Provine L (1971) The action of carnitines on cortical neurons. Can J Physiol Pharmacol 49:1–7

Freo U, Pizzolato G, Dam M, Ori C, Battistin L (2002) A short review of cognitive and functional neuroimaging studies of cholinergic drugs: implications for therapeutic potentials. J Neural Transm 109:857–870

Gonder-Frederick L, Hall JL, Vogt J, Cox DJ, Green J, Gold PE (1987) Memory enhancement in elderly humans: effects of glucose ingestion. Physiol Behav 41:503–504

Hall JL, Gonder-Frederick LA, Chewning WW, Silveira J, Gold PE (1989) Glucose enhancement of performance on memory tests in young and aged humans. Neuropsychologia 27:1129–1138

Harris CM, Dysken MW, Fovall P, Davis JM (1983) Effect of lecithin on memory in normal adults. Am J Psychiatry 140:1010–1012

Higgins JP, Flicker, L (2000) Lecithin for dementia and cognitive impairment. Cochrane Database Syst Rev CD 001015

Jensen AR (1987) Individual differences in the Hick paradigm. In: Vernon PA (ed) Speed of information-processing and intelligence. Ablex Publishing Corporation, Norwood, NJ, pp 101–175

Keul J, Huber G, Lehmann M, Berg A, Jaakob EF (1982) EinfluB von Dextrose auf Fahrleisstunggg Konzentrationnsfahigkeit, Kreislauf und Stoffwechsel im Kraaftfahrzeug-Simulator (Doppelblindstudiee im cross-over-design). Aktuelle Ernährungsmedizin 7:7–14

Kuntscherova J (1972) Effect of short-term starvation and choline on the acetylcholine content of organs of albino rats. Physiol Bohemoslov 21:655–660

Ladd SL, Sommer SA, LaBerge S, Toscano W (1993) Effect of phosphatidylcholine on explicit memory. Clin Neuropharmacol 6:540–549

Lapp JE (1981) Effects of glycemic alterations and noun imagery on the learning of paired associates. J Learn Disabil 14:35–38

Manning CA, Hall JL, Gold PE (1990) Glucose effects on memory and other neuropsychological tests in elderly humans. Psychol Sci 1:307–311

Markowska AL, Ingram DK, Barnes CA, Spangler EL, Lemken VJ, Kametani H, Yee W, Olton DS (1990) Acetyl-l-carnitine 1: effects on mortality, pathology and sensory-motor performance in aging rats. Neurobiol Aging 11:491–498

Marquis NR, Fritiz IB (1965) The distribution of carnitine, acetyl-carnitine and carnitine acetyl transferase in rat tissues. J Biol Chem 240:2193–2196

McNair DM, Lorr M, Droppleman LF (1981) Profile of mood states. Educational and Industrial Testing Service, San Diego, California

Messer WS (2002) Cholinergic agonists and the treatment of Alzheimer's disease. Curr Top Med Chem 2:353–358

Messier C, Durkin T, Mrabet O, Destrade C (1990) Memory-improving action of glucose: indirect evidence for a facilitation of hippocampal acetylcholine synthesis. Behav Brain Res 39:135–143

Montgomery SA, Tal LJ, Amrein R (2003) Meta-analysis of double blind randomised controlled clinical trials of acetyl-l-carnitine versus placebo in the treatment of mild cognitive impairment and mild Alzheimer's disease. Int Clin Psychopharmacol 18:61–71

Moser L, Plum H, Buckmann M (1983) Der Einflub von Dextrose auf Diet psychophysische Leistungsfahgkeir des Autofahrers. Aktuelle Ernährungsmedizin 8:247–249

Nobilio D, Faaricelli A, Colangelo U, Delre ML, Bazzaano S, Onofrj M, Gambi D (1990) The effect of levo-acetyl-carnitine on P300 potential. Curr Ther Res 47:267–277

Onofrj M, Bodis-Wollner I, Pola P, Calvani M (1963) Central cholinergic effects of levo-acetylcarntine. Drugs Exp Clin Res 2:161–169

Onofrj M, Ghilardi MF, Faricelli A, Bodis Wollner I, Calvani M (1987) Effect of levoacetylcarnitine on P300-like potential of the normal monkey. Drugs Exp Clin Res 13:407–415

Paivio A, Yuille JC, Madigan SA (1968) Concreteness imagery and meaningfulness values for 925 nouns. J Exp Psychol 76:1–25

Perez Polo JR, Werrbach-Perez K, Ramacci MT (1988) Role of nerve growth factors in neurological disease. In: Agnoli A, Cahn J, Lassen N (eds) Senile dementia. Libbey, London, pp 15–25

Pettegrew JW, Levein J, McClure RJ (2000) Acetyl-l-carnitine physical–chemical, metabolic and therapeutic properties: relevance for its mode of action in Alzheimer's disease and geriatric depression. Mol Psychiatry 5:616–632

Safford F, Baumel B (1994) Testing the effects of dietary lecithin on memory in the elderly: an example of social work/medical research collaboration. Res Soc Work Pract 4:349–358

Shug AL, Schmidt MJ, Golden GT, Fariello RG (1982) The distribution and role of carnitine in the mammalian brain. Life Sci 31:2869–2874

Tempesta E, Janiri L, Pirrongelli C, Ancona L (1982) The effect of microiontophoretically applied d,l-, l- and d-acetylcarnitine on single central neurons. Neuropharmacology 21:1207–1210

Thomitzek WD (1963) Die Wirkung von Derivaten des (−) und (+) Carnitins und Azetylcarnitins auf die Bildung von Azetylcholin. Biochem Pharmacol 12:161

Wurtman RJ, Hirsch MJ, Growdon JH (1977) Lecithin consumption raises serum-free-choline levels. Lancet 2:68–69
About this article
Cite this article
Benton, D., Donohoe, R.T. The influence on cognition of the interactions between lecithin, carnitine and carbohydrate. Psychopharmacology 175, 84–91 (2004). https://doi.org/10.1007/s00213-004-1773-2
Received:

Accepted:

Published:

Issue Date:
Keywords
Carnitine

Glucose

Lecithin

Memory

Reaction times