Abstract
The aim of this study was to investigate the effects of quetiapine, an atypical antipsychotic, on polysomnographic sleep structure and subjective sleep quality. This double-blind, placebo-controlled, randomized cross-over study investigated the polysomnographic sleep structure and subjective sleep quality of 14 healthy male subjects given placebo, quetiapine 25 mg or quetiapine 100 mg. Volunteers were studied 3 times for 3 consecutive nights (N0, adaptation; N1, standard sleep conditions; N2, acoustic stress) 4 days apart. Treatment was administered orally 1 h before bedtime on nights 1 and 2. Quetiapine 25 mg and 100 mg significantly improved sleep induction and continuity under standard and acoustic stress conditions. Increases in total sleep time, sleep efficiency, percentage sleep stage 2 and subjective sleep quality were seen. A significant increase in periodic leg movements during sleep was observed with quetiapine 100 mg. The sleep-improving properties of quetiapine may be important in counteracting different aspects of psychopathology in schizophrenia and other disorders. These sleep-inducing and sleep-modifying properties are probably related to quetiapine's receptor-binding profile, including its antihistaminergic, antidopaminergic and antiadrenergic properties. Other mechanisms might be relevant as well and further investigation is required.
This is a preview of subscription content,
to check access.
Access this article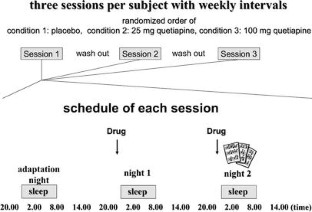 References
Adityanjee, Schulz SC (2002) Clinical use of quetiapine in disease states other than schizophrenia. J Clin Psychiatry 63:32–38

Agnew HW, Webb WB, Williams RL (1966) The first night effect: an EEG study of sleep. Psychophysiology 2:263–266

Bench CJ, Friston KJ, Brown RG, Scott LC, Frackowiak RS, Dolan RJ (1992) The anatomy of melancholia—focal abnormalities of cerebral blood flow in major depression. Psychol Med 22:607–615

Bilder RM, Goldman RS, Volavka J, Czobor P, Hoptman M, Sheitman B, Lindenmayer JP, Citrome L, McEvoy J, Kunz M, Chakos M, Cooper TB, Horowitz TL, Lieberman JA (2002) Neurocognitive effects of clozapine, olanzapine, risperidone, and haloperidol in patients with chronic schizophrenia or schizoaffective disorder. Am J Psychiatry 159:1018–1028

Brannen JO, Jewett RE (1969) Effects of selected phenothiazines on REM sleep in schizophrenics. Arch Gen Psychiatry 21:284–290

Caldwell DF, Domino EF (1967) Electroencephalographic and eye movement patterns during sleep in chronic schizophrenic patients. Electroencephalogr Clin Neurophysiol 22:414–420

Cluydts R, De Roeck J, Cosyns P, Lacante P (1995) Antagonizing the effects of experimentally induced sleep disturbance in healthy volunteers by lormetazepam and zolpidem. J Clin Psychopharmacol 15:132–137

Coleman RM (1982) Periodic movements in sleep (nocturnal myoclonus) and restless legs syndrome. In: Guilleminault C (ed) Sleeping and waking disorders: indications and techniques. Addison-Wesley, Menlo Park, Calif., pp 265–295

Cross EM, Chaffin WW (1982) Use of the binomial theorem in interpreting results of multiple tests of significance. Educ Psychol Manage 42:25–34

Fleiss JL (1999) The design and analysis of clinical experiments. Wiley, New York

Fratta W, Collu M, Martellotta MC, Pichiri M, Muntoni F, Gessa GL (1987) Stress-induced insomnia: opioid-dopamine interactions. Eur J Pharmacol 142:437–440

Gerlach J, Peacock L (1995) New antipsychotics: the present status. Int Clin Psychopharmacol 10:39–48

Gessa GL, Pani L, Fadda P, Fratta W (1995) Sleep deprivation in the rat: an animal model of mania. Eur Neuropsychopharmacol 5:89–93

Gillin JC, van Kammen DP, Post R, Bunney WE (1977) Effects of prolonged administration of pimozide on sleep-EEG patterns in psychiatric patients. Commun Psychopharmacol 1:225–232

Görtelmeyer R (1981) Schlaffragebogen SF-A and SF-B. In: (CIPS) CIPS (ed) Internationale Skalen für Psychiatrie. Beltz, Weinheim

Hamner MB, Deitsch SE, Brodrick PS, Ulmer HG, Lorberbaum JP (2003) Quetiapine treatment in patients with posttraumatic stress disorder: an open trial of adjunctive therapy. J Clin Psychopharmacol 23:15–20

Hilakivi I, Leppavuori A (1984) Effects of methoxamine, and alpha-1 adrenoceptor agonist, and prazosin, an alpha-1 antagonist, on the stages of the sleep-waking cycle in the cat. Acta Physiol Scand 120:363–372

Hinze Selch D, Mullington J, Orth A, Lauer CJ, Pollmacher T (1997) Effects of clozapine on sleep: a longitudinal study. Biol Psychiatry 42:260–266

Kaplan J, Dawson S, Vaughan T, Green R, Wyatt RJ (1974) Effect of prolonged chlorpromazine administration on the sleep of chronic schizophrenics. Arch Gen Psychiatry 31:62–66

Keshavan MS, Reynolds CF, Miewald JM, Montrose DM (1996) A longitudinal study of EEG sleep in schizophrenia. Psychiatry Res 59:203–211

Keshavan MS, Reynolds CF, Miewald MJ, Montrose DM, Sweeney JA, Vasko RC, Kupfer DJ (1998) Delta sleep deficits in schizophrenia: evidence from automated analyses of sleep data. Arch Gen Psychiatry 55:443–448

Kraus T, Schuld A, Pollmacher T (1999) Periodic leg movements in sleep and restless legs syndrome probably caused by olanzapine. J Clin Psychopharmacol 19:478–479

Lancel M (1999) Role of GABAA receptors in the regulation of sleep: initial sleep responses to peripherally administered modulators and agonists. Sleep 22:33–42

Lauer CJ, Schreiber W, Pollmacher T, Holsboer F, Krieg JC (1997) Sleep in schizophrenia: a polysomnographic study on drug-naive patients. Neuropsychopharmacology 16:51–60

Lee JH, Woo JI, Meltzer HY (2001) Effects of clozapine on sleep measures and sleep-associated changes in growth hormone and cortisol in patients with schizophrenia. Psychiatry Res 103:157–166

Linden M, Thiels C (2001) Epidemiology of prescriptions for neuroleptic drugs: tranquilizers rather than antipsychotics. Pharmacopsychiatry 34:150–154

Maixner S, Tandon R, Eiser A, Taylor S, DeQuardo JR, Shipley J (1998) Effects of antipsychotic treatment on polysomnographic measures in schizophrenia: a replication and extension. Am J Psychiatry 155:1600–1602

Marx CE, VanDoren MJ, Duncan GE, Lieberman JA, Leslie Morrow A (2003) Olanzapine and clozapine increase the GABAergic neuroactive steroid allopregnanolone in rodents. Neuropsychopharmacology 28:1–13

Nemeroff CB, Kinkead B, Goldstein J (2002) Quetiapine: preclinical studies, pharmacokinetics, drug interactions, and dosing. J Clin Psychiatry 63:5–11

Nishino S, Mao J, Sampathkumaran R, Shelton J, Mignot E (1998) Increased dopaminergic transmission mediates the wake-promoting effects of CNS stimulants. Sleep Res Online 1:49–61

Oh JD, Bibbiani F, Chase TN (2002) Quetiapine attenuates levodopa-induced motor complications in rodent and primate parkinsonian models. Exp Neurol 177:557–564

Ongini E, Bonizzoni E, Ferri N, Milani S, Trampus M (1993) Differential effects of dopamine D-1 and D-2 receptor antagonist antipsychotics on sleep-wake patterns in the rat. J Pharmacol Exp Ther 266:726–731

Ott H, Oswald I, Fichte K, Sastre-Y-Hernandez M (1986) Visuelle Analogskalen zur Erfassung von Schlalfqualität. In: (CIPS) CIPS (ed) Internationale Skalen für Psychiatrie. Beltz, Weinheim

Pellejero T, Monti JM, Baglietto J, Jantos H, Pazos S, Cichevski V, Hawkins M (1984) Effects of methoxamine and alpha-adrenoceptor antagonists, prazosin and yohimbine, on the sleep-wake cycle of the rat. Sleep 7:365–372

Penzel T, Hajak G, Hoffmann RM, Lund R, Podszus T, Pollmaecher T, Schaefer T, Schulz H, Sonnenschein W, Spieweg I (1993) Empfehlungen zur Durchführung und Auswertung polygraphischer Ableitungen im diagnostischen Schlaflabor. Z EEG-EMG 24:65–70

Rechtschaffen A, Kales A (1968) A manual of standardized terminology, techniques and scoring system for sleep stages of human subjects. United States Government Printing Office

Richelson E, Souder T (2000) Binding of antipsychotic drugs to human brain receptors focus on newer generation compounds. Life Sci 68:29–39

Risberg AM, Risberg J, Ingvar DH (1975) Effects of promethazine on nocturnal sleep in normal man. Psychopharmacologia 43:279–284

Rye DB, Jankovic J (2002) Emerging views of dopamine in modulating sleep/wake state from an unlikely source: PD. Neurology 58:341–346

Salin Pascual RJ, Herrera Estrella M, Galicia Polo L, Laurrabaquio MR (1999) Olanzapine acute administration in schizophrenic patients increases delta sleep and sleep efficiency. Biol Psychiatry 46:141–143

Saller CF, Salama AI (1993) Seroquel: biochemical profile of a potential atypical antipsychotic. Psychopharmacology 112:285–292

Sharpley AL, Vassallo CM, Cowen PJ (2000) Olanzapine increases slow-wave sleep: evidence for blockade of central 5-HT(2C) receptors in vivo. Biol Psychiatry 47:468–470

Sharpley AL, Bhagwagar Z, Hafizi S, Whale WR, Gijsman HJ, Cowen PJ (2003) Risperidone augmentation decreases rapid eye movement sleep and decreases wake in treatment-resistant depressed patients. J Clin Psychiatry 64:192–196

Tascedda F, Lovati E, Blom JM, Muzzioli P, Brunello N, Racagni G, Riva MA (1999) Regulation of ionotropic glutamate receptors in the rat brain in response to the atypical antipsychotic seroquel (quetiapine fumarate). Neuropsychopharmacology 21:211–217

Taylor SF, Tandon R, Shipley JE, Eiser AS (1991) Effect of neuroleptic treatment on polysomnographic measures in schizophrenia. Biol Psychiatry 30:904–912

Touyz SW, Beumont PJ, Saayman GS, Zabow T (1977) A psychophysiological investigation of the short-term effects of clozapine upon sleep parameters of normal young adults. Biol Psychiatry 12:801–822

Trampus M, Ferri N, Adami M, Ongini E (1993) The dopamine D1 receptor agonists, A68930 and SKF 38393, induce arousal and suppress REM sleep in the rat. Eur J Pharmacol 235:83–87

Trenkwalder C, Wetter TC, Stiasny K, Clarenbach P (2001) Restless-legs-Syndrom und "periodic limb movements in sleep". Nervenarzt 72:425–436

Wetter TC, Lauer CJ, Gillich G, Pollmacher T (1996) The electroencephalographic sleep pattern in schizophrenic patients treated with clozapine or classical antipsychotic drugs. J Psychiatr Res 30:411–419

Wetter TC, Brunner J, Bronisch T (2002) Restless legs syndrome probably induced by risperidone treatment. Pharmacopsychiatry 35:109–111

Zarcone VP, Benson KL, Berger PA (1987) Abnormal rapid eye movement latencies in schizophrenia. Arch Gen Psychiatry 44:45–48
Acknowledgement
We thank AstraZeneca, Germany, for funding of the study and supply of quetiapine and placebo.
About this article
Cite this article
Cohrs, S., Rodenbeck, A., Guan, Z. et al. Sleep-promoting properties of quetiapine in healthy subjects. Psychopharmacology 174, 421–429 (2004). https://doi.org/10.1007/s00213-003-1759-5
Received:

Accepted:

Published:

Issue Date:

DOI: https://doi.org/10.1007/s00213-003-1759-5
Keywords