Abstract
Rationale
The 5-HT3 antagonist, ondansetron (OND), and the cannabinoid, Δ9-tetrahydrocannabinol (Δ9-THC), have been shown to interfere with emesis; however, their relative and/or combined effectiveness in suppressing vomiting produced by the chemotherapeutic agent, cisplatin, is unknown.
Objectives
To evaluate the potential of: 1) a broad range of doses of Δ9-THC and OND to prevent cisplatin-induced vomiting and retching in the Suncus murinus (house musk shrew), 2) combined treatment with ineffective individual doses of Δ9-THC and OND to prevent cisplatin-induced vomiting and retching, 3) the CB1 receptor antagonist, SR141716, to reverse the antiemetic effects of OND, and 4) cannabidiol (CBD), the principal non-psychoactive component of marijuana, to reverse cisplatin-induced vomiting in the shrew.
Methods
Shrews were injected with various doses of OND (0.02–6.0 mg/kg), Δ9-THC (1.25–10 mg/kg) and a combination of ineffective doses of each (0.02 mg/kg OND+1.25 mg/kg Δ9-THC) prior to being injected with cisplatin (20 mg/kg) which induces vomiting. Shrews were also injected with CBD (5 mg/kg and 40 mg/kg) prior to an injection of cisplatin.
Results
OND and Δ9-THC both dose-dependently suppressed cisplatin-induced vomiting and retching. Furthermore, a combined pretreatment of doses of the two drugs that were ineffective alone completely suppressed vomiting and retching. CBD produced a biphasic effect, suppressing vomiting at 5 mg/kg and potentiating it at 40 mg/kg.
Conclusions
A low dose of the non-intoxicating cannabinoid CBD may be an effective anti-emetic treatment and combined doses of OND and Δ9-THC that are ineffective alone suppresses cisplatin-induced emetic reactions in shrews.
Access options
Buy single article
Instant access to the full article PDF.
US$ 39.95
Tax calculation will be finalised during checkout.
Subscribe to journal
Immediate online access to all issues from 2019. Subscription will auto renew annually.
US$ 119
Tax calculation will be finalised during checkout.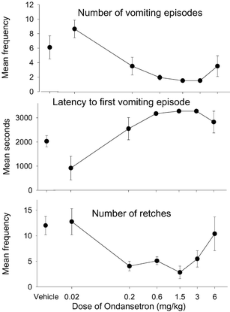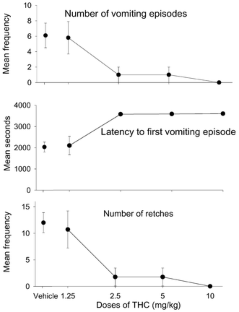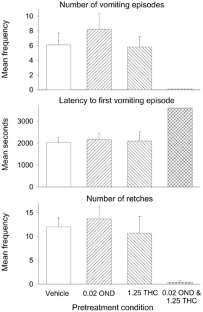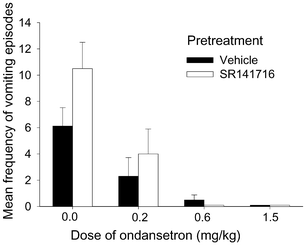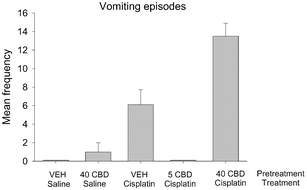 References
Abrahamov A, Abrahamov A, Mechoulam R (1995) An efficient new cannabinoid antiemetic in pediatric oncology. Life Sci 56:2097–2102

Andrews P, Torii Y, Soit H, Matsuki N (1996) The pharmacology of the emetic response to upper gastrointestinal tract stimulation in Suncus murinus. Eur J Pharmacol 307:305–313

Andrews P, Okada F, Woods A, Hagiwara H, Kakaimoto S, Toyoda M, Matsuki N (2000) The emetic and anti-emetic effect of the capsaicin analogue resiniferatoxin in Suncus murinus, the house musk shrews. Brit J Pharm 130:1247–1254

Darmani NA (1998) Serotonin 5-HT3 receptor antagonists prevent cisplatin-induced emesis in Cryptotis parva: a new experimental model of emesis. J Neural Transm 105:1143–1154

Darmani NA (2001a) Delta-9-tetrahydrocannabinol and synthetic cannabinoids prevent emesis produced by the cannabinoid CB1 receptor antagonist/inverse agonist SR 141716A. Neuropsychopharmacology 24:198–203

Darmani NA (2001b) Delta-9-tetrahydrocannabinol differentially suppresses cisplatin-insuced emesis and indices of motor function via cannabinoid CB1 receptor in the least shrew. Pharmacol Biochem Behav 69:239–249

Darmani NA (2001c) The cannabinoid CB1 receptor antagonist SR 141716A reverses the antiemetic and motor depressant actions of WIN 55, 212–2. Eur J Pharmacol 430:49–58

Fabi A, Barduagni M, Lauro S, Portalone L, Mauri M, Marinis F, Narduzzi C, Tonini G, Giampaolo M, Pacetti U, Paoloni F, Cognetti F (2003) Is delayed chemotherapy-induced emesis well managed in oncological clinical practice? Support Care Cancer 11:156–161

Fan P (1995) Cannabinoid agonists inhibit the activation of 5-HT3 receptors in rat nodose ganglion neurons. J Neurophysiol 73:907–910

Feigenbaum JJ, Richmond S A, Weissman Y, Mechoulam R (1989) Inhibition of cisplatin-induced emesis in the pigeon by a non-psychotropic synthetic cannabinoid. Eur J Pharmacol 169:159–165

Gurley RJ, Aranow R, Katz M. (1998) Medicinal marijuana: a review. J Psychoact Drugs 30:37–147

Hermann H, Marsicano G, Lutz B. (2002) Coexpression of the cannabinoid receptor type 1 with dopamine and serotonin receptors in distinct neuronal subpopulations of the adult mouse forebrain. Neuroscience 109:541–460

Higgins GA., Kilpatrick GJ., Bunce KT, Jones BJ, Tyers MB (1989) 5-HT3 receptor antagonists injected into the area postrema inhibit cisplatin-induce emesis in the ferret. Br J Pharmacol 97:247–255

Himmi T, Dallaportam M, Perrinm J, Orsini J (1996) Neuronal responses to delta-9-tetrahydrocannabinol in the solitary tract nucleus. Eur J Pharmacol 312:273–279

Himmi T, Perrin J, Ouazzani T, Orsini J (1998) Neuronal responses to cannabinoid receptor ligands in the solitary tract nucleus. Eur J Pharmacol 359:49–54

Ito C, Isobe Y, Kijima H, Kiuchi Y, Ohtsuki H, Kawamura R, Tsuchida, K, Higuchi S (1995) The anti-emetic activity of GK-128 in Suncus murinus. Eur J Pharmacol 285:37–43

Kimura T, Ohta T, Watanabe K, Yoshimura H, Yamamoto I (1998) Anadamide, an endogenous cannabinoid receptor ligand, also interacts with 5-hydroxytryptamine (5-HT) receptor. Biol Pharmaceut Bull 21:224–226

Matsuki N, Wnag C, Okada F, Tamura M, Ikegaya Y, Lin S, Hsu Y, Chaung L, Chen S, Saito H (1997) Male/female differences in drug-induced emesis and motion sickness in Suncus murinus. Pharmacol Biochem Behav 57:721–725

McCarthy LE, Borison HL (1981) Antiemetic activity of N-methyllevonantradol and nabilone in cisplatin-treated cats. J Clin Pharamcol 21:30S-37S

Morrow GR, Roscoe JA, Kirshner JJ, Hynes HE, Rosenbluth RJ (1998) Anticipatory nausea and vomiting in the era of 5-HT3 antiemetics. Support Care Cancer 6:244–247

Ozaki A, Sukamoto T (1999) Improvement of cisplatin-induced emesis and delayed gastric emptying by KB-R6933, a novel 5-HT3 receptor antagonist. Gen Pharmacol 33:283–288

Parker LA, Kemp SWP (2001) Tetrahydrocannabinol (THC) interferes with conditioned retching in Suncus murinus: an animal model of anticipatory nausea and vomiting (ANV). Neuroreport 12:749–751

Parker LA, Kwiatkowska M, Burton P, Mechoulam R (2004) Effect of cannabinoids on lithium-induced vomiting in the Suncus murinus (house musk shrew). Psychopharmacology 171:156–161

Rudd J, Tse J, Wai M (2000) Cisplatin-induced emesis in the cat: effect of granisetron and dexamethasone. Eur J Pharmacol 391:145–150

Simoneau II, Hamza MS, Mata HP, Siegel EM, Vanderah TW, Porreca F, Makriyannis A, Malan Jr PT (2001) The cannabinoid agonist WIN55, 212-2 suppresses opioid-induced emesis in ferrets. Anesthesiology 94:882–887

Soderpalm A, Schuster A, DeWit H (2001) Antiemetic efficacy of smoked marijuana: subjective and behavioral effects on nausea induced by syrup ipecac. Pharmacol Biochem Behav 69:343–350

Torii Y, Saito H, Matsuki N (1991) Selective blockade of cytotoxic drug-induced emesis by 5-HT3 receptor antagonists in Suncus murinus. Jpn J Pharmacol 55:107–113

Tramer MR, Carroll D, Campbell FA, Reyonold DJM, Moore RA, McQuay HJ (2001) Cannabinoids for control of chemotherapy induced nausea and vomiting: quantitative systematic review. BMJ 323:1–8

Tyc VL, Mulhern Rk, Barclay DR, Smith BF, Bieberich AA (1997) Variables associated with anticipatory nausea and vomiting in pediatric cancer patients receiving ondansetron antiemetic therapy. J Pediatr Psychol 22:45–58

Van Sickle MD, Oland LD, Ho W., Hillard, CJ, Mackie K, Davison JS, Sharkey KA (2001) Cannabinoids inhibit emesis through CB1 receptors in the brainstem of the ferret. Gastroenterology 121:767–774

Weddington WW, Miller NJ, Sweet DL (1982) Anticipatory nausea and vomiting associated with cancer chemotherapy. N Engl J Med 307:825–826
Acknowledgements
The research was supported by the research grant from the Canadian Institute of Health Research (CIHR) to LP and from the Israel Science Foundation and the National Institute on Drug Abuse to R.M. We thank Marion Corrick for breeding and excellent care of the shrews.
About this article
Cite this article
Kwiatkowska, M., Parker, L.A., Burton, P. et al. A comparative analysis of the potential of cannabinoids and ondansetron to suppress cisplatin-induced emesis in the Suncus murinus (house musk shrew). Psychopharmacology 174, 254–259 (2004). https://doi.org/10.1007/s00213-003-1739-9
Received:

Accepted:

Published:

Issue Date:
Keywords
Vomiting

Chemotherapy

Serotonin

Retching

Nausea

Anandamide

Δ

-THC

Tetrahydrocannabinol

Cannabidiol

Ondansetron

Cancer