Abstract
Rationale
3,4-Methylenedioxymethamphetamine (MDMA or ecstasy) is a potent and selective serotonin neurotoxin whose use is growing among adolescents. Although cognitive deficits among adult MDMA users are well documented, little is known of the cognitive and brain functional sequelae of MDMA use during adolescence.
Objective
We tested for evidence of cognitive deficits and changes in brain function in a pilot sample of adolescent MDMA users, who were compared with adolescent non-users of MDMA.
Methods
Selective and divided attention and verbal working memory were examined in six adolescent MDMA users and six non-users of MDMA who were similar in age, gender, IQ, and other substance use. Brain function was assessed during performance of the working memory task using functional magnetic resonance imaging (fMRI).
Results
MDMA users had significantly prolonged reaction times during tests of selective and divided attention, and failed to deactivate the left hippocampus normally during high verbal working memory load.
Conclusions
MDMA use in adolescence may be associated with cognitive impairments and dysfunction of inhibitory circuits within the hippocampus. Further work is urgently needed to delineate the developmental impact and long-term functional and clinical significance of MDMA use during adolescence.
Access options
Buy single article
Instant access to the full article PDF.
USD 39.95
Price excludes VAT (USA)
Tax calculation will be finalised during checkout.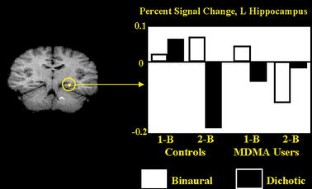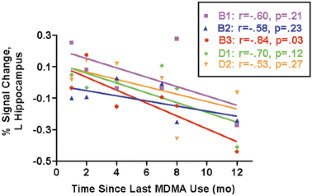 References
Anderson GM, Braun G, Braun U, Nichols DE, Shulgin AT (1978) Absolute configuration and psychotomimetic activity. NIDA Res Monogr 22:8–15

Azmitia EC, Segal M (1978) An autoradiographic analysis of the differential ascending projections of the dorsal and median raphe nuclei in the rat. J Comp Neurol 179:641–667

Bhattachary S, Powell JH (2001) Recreational use of 3,4-methylenedioxymethamphetamine (MDMA) or "ecstasy": evidence for cognitive impairment. Psychol Med 31:647–658

Bolla KI, McCann UD, Ricaurte GA (1998) memory impairment in abstinent MDMA ("ecstasy") users. Neurology 51:1532–1537

Bowers TL, Pantle ML (1998) Shipley institute for living scale and the Kaufman Brief Intelligence Test as screening instruments for intelligence. Assessment 5:187–195

Buchert R, Obrocki J, Thomasius R, Vaterlein O, Petersen K, Jenicke L, Bohuslavizki KH, Clausen M (2001) Long-term effects of "ecstasy" abuse on the human brain studied by FDG PET. Nucl Med Commun 22:889–897

Casey BJ, Giedd JN, Thomas KM (2000) Structural and functional brain development and its relation to cognitive development. Biol Psychiatry 54:241–257

Chen WJ, Hsiao CK, Hsiao LL, Hwu HG (1998) Performance of the Continuous Performance Test among community samples. Schizophr Bull 24:163–174

Cohen J (1988) Statistical power analysis for the behavioral sciences. Erlbaum, Hillsdale

Commins DL, Vosmer G, Virus RM, Woolverton WL, Schuster CR, Seiden LS (1987) Biochemical and histological evidence that methylenedioxymethylamphetamine (MDMA) is toxic to neurons in the rat brain. J Pharmacol Exp Ther 241:338–345

Croft RJ, Mackay AJ, Mills ATD, Gruzelier JGH (2001) The relative contributions of ecstasy and cannabis to cognitive impairment. Psychopharmacology 153:373–379

Curran HV, Verheyden SL (2003) Altered response to tryptophan supplementation after long-term abstention from MDMA (ecstasy) is highly correlated with human memory function. Psychopharmacology 169:91–103

Daumann J, Fimm B, Willmes K, Thron A, Gouzoulis-Mayfrank E (2003) Cerebral activation in abstinent ecstasy (MDMA) users during a working memory task: a functional magnetic resonance imaging (fMRI) study. Cognit Brain Res 16:479–487

Fischer C, Hatzidimitriou G, Wlos J, Katz J, Ricaurte G (1995) Reorganization of ascending 5-HT axon projections in animals previously exposed to the recreational drug (±)3,4-methylenedioxymethamphetamine (MDMA, "ecstasy"). J Neurosci 15:5476–5485

Fox HC, Parrott AC, Turner JJD (2001) Ecstasy use: cognitive deficits related to dosage rather than self-reported problematic use of the drug. J Psychopharmacol 15:273–281

Freund TF, Gulyas AI, Acsady L, Gorcs T, Toth K (1990) Serotonergic control of the hippocampus via local inhibitory interneurons. Proc Natl Acad Sci 87:8501–8505

Friston KJ, Ashburner J, Frith CD, Poline JB, Heather JD, Frackowiak RS (1995) Spatial registration and normalization of images. Hum Brain Map 2:165–189

Gamma A, Buck A, Berthold T, Vollenweider FX (2001) No difference in brain activation during cognitive performance between ecstasy (3,4-methylenedioxymethamphetamine) users and control subjects: a [H2 15O]-positron emission tomography study. J Clin Psychopharmacol 21:66–71

Gerra G, Zaimovic A, Ferri M, Zambelli U, Timpano M, Neri E, Marzocchi GF, Delsignore R, Brambilla F (2000) Long-lasting effects of (±)3,4-methylenedioxymethamphetamine (ecstasy) on serotonin system function in humans. Biol Psychiatry 47:127–136

Gouzoulis-Mayfrank E, Daumann J, Tuchtenhagen F, Pelz S, Becker S, Kunert H-J, Fimm B, Sass H (2000) Impaired cognitive performance in drug free users of recreational ecstasy (MDMA). J Neurol Neurosurg Psychiatry 68:719–725

Gouzoulis-Mayfrank E, Thimm B, Rezk M, Hensen G, Daumann J (2003) Memory impairment suggests hippocampal dysfunction in abstinent ecstasy users. Prog Neuropsychopharmacol Biol Psychiatry 27:819–827

Greenstein YJ, Pavlides C, Winson J (1988) Long-term potentiation in the dentate gyrus is preferentially induced at theta rhythm periodicity. Brain Res 438:331–334

Gulyas AI, Acsady L, Freund TF (1999) Structural basis of the cholinergic and serotonergic modulation of GABAergic neurons in the hippocampus. Neurochem Int 34:359–372

Hatzidimitriou G, McCann UD, Ricaurte GA (1999) Altered serotonin innervation patterns in the forebrain of monkeys treated with (±)3,4-methylenedioxymethamphetamine seven years previously: factors influencing abnormal recovery. J Neurosci 19:5096–5107

Hegadoren KM, Baker GB, Bourin M (1999) 3,4-Methylenedioxy analogues of amphetamine: defining the risks to humans. Neurosci Biobehav Rev 23:539–553

Holmes AP, Friston KJ (1998) Generalizability, random effects, and population inference. Neuroimage 7:S34

Holscher C, Anwyl R, Rowan MJ (1997) Stimulation on the positive phase of hippocampal theta rhythm induces long-term potentiation that can be depotentiated by stimulation on the negative phase in area CA1 in vivo. J Neurosci 17:6470–6477

Huerta PT, Lisman JE (1993) Heightened synaptic plasticity of hippocampal CA1 neurons during a cholinergically induced rhythmic state. Nature 364:723–725

Kirk RE (1982) Experimental design: procedures for the social sciences. Wadsworth, Belmont, Calif.

Kohler C, Steinbusch H (1982) Identification of serotonin and non-serotonin-containing neurons of the mid-brain raphe projecting to the entorhinal area and the hippocampal formation. A combined immunohistochemical and fluorescent retrograde tracing study in the rat brain. Neuroscience 7:951–975

Krystal JH, Price LH, Opsahl C, Ricaurte GA, Heninger GR (1992) Chronic 3,4-methylenedioxymethamphetamine (MDMA) use: effects on mood and neuropsychological function? Am J Drug Alcohol Abuse 18:331–341

Little K, Penman E (1989) Measuring subacute mood changes using the profile of mood states and visual analogue scales. Psychopathology 1989:42–49

McCann UD, Ricaurte GA (2001) Caveat emptor: editors beware. Neuropsychopharmacology 24:333–334

McCann UD, Ridenour A, Shaham Y, Ricaurte GA (1994) Serotonin neurotoxicity after (±)3,4-methylenedioxymethamphetamine (MDMA; "ecstasy"): a controlled study in humans. Neuropsychopharmacology 10:129–138

McCann UD, Szabo Z, Scheffel U, Dannals RF, Ricaurte GA (1998) Positron emission tomographic evidence of toxic effect of MDMA ("ecstasy") on brain serotonin neurons in human beings. Lancet 352:1433–1437

McCann UD, Mertl M, Eligulashvili V, Ricaurte GA (1999) Cognitive performance in (±) 3,4-methylenedioxymethamphetamine (MDMA, "ecstasy") users: a controlled study. Psychopharmacology 143:417–425

Mordenti J, Chappell W (1989) The use of interspecies scaling in toxicokinetics. In: Yacobi A, Kelly J, Batra V (eds) Toxicokinetics and new drug development. Pergamon Press, New York, pp 42–96

Morgan MJ (1999) Memory deficits associated with recreational use of "ecstasy" (MDMA). Psychopharmacology 141:30–36

O'Hearn E, Battaglia G, De Souza EB, Kuhar MJ, Molliver ME (1988) Methylenedioxyamphetamine (MDA) and methylenedioxymethamphetamine (MDMA) cause selective ablation of serotonergic axon terminals in forebrain: immunocytochemical evidence for neurotoxicity. J Neurosci 8:2788–2803

Obrocki J, Schmoldt A, Buchert R, Andresen B, Petersen K, Thomasius R (2002) Specific neurotoxicity of chronic use of ecstasy. Toxicol Lett 127:285–297

Parrott AC (1997) MDMA, mood and memory: the agnosia of the ecstasy. Br Psychol Soc Proc 5:49

Parrott AC (2000) Human research on MDMA (3,4-methylenedioxymethamphetamine) neurotoxicity: cognitive and behavioural indices of change. Neuropsychobiology 42:17–24

Parrott AC (2002) Recreational ecstasy/MDMA, the serotonin syndrome, and serotonergic neurotoxicity. Pharmacol Biochem Behav 71:837–844

Parrott AC, Lasky J (1998) Ecstasy (MDMA) effects upon mood and cognition; before, during, and after a Saturday night dance. Psychopharmacology 139:261–268

Peroutka SJ (1987) Incidence of recreational use of 3,4-methylenedimethoxymethamphetamine (MDMA, "ecstasy") on an undergraduate campus. N Engl J Med 317:1542–1543

Pomerleau CS, Carton SM, Lutzke ML, Flessland KA, Pomerleau OF (1994) Reliability of the Fagerstrom tolerance questionnaire and the Fagerstrom test for nicotine dependence. Addict Behav 19:33–39

Pope HG, Ionescu-Pioggia M, Pope KW (2001) Drug use and life style among college undergraduates: a 30-year longitudinal study. Am J Psychiatry 158:1519–1521

Puig-Antich J, Orvaschel H, Tabrizi MA, Chambers W (1980) The Schedule for Affective Disorders and Schizophrenia for School-Age Children-Epidemiologic Version (Kiddie-SADS-E), 3rd edn. New York State Psychiatric Institute and Yale University School of Medicine, New York

Reneman L, Booij J, Schmand B, van den Brink W, Gunning B (2000) Memory disturbances in "ecstasy" users are correlated with an altered brain serotonin neurotransmission. Psychopharmacology 148:322–324

Reneman L, Booij J, de Bruin K, Reitsma JB, de Wolff FA, Gunning WB, den Heeten GJ, van den Brink W (2001a) Effects of dose, sex, and long-term abstention from use on toxic effectsof MDMA (ecstasy) on brain serotonin neurons. Lancet 358:1869

Reneman L, Lavalaye J, Schmand B, de Wolff FA, van den Brink W, den Heeten GJ, Booij J (2001b) Cortical serotonin transporter density and verbal memory in individuals who stopped using 3,4-methylenedioxymethamphetamine (MDMA or "ecstasy"): preliminary findings. Arch Gen Psychiatry 58:901–906

Reneman L, Endert E, de Bruin K, Lavalaye J, Feenstra MG, de Wolff FA, Boojj J (2002) The acute and chronic effects of MDMA ("ecstasy") on cortical 5-HT2A recptors in rat and human brain. Neuropsychopharmacology 26:387–396

Repp BH, Frost R (1988) Detectability of words and nonwords in two kinds of noise. J Acoust Soc Am 84:1929–1932

Ricaurte GA, Martello AL, Katz JL, Martello MB (1992) Lasting effects of MDMA on central serotonergic neurons in nonhuman primates: neurochemical observations. J Pharmacol Exp Ther 261:616–622

Ricaurte GA, McCann UD, Szabo Z, Scheffel U (2000) Toxicodynamics and long-term toxicity of the recreational drug, 3,4-methylenedioxymethampetamine (MDMA, "Ecstasy"). Toxicol Lett 112–113:143–146

Schmidt CJ (1987) Neruotoxicity of the psychedelic amphetamine, methylenedioxymethamphetamine. J Pharmacol Exp Ther 240:1–7

Schmidt CJ, Levin JA, Lovenberg W (1987) In vitro and in vivo neurochemical effects of methylenedioxymethamphetamine on striatal monoaminergic systems in the rat brain. Biochem Pharmacol 36:747–755

Schuster P, Lieb R, Lamertz C, Wittchen HU (1998) Is the use of ecstasy and hallucinogens increasing? Results from a community study. Eur Addict Res 4:75–82

Semple DM, Ebmeier KP, Glabus MF, O'Carroll RE, Johnstone EC (1999) Reduced in vivo binding to the serotonin transporter in the cerebral cortex of MDMA ("ecstasy") users. Br J Psychiatry 175:63–69

Shaywitz BA, Shaywitz SE, Pugh KR, Fulbright RK, Skudlarski P, Mencl WE, Constable RT, Marchione KE, Fletcher JM, Klorman R, Lacadie C, Gore JC (2001) The functional neural architecture of components of attention in language-processing tasks. Neuroimage 13:601–612

Staubli U, Lynch G (1987) Stable hippocampal long-term potentiation elicity by "theta" pattern stimulation. Brain Res 435:227–234

Steele TD, McCann UD, Ricaurte GA (1994) 3,4-Methylenedioxymethamphetamine (MDMA, "Ecstasy"): pharmacology and toxicology in animals and humans. Addiction 89:539–551

Stone DM, Stahl DC, Hanson GR, Gibb JW (1986) The effects of 3,4-methylenedioxymethamphetamine (MDMA) and 3,4-methylenedioxyamphetamine (MDA) on monaminergic systems in the rat brain. Eur J Pharmacol 128:41–48

Taffe MA, Davis SA, Yuan J, Schroeder R, Hatzidimitriou G, Parsons LH, Ricaurte GA, Gold LH (2002) Cognitive performance of MDMA-treated rhesus monkeys: sensitivity to serotonergic challenge. Neuropsychopharmacology 27:993–1005

Talairach J, Tournoux P (1988) Co-planar stereotaxic atlas of the human brain. Thieme Medical, New York

Varga V, Sik A, Freund TF, Kocsis B (2002) GABA(B) receptors in the median raphe nucleus: distribution and role in the serotonergic control of hippocampal activity. Neuroscience 109:119–132

Verkes RJ, Gijsman HJ, Pieters MSM, Schoemaker RC, de Visser, S, Kuijpers M, Pennings EJM, de Bruin D, de Wijngaart GV, van Gerven JMA, Cohen AF (2001) Cognitive performance and serotonergic function in users of ecstasy. Psychopharmacology 153:196–202

Vertes RP, Kocsis B (1997) Brainstem-diencephalo-septohippocampal systems controlling the theta rhythm of the hippocampus. Neuroscience 81:893–926

von Sydow K, Lieb R, Pfister H, Hofler M, Wittchen HU (2002) Use, abuse and dependence of ecstasy and related drugs in adolescents and young adults—a transient phenomenon? Results from a longitudinal community study. Drug Alcohol Depend 66:147–159

Wareing M, Fisk JE, Murphy PN (2000) Working memory deficits in current and previous users of MDMA ("ecstasy"). Br J Psychol 91:181–199

Wilson MA, Ricaurte GA, Molliver ME (1989) Distinct morphologic classes of serotonergic axons in prmates exhibit differential vulnerability to the psychotropic drug 3,4-methylenedioxymethamphetamine. Neuroscience 28:121–137

Woods RP (1996) Modeling for intergroup comparisons of imaging data. Neuroimage 4:S84–S94

Zakzanis KK, Young DA (2001) Memory impairment in abstinent MDMA ("ecstasy") users: a longitudinal investigation. Neurology 56:966–969
Acknowledgements
This work was supported by grants RO1 DA14655, M01 RR06022, and K02 AA00261 from the National Institutes of Health and by the Department of Veterans Affairs. The authors thank Sabrina Pizzola and Michelle Rosado for assistance with data collection.
About this article
Cite this article
Jacobsen, L.K., Mencl, W.E., Pugh, K.R. et al. Preliminary evidence of hippocampal dysfunction in adolescent MDMA ("ecstasy") users: possible relationship to neurotoxic effects. Psychopharmacology 173, 383–390 (2004). https://doi.org/10.1007/s00213-003-1679-4
Received:

Accepted:

Published:

Issue Date:

DOI: https://doi.org/10.1007/s00213-003-1679-4
Keywords
MDMA

Ecstasy

Adolescent

Selective attention

Divided attention

Working memory