Abstract
Rationale
Serotonin (5-Hydroxytryptamine, 5-HT) receptors play an important role in perception, affect regulation and attention. Pharmacological challenge with the 5-HT2A agonist psilocybin (PY) is useful in studying the neurobiological basis of cognition and consciousness.
Objective
Investigation of dose-dependent effects of PY on psycho(patho)logical and physiological parameters.
Methods
Eight subjects received placebo (PL), and 45 ("very low dose, VLD"), 115 ("low dose, LD"), 215 ("medium dose, MD"), and 315 ("high dose, HD") μg/kg body weight PY. The "Altered States of Consciousness Rating Scale" (5D-ASC), the "Frankfurt Attention Inventory" (FAIR), and the "Adjective Mood Rating Scale" (AMRS) were used to assess the effects of PY on psycho(patho)logical core dimensions, attention, and mood. A 24-h electrocardiogram (EKG) was recorded and blood pressure was measured. Plasma concentrations of thyroid-stimulating hormone (TSH), prolactin (PRL), cortisol (CORT), adrenocorticotropic hormone (ACTH), and standard clinical chemical parameters were determined.
Results
PY dose dependently increased scores of all 5D-ASC core dimensions. Only one subject reacted with transient anxiety to HD PY. Compared with PL, MD and HD PY led to a 50% reduction of performance in the FAIR test. "General inactivation", "emotional excitability", and "dreaminess" were the only domains of the AMRS showing increased scores following MD and HD PY. The mean arterial blood pressure (MAP) was moderately elevated only 60 min following administration of HD PY. Neither EKG nor body temperature was affected by any dose of PY. TSH, ACTH, and CORT plasma levels were elevated during peak effects of HD PY, whereas PRL plasma levels were increased following MD and HD PY.
Conclusion
PY affects core dimensions of altered states of consciousness and physiological parameters in a dose-dependent manner. Our study provided no cause for concern that PY is hazardous with respect to somatic health.
Access options
Buy single article
Instant access to the full article PDF.
USD 39.95
Price includes VAT (USA)
Tax calculation will be finalised during checkout.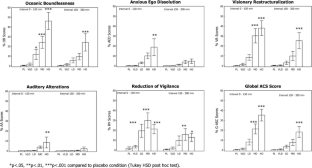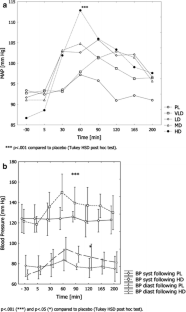 References
Aghajanian GK, Marek GJ (1999) Serotonin and hallucinogens. Neuropsychopharmacology 21:16S–23S

Bonini P, Ceriotti F, Keller F, Brauer P, Stolz H, Pascual C, Garcia-Beltran L, Vonderschmitt DJ, Pei P (1992) Multicentre evaluation of the Boehringer Mannheim/Hitachi 747 analysis system. Eur J Clin Chem Clin Biochem 30:881–899

Buhot MC, Martin S, Segu L (2000) Role of serotonin in memory impairment. Ann Med 32:210–221

Creese I, Burt DR, Snyder SH (1975) The dopamine receptor: differential binding of d-LSD and related agents to agonist and antagonist states. Life Sci 17:1715–1719

Cuomo MJ, Dyment PG, Gammino VM (1994) Increasing use of 'ecstasy' (MDMA) and other hallucinogens on a college campus. Am College Health 42:271–274

Derogatis LR, Lipman RS, Covi L (1973) SCL-90: an outpatient psychiatric rating scale—preliminary report. Psychopharm Bull 9:13–28

Dittrich A (1993) Psychological aspects of altered states of consciousness of the LSD type: measurement of their basic dimensions and prediction of individual differences. In: Pletscher A, Ladewig D (eds) Fifty years of LSD. Current status and perspectives of hallucinogens. Parthenon, New York, pp 101–118

Dittrich A (1996) Ätiologie-unabhängige Strukturen veränderter Wachbewusstseinszustände. VWB Verlag, Berlin

Dittrich A (1998) The standardized psychometric assessment of altered states of consciousness (ASCs) in humans. Pharmacopsychology 31:80–84

Dittrich A, Lamparter D, Maurer M (1999) 5D-ABZ: Fragebogen zur Erfassung Aussergewöhnlicher Bewusstseinszustände. Eine kurze Einführung. PSIN Plus, Zürich

Duval F, Mokrani MC, Bailey P, Correa H, Diep TS, Crocq MA, Macher JP (1999) Thyroid axis activity and serotonin function in major depressive episode. Psychoneuroendocrinology 24:695–712

Ellis KA, Nathan PJ (2001) The pharmacology of human working memory. Int J Neuropsychopharmacol 4:299–313

Fahrenberg J, Hampel R, Selg H (1984) Das Freiburger Persönlichkeitsinventar FPI. D-Göttingen, Hogrefe

Fried R (2000) Aspartatamino-transferase (AST, ASAT, GOT) im Plasma. Manual of the Institute of Clinical Chemistry of the University Hospital of Zürich. Zürich

Fuller RW (1981) Serotonergic stimulation of pituitary-adrenocortical function in rats. Neuroendocrinology 32:118–127

Gouzoulis-Mayfrank E, Heekeren K, Thelen B, Lindenblatt H, Kovar KA, Sass H, Geyer MA (1998) Effects of the hallucinogen psilocybin on habituation and prepulse inhibition of the startle reflex in humans. Behav Pharmacol 9:561–566

Gouzoulis-Mayfrank E, Thelen B, Habermeyer E, Kunert HJ, Kovar KA, Lindenblatt H, Hermle L, Spitzer M, Sass H (1999) Psychopathological, neuroendocrine and autonomic effects of 3,4-methlyenedioxyethylamphetamine (MDE), psilocybin and d-methamphetamine in healthy volunteers. Results of an experimental double-blind placebo-controlled study. Psychopharmacology 142:41–50

Hasler F (1997) Untersuchungen zur Humanpharmakokinetik von Psilocybin. Thesis, University of Bern

Hasler F, Bourquin D, Brenneisen R, Baer T, Vollenweider FX (1997) Determination of psilocin and 4-hydroxyindole-3-acetic acid in plasma by HPLC-ECD and pharmacokinetic profiles of oral and intravenous psilocybin in man. Pharm Acta Helv 72:175–184

Hollister LE (1961) Clinical, biochemical and psychologic effects of psilocybin. Arch Int Pharmacodyn Ther 130:42–53

Holmes MC, DiRenzo GD, Beckford B, Gillham B, Jones MT (1982) Role of serotonin in the control of secretion of corticotropin releasing factor. J Endocrinol 93:151–160

Isbell H (1959) Comparison of reactions induced by psilocybin and LSD-25 in man. Psychopharmacology 1:29–38

Janke W, Debus G (1978) Die Eigenschaftswörterliste (EWL-K)—Ein Verfahren zur Erfassung der Befindlichkeit. Hogrefe, Göttingen

Kapur S, Remington G (1996) Serotonin–dopamine interaction and its relevance to schizophrenia. Am J Psychiatry 153:466–476

Knedel M, Haeckel R, Seidel D, Thiery J, Vonderschmitt DJ, Haenseler E (1986) Analytical performance of the random access analyser Hitachi 737. A multicentre evaluation. J Clin Chem Clin Biochem 24:409–432

Krulich L (1982) Neurotransmitter control of thyrotropin secretion. Neuroendocrinology 35:139–147

Laux L, Glanzmann P, Schaffner P, Spielberger CD (1981) Das State-Trait-Angstinventar (STAI). Beltz, Weinheim

Lindenblatt H, Kraemer E, Holzmann-Erens P, Gouzoulis-Mayfrank E, Kovar KA (1998) Quantitation of psilocin in human plasma by high-performance liquid chromatography and electrochemical detection: comparison of liquid–liquid extraction with automated on-line solid-phase extraction. J Chromatogr B 709:255–263

Lohrer F, Albers M (1999) Biological drugs—is there a change in substance abuse? Psychiatr Prax 26:199–201

Mannisto PT (1983) Central regulation of thyrotropin secretion in rats: methodological aspects, problems and some progress. Med Biol 61:92–100

Marek GJ, Aghajanian GK (1998) Indoleamine and the phenethylamine hallucinogens: mechanisms of psychotomimetic action. Drug Alcohol Depend 51:189–198

McKenna DJ, Repke DB, Lo L, Peroutka SJ (1990) Differential interactions of indolealkylamines with 5-hydroxytryptamine receptor subtypes. Neuropharmacology 29:193–198

Meltzer HY, Nash JF (1988) Serotonin and mood: neuroendocrine aspects. In: Ganten D, Pfaff D (eds) Neuroendocrinology of mood. Springer, Berlin Heidelberg New York, pp 183–210

Meneses A (1998) Physiological, pathophysiological and therapeutic roles of 5-HT systems in learning and memory. Rev Neurosci 4:275–289

Mitsuma T, Nogimori T (1983) Effects of serotonergic system on hypothalamic–pituitary–thyroid axis in rats. Horm Metab Res 15:346–349

Moosbrugger H, Oehlschlägel J (1996) FAIR Frankfurter Aufmerksamkeitsinventar. Testmanual, Hans Huber, Göttingen

O'Malley BP, Jennings PE, Cook N, Barnett DB, Rosenthal FD (1984) The role of serotonin (5-HT) in the control of TSH and prolactin release in euthyroid subjects assessed by the administration of ketanserin (5-HT2 antagonist) and zimelidine (5-HT re-uptake inhibitor). Psychoneuroendocrinology 9:13–19

Passie T, Seifert J, Schneider U, Emrich HM (2002) The pharmacology of psilocybin. Addict Biol 7:357–364

Prescott RW, Kendall-Taylor P, Weightman DR, Watson MJ, Ratcliffe WA (1984) The effect of ketanserin, a specific serotonin antagonist on the PRL, HG, ACTH and cortisol response to hypoglycaemia in normal subjects. Clin Endocrinol 20:137–142

Ramage AG (2001) Central cardiovascular regulation and 5-hydroxytryptamine receptors. Brain Res Bull 56:425–439

Robinson AG, Nelson PB (1983) Prolactinomas in women: current therapies. Ann Int Med 99:115–118

Scharfetter C (1981) Ego-psychopathology: the concept and its empirical evaluation. Psychol Med 11:273–280

Silva JD, Nunes MT (1996) Facilitatory role of serotonin (5-HT) in the control of thyrotropin releasing hormone/throtropin (TRH/TSH) secretion in rats. Braz J Med Biol Res 29:677–683

Strassman RJ, Qualls CR (1994) Dose-response study of N,N-dimethyltryptamine in humans. I. Neuroendocrine, autonomic and cardiovascular effects. Arch Gen Psychiatry 51:85–97

Supprian T, Supprian R, Rosler M, Wanke K (2001) Psychoactive mushrooms—an update. Fortschr Neurol Psychiatr 69:597–602

Van de Kar LD, Karteszi M, Bethea CL, Ganong WF (1985) Serotonergic stimulation of prolactin and corticosterone secretion is mediated by different pathways from the mediobasal hypothalamus. Neuroendocrinology 41:380–384

Van de Kar LD, Javed A, Zhang Y, Serres F, Raap DK, Thackery SG (2001) 5-HT2A receptors stimulate ACTH, corticosterone, oxytocin, renin, and prolactin release and activate hypothalamic CRF and oxytocin-expressing cells. J Neurosci 21:3572–3579

Vollenweider FX, Geyer MA (2001) A systems model of altered consciousness: integrating natural and drug-induced psychoses. Brain Res Bull 56:495–507

Vollenweider FX, Leenders KL, Scharfetter C, Maguire P, Stadelmann O, Angst J (1997) Positron emission tomography and fluorodeoxyglucose studies of metabolic hyperfrontality and psychopathology in the psilocybin model of psychosis. Neuropsychopharmacology 16:357–372

Vollenweider FX, Vollenweider-Scherpenhuyzen MF, Babler A, Vogel H, Hell D (1998) Psilocybin induces schizophrenia-like psychosis in humans via serotonin-2 agonist action. Neuroreport 9:3897–3902

Vollenweider FX, Vontobel P, Hell D, Leenders KL (1999) 5-HT modulation of dopamine release in basal ganglia in psilocybin-induced psychosis in man—a PET study with (11C)raclopride. Neuropsychopharmacology 20:424–433

Williams GV, Rao SG, Goldman-Rakic PS (2002) The physiological role of 5-HT2A receptors in working memory. J Neurosci 22:2843–2854

Wittchen HU, Pfister H (1997) DIA-X-Interview. Swet Test Services, Frankfurt
Acknowledgements
The authors thank Drs Dieter Vonderschmitt, Arnold von Eckardstein, and Kathrin Rentsch, Institute of Clinical Chemistry of the University of Zürich, for analysis of hormones and clinical-chemical parameters, and Martin Dobricki for assistance during the experimental part of the study. The authors especially thank Drs Stephan Ludewig, David Nichols, George Greer, and Francisco Moreno for critical comments on the manuscript. This investigation was financially supported by the Heffter Research Institute, Santa Fe, New Mexico, USA, and the Swiss Federal Office for Public Health (BAG grant no. 00.001023).
About this article
Cite this article
Hasler, F., Grimberg, U., Benz, M.A. et al. Acute psychological and physiological effects of psilocybin in healthy humans: a double-blind, placebo-controlled dose–effect study. Psychopharmacology 172, 145–156 (2004). https://doi.org/10.1007/s00213-003-1640-6
Received:

Accepted:

Published:

Issue Date:
Keywords
Psilocybin

Dose–effect study

Psycho(patho)logy

Neuroendocrinology

Cardiovascular effects

Altered states of consciousness