Abstract
Rationale
Marijuana has been reported to interfere with nausea and vomiting in chemotherapy patients. The principal cannabinoids found in marijuana include the psychoactive compound Δ-9-tetrahydrocannabinol (THC) and the non-psychoactive compound cannabidiol (CBD). The experiments reported here evaluated the potential of THC and CBD to interfere with vomiting in the Suncus murinus (house musk shrew) produced by lithium chloride (LiCl), which is the most commonly employed unconditioned stimulus for taste avoidance.
Objectives
To evaluate the potential of the principal components of marijuana, THC and CBD, to suppress Li-induced vomiting in the house musk shrew.
Methods
Shrews were injected with vehicle or one of two cannabinoids [Δ-9-THC (1–20 mg/kg), or CBD (2.5–40 mg/kg)] 10 min prior to an injection of LiCl (390 mg/kg of 0.15 M) and were then observed for 45 min. The frequency of vomiting episodes and the latency to the first episode were measured. The role of the CB1 receptor in these effects was also evaluated by pretreatment with SR-141716.
Results
Δ-9-THC produced a dose-dependent suppression of Li-induced vomiting, with higher doses producing greater suppression than lower doses. CBD produced a biphasic effect with lower doses producing suppression and higher doses producing enhancement of Li-induced vomiting. The suppression of Li-induced vomiting by THC, but not by CBD, was reversed by SR-141716.
Conclusions
These results indicate that two major cannabinoid compounds found in marijuana, THC and CBD, are effective treatments for Li-induced vomiting; however, only THC acts by the CB1 receptor. The effects of THC and CBD on vomiting were dose dependent; with THC the effect was linear, but with CBD the effect was biphasic.
This is a preview of subscription content, log in to check access.
Access options
Buy single article
Instant access to the full article PDF.
US$ 39.95
Price includes VAT for USA
Subscribe to journal
Immediate online access to all issues from 2019. Subscription will auto renew annually.
US$ 199
This is the net price. Taxes to be calculated in checkout.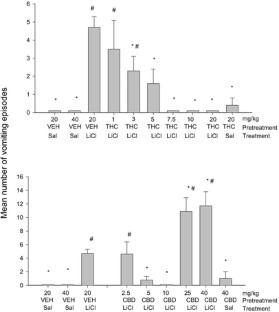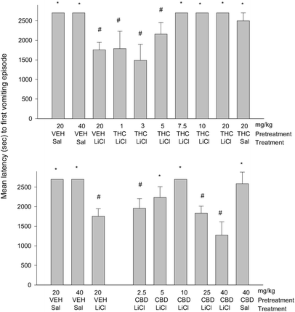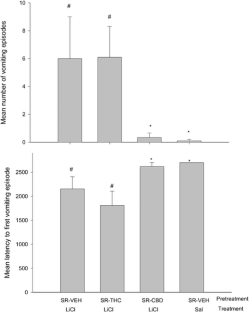 References
Baldessarini RJ (1990) Drugs and the treatment of psychiatric disorders. In: Gilman A, Rall T, Nies AS, Taylor P (eds) Goodman and Gilman's the pharmacological basis of therapeutics, 8th edn. Pergamon Press, New York

Bisogno T, Hanus L, De Petrocellis L, Tchilibon S, Ponde D, Brandi I, Moriello AS, Davis JB, Mechoulam R, DiMarzo V (2001) Molecular targets for cannabidiol and its synthetic analogues: effect on vanilloid VR1 receptors and on the cellular uptake and enzymatic hydrolysis of anandamide. Br J Pharmacol 134:845–852

Breivogel CS, Griffin G, Di Marzo V, Martin BR (2001) Evidence for a new G protein-coupled cannabinoid receptor in mouse brain. Mol Pharmacol 60:155–163

Chen Y, Saito H, Matsuki N (1997) Ethanol-induced emesis in the house musk shrew, Suncus murinus. Life Sci 60:253–261

Darmani NA (2001a) Delta-9-tetrahydrocannabinol and synthetic cannabinoids prevent emesis produced by the cannabinoid CB1 receptor antagonist/inverse agonist SR-41716A. Neuropsychopharmacology 24:198–203

Darmani NA (2001b) Delta-9-tetrahydrocannabinol differentially suppresses cisplatin-induced emesis and indices of motor function via cannabinoid CB1 receptors in the least shrew. Pharmacol Biochem Behav 69:239–249

Darmani NA (2001c) The cannabinoid CB1 receptor antagonist SR 141716A reverses the antiemetic and motor depressant actions of WIN 55,212–2. Eur J Pharmacol 430:49–58

Darmani NA (2002) The potent emetogenic effects of the endocannabinoid, 2-AG (2-arachidonoylglycerol), are blocked by delta (9)-tetrahydrocannabinol and other cannabinoids. J Pharmacol Exp Ther 300:34–42

Devane WA, Dysarz A, Johnson MR, Melvin LS, Howlett A (1988) Determination and characterization of a cannabinoid receptor in rat brain. Mol Pharmacol 34:605–613

Di Marzo V, Breivogel CS, Tao Q, Bridgen DT, Razdan RK, Zimmer AM, Zimmer A, Martin BR (2000) Levels, metabolism and pharmacological activity of anandamide in CB(1) cannabinoid receptor knockout mice: evidence for non-CB(1), non-CB(2) receptor mediated actions of anandamide in mouse brain. J Neurochem 75:2434–2444

Feigenbaum JJ, Richmond SA, Weissman Y, Mechoulam R (1989) Inhibition of cisplatin-induced emesis in the pigeon by a non-psychotropic synthetic cannabinoid. Eur J Pharmacol 4:159–165

Ferrari F, Ottani A, Giuliani D (1999) Cannabimimetic activity in rats and pigeons of HU-210, a potent antiemetic drug. Pharmacol Biochem Behav 62:75–80

Garcia J, Hankins W, Rusiniak K (1974) Behavioral regulation of the milieu interne in man and rat. Science 185:824–831

Gil CJ, Rissman EF (1997) Female sexual behavior is inhibited by short-term and long-term food restriction. Physiol Behav 61:387–394

Grill HC, Norgren R (1978) The taste reactivity test. I. Mimetic responses to gustatory stimuli in neurologically normal rats. Brain Res 143:263–279

Guimaraes FS, Chiaretti TM, Graeff FG, Zuardi AW (1990) Antianxiety effect of cannabidiol in the elevated plus-maze. Psychopharmacology 100:558–559

Hampson AJ, Grimaldi M, Axelrod J (1998) Cannabidiol and delta-9-tetrahydrocannabinol are neuroprotective antioxidants. Proc Natl Acad Sci USA 95:8268–8273

Iversen LL (2000) The science of marijuana. Oxford Univ Press, Oxford

Jarai Z, Wagner JA, Varga K, Lake KD, Compton DR, Martin BR, Zimmer AM, Bonner TI, Buckley NE, Mezey E, Razdan RK, Zommer A, Kunos G (1999) Cannabinoid-induced mesenteric vasodilation through an endothelial site distinct from CB1 or CB2 receptors. Proc Natl Acad Sci USA 23:14136–14141

Limebeer CL, Parker LA (1999) Delta-9-tetrahydrocannabinol interferes with the establishment and the expression of conditioned disgust reactions produced by cyclophoshamide: a rat model of nausea. Neuroreport 10:3769–3772

Limebeer CL, Parker LA (2000) Ondansetron interferes with the establishment and the expression of conditioned disgust reactions: a rat model of nausea. J Exp Psychol Anim Behav Process 26: 371–384

Limebeer CL, Parker LA (2003) The 5-HT1A agonist 8-OH-DPAT dose-dependently interferes with the establishment and the expression of lithium-induced conditioned rejection reactions in rats. Psychopharmacology 166:120–126

Lowe S (1946) Studies on the pharmacology and acute toxicity of compounds with marihuana activity. J Pharmacol Exp Ther 88:154–161

Malfait AM, Gallily R, Sumariwalla PF, Malik AS, Andreakos E, Mechoulam R, Feldman M (2000) The non-psychoactive cannabis-constituent cannabidiol is an oral anti-arthritic therapeutic in murine collagen-induced arthritis. Proc Natl Acad Sci USA 97:9561–9566

McCarthy LE, Borison HL (1981) Antiemetic activity of N-methyllevozantradol and naboline in crspletic treated cats. J Clin Pharmacol 21:305–325

Mechoulam R, Parker LA, Gallily R (2002) Cannabidiol: an overview of some pharmacological aspects. J Clin Pharmacol 42:11S–19S

Parker LA (1982) Nonconsummatory and consummatory behavioral CRs elicited by lithium- and amphetamine-paired flavors. Learn Motiv 13:281–303

Parker LA (1995) Rewarding drugs produce taste avoidance, but not taste aversion. Neurosci Biobehav Rev 19:143–151

Parker LA (1998) Emetic drugs produce conditioned rejection reactions in the taste reactivity test. J Psychophysiol 12:3–13

Parker LA (2003) Taste avoidance and taste aversion: evidence for two independent processes. Learn Behav 31:165–172

Parker LA, McLeod KB (1991) Chin rub CRs may reflect conditioned sickness elicited by a lithium-paired sucrose solution. Pharmacol Biochem Behav 40:983–986

Parker LA, Mechoulam R, Schlievert C (2002) Cannabidiol, a non-psychoactive component of cannabis, and its dimethylheptyl homolog suppress nausea in an experimental model with rats. Neuroreport 13:567–570

Parker LA, Mechoulam R, Shlievert C, Abbott L, Fudge ML, Burton P (2003) Effects of cannabinoids on lithium-induced conditioned rejection reactions in a rat model of nausea. Psychopharmacology 166:156–162

Pelchat ML, Grill HJ, Rozin P, Jacobs J (1983) Quality of acquired responses to tastes by Rattus norvegicus depends on type of associated discomfort. J Comp Psychol 97:140–153

Riley AL, Tuck DL (1985) Conditioned food aversions: a bibliography. In: Braveman NS, Bronstein P (eds) Experimental assessments and clinical applications of conditioned food aversions. Ann NY Acad Sci 443:381–437

Rudd JA, Ngan MP, Wai MK (1998) 5-HT3 receptors are not involved in conditioned taste aversions induced by 5-hydroxytryptamine, ipecacuanha or cisplatin. Eur J Pharmacol 352:143–149

Sallen SE, Zinberg NE, Frei III E (1975) Antiemetic effect of delta-9-tetrahydrocannabinol in patients receiving cancer chemotherapy. N Engl J Med 293:795–798

Simoneau II, Hamza MS, Mata HP, Siegel EM, Vanderah TW, Porreca F, Makryannis A, Malan P (2001) The cannabinoid agonist WIN 55,212–2 suppresses opioid-induced emesis in ferrets. Anesthesiology 94:882–886

Smith JE, Friedman MI, Andrews PLR (2002) Conditioned food aversion in Suncus murinus (house musk shrew)—a new model for the study of nausea in a species with an emetic reflex. Physiol Behav 73:593–598

Van Sickle MD, Oland LD, Ho W, Hillard CJ, Mackie K, Davison JS, Sharkey KA (2001) Cannabinoids inhibit emesis through CB1 receptors in the brainstem of the ferret. Gastroenterology 121:767–774

Zalaquett C, Parker LA (1989) Further evidence that CTAs produced by lithium and amphetamine are qualitatively different. Learn Motiv 20:413–427
Acknowledgements
The research in Canada was supported by a research grant from the Canadian Institutes of Health Research to Linda Parker. The research in Israel was supported by the Israel Science Foundation and the National Institute on Drug Abuse. We would like to thank Marion Corrick for care of the animals.
About this article
Cite this article
Parker, L.A., Kwiatkowska, M., Burton, P. et al. Effect of cannabinoids on lithium-induced vomiting in the Suncus murinus (house musk shrew). Psychopharmacology 171, 156–161 (2004). https://doi.org/10.1007/s00213-003-1571-2
Received:

Accepted:

Published:

Issue Date:
Keywords
Cannabinoids

Lithium-induced vomiting

Suncus murinus