Abstract
Objective
The aim of the study was to investigate differences in 5-HT2A receptor binding between healthy volunteers and patients with major depressive disorder (MDD), either never treated before with antidepressants (drug-naive: DN) or responding to paroxetine treatment (drug-treated: DT).
Methods
Nineteen DN patients with MDD and 15 euthymic DT (paroxetine 4 weeks) patients were compared with a group of 20 healthy controls (C) with positron emission tomography (PET) using [18F]fluoroethylspiperone ([18F]FESP), a 5-HT2A and D2 receptor antagonist. A "binding index" (BI) of [18F]FESP to cortical and basal ganglia regions was calculated as the ratio of the activity in these regions to that of cerebellum. Differences in BI between groups, i.e. C versus DN or DT, were assessed by ANOVA, with or without age as covariate (ANCOVA).
Results
A significant reduction in BI (P=0.003 ANOVA, P=0.001 ANCOVA) was found in DN patients in the frontal, occipital, temporal and cingulate cortices, but not in the striatum. No significant differences emerged between C and DT patients.
Conclusions
The reduction of [18F]FESP BI in cortical areas of DN depressed, but not of euthymic DT patients suggests an association between the occurrence of depressive symptoms and impairment of cortical 5-HT2A receptors. [18F]FESP cortical BI may represent a state marker of depression.
Access options
Buy single article
Instant access to the full article PDF.
USD 39.95
Price excludes VAT (USA)
Tax calculation will be finalised during checkout.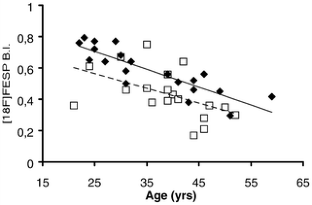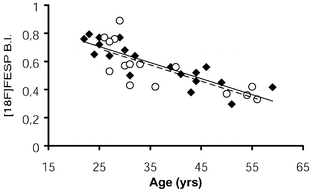 References
Arango V, Ernsberger P, Marzuk P, Chen J, Tierney H, Stanley M, Reis D, Mann J (1990) Autoradiographic demonstration of increased serotonin 5-HT2 and β-adrenergic receptor binding sites in the brain of suicide victims. Arch Gen Psychiatry 47:1038–1047

Arora R, Meltzer H (1989) Increased serotonin2 (5-HT2 receptor binding as measured by 3H-lysergic acid diethylamide (3H-LSD) in the blood platelets of depressed patients. Life Sci 44:725–734

Arranz B, Eriksson A, Mellerup E, Plenge P, Marcusson J (1994) Brain 5-HT1A, 5-HT1D, and 5-HT2 receptors in suicide victims. Biol Psychiatry 35:457–463

Attar-Levy D, Martinot J, Blin J, Dao-Castellana M, Crouzel C, Mazoyer B, Poirier M, Bourdel M, Aymard N, Syrota A, Feline A (1999) The cortical serotonin2 receptors studied with positron-emission tomography and [18F]-setoperone during depressive illness and antidepressant treatment with clomopramine. Biol Psychiatry 45:180–186

Barnes N, Sharp T (1999) A review of central 5-HT receptors and their function. Neuropharmacology 38:1083–1152

Biver F, Wikler D, Damhaut P, Goldman S, Mendlewicz J (1997) Serotonin 5-HT2 receptor imaging in major depression: focal changes in orbito-insular cortex. Br J Psychiatry 171:444–448

Blin J, Baron J, Dubois B (1993) Loss of brain 5-HT2 receptors in Alzheimer's disease. Brain 116:497–510

Cheetham S, Crompton M, Katona C, Horton R (1988) Brain 5-HT2 receptor binding sites in depressed suicide victims. Brain Res 443:272–280

Cooper S, Owen F, Chambers D, Crow T, Johnoson J, Poulter M (1986) Postmortem neurochemical findings in suicide and depression: a study of the serotonergic system and imipramine binding in suicide victims. In: Deakin J (ed) The biology of depression. Alden Press, Oxford, pp 53–70

Cowen P, Charig E, Fraser S, Elliot J (1987) Platelet 5HT receptor binding during depressive illness and antidepressant treatment. J Affect Disord 13:45–50

D'haenen H, Bossuyt A (1994) Dopamine D2 receptors in depression measured with single photon emission computed tomography. Biol Psychiatry 35:128–132

Ebert D, Feistel H, Loew T, Pirner A (1996) Dopamine and depression—striatal dopamine D2 receptor SPECT before and after antidepressant therapy. Psychopharmacology 126:91–94

Elkis H, Friedman L, Wise A, Meltzer H (1995) Meta-analyses of studies of ventricular enlargement and cortical sulcal prominence in mood disorders. Comparisons with controls or patients with schizophrenia. Arch Gen Psychiatry 52:735–746

Goffinet A, Leysen J, Labar D (1990) In vitro pharmacological profile of 3-N-(2-fluoroethyl spiperone. J Cereb Blood Flow Metab 10:140–142

Gross-Isseroff R, Salama D, Israeli M, Biegon A (1990) Autoradiographic analysis of [3H]ketanserin binding in the human brain post-mortem: effect of suicide. Brain Res 507:208–215

Hall H, Farde L, Halldin C, Lundkvist C, Sedvall G (2000) Autoradiographic localization of 5-HT(2A) receptors in the human brain using [(3)H]M100907 and [(11)C]M100907 [In Process Citation]. Synapse 38:421–431

Hoyer D, Pazos A, Probst A, Palacios J (1986) Serotonin receptors in the human brain. II. Characterization and autoradiographic localization of 5-HT1C and 5-HT2 recognition sites. Brain Res 376:97–107

Klimke A, Larisch R, Janz A, Vosberg H, Muller-Gartner HWG (1999) Dopamine D2 receptor binding before and after treatment of major depression measured by [123I]IBZM SPECT. Psychiatry Res 90:91–101

Larisch R, Klimke A, Vosberg H, Loffler S, Gaebel W, Muller-Gartner H (1997) In vivo evidence for the involvement of dopamine D2 receptors in striatum and anterior cingulate gyrus in major depression. Neuroimage 5:251–260

Lowther S, De Paermentier F, Crompton M, Katona C, Horton R (1994) Brain 5-HT2 receptors in suicide victims: violence of death, depression and effect of antidepressant medication. Brain Res 642:281–289

Maes M, Meltzer H (1995) The serotonin hypothesis of major depression. In: Bloom F, Kupfer D (eds) Psychopharmacology: the fourth generation of progress. Raven Press, New York, pp 933–944

Mann J, Stanley M, McBride A, Mc Ewan B (1986) Increased serotonin2 and adrenergic receptor binding in the frontal cortices of suicide victims. Arch Gen Psychiatry 43:954–959

Massou J, Trichard C, Attar-Levy D, Feline A, Corruble E, Beaufils B, Martinot JL (1997) Frontal 5-HT2A receptors studied in depressive patients during chronic treatment by selective serotonin reuptake inhibitors. Psychopharmacology 13:99–101

Meltzer C, Price J, Mathis C, Greer P, Cantwell M, Houck P, Mulsant B, Ben-Eliezer D, Lopresti B, DeKosky S (1999) PET imaging of serotonin type 2A receptors in late-life neuropsychiatric disorders. Am J Psychiatry 156:1871–1878

Meyer J, Kapur S, Houle S, DaSilva J, Owczarek B, Brown G, Wilson A, Kennedy S (1999) Prefrontal cortex 5HT2 receptors in depression: an [18F]setoperone PET imaging study. Am J Psychiatry 156:1029–1034

Moresco RM, Colombo C, Fazio F, Bonfanti A, Lucignani G, Messa C, Gobbo C, Galli L, Del Sole A, Lucca A, Smeraldi E (2000) Effect of fluvoxamine on the in vivo binding of [F-18]FESP in drug-naïve depressed patients: a PET study. Neuroimage 12:452–465

Pan L, De Vriendt C, Belpaire F (1998) In-vitro characterization of the cytochrome P450 isoenzymes involved in the back oxidation and N-dealkylation of reduced haloperidol. Pharmacogenetics 8:383–389

Rajkowska G (2000) Postmortem studies in mood disorders indicate altered numbers of neurons and glial cells. Biol Psychiatry 48:766–777

Rosier A, Dupont P, Peuskens J (1996) Visualization of loss of 5HT2A receptors with age in healthy volunteers using [F-18]altanserin and positron emission tomography imaging. Psychiatry Res 68:11–22

Satyamurthy N, Bida GT, Barrio JR, Luxen A, Mazziotta JC, Huang SC, Phelps ME (1986) No-carrier-added 3-(2'-[18F]fluoroethyl)spiperone, a new dopamine receptor-binding tracer for positron emission tomography. Int J Rad Appl Instrum B 13:617–624

Shah P, Ogilvie A, Goodwin G, Ebmeier K (1997) Clinical and psychometric correlates of dopamine D2 binding in depression. Psychol Med 27:1247–1256

Sheline YI (2000) 3D MRI studies of neuroanatomic changes in unipolar major depression: the role of stress and medical comorbidity. Biol Psychiatry 48:791–800

Staley J, Malison R, Innis R (1998) Imaging of the serotonergic system: interactions of neuroanatomical and functional abnormalities of depression. Biol Psychiatry 44:534–549

Stanley M, Mann J (1983) Increased serotonin2binding sites in frontal cortex of suicide victims. Lancet 1:214–216

Strakowski SM, Adler CM, DelBello MP (2002) Volumetric MRI studies of mood disorders: do they distinguish unipolar and bipolar disorder? Bipolar Disord 4:80–88

Wagner H, Reches A, Yablonskaya E, Fahn S (1986) Clonazepam-induced up-regulation of serotonin1 and serotonin2 binding sites in rat frontal cortex. Adv Neurol 43:645–651

Wong D, Wagner H, Dannals R, Links J, Frost J, Ravert H, Wilson A, Rosenbaum A, Gjedde A, Douglass K, Petronis J, Flstein M, Toung J, Burns H, Kuhar M (1984) Effects of age on dopamine and serotonin receptors measured by positron tomography in the living human brain. Science 226:1393–1396

Yatham L, Liddle P, Dennie J, Shiah I, Adam M, Lane C, Lam RW, Ruth T (1999) Decrease in brain serotonin 2 receptor binding in patients with major depression following desimipramine treatment: a positron emission tomography study with fluorine 18-labeled setoperone. Arch Gen Psychiatry 56:705–711

Yatham L, Liddle P, Shiah I, Scarrow G, Lam R, Adam M, Zis A, Ruth T (2000) Brain serotonin2 receptors in major depression: a positron emission tomography study. Arch Gen Psychiatry 57:850–858

Zanardi R, Artigas F, Moresco R, Colombo C, Messa C, Gobbo C, Smeraldi E, Fazio F (2001) Increased 5-hydroxytryptamine-2 receptor binding in the frontal cortex of depressed patients responding to paroxetine treatment: a positron emission tomography scan study. J Clin Psychopharmacol 21:53–58
Acknowledgements
The authors wish to thank Dr. Francesco Perugini, Mr. Giuseppe Striano, Mrs. Carmen Nichetti and Mrs. Lorena Bonaldi for their help in the study and Professor P.M. Grasby for useful advise and discussion. Grant supporting: Fondo de Investigatión Sanitaria 98/697 (professor Artigas).
About this article
Cite this article
Messa, C., Colombo, C., Moresco, R.M. et al. 5-HT2A receptor binding is reduced in drug-naive and unchanged in SSRI-responder depressed patients compared to healthy controls: a PET study. Psychopharmacology 167, 72–78 (2003). https://doi.org/10.1007/s00213-002-1379-5
Received:

Accepted:

Published:

Issue Date:

DOI: https://doi.org/10.1007/s00213-002-1379-5
Keywords