Abstract
T cell acute lymphoblastic leukemia (T-ALL) was a malignant lymphoma. Therefore, the development of novel therapeutic agents against T-ALL is imperative. Previous studies have shown that chrysophanol (CHL), an anthraquinone compound isolated from the Rheum palmatum L., exerts anti-proliferative and anti-metastatic effects in multiple malignant tumors. However, the effect of CHL on the progression of TALL is poorly understood. The aim of this study was to explore the role of CHL in the biological behavior of T-ALL cells and determine its underlying mechanism. Both T-ALL cell lines (Jurkat and TALL-104) were treated with CHL. The proliferation, apoptosis, migration, and invasion of T-ALL cells were determined by CCK-8, flow cytometry, wound healing, and Transwell assay, respectively. Western blot and RT-qPCR were applied to examine gene expression. The dual-luciferase reporter gene assay was employed to examine the regulation mechanism of miR-9 and PD-L1. A T-ALL xenograft model also was used to examine the effect of CHL on the tumor growth and metastasis in vivo. CHL treatment significantly inhibited the proliferation, migration, and invasion ability of both Jurkat and TALL-104 cells and induced cell apoptosis and the expression of miR-9. Moreover, miR-9 was proved to target PD-L1 by binding to its 3′-untranslated region (UTR). Mechanically, pretreated with PD-L1 inhibitor could augment the anti-proliferation and anti-metastatic effect of CHL, while miR-9-silenced alleviated this effect. Consistent with in vitro studies, CHL significantly suppressed the growth and metastasis of tumor in vivo. Our finding uncovers the antitumorigenic effect of CHL in T-ALL progression through upregulating the expression of miR-9 and suppressing PD-L1 expression, which may provide a new potential strategy for T-ALL clinical treatment.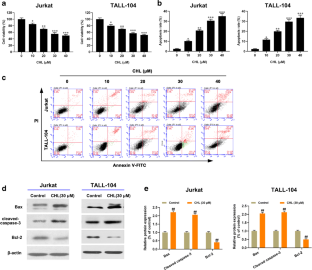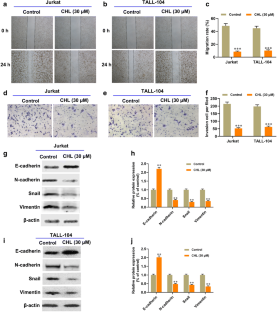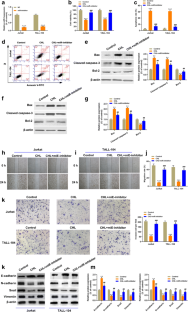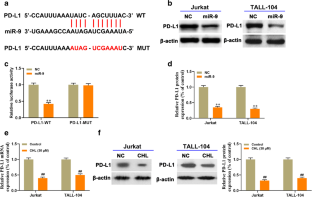 References
Abdul Wahid SF, Ismail NA, Mohd-Idris MR, Jamaluddin FW, Tumian N, Sze-Wei EY, Muhammad N, Nai ML (2014) Comparison of reduced-intensity and myeloablative conditioning regimens for allogeneic hematopoietic stem cell transplantation in patients with acute myeloid leukemia and acute lymphoblastic leukemia: a meta-analysis. Stem Cells Dev 23:2535–2552

Anastasiadou E, Stroopinsky D, Alimperti S, Jiao AL, Pyzer AR, Cippitelli C, Pepe G, Severa M, Rosenblatt J, Etna MP, Rieger S, Kempkes B, Coccia EM, Sui SJH, Chen CS, Uccini S, Avigan D, Faggioni A, Trivedi P, Slack FJ (2019) Epstein-Barr virus-encoded EBNA2 alters immune checkpoint PD-L1 expression by downregulating miR-34a in B-cell lymphomas. Leukemia 33:132–147

Ashizawa M, Okayama H, Ishigame T, Thar Min AK, Saito K, Ujiie D, Murakami Y, Kikuchi T, Nakayama Y, Noda M, Tada T, Endo H, Fujita S, Sakamoto W, Saito M, Saze Z, Momma T, Ohki S, Mimura K, Kono K (2019) miRNA-148a-3p regulates immunosuppression in DNA mismatch repair-deficient colorectal Cancer by targeting PD-L1. Mol Cancer Res 17:1403–1413

Bai J, Wu J, Tang R, Sun C, Ji J, Yin Z, Ma G, Yang W (2019). Emodin, a natural anthraquinone, suppresses liver cancer in vitro and in vivo by regulating VEGFR2 and miR-34a. Investig New Drugs

Chen YC, Shen SC, Lee WR, Hsu FL, Lin HY, Ko CH, Tseng SW (2002) Emodin induces apoptosis in human promyeloleukemic HL-60 cells accompanied by activation of caspase 3 cascade but independent of reactive oxygen species production. Biochem Pharmacol 64:1713–1724

Choi JS (2016) Chrysophanic acid induces necrosis but not Necroptosis in human renal cell carcinoma Caki-2 cells. J Cancer Prev 21:81–87

Darzynkiewicz Z, Carter SP, Kapuscinski J, Watanabe KA (1989) Effect of derivatives of chrysophanol, a new type of potential antitumor agents of anthraquinone family, on growth and cell cycle of L1210 leukemic cells. Cancer Lett 46:181–187

Deng M, Xue YJ, Xu LR, Wang QW, Wei J, Ke XQ, Wang JC, Chen XD (2019) Chrysophanol suppresses hypoxia-induced epithelial-Mesenchymal transition in colorectal Cancer cells. Anat Rec (Hoboken) 302:1561–1570

Deng X, Tu Z, Xiong M, Tembo K, Zhou L, Liu P, Pan S, Xiong J, Yang X, Leng J, Zhang Q, Xiao R, Zhang Q (2017) Wnt5a and CCL25 promote adult T-cell acute lymphoblastic leukemia cell migration, invasion and metastasis. Oncotarget 8:39033–39047

Giebel S, Czyz A, Ottmann O, Baron F, Brissot E, Ciceri F, Cornelissen JJ, Esteve J, Gorin NC, Savani B, Schmid C, Mohty M, Nagler A (2016) Use of tyrosine kinase inhibitors to prevent relapse after allogeneic hematopoietic stem cell transplantation for patients with Philadelphia chromosome-positive acute lymphoblastic leukemia: a position statement of the acute leukemia working Party of the European Society for blood and marrow transplantation. Cancer 122:2941–2951

Guo F, Hou X, Sun Q (2018) MicroRNA-9-5p functions as a tumor suppressor in papillary thyroid cancer via targeting BRAF. Oncol Lett 16:6815–6821

Han M, Gao H, Xie J, Yuan YP, Yuan Q, Gao MQ, Liu KL, Chen XH, Han YT, Han ZW (2019) Hispidulin induces ER stress-mediated apoptosis in human hepatocellular carcinoma cells in vitro and in vivo by activating AMPK signaling pathway. Acta Pharmacol Sin 40:666–676

Han Y, Liu Y, Fu X, Zhang Q, Huang H, Zhang C, Li W, Zhang J (2018) miR-9 inhibits the metastatic ability of hepatocellular carcinoma via targeting beta galactoside alpha-2,6-sialyltransferase 1. J Physiol Biochem 74:491–501

Kansagra A, Dahiya S, Litzow M (2018) Continuing challenges and current issues in acute lymphoblastic leukemia. Leuk Lymphoma 59:526–541

Kloten V, Lampignano R, Krahn T, Schlange T (2019) Circulating tumor cell PD-L1 expression as biomarker for therapeutic efficacy of immune checkpoint inhibition in NSCLC. Cells 8

Lee JS, Ruppin E (2019). Multiomics prediction of response rates to therapies to inhibit programmed cell death 1 and programmed cell death 1 ligand 1. JAMA Oncol

Li X, Chu S, Liu Y, Chen N (2019) Neuroprotective effects of anthraquinones from rhubarb in central nervous system diseases. Evid Based Complement Alternat Med 2019:3790728

Lim W, An Y, Yang C, Bazer FW, Song G (2018) Chrysophanol induces cell death and inhibits invasiveness via mitochondrial calcium overload in ovarian cancer cells. J Cell Biochem 119:10216–10227

Lim W, Yang C, Bazer FW, Song G (2017) Chrysophanol induces apoptosis of Choriocarcinoma through regulation of ROS and the AKT and ERK1/2 pathways. J Cell Physiol 232:331–339

Liu J, Fan L, Yu H, Zhang J, He Y, Feng D, Wang F, Li X, Liu Q, Li Y, Guo Z, Gao B, Wei W, Wang H, Sun G (2019a) Endoplasmic reticulum stress causes liver Cancer cells to release exosomal miR-23a-3p and up-regulate programmed death ligand 1 expression in macrophages. Hepatology 70:241–258

Liu Y, Lei P, Qiao H, Sun K, Lu X, Bao F, Yu R, Lian C, Li Y, Chen W, Xue F (2019b) miR-9 enhances the chemosensitivity of AML cells to daunorubicin by targeting the EIF5A2/MCL-1 Axis. Int J Biol Sci 15:579–586

Lu J, Li J, Hu Y, Guo Z, Sun D, Wang P, Guo K, Duan DD, Gao S, Jiang J, Wang J, Liu P (2019) Chrysophanol protects against doxorubicin-induced cardiotoxicity by suppressing cellular PARylation. Acta Pharm Sin B 9:782–793

Lu J, Xu X, Liu X, Peng Y, Zhang B, Wang L, Luo H, Peng X, Li G, Tian W, He M, Li X (2014) Predictive value of miR-9 as a potential biomarker for nasopharyngeal carcinoma metastasis. Br J Cancer 110:392–398

Lu L, Li K, Mao YH, Qu H, Yao B, Zhong WW, Ma B, Wang ZY (2017) Gold-chrysophanol nanoparticles suppress human prostate cancer progression through inactivating AKT expression and inducing apoptosis and ROS generation in vitro and in vivo. Int J Oncol 51:1089–1103

McCubrey JA, Lertpiriyapong K, Steelman LS, Abrams SL, Yang LV, Murata RM, Rosalen PL, Scalisi A, Neri LM, Cocco L, Ratti S, Martelli AM, Laidler P, Dulinska-Litewka J, Rakus D, Gizak A, Lombardi P, Nicoletti F, Candido S, Libra M, Montalto G, Cervello M (2017) Effects of resveratrol, curcumin, berberine and other nutraceuticals on aging, cancer development, cancer stem cells and microRNAs. Aging (Albany NY) 9:1477–1536

Mittal N, Li L, Sheng Y, Hu C, Li F, Zhu T, Qiao X, Qian Z (2019) A critical role of epigenetic inactivation of miR-9 in EVI1(high) pediatric AML. Mol Cancer 18:30

Mohammadi-Yeganeh S, Mansouri A, Paryan M (2015) Targeting of miR9/NOTCH1 interaction reduces metastatic behavior in triple-negative breast cancer. Chem Biol Drug Des 86:1185–1191

Mulder TA, Wahlin BE, Osterborg A, Palma M (2019) Targeting the immune microenvironment in lymphomas of B-cell origin: from biology to clinical application. Cancers (Basel) 11

Ni CH, Chen PY, Lu HF, Yang JS, Huang HY, Wu SH, Ip SW, Wu CT, Chiang SY, Lin JG, Wood WG, Chung JG (2012) Chrysophanol-induced necrotic-like cell death through an impaired mitochondrial ATP synthesis in Hep3B human liver cancer cells. Arch Pharm Res 35:887–895

Nourmohammadi B, Tafsiri E, Rahimi A, Nourmohammadi Z, Daneshvar Kakhaki A, Cho W, Karimipoor M (2019) Expression of miR-9 and miR-200c, ZEB1, ZEB2 and E-cadherin in non-small cell lung cancers in Iran. Asian Pac J Cancer Prev 20:1633–1639

Orso F, Quirico L, Dettori D, Coppo R, Virga F, Ferreira LC, Paoletti C, Baruffaldi D, Penna E, Taverna D (2019) Role of miRNAs in tumor and endothelial cell interactions during tumor progression. Semin Cancer Biol

Otter SJ, Chatterjee J, Stewart AJ, Michael A (2019) The role of biomarkers for the prediction of response to checkpoint immunotherapy and the rationale for the use of checkpoint immunotherapy in cervical Cancer. Clin Oncol (R Coll Radiol)

Park S, Lim W, Song G (2018) Chrysophanol selectively represses breast cancer cell growth by inducing reactive oxygen species production and endoplasmic reticulum stress via AKT and mitogen-activated protein kinase signal pathways. Toxicol Appl Pharmacol 360:201–211

Park YR, Lee ST, Kim SL, Zhu SM, Lee MR, Kim SH, Kim IH, Lee SO, Seo SY, Kim SW (2019) Down-regulation of miR-9 promotes epithelial mesenchymal transition via regulating anoctamin-1 (ANO1) in CRC cells. Cancer Genet 231-232:22–31

Paul S, Kantarjian H, Jabbour EJ (2016) Adult acute lymphoblastic leukemia. Mayo Clin Proc 91:1645–1666

Refae S, Gal J, Ebran N, Otto J, Borchiellini D, Peyrade F, Chamorey E, Brest P, Milano G, Saada-Bouzid E (2019) Germinal immunogenetics predict treatment outcome for PD-1/PD-L1 checkpoint inhibitors. Investig New Drugs

Richardsen E, Andersen S, Al-Saad S, Rakaee M, Nordby Y, Pedersen MI, Ness N, Ingebriktsen LM, Fassina A, Tasken KA, Mills IG, Donnem T, Bremnes RM, Busund LT (2019) Low expression of miR-424-3p is highly correlated with clinical failure in prostate Cancer. Sci Rep 9:10662

Roolf C, Saleweski JN, Stein A, Richter A, Maletzki C, Sekora A, Escobar HM, Wu XF, Beller M, Junghanss C (2019). Novel isoquinolinamine and isoindoloquinazolinone compounds exhibit antiproliferative activity in acute lymphoblastic leukemia cells. Biomol Ther (Seoul): 492–501

Setti Boubaker N, Cicchillitti L, Said R, Gurtner A, Ayed H, Blel A, Karray O, Essid MA, Gharbi M, Bouzouita A, Rammeh Rommeni S, Chebil M, Piaggio G, Ouerhani S (2019) The clinical and prognostic value of miR-9 gene expression in Tunisian patients with bladder cancer. Mol Biol Rep

Song G, Zhang Y, Yu S, Lv W, Guan Z, Sun M, Wang J (2019) Chrysophanol attenuates airway inflammation and remodeling through nuclear factor-kappa B signaling pathway in asthma. Phytother Res 33:2702–2713

Sun Y, Yu W, Guan W, Cai L, Qiao M, Zheng L, Jiang R, Wang R, Wang L (2019) Integrated assessment of PD-L1 expression and molecular classification facilitates therapy selection and prognosis prediction in gastric cancer. Cancer Manag Res 11:6397–6410

Tao F, Zhang Y, Zhang Z (2019) The role of herbal bioactive components in mitochondria function and Cancer therapy. Evid Based Complement Alternat Med 2019:3868354

Tegelberg A, Kopp S (1988) Skin surface temperature over the masseter muscle in individuals with rheumatoid arthritis. Acta Odontol Scand 46:151–158

Tetik Vardarli A, Duzgun Z, Erdem C, Kaymaz BT, Eroglu Z, Cetintas VB (2018) Matrine induced G0/G1 arrest and apoptosis in human acute T-cell lymphoblastic leukemia (T-ALL) cells. Bosn J Basic Med Sci 18:141–149

Touat M, Maisonobe T, Knauss S, Ben Hadj Salem O, Hervier B, Aure K, Szwebel TA, Kramkimel N, Lethrosne C, Bruch JF, Laly P, Cadranel J, Weiss N, Behin A, Allenbach Y, Benveniste O, Lenglet T, Psimaras D, Stenzel W, Leonard-Louis S (2018) Immune checkpoint inhibitor-related myositis and myocarditis in patients with cancer. Neurology 91:e985–e994

Trinh TA, Lee D, Park S, Kim SH, Park JG, Kim JH, Kang KS (2019) Stilbenes contribute to the anticancer effects of Rheum undulatum L. through activation of apoptosis. Oncol Lett 17:2953–2959

Ultimo S, Martelli AM, Zauli G, Vitale M, Calin GA, Neri LM (2018) Roles and clinical implications of microRNAs in acute lymphoblastic leukemia. J Cell Physiol 233:5642–5654

Vadillo E, Dorantes-Acosta E, Pelayo R, Schnoor M (2018) T cell acute lymphoblastic leukemia (T-ALL): new insights into the cellular origins and infiltration mechanisms common and unique among hematologic malignancies. Blood Rev 32:36–51

Versteven M, Van den Bergh JMJ, Marcq E, Smits ELJ, Van Tendeloo VFI, Hobo W, Lion E (2018) Dendritic cells and programmed death-1 blockade: a joint venture to combat cancer. Front Immunol 9:394

Wei W, Dong Z, Gao H, Zhang YY, Shao LH, Jin LL, Lv YH, Zhao G, Shen YN, Jin SZ (2019) MicroRNA-9 enhanced radiosensitivity and its mechanism of DNA methylation in non-small cell lung cancer. Gene 710:178–185

Xie L, Tang H, Song J, Long J, Zhang L, Li X (2019a) Chrysophanol: a review of its pharmacology, toxicity and pharmacokinetics. J Pharm Pharmacol 71:1475–1487

Xie Q, Lin S, Zheng M, Cai Q, Tu Y (2019b) Long noncoding RNA NEAT1 promotes the growth of cervical cancer cells via sponging miR-9-5p. Biochem Cell Biol 97:100–108

Yang XY, Sheng Y (2019) MiR-101 represses T-cell acute lymphoblastic leukemia by targeting CXCR7/STAT3 axis. Oncol Res

Zang Y, Yu R, Bai Y, Chen X (2018) MicroRNA-9 suppresses cancer proliferation and cell cycle progression in acute lymphoblastic leukemia with inverse association of neuropilin-1. J Cell Biochem 119:6604–6613

Zhai B, Zhang N, Han X, Li Q, Zhang M, Chen X, Li G, Zhang R, Chen P, Wang W, Li C, Xiang Y, Liu S, Duan T, Lou J, Xie T, Sui X (2019) Molecular targets of beta-elemene, a herbal extract used in traditional Chinese medicine, and its potential role in cancer therapy: a review. Biomed Pharmacother 114:108812

Zhang D, Han Y, Xu L (2016) Upregulation of miR-124 by physcion 8-O-beta-glucopyranoside inhibits proliferation and invasion of malignant melanoma cells via repressing RLIP76. Biomed Pharmacother 84:166–176

Zhao Y, Huang Y, Fang Y, Zhao H, Shi W, Li J, Duan Y, Sun Y, Gao L, Luo Y (2018) Chrysophanol attenuates nitrosative/oxidative stress injury in a mouse model of focal cerebral ischemia/reperfusion. J Pharmacol Sci 138:16–22

Zhou WY, Zhang MM, Liu C, Kang Y, Wang JO, Yang XH (2019) Long noncoding RNA LINC00473 drives the progression of pancreatic cancer via upregulating programmed death-ligand 1 by sponging microRNA-195-5p. J Cell Physiol 234:23176–23189

Zhu B, Xi X, Liu Q, Cheng Y, Yang H (2019) MiR-9 functions as a tumor suppressor in acute myeloid leukemia by targeting CX chemokine receptor 4. Am J Transl Res 11:3384–3397
Funding
The study was funded by the Natural Science Foundation of China (No. 81170520).
Ethics declarations
Conflict of interest
The authors declare no competing interests.
Additional information
Publisher's note
Springer Nature remains neutral with regard to jurisdictional claims in published maps and institutional affiliations.
This article has been retracted. Please see the retraction notice for more detail: https://link.springer.com/article/10.1007/s00210-020-02026-6"
About this article
Cite this article
Yin, J., Yin, Q., Liang, B. et al. RETRACTED ARTICLE: Chrysophanol suppresses growth and metastasis of T cell acute lymphoblastic leukemia via miR-9/PD-L1 axis. Naunyn-Schmiedeberg's Arch Pharmacol 393, 273–286 (2020). https://doi.org/10.1007/s00210-019-01778-0
Received:

Accepted:

Published:

Issue Date:
Keywords
T cell acute lymphoblastic leukemia

Chrysophanol

miR-9

PD-L1

Growth and metastasis