Abstract
Cyclophosphamide (CYP) is a chemotherapeutic agent used in the treatment of autoimmune disorders and malignant diseases. However, its usage is restricted due to its severe side effects, especially hepatotoxicity and nephrotoxicity. This study aimed to investigate the protective role of chrysin (CH) against CYP-induced hepatotoxicity and nephrotoxicity in rats. In the present study, 35 male Wistar rats were randomly divided into 5 groups with each group consisting of 7 rats. The rats were pretreated with CH orally in doses of 25- and 50-mg/kg body weight for 7 consecutive days, and CYP (200-mg/kg body weight, i.p.) was administrated on the 7th day 1 h after the last dose of CH. It was found that CH could ameliorate CYP-induced elevations of ALT, ALP, AST, urea, creatinine, MDA, and hepatorenal deterioration, and enhance antioxidant enzymes' activities such as SOD, CAT, and GPx, and GSH's level. Furthermore, CH reversed the changes in levels of inflammatory, apoptotic, and autophagic parameters such as NF-κB, TNF-α, IL-1β, IL-6, iNOS, COX-2, Bax, Bcl-2, and LC3B in liver and kidney tissues. To conclude, the findings of this study demonstrated that CH has a protective effect against CYP-induced hepatorenal toxicity.
Access options
Buy single article
Instant access to the full article PDF.
US$ 39.95
Tax calculation will be finalised during checkout.
Subscribe to journal
Immediate online access to all issues from 2019. Subscription will auto renew annually.
US$ 119
Tax calculation will be finalised during checkout.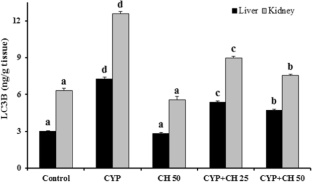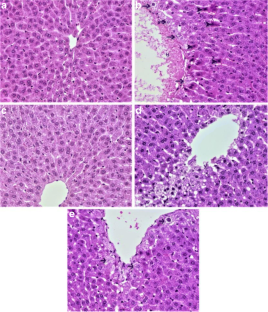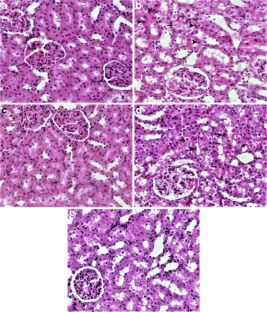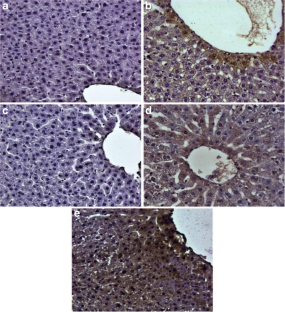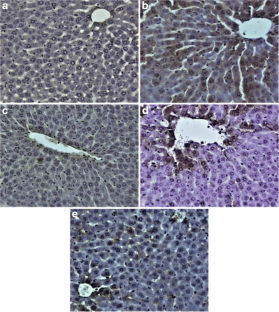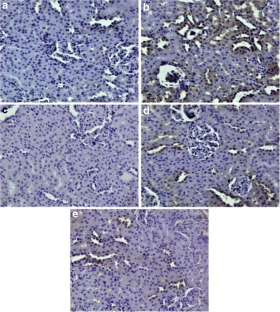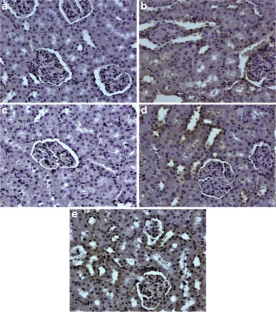 References
Aebi H (1984) [13] Catalase in vitro. Methods Enzymol. Elsevier, pp 121-126

Ahlmann M, Hempel G (2016) The effect of cyclophosphamide on the immune system: implications for clinical cancer therapy. Cancer Chemother Pharmacol 78:661–671

Alqahtani S, Mahmoud AM (2016, 2016) Gamma-glutamylcysteine ethyl ester protects against cyclophosphamide-induced liver injury and hematologic alterations via upregulation of PPARγ and attenuation of oxidative stress, inflammation, and apoptosis. Oxidative Med Cell Longev

Benzer F, Kandemir FM, Kucukler S, Comaklı S, Caglayan C (2018) Chemoprotective effects of curcumin on doxorubicin-induced nephrotoxicity in wistar rats: by modulating inflammatory cytokines, apoptosis, oxidative stress and oxidative DNA damage. Arch Physiol Biochem 124:448–457

Caglayan C (2019) The effects of naringin on different cyclophosphamide-induced organ toxicities in rats: investigation of changes in some metabolic enzyme activities. Environ Sci Pollut Res 1-10

Caglayan C, Kandemir FM, Yıldırım S, Kucukler S, Kılınc MA, Saglam YS (2018a) Zingerone ameliorates cisplatin-induced ovarian and uterine toxicity via suppression of sex hormone imbalances, oxidative stress, inflammation and apoptosis in female wistar rats. Biomed Pharmacother 102:517–530

Caglayan C, Temel Y, Kandemir FM, Yildirim S, Kucukler S (2018b) Naringin protects against cyclophosphamide-induced hepatotoxicity and nephrotoxicity through modulation of oxidative stress, inflammation, apoptosis, autophagy, and DNA damage. Environ Sci Pollut Res 25:20968–20984

Caglayan C, Kandemir FM, Darendelioğlu E, Yıldırım S, Kucukler S, Dortbudak MB (2019a) Rutin ameliorates mercuric chloride-induced hepatotoxicity in rats via interfering with oxidative stress, inflammation and apoptosis. J Trace Elem Med Biol 56:60–68

Caglayan C, Kandemir FM, Yildirim S, Kucukler S, Eser G (2019b) Rutin protects mercuric chloride-induced nephrotoxicity via targeting of aquaporin 1 level, oxidative stress, apoptosis and inflammation in rats. J Trace Elem Med Biol 54:69–78

Du Q, Gu X, Cai J, Huang M, Su M (2012) Chrysin attenuates allergic airway inflammation by modulating the transcription factors T-bet and GATA-3 in mice. Mol Med Rep 6:100–104

Eldutar E, Kandemir FM, Kucukler S, Caglayan C (2017) Restorative effects of Chrysin pretreatment on oxidant–antioxidant status, inflammatory cytokine production, and apoptotic and autophagic markers in acute paracetamol-induced hepatotoxicity in rats: an experimental and biochemical study. J Biochem Mol Toxicol 31:e21960

El-Kholy AA, Elkablawy MA, El-Agamy DS (2017) Lutein mitigates cyclophosphamide induced lung and liver injury via NF-κB/MAPK dependent mechanism. Biomed Pharmacother 92:519–527

Emadi A, Jones RJ, Brodsky RA (2009) Cyclophosphamide and cancer: golden anniversary. Nat Rev Clin Oncol 6:638

Ganai AA, Khan AA, Malik ZA, Farooqi H (2015) Genistein modulates the expression of NF-κB and MAPK (p-38 and ERK1/2), thereby attenuating d-Galactosamine induced fulminant hepatic failure in Wistar rats. Toxicol Appl Pharmacol 283:139–146

Gülcin I (2012) Antioxidant activity of food constituents: an overview. Arch Toxicol 86:345–391

Habibi E, Shokrzadeh M, Chabra A, Naghshvar F, Keshavarz-Maleki R, Ahmadi A (2015) Protective effects of Origanum vulgare ethanol extract against cyclophosphamide-induced liver toxicity in mice. Pharm Biol 53:10–15

Jeong JB, Hong SC, Jeong HJ, Koo JS (2011) Anti-inflammatory effect of 2-methoxy-4-vinylphenol via the suppression of NF-κB and MAPK activation, and acetylation of histone H3. Arch Pharm Res 34:2109–2116

Kandemir F, Kucukler S, Eldutar E, Caglayan C, Gülçin I (2017a) Chrysin protects rat kidney from paracetamol-induced oxidative stress, inflammation, apoptosis, and autophagy: a multi-biomarker approach. Sci Pharm 85:4

Kandemir FM, Kucukler S, Caglayan C, Gur C, Batil AA, Gülçin İ (2017b) Therapeutic effects of silymarin and naringin on methotrexate-induced nephrotoxicity in rats: biochemical evaluation of anti-inflammatory, antiapoptotic, and antiautophagic properties. J Food Biochem 41:e12398

Kandemir FM, Yildirim S, Kucukler S, Caglayan C, Mahamadu A, Dortbudak MB (2018) Therapeutic efficacy of zingerone against vancomycin-induced oxidative stress, inflammation, apoptosis and aquaporin 1 permeability in rat kidney. Biomed Pharmacother 105:981–991

Kandemir FM, Yildirim S, Caglayan C, Kucukler S, Eser G (2019) Protective effects of zingerone on cisplatin-induced nephrotoxicity in female rats. Environ Sci Pollut Res 1-13

Kumari A, Kakkar P (2012) Lupeol prevents acetaminophen-induced in vivo hepatotoxicity by altering the Bax/Bcl-2 and oxidative stress-mediated mitochondrial signaling cascade. Life Sci 90:561–570

Kuzu M, Kandemir FM, Yildirim S, Kucukler S, Caglayan C, Turk E (2018) Morin attenuates doxorubicin-induced heart and brain damage by reducing oxidative stress, inflammation and apoptosis. Biomed Pharmacother 106:443–453

Kuzu M, Yıldırım S, Kandemir FM, Küçükler S, Çağlayan C, Türk E, Dörtbudak MB (2019) Protective effect of morin on doxorubicin-induced hepatorenal toxicity in rats. Chem Biol Interact 308:89–100

Lawrence RA, Burk RF (1976) Glutathione peroxidase activity in selenium-deficient rat liver. BBRC 71:952–958

Lin S-R, Fu Y-S, Tsai M-J, Cheng H, Weng C-F (2017) Natural compounds from herbs that can potentially execute as autophagy inducers for cancer therapy. Int J Mol Sci 18:1412

Liu Q, Lin X, Li H, Yuan J, Peng Y, Dong L, Dai S (2016) Paeoniflorin ameliorates renal function in cyclophosphamide-induced mice via AMPK suppressed inflammation and apoptosis. Biomed Pharmacother 84:1899–1905

Lowry OH, Rosebrough NJ, Farr AL, Randall RJ (1951) Protein measurement with the Folin phenol reagent. J Biol Chem 193:265–275

Mahipal P, Pawar RS (2017) Nephroprotective effect of Murraya koenigii on cyclophosphamide induced nephrotoxicity in rats. Asian Pac J Trop Med 10:808–812

Mahmoud AM, Germoush MO, Alotaibi MF, Hussein OE (2017) Possible involvement of Nrf2 and PPARγ up-regulation in the protective effect of umbelliferone against cyclophosphamide-induced hepatotoxicity. Biomed Pharmacother 86:297–306

Mantawy EM, El-Bakly WM, Esmat A, Badr AM, El-Demerdash E (2014) Chrysin alleviates acute doxorubicin cardiotoxicity in rats via suppression of oxidative stress, inflammation and apoptosis. Eur J Pharmacol 728:107–118

Mizushima N, Yoshimori T, Levine B (2010) Methods in mammalian autophagy research. Cell 140:313–326

Nafees S, Rashid S, Ali N, Hasan SK, Sultana S (2015) Rutin ameliorates cyclophosphamide induced oxidative stress and inflammation in Wistar rats: role of NFκB/MAPK pathway. Chem Biol Interact 231:98–107

Oyagbemi AA, Omobowale OT, Asenuga ER, Akinleye AS, Ogunsanwo RO, Saba AB (2016) Cyclophosphamide-induced hepatotoxicity in wistar rats: the modulatory role of gallic acid as a hepatoprotective and chemopreventive phytochemical. Int J Prev Med:7

Placer ZA, Cushman LL, Johnson BC (1966) Estimation of product of lipid peroxidation (malonyl dialdehyde) in biochemical systems. AnBio 16:359–364

Sedlak J, Lindsay RH (1968) Estimation of total, protein-bound, and nonprotein sulfhydryl groups in tissue with Ellman's reagent. AnBio 25:192–205

Sinanoglu O, Yener AN, Ekici S, Midi A, Aksungar FB (2012) The protective effects of spirulina in cyclophosphamide induced nephrotoxicity and urotoxicity in rats. Urology 80:1392. e1391–1392. e1396

Singh C, Prakash C, Tiwari KN, Mishra SK, Kumar V (2018) Premna integrifolia ameliorates cyclophosphamide-induced hepatotoxicity by modulation of oxidative stress and apoptosis. Biomed Pharmacother 107:634–643

Sun Y, Oberley LW, Li Y (1988) A simple method for clinical assay of superoxide dismutase. Clin Chem 34:497–500

Taslimi P, Caglayan C, Gulcin İ (2017) The impact of some natural phenolic compounds on carbonic anhydrase, acetylcholinesterase, butyrylcholinesterase, and α-glycosidase enzymes: an antidiabetic, anticholinergic, and antiepileptic study. J Biochem Mol Toxicol 31:e21995

Taslimi P, Kandemir FM, Demir Y, İleritürk M, Temel Y, Caglayan C, Gulçin İ (2019) The antidiabetic and anticholinergic effects of chrysin on cyclophosphamide-induced multiple organ toxicity in rats: pharmacological evaluation of some metabolic enzyme activities. J Biochem Mol Toxicol:e22313

Zhai X, Zhang Z, Liu W, Liu B, Zhang R, Wang W, Zheng W, Xu F, Wang J, Chen Y (2018) Protective effect of ALDH2 against cyclophosphamide-induced acute hepatotoxicity via attenuating oxidative stress and reactive aldehydes. BBRC 499:93–98
Funding
We are grateful to the Bingol University, Scientific Research Projects Coordination Unit, for the financial support for this work (project number BAPSSHMYO. 2016.00.001).
Ethics declarations
The study was designed and conducted according to ethical norms approved by the Local Animal Experimentation Ethics Committee of the Bingol University (Bingol, Turkey) (approval no. 2016-4/5).
Conflict of interest
The authors declare that they have no conflict of interest.
Additional information
Publisher's note
Springer Nature remains neutral with regard to jurisdictional claims in published maps and institutional affiliations.
About this article
Cite this article
Temel, Y., Kucukler, S., Yıldırım, S. et al. Protective effect of chrysin on cyclophosphamide-induced hepatotoxicity and nephrotoxicity via the inhibition of oxidative stress, inflammation, and apoptosis. Naunyn-Schmiedeberg's Arch Pharmacol 393, 325–337 (2020). https://doi.org/10.1007/s00210-019-01741-z
Received:

Accepted:

Published:

Issue Date:
Keywords
Apoptosis

Chrysin

Cyclophosphamide

Hepatotoxicity

Inflammation

Nephrotoxicity