Abstract
Fatty acid amide hydrolase inhibition may be used to control bladder function and pain by modulating endocannabinoid levels in cystitis. We studied the effect of the peripherally restricted fatty acid amide hydrolase inhibitor URB937 in bladder reflex activity and bladder pain using the lipopolysaccharide model of cystitis. We also correlated the URB937's effects with tissue levels of the endocannabinoids anandamide and palmitoylethanolamine. URB937 did not change the reflex activity of normal bladders. In inflamed bladders, URB937 had a U-shaped dose–response curve; following an initial cannabinoid receptor type 1-mediated reduction in pain responses and normalisation of bladder reflex activity, URB937 gradually increased both pain responses and bladder reflex activity through the transient receptor potential ion channel subfamily V member 1. Chronic cystitis increased the tissue levels of anandamide and decreased those of palmitoylethanolamine. At the dose that normalised bladder reflex activity and decreased pain responses, URB937 normalised the levels of anandamide and palmitoylethanolamine in the bladder. At high doses that induced excitatory effects, URB937 apparently did not change anandamide and palmitoylethanolamine levels, which therefore were in the range of the inflamed bladder. Fatty acid amide hydrolase inhibition results in complex changes in bladder endocannabinoid levels. The therapeutic effect of fatty acid amide hydrolase inhibitors is not related to increase in anandamide levels but rather a normalisation of the anandamide and palmitoylethanolamine level ratio.
This is a preview of subscription content, log in to check access.
Access options
Buy single article
Instant access to the full article PDF.
US$ 39.95
Tax calculation will be finalised during checkout.
Subscribe to journal
Immediate online access to all issues from 2019. Subscription will auto renew annually.
US$ 119
Tax calculation will be finalised during checkout.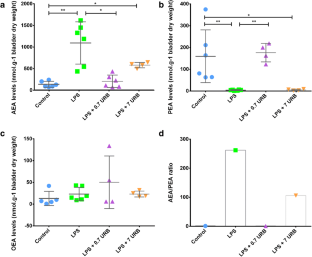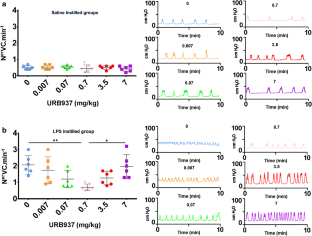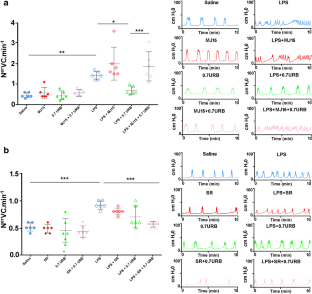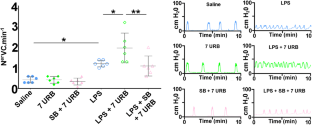 References
Agarwal S, Yadav A, Chaturvedi RK (2017) Peroxisome proliferator-activated receptors (PPARs) as therapeutic target in neurodegenerative disorders. Biochem Biophys Res Commun 483:1166–1177. https://doi.org/10.1016/j.bbrc.2016.08.043

Aizawa N, Hedlund P, Fullhase C et al (2014) Inhibition of peripheral FAAH depresses activities of bladder mechanosensitive nerve fibers of the rat. J Urol 192:956–963. https://doi.org/10.1016/j.juro.2014.04.008

Aizawa N, Gandaglia G, Hedlund P, Fujimura T, Fukuhara H, Montorsi F, Homma Y, Igawa Y (2016) URB937, a peripherally restricted inhibitor for fatty acid amide hydrolase, reduces prostaglandin E2-induced bladder overactivity and hyperactivity of bladder mechano-afferent nerve fibres in rats. BJU Int 117:821–828. https://doi.org/10.1111/bju.13223

Bakali E, Elliott RA, Taylor AH, Willets J, Konje JC, Tincello DG (2013) Distribution and function of the endocannabinoid system in the rat and human bladder. Int Urogynecol J 24:855–863. https://doi.org/10.1007/s00192-012-1954-1

Bjorling DE, Wang ZY (2018) Potential of endocannabinoids to control bladder pain. Front Syst Neurosci 12:17. https://doi.org/10.3389/fnsys.2018.00017

Charrua A, Cruz CD, Cruz F, Avelino A (2007) Transient receptor potential vanilloid subfamily 1 is essential for the generation of noxious bladder input and bladder overactivity in cystitis. J Urol 177:1537–1541. https://doi.org/10.1016/j.juro.2006.11.046

Charrua A, Cruz CD, Jansen D, Rozenberg B, Heesakkers J, Cruz F (2015) Co-administration of transient receptor potential vanilloid 4 (TRPV4) and TRPV1 antagonists potentiate the effect of each drug in a rat model of cystitis. BJU Int 115:452–460. https://doi.org/10.1111/bju.12861

Clapper JR, Moreno-Sanz G, Russo R, Guijarro A, Vacondio F, Duranti A, Tontini A, Sanchini S, Sciolino NR, Spradley JM, Hohmann AG, Calignano A, Mor M, Tarzia G, Piomelli D (2010) Anandamide suppresses pain initiation through a peripheral endocannabinoid mechanism. Nat Neurosci 13:1265–1270. https://doi.org/10.1038/nn.2632

Cravatt BF, Giang DK, Mayfield SP, Boger DL, Lerner RA, Gilula NB (1996) Molecular characterization of an enzyme that degrades neuromodulatory fatty-acid amides. Nature 384:83–87. https://doi.org/10.1038/384083a0

Dinis P, Charrua A, Avelino A, et al (2004) Anandamide-evoked activation of vanilloid receptor 1 contributes to the development of bladder hyperreflexia and nociceptive transmission to spinal dorsal horn neurons in cystitis. J Neurosci 24: doi: https://doi.org/10.1523/JNEUROSCI.2657-04.2004

Everaerts W, Vriens J, Owsianik G, Appendino G, Voets T, de Ridder D, Nilius B (2010) Functional characterization of transient receptor potential channels in mouse urothelial cells. Am J Physiol Ren Physiol 298:F692–F701. https://doi.org/10.1152/ajprenal.00599.2009

Farquhar-Smith WP, Rice AS (2001) Administration of endocannabinoids prevents a referred hyperalgesia associated with inflammation of the urinary bladder. Anesthesiology 94:507–513 discussion 6A

Fezza F, Bari M, Florio R, Talamonti E, Feole M, Maccarrone M (2014) Endocannabinoids, related compounds and their metabolic routes. Molecules 19:17078–17106. https://doi.org/10.3390/molecules191117078

Fowler CJ, Griffiths D, de Groat WC (2008) The neural control of micturition. Nat Rev Neurosci 9:453–466. https://doi.org/10.1038/nrn2401

Fullhase C, Russo A, Castiglione F et al (2013) Spinal cord FAAH in normal micturition control and bladder overactivity in awake rats. J Urol 189:2364–2370. https://doi.org/10.1016/j.juro.2012.11.165

Holt S, Nilsson J, Omeir R, Tiger G, Fowler CJ (2001) Effects of pH on the inhibition of fatty acid amidohydrolase by ibuprofen. Br J Pharmacol 133:513–520. https://doi.org/10.1038/sj.bjp.0704113

Holtzman D, Lovell RA, Jaffe JH, Freedman DX (1969) 1-Delta9-tetrahydrocannabinol: neurochemical and behavioral effects in the mouse. Science 163(80):1464–1467

Lever IJ, Robinson M, Cibelli M, Paule C, Santha P, Yee L, Hunt SP, Cravatt BF, Elphick MR, Nagy I, Rice ASC (2009) Localization of the endocannabinoid-degrading enzyme fatty acid amide hydrolase in rat dorsal root ganglion cells and its regulation after peripheral nerve injury. J Neurosci 29:3766–3780. https://doi.org/10.1523/jneurosci.4071-08.2009

Ligresti A, De Petrocellis L, Di Marzo V (2016) From phytocannabinoids to cannabinoid receptors and endocannabinoids: pleiotropic physiological and pathological roles through complex pharmacology. Physiol Rev 96:1593–1659. https://doi.org/10.1152/physrev.00002.2016

Liu J, Wang L, Harvey-White J, Osei-Hyiaman D, Razdan R, Gong Q, Chan AC, Zhou Z, Huang BX, Kim HY, Kunos G (2006) A biosynthetic pathway for anandamide. Proc Natl Acad Sci U S A 103:13345–13350. https://doi.org/10.1073/pnas.0601832103

LoVerme J, Russo R, La Rana G et al (2006) Rapid broad-spectrum analgesia through activation of peroxisome proliferator-activated receptor-alpha. J Pharmacol Exp Ther 319:1051–1061. https://doi.org/10.1124/jpet.106.111385

Mahmud A, Santha P, Paule CC, Nagy I (2009) Cannabinoid 1 receptor activation inhibits transient receptor potential vanilloid type 1 receptor-mediated cationic influx into rat cultured primary sensory neurons. Neuroscience 162:1202–1211. https://doi.org/10.1016/j.neuroscience.2009.05.024

Matsuda LA, Lolait SJ, Brownstein MJ, Young AC, Bonner TI (1990) Structure of a cannabinoid receptor and functional expression of the cloned cDNA. Nature 346:561–564. https://doi.org/10.1038/346561a0

Merriam FV, Wang ZY, Hillard CJ, Stuhr KL, Bjorling DE (2011) Inhibition of fatty acid amide hydrolase suppresses referred hyperalgesia induced by bladder inflammation. BJU Int 108:1145–1149. https://doi.org/10.1111/j.1464-410X.2010.09583.x

Pessina F, Capasso R, Borrelli F, Aveta T, Buono L, Valacchi G, Fiorenzani P, di Marzo V, Orlando P, Izzo AA (2015) Protective effect of palmitoylethanolamide in a rat model of cystitis. J Urol 193:1401–1408. https://doi.org/10.1016/j.juro.2014.11.083

Petrosino S, Di Marzo V (2010) FAAH and MAGL inhibitors: therapeutic opportunities from regulating endocannabinoid levels. Curr Opin Investig Drugs 11:51–62

Piomelli D, Sasso O (2014) Peripheral gating of pain signals by endogenous lipid mediators. Nat Neurosci 17:164–174. https://doi.org/10.1038/nn.3612

Quarta C, Bellocchio L, Mancini G, Mazza R, Cervino C, Braulke LJ, Fekete C, Latorre R, Nanni C, Bucci M, Clemens LE, Heldmaier G, Watanabe M, Leste-Lassere T, Maitre M, Tedesco L, Fanelli F, Reuss S, Klaus S, Srivastava RK, Monory K, Valerio A, Grandis A, de Giorgio R, Pasquali R, Nisoli E, Cota D, Lutz B, Marsicano G, Pagotto U (2010) CB(1) signaling in forebrain and sympathetic neurons is a key determinant of endocannabinoid actions on energy balance. Cell Metab 11:273–285. https://doi.org/10.1016/j.cmet.2010.02.015

Starowicz K, Makuch W, Korostynski M, Malek N, Slezak M, Zychowska M, Petrosino S, de Petrocellis L, Cristino L, Przewlocka B, di Marzo V (2013) Full inhibition of spinal FAAH leads to TRPV1-mediated analgesic effects in neuropathic rats and possible lipoxygenase-mediated remodeling of anandamide metabolism. PLoS One 8:e60040. https://doi.org/10.1371/journal.pone.0060040

Varga A, Jenes A, Marczylo TH, Sousa-Valente J, Chen J, Austin J, Selvarajah S, Piscitelli F, Andreou AP, Taylor AH, Kyle F, Yaqoob M, Brain S, White JPM, Csernoch L, di Marzo V, Buluwela L, Nagy I (2014) Anandamide produced by Ca(2+)-insensitive enzymes induces excitation in primary sensory neurons. Pflugers Arch 466:1421–1435. https://doi.org/10.1007/s00424-013-1360-7

Veress G, Meszar Z, Muszil D, Avelino A, Matesz K, Mackie K, Nagy I (2013) Characterisation of cannabinoid 1 receptor expression in the perikarya, and peripheral and spinal processes of primary sensory neurons. Brain Struct Funct 218:733–750. https://doi.org/10.1007/s00429-012-0425-2
Acknowledgements
AC was supported by Fundação para a Ciência e Tecnologia (FCT) fellowship SFRH/BPD/68716/2010. RO is supported by NORTE2020 fellowship NORTE-08-5369-FSE-000026.
Additional information
Publisher's note
Springer Nature remains neutral with regard to jurisdictional claims in published maps and institutional affiliations.
About this article
Cite this article
Charrua, A., Matos, R., Oliveira, R. et al. Fatty acid amide hydrolase inhibition normalises bladder function and reduces pain through normalising the anandamide/palmitoylethanolamine ratio in the inflamed bladder of rats. Naunyn-Schmiedeberg's Arch Pharmacol 393, 263–272 (2020). https://doi.org/10.1007/s00210-019-01729-9
Received:

Accepted:

Published:

Issue Date:
Keywords
Anandamide

CB1

FAAH

TRPV1

URB937