Abstract
Glucose-regulated protein 78 (GRP78) often highly expresses in a wide range of tumors, which plays promotive functions due to its diversity of location in the development of tumor. Particularly, GRP78 can be secreted into microenvironment by tumor cells through the pathway of exosome, which promotes proliferation, angiogenesis, and drug resistance in cancer cells. Hence, we discovered a potential inhibitor to block GRP78 secretion. We screened five small molecules that may interact with the GRP78 from 51 traditional Chinese medicine molecules by molecular docking. By using western blot, we found that one of the molecules can inhibit the secretion of GRP78, which is salvianolic acid A (SAA). Further, SAA could interact with the lysine residue 633 (K633) of GRP78, which inhibited GRP78 secretion. Moreover, SAA-GRP78 interaction can facilitate GRP78 of cytosol sorted into lysosome for degradation rather than exosome. In conclusion, our research revealed that SAA has the novel function of anti-angiogenesis via the tumor environment.
This is a preview of subscription content, log in to check access.
Access options
Buy single article
Instant access to the full article PDF.
US$ 39.95
Price includes VAT for USA
Subscribe to journal
Immediate online access to all issues from 2019. Subscription will auto renew annually.
US$ 199
This is the net price. Taxes to be calculated in checkout.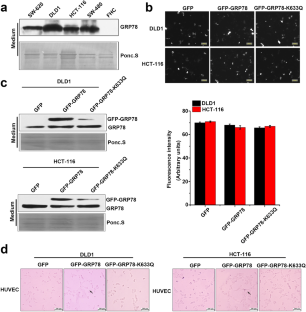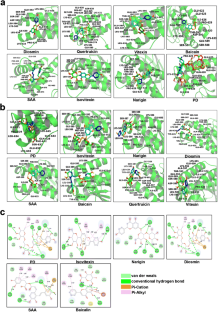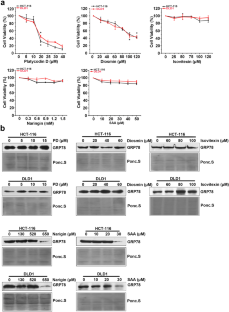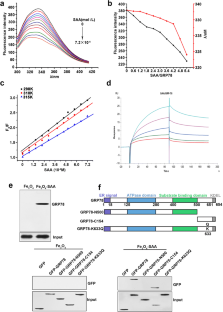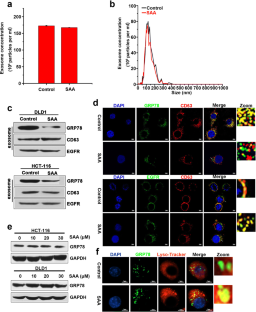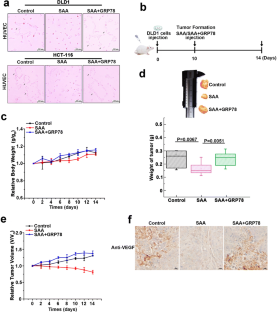 Abbreviations
SAA:

Salvianolic acid A

GRP78:

Glucose-regulated protein 78

TME:

Tumor microenvironment

K633:

Lysine residue 633

PD:

Platycodin D

SBD:

Substrate-binding domain

Ub:

Ubiquitination

EGFR:

Epidermal growth factor receptor

VEGF:

Vascular endothelial growth factor
References
Apaya MK, Chang MT, Shyur LF (2016) Phytomedicine polypharmacology: Cancer therapy through modulating the tumor microenvironment and oxylipin dynamics. Pharmacol Ther 162:58–68. https://doi.org/10.1016/j.pharmthera.2016.03.001

Bissig C, Gruenberg J (2014) ALIX and the multivesicular endosome: ALIX in wonderland. Trends Cell Biol 24:19–25. https://doi.org/10.1016/j.tcb.2013.10.009

Blazquez M, Shennan KIJ (2000) Basic mechanisms of secretion: sorting into the regulated secretory pathway. Biochem Cell Biol 78:181–191. https://doi.org/10.1139/bcb-78-3-181

Catalano V, Turdo A, Di Franco S, Dieli F, Todaro M, Stassi G (2013) Tumor and its microenvironment: a synergistic interplay. Semin Cancer Biol 23:522–532. https://doi.org/10.1016/j.semcancer.2013.08.007

Chang YW, Tseng CF, Wang MY, Chang WC, Lee CC, Chen LT, Hung MC, Su JL (2016) Deacetylation of HSPA5 by HDAC6 leads to GP78-mediated HSPA5 ubiquitination at K447 and suppresses metastasis of breast cancer. Oncogene 35:1517–1528. https://doi.org/10.1038/onc.2015.214

Chen M, Zhang Y, Yu VC, Chong YS, Yoshioka T, Ge R (2014) Isthmin targets cell-surface GRP78 and triggers apoptosis via induction of mitochondrial dysfunction. Cell Death Differ 21:797–810. https://doi.org/10.1038/cdd.2014.3

Dong D, Ni M, Li J, Xiong S, Ye W, Virrey JJ, Mao C, Ye R, Wang M, Pen L, Dubeau L, Groshen S, Hofman FM, Lee AS (2008) Critical role of the stress chaperone GRP78/BiP in tumor proliferation, survival, and tumor angiogenesis in transgene-induced mammary tumor development. Cancer Res 68:498–505. https://doi.org/10.1158/0008-5472.CAN-07-2950

Dong D, Stapleton C, Luo B, Xiong S, Ye W, Zhang Y, Jhaveri N, Zhu G, Ye R, Liu Z, Bruhn KW, Craft N, Groshen S, Hofman FM, Lee AS (2011) A critical role for GRP78/BiP in the tumor microenvironment for neovascularization during tumor growth and metastasis. Cancer Res 71:2848–2857. https://doi.org/10.1158/0008-5472.CAN-10-3151

Fu R, Yang P, Wu HL, Li ZW, Li ZY (2014) GRP78 secreted by colon cancer cells facilitates cell proliferation via PI3K/Akt signaling. Asian Pac J Cancer Prev 15:7245–7249

Fujita Y, Yoshioka Y, Ochiya T (2016) Extracellular vesicle transfer of cancer pathogenic components. Cancer Sci 107:385–390. https://doi.org/10.1111/cas.12896

Gacche RN, Meshram RJ (2013) Targeting tumor micro-environment for design and development of novel anti-angiogenic agents arresting tumor growth. Prog Biophys Mol Biol 113:333–354. https://doi.org/10.1016/j.pbiomolbio.2013.10.001

Gorbatyuk MS, Gorbatyuk OS (2013) The molecular chaperone GRP78/BiP as a therapeutic target for neurodegenerative disorders: a mini review. J Genet Syndr Gene Ther 4. https://doi.org/10.4172/2157-7412.1000128

He M, Min JW, Kong WL, He XH, Li JX, Peng BW (2016) A review on the pharmacological effects of vitexin and isovitexin. Fitoterapia 115:74–85. https://doi.org/10.1016/j.fitote.2016.09.011

Hessvik NP, Llorente A (2018) Current knowledge on exosome biogenesis and release. Cell Mol Life Sci 75:193–208. https://doi.org/10.1007/s00018-017-2595-9

Ho JH, Hong CY (2011) Salvianolic acids: small compounds with multiple mechanisms for cardiovascular protection. J Biomed Sci 18:30. https://doi.org/10.1186/1423-0127-18-30

Kern J, Untergasser G, Zenzmaier C, Sarg B, Gastl G, Gunsilius E, Steurer M (2009) GRP-78 secreted by tumor cells blocks the antiangiogenic activity of bortezomib. Blood 114:3960–3967. https://doi.org/10.1182/blood-2009-03-209668

Khan M, Maryam A, Zhang H, Mehmood T, Ma T (2016) Killing cancer with platycodin D through multiple mechanisms. J Cell Mol Med 20:389–402. https://doi.org/10.1111/jcmm.12749

Kosakowska-Cholody T, Lin J, Srideshikan SM, Scheffer L, Tarasova NI, Acharya JK (2014) HKH40A downregulates GRP78/BiP expression in cancer cells. Cell Death Dis 5:e1240. https://doi.org/10.1038/cddis.2014.203

La X, Zhang L, Li H, Li Z, Song G, Yang P, Yang Y (2018) Ajuba receptor mediates the internalization of tumor-secreted GRP78 into macrophages through different endocytosis pathways. Oncotarget 9:15464–15479. https://doi.org/10.18632/oncotarget.24090

Lee AS (2007) GRP78 induction in cancer: therapeutic and prognostic implications. Cancer Res 67:3496–3499. https://doi.org/10.1158/0008-5472.CAN-07-0325

Li Z, Zhang L, Zhao Y, Li H, Xiao H, Fu R, Zhao C, Wu H, Li Z (2013) Cell-surface GRP78 facilitates colorectal cancer cell migration and invasion. Int J Biochem Cell Biol 45:987–994. https://doi.org/10.1016/j.biocel.2013.02.002

Li YJ, Duan CL, Liu JX (2014) Salvianolic acid A promotes the acceleration of neovascularization in the ischemic rat myocardium and the functions of endothelial progenitor cells. J Ethnopharmacol 151:218–227. https://doi.org/10.1016/j.jep.2013.10.019

Li Z, Zhuang M, Zhang L, Zheng X, Yang P, Li Z (2016) Acetylation modification regulates GRP78 secretion in colon cancer cells. Sci Rep 6:30406. https://doi.org/10.1038/srep30406

Li R, Yanjiao G, Wubin H, Yue W, Jianhua H, Huachuan Z, Rongjian S, Zhidong L (2017) Secreted GRP78 activates EGFR-SRC-STAT3 signaling and confers the resistance to sorafeinib in HCC cells. Oncotarget 8:19354–19364. https://doi.org/10.18632/oncotarget.15223

Liu T, Liu X, Li W (2016) Tetrandrine, a Chinese plant-derived alkaloid, is a potential candidate for cancer chemotherapy. Oncotarget 7:40800–40815. https://doi.org/10.18632/oncotarget.8315

Mehdiani A, Maier A, Pinto A, Barth M, Akhyari P, Lichtenberg A (2015) An innovative method for exosome quantification and size measurement. J Vis Exp:50974. https://doi.org/10.3791/50974

Moselhy J, Srinivasan S, Ankem MK, Damodaran C (2015) Natural products that target cancer stem cells. Anticancer Res 35:5773–5788

Ni M, Zhang Y, Lee AS (2011) Beyond the endoplasmic reticulum: atypical GRP78 in cell viability, signalling and therapeutic targeting. Biochem J 434:181–188. https://doi.org/10.1042/BJ20101569

Onimaru M, Yonemitsu Y (2011) Angiogenic and lymphangiogenic cascades in the tumor microenvironment. Front Biosci (Schol Ed) 3:216–225

Pan H, Li D, Fang F, Chen D, Qi L, Zhang R, Xu T, Sun H (2011) Salvianolic acid A demonstrates cardioprotective effects in rat hearts and cardiomyocytes after ischemia/reperfusion injury. J Cardiovasc Pharmacol 58:535–542. https://doi.org/10.1097/FJC.0b013e31822de355

Peinado H, Alečković M, Lavotshkin S, Matei I, Costa-Silva B, Moreno-Bueno G, Hergueta-Redondo M, Williams C, García-Santos G, Ghajar CM, Nitadori-Hoshino A, Hoffman C, Badal K, Garcia BA, Callahan MK, Yuan J, Martins VR, Skog J, Kaplan RN, Brady MS, Wolchok JD, Chapman PB, Kang Y, Bromberg J, Lyden D (2012) Melanoma exosomes educate bone marrow progenitor cells toward a pro-metastatic phenotype through MET. Nat Med 18:883–891. https://doi.org/10.1038/nm.2753

Peng Y, Li Z, Li Z (2013) GRP78 secreted by tumor cells stimulates differentiation of bone marrow mesenchymal stem cells to cancer-associated fibroblasts. Biochem Biophys Res Commun 440:558–563. https://doi.org/10.1016/j.bbrc.2013.09.108

Ran D, Mao J, Shen Q, Xie C, Zhan C, Wang R, Lu W (2017) GRP78 enabled micelle-based glioma targeted drug delivery. J Control Release 255:120–131. https://doi.org/10.1016/j.jconrel.2017.03.037

Roma-Rodrigues C, Fernandes AR, Baptista PV (2014) Exosome in tumour microenvironment: overview of the crosstalk between normal and cancer cells. Biomed Res Int 2014:179486–179410. https://doi.org/10.1155/2014/179486

Ruggiero C, Doghman-Bouguerra M, Ronco C, Benhida R, Rocchi S, Lalli E (2018) The GRP78/BiP inhibitor HA15 synergizes with mitotane action against adrenocortical carcinoma cells through convergent activation of ER stress pathways. Mol Cell Endocrinol 474:57–64. https://doi.org/10.1016/j.mce.2018.02.010

Sobota JA, Ferraro F, Back N, Eipper BA, Mains RE (2006) Not all secretory granules are created equal: partitioning of soluble content proteins. Mol Biol Cell 17:5038–5052. https://doi.org/10.1091/mbc.E06-07-0626

Sundberg C, Nagy JA, Brown LF, Feng D, Eckelhoefer IA, Manseau EJ, Dvorak AM, Dvorak HF (2001) Glomeruloid microvascular proliferation follows adenoviral vascular permeability factor/vascular endothelial growth factor-164 gene delivery. Am J Pathol 158:1145–1160. https://doi.org/10.1016/S0002-9440(10)64062-X

Taylor DD, Gercel-Taylor C (2011) Exosomes/microvesicles: mediators of cancer-associated immunosuppressive microenvironments. Semin Immunopathol 33:441–454. https://doi.org/10.1007/s00281-010-0234-8

Wang X, Wang C, Zhang L, Li Y, Wang S, Wang J, Yuan C, Niu J, Wang C, Lu G (2015) Salvianolic acid A shows selective cytotoxicity against multidrug-resistant MCF-7 breast cancer cells. Anti-Cancer Drugs 26:210–223. https://doi.org/10.1097/CAD.0000000000000184

Watnick RS (2012) The role of the tumor microenvironment in regulating angiogenesis. Cold Spring Harb Perspect Med 2:a006676. https://doi.org/10.1101/cshperspect.a006676

Wright MH, Berlin I, Nash PD (2011) Regulation of endocytic sorting by ESCRT-DUB-mediated deubiquitination. Cell Biochem Biophys 60:39–46. https://doi.org/10.1007/s12013-011-9181-9

Zhang Q, Wang S, Yu Y, Sun S, Zhang Y, Zhang Y, Yang W, Li S, Qiao Y (2016) Salvianolic acid a, as a novel ETA receptor antagonist, shows inhibitory effects on tumor in vitro. Int J Mol Sci 17. https://doi.org/10.3390/ijms17081244

Zhao L, Li H, Shi Y, Wang G, Liu L, Su C, Su R (2015) Nanoparticles inhibit cancer cell invasion and enhance antitumor efficiency by targeted drug delivery via cell surface-related GRP78. Int J Nanomedicine 10:245–256. https://doi.org/10.2147/IJN.S74868

Zheng X, Chen S, Yang Q, Cai J, Zhang W, You H, Xing J, Dong Y (2015) Salvianolic acid A reverses the paclitaxel resistance and inhibits the migration and invasion abilities of human breast cancer cells by inactivating transgelin 2. Cancer Biol Ther 16:1407–1414. https://doi.org/10.1080/15384047.2015.1070990

Zhou L, Zuo Z, Chow MS (2005) Danshen: an overview of its chemistry, pharmacology, pharmacokinetics, and clinical use. J Clin Pharmacol 45:1345–1359. https://doi.org/10.1177/0091270005282630
Funding
This work was financially supported by the National Natural Science Foundation of China [No. 31770382], National Natural Science Foundation of China [No. 81803791], Shanxi Province Science Foundation for Youths [201601D021108], and "1331 Project" Collaborative Innovation Center [1331 CIC].
Ethics declarations
All of the mouse experiments were approved by the Institutional Animal Care and Use Committee of Shanxi University (Taiyuan, China). All of the experimental procedures were performed in accordance with the protocols and ethical regulations approved by the Institutional Animal Care and Use Committee of Shanxi University (Taiyuan, China).
Conflict of interest
The authors declare that they have no conflicts of interest.
Additional information
Publisher's Note
Springer Nature remains neutral with regard to jurisdictional claims in published maps and institutional affiliations.
Electronic supplementary material
About this article
Cite this article
Yang, Y., Zhang, L., La, X. et al. Salvianolic acid A inhibits tumor-associated angiogenesis by blocking GRP78 secretion. Naunyn-Schmiedeberg's Arch Pharmacol 392, 467–480 (2019). https://doi.org/10.1007/s00210-018-1585-2
Received:

Accepted:

Published:

Issue Date:
Keywords
Tumor-secreted GRP78

Salvianolic acid A

Exosome

Interaction

Angiogenesis