Abstract
Bufalin is a natural anti-inflammatory small molecule. Given the close relationship between inflammation and cancer, many scholars have studied the effect of bufalin on cancer in vitro, but in vivo research is still lacking. A murine bone cancer model was used in this study. We conducted pain sensitive test on mice with bone cancer, by nocifensive behavior, mechanical allodynia, and thermal hyperalgesia. Serum levels of bone loss markers with bufalin treatment were measured by ELISA. Expressions of osteoprotegerin (OPG) and receptor activator of NF-κB ligand (RANKL) were analyzed in bufalin-treated mice by real-time PCR and Western blot. Cannabinoid 2 receptor (CB2) inverse agonist AM630 was administrated to mice with bone cancer together with bufalin. Bufalin relieved cancer-induced pain and bone destruction in the murine bone cancer model. Serum levels of bone loss markers after bufalin treatment were reduced. Bufalin upregulated OPG and downregulated RANKL. The CB2 receptor inverse agonist, AM630, reduced the pain relief of bufalin treatment in the mouse bone cancer model. This study demonstrates that bufalin relieves cancer-induced pain and bone destruction, which is mediated through the CB2 receptor.
Access options
Buy single article
Instant access to the full article PDF.
US$ 39.95
Tax calculation will be finalised during checkout.
Subscribe to journal
Immediate online access to all issues from 2019. Subscription will auto renew annually.
US$ 119
Tax calculation will be finalised during checkout.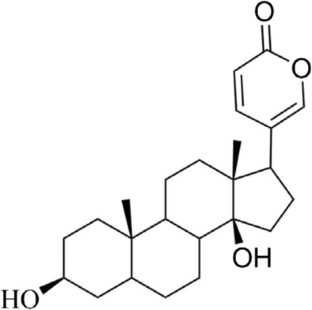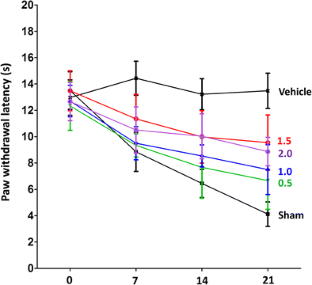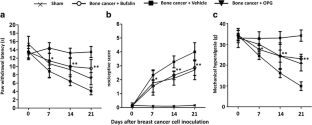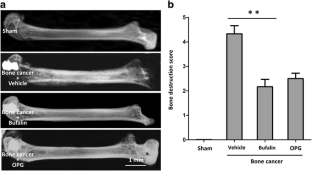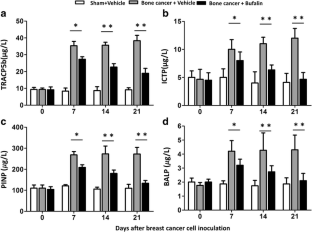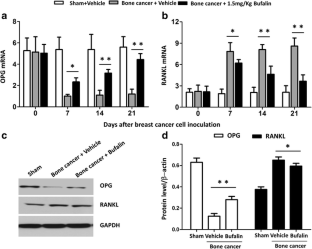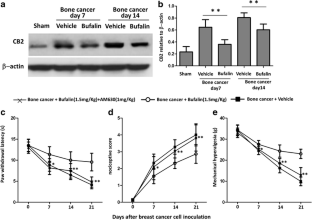 References
Abildgaard N, Brixen K, Kristensen JE, Eriksen EF, Nielsen JL, Heickendorff L (2003) Comparison of five biochemical markers of bone resorption in multiple myeloma: elevated pre-treatment levels of S-ICTP and U-Ntx are predictive for early progression of the bone disease during standard chemotherapy. Br J Haematol 120:235–242

Bifulco M, Laezza C, Pisanti S, Gazzerro P (2006) Cannabinoids and cancer: pros and cons of an antitumour strategy. Br J Pharmacol 148:123–135

Bifulco M, Malfitano AM, Pisanti S, Laezza C (2008) Endocannabinoids in endocrine and related tumours. Endocr Relat Cancer 15:391–408

Bolognini D, Cascio MG, Parolaro D, Pertwee RG (2012) AM630 behaves as a protean ligand at the human cannabinoid CB2 receptor. Br J Pharmacol 165:2561–2574

Boyce BF, Xing L (2007) The RANKL/RANK/OPG pathway. Curr Osteoporos Rep 5:98–104

Boyce BF, Xing L (2008) Functions of RANKL/RANK/OPG in bone modeling and remodeling. Arch Biochem Biophys 473:139–146

Caffarel MM, Andradas C, Perez-Gomez E, Guzman M, Sanchez C (2012) Cannabinoids: a new hope for breast cancer therapy? Cancer Treat Rev 38:911–918

Clohisy DR, Perkins SL, Ramnaraine ML (2000) Review of cellular mechanisms of tumor osteolysis. Clin Orthop Relat Res 373:104–114

Colvin L, Fallon M (2008) Challenges in cancer pain management—bone pain. Eur J Cancer 44:1083–1090

Echigo R, Sugimoto N, Yachie A, Ohno-Shosaku T (2012) Cannabinoids inhibit peptidoglycan-induced phosphorylation of NF-kappaB and cell growth in U87MG human malignant glioma cells. Oncol Rep 28:1176–1180

Giannobile WV, Lynch SE, Denmark RG, Paquette DW, Fiorellini JP, Williams RC (1995) Crevicular fluid osteocalcin and pyridinoline cross-linked carboxyterminal telopeptide of type I collagen (ICTP) as markers of rapid bone turnover in periodontitis. A pilot study in beagle dogs. J Clin Periodontol 22:903–910

Grimaldi C, Pisanti S, Laezza C, Malfitano AM, Santoro A, Vitale M, Caruso MG, Notarnicola M, Iacuzzo I, Portella G, Di Marzo V, Bifulco M (2006) Anandamide inhibits adhesion and migration of breast cancer cells. Exp Cell Res 312:363–373

Hanada R, Hanada T, Sigl V, Schramek D, Penninger JM (2011) RANKL/RANK—beyond bones. J Mol Med (Berl) 89:647–656

Hargreaves K, Dubner R, Brown F, Flores C, Joris J (1988) A new and sensitive method for measuring thermal nociception in cutaneous hyperalgesia. Pain 32:77–88

Huang AC, Yang MD, Hsiao YT, Lin TS, Ma YS, Peng SF, Hsia TC, Cheng YD, Kuo CL, Chung JG (2016) Bufalin inhibits gefitinib resistant NCI-H460 human lung cancer cell migration and invasion in vitro. J Ethnopharmacol 194:1043–1050

Kang XH, Zhang JH, Zhang QQ, Cui YH, Wang Y, Kou WZ, Miao ZH, Lu P, Wang LF, Xu ZY, Cao F (2017) Degradation of Mcl-1 through GSK-3beta activation regulates apoptosis induced by bufalin in non-small cell lung cancer H1975 cells. Cell Physiol Biochem 41:2067–2076

Lee CH, Shih YL, Lee MH, Au MK, Chen YL, Lu HF, Chung JG (2017) Bufalin induces apoptosis of human osteosarcoma U-2 OS cells through endoplasmic reticulum stress, caspase- and mitochondria-dependent signaling pathways. Molecules 22

Leeming DJ, Koizumi M, Byrjalsen I, Li B, Qvist P, Tanko LB (2006) The relative use of eight collagenous and noncollagenous markers for diagnosis of skeletal metastases in breast, prostate, or lung cancer patients. Cancer Epidemiol Biomarkers Prev 15:32–38

Liu F, Tong D, Li H, Liu M, Li J, Wang Z, Cheng X (2016a) Bufalin enhances antitumor effect of paclitaxel on cervical tumorigenesis via inhibiting the integrin alpha2/beta5/FAK signaling pathway. Oncotarget 7:8896–8907

Liu X, Xiao XY, Shou QY, Yan JF, Chen L, Fu HY, Wang JC (2016b) Bufalin inhibits pancreatic cancer by inducing cell cycle arrest via the c-Myc/NF-kappaB pathway. J Ethnopharmacol 193:538–545

Lu C, Shi L, Sun B, Zhang Y, Hou B, Sun Y, Ma Z, Gu X (2017) A single intrathecal or intraperitoneal injection of CB2 receptor agonist attenuates bone cancer pain and induces a time-dependent modification of GRK2. Cell Mol Neurobiol 37:101–109

Ma H, Zhou J, Jiang J, Duan J, Xu H, Tang Y, Lv G, Zhang J, Zhan Z, Ding A (2012) The novel antidote Bezoar Bovis prevents the cardiotoxicity of Toad (Bufo bufo gargarizans Canto) Venom in mice. Exp Toxicol Pathol 64:417–423

McKallip RJ, Nagarkatti M, Nagarkatti PS (2005) Delta-9-tetrahydrocannabinol enhances breast cancer growth and metastasis by suppression of the antitumor immune response. J Immunol 174:3281–3289

Normand E, Franco A, Moreau A, Marcil V (2017) Dipeptidyl peptidase-4 and adolescent idiopathic scoliosis: expression in osteoblasts. Sci Rep 7:3173

Payne JB, Stoner JA, Lee HM, Nummikoski PV, Reinhardt RA, Golub LM (2011) Serum bone biomarkers and oral/systemic bone loss in humans. J Dent Res 90:747–751

Preet A, Qamri Z, Nasser MW, Prasad A, Shilo K, Zou X, Groopman JE, Ganju RK (2011) Cannabinoid receptors, CB1 and CB2, as novel targets for inhibition of non-small cell lung cancer growth and metastasis. Cancer Prev Res 4:65–75

Qiu DZ, Zhang ZJ, Wu WZ, Yang YK (2013) Bufalin, a component in Chansu, inhibits proliferation and invasion of hepatocellular carcinoma cells. BMC Complement Altern Med 13:185

Ramer R, Bublitz K, Freimuth N, Merkord J, Rohde H, Haustein M, Borchert P, Schmuhl E, Linnebacher M, Hinz B (2012) Cannabidiol inhibits lung cancer cell invasion and metastasis via intercellular adhesion molecule-1. FASEB J 26:1535–1548

Sarfaraz S, Adhami VM, Syed DN, Afaq F, Mukhtar H (2008) Cannabinoids for cancer treatment: progress and promise. Cancer Res 68:339–342

Shidara K, Inaba M, Okuno S, Yamada S, Kumeda Y, Imanishi Y, Yamakawa T, Ishimura E, Nishizawa Y (2008) Serum levels of TRAP5b, a new bone resorption marker unaffected by renal dysfunction, as a useful marker of cortical bone loss in hemodialysis patients. Calcif Tissue Int 82:278–287

Shiue SJ, Peng HY, Lin CR, Wang SW, Rau RH, Cheng JK (2017) Continuous intrathecal infusion of cannabinoid receptor agonists attenuates nerve ligation-induced pain in rats. Reg Anesth Pain Med 42:499–506

Simonet WS, Lacey DL, Dunstan CR, Kelley M, Chang MS, Luthy R, Nguyen HQ, Wooden S, Bennett L, Boone T, Shimamoto G, DeRose M, Elliott R, Colombero A, Tan HL, Trail G, Sullivan J, Davy E, Bucay N, Renshaw-Gegg L, Hughes TM, Hill D, Pattison W, Campbell P, Sander S, Van G, Tarpley J, Derby P, Lee R, Boyle WJ (1997) Osteoprotegerin: a novel secreted protein involved in the regulation of bone density. Cell 89:309–319

Song T, Chu X, Zhang X, Song Q, Zhang Y, Zhang Y, Han X, Zhang J, Chu L (2017) Bufalin, a bufanolide steroid from the parotoid glands of the Chinese toad, inhibits L-type Ca2+ channels and contractility in rat ventricular myocytes. Fundam Clin Pharmacol 31:340–346

Urch C (2004) The pathophysiology of cancer-induced bone pain: current understanding. Palliat Med 18:267–274

Velasco G, Sanchez C, Guzman M (2015) Endocannabinoids and cancer. Handb Exp Pharmacol 231:449–472

Wang D, Bi Z (2014) Bufalin inhibited the growth of human osteosarcoma MG-63 cells via down-regulation of Bcl-2/Bax and triggering of the mitochondrial pathway. Tumour Biol 35:4885–4890

Wen L, Huang Y, Xie X, Huang W, Yin J, Lin W, Jia Q, Zeng W (2014) Anti-inflammatory and antinociceptive activities of bufalin in rodents. Mediat Inflamm 2014:171839

Xie XB, Yin JQ, Wen LL, Gao ZH, Zou CY, Wang J, Huang G, Tang QL, Colombo C, He WL, Jia Q, Shen JN (2012) Critical role of heat shock protein 27 in bufalin-induced apoptosis in human osteosarcomas: a proteomic-based research. PLoS One 7:e47375

Xu J, Tang Y, Xie M, Bie B, Wu J, Yang H, Foss JF, Yang B, Rosenquist RW, Naguib M (2016) Activation of cannabinoid receptor 2 attenuates mechanical allodynia and neuroinflammatory responses in a chronic post-ischemic pain model of complex regional pain syndrome type I in rats. Eur J Neurosci 44:3046–3055

Zafeirakis AG, Papatheodorou GA, Limouris GS (2010) Clinical and imaging correlations of bone turnover markers in prostate cancer patients with bone only metastases. Nucl Med Commun 31:249–253

Zhakeer Z, Hadeer M, Tuerxun Z, Tuerxun K (2017) Bufalin inhibits the inflammatory effects in asthmatic mice through the suppression of nuclear factor-kappa B activity. Pharmacology 99:179–187

Zhang ZJ, Yang YK, Wu WZ (2014) Bufalin attenuates the stage and metastatic potential of hepatocellular carcinoma in nude mice. J Transl Med 12:57

Zhang N, Xie Y, Tai Y, Gao Y, Guo W, Yu W, Li J, Feng X, Hao J, Gao Y, Zhao X, Liao Y, Jiang W, Liu G, Deng W, Cui X (2016) Bufalin inhibits hTERT expression and colorectal cancer cell growth by targeting CPSF4. Cell Physiol Biochem 40:1559–1569

Zhu LX, Sharma S, Stolina M, Gardner B, Roth MD, Tashkin DP, Dubinett SM (2000) Delta-9-tetrahydrocannabinol inhibits antitumor immunity by a CB2 receptor-mediated, cytokine-dependent pathway. J Immunol 165:373–380
Ethics declarations
Conflict of interest
The authors declare that they have no conflict of interest.
Research involving human participants and/or animals
All applicable international, national, and/or institutional guidelines for the care and use of animals were followed.
Informed consent
Not applicable.
About this article
Cite this article
Ji, D., Liang, Z., Liu, G. et al. Bufalin attenuates cancer-induced pain and bone destruction in a model of bone cancer. Naunyn-Schmiedeberg's Arch Pharmacol 390, 1211–1219 (2017). https://doi.org/10.1007/s00210-017-1419-7
Received:

Accepted:

Published:

Issue Date:
Keywords
Bufalin

Bone cancer

OPG

RANKL

CB2 receptor inhibitor