Abstract
Sepsis is characterized by a severe production of reactive oxygen species (ROS) and other radical species with consequent oxidative stress. S-allyl cysteine (SAC) is a water-soluble organosulfur component present in garlic which is a potent antioxidant and free radical scavenger. In the present study, the purpose was to explore the anti-inflammatory, antioxidant, and anti-apoptotic actions of SAC on lipopolysaccharide (LPS)-induced sepsis in rats. Thirty-two male Wistar rats were separated into 4 groups. These were control, SAC control, sepsis, and sepsis + SAC-induced groups. Sepsis was induced by administration of LPS (5 mg/kg) into 2 groups. SAC (50 mg/kg) was given orally to SAC control and SAC treatment groups per 12 h during 2 days after intraperitoneal LPS injection. Serum AST, ALT, ALP, and hsCRP levels and liver and lung MPO, NO, and DNA fragmentation levels were evaluated. In sepsis group, elevated levels of ALT, AST, ALP, and hsCRP were observed. The abnormal increases were decreased in sepsis + SAC group compared to sepsis group. In lung tissue, MPO and NO levels were increased in sepsis group compared to the control group. MPO activity and NO levels were decreased by SAC application in sepsis + SAC group compared with sepsis group. In liver tissue, DNA fragmentation was significantly higher in sepsis group than that in the control group. In contrast, a decreased level of DNA fragmentation was noted in sepsis + SAC group when compared with the sepsis group. In conclusion, SAC ameliorates LPS-induced indicators of liver damage and suppresses the discharge of NO and MPO in lung tissue via its antioxidant properties.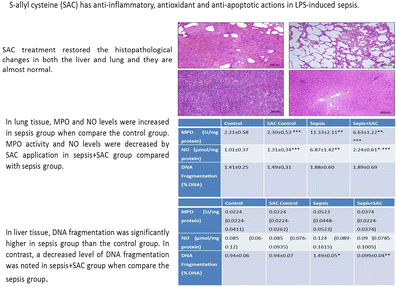 Access options
Buy single article
Instant access to the full article PDF.
USD 39.95
Price excludes VAT (USA)
Tax calculation will be finalised during checkout.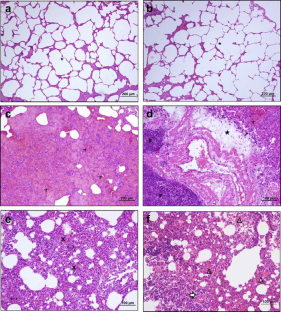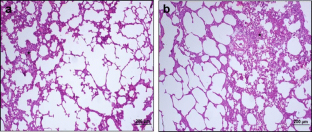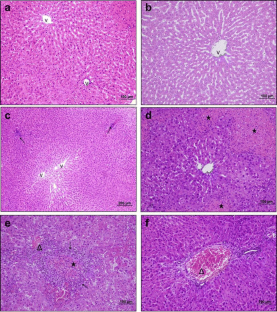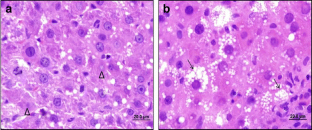 Abbreviations
LPS:

Lipopolysaccharide

ROS:

Reactive oxygen species

SAC:

S-allyl cysteine

NOP:

Nitric oxide

iNOS:

Inducible NO-synthase

MPO:

Myeloperoxidase

PMNs:

Polymorphonuclear neutrophils

H&E:

Hematoxylin and eosin

SPSS:

Statistical Package for the Social Sciences

ANOVA:

One-way analysis of variance

ILs:

Interleukins

CRP:

C-reactive protein

LDL:

Low-density lipoprotein

HOCl:

Hypochlorous acid
References
Alghaithy AA, El-Beshbishy HA, Abdel-Naim AB, Nagy AA, Abdel-Sattar EM (2011) Anti-inflammatory effects of the chloroform extract of Pulicaria guestii ameliorated the neutrophil infiltration and nitric oxide generation in rats. Toxicol Ind Health 27:899–910

Al-Saidya AM, Ismail HK (2013) Histopathological study of sepsis experimentally induced by cecal ligation and puncture in rats. Bas J Vet Res 12:104–115

Atif F, Yousuf S, Agrawal SK (2009) S-allyl L-cysteine diminishes cerebral ischemia-induced mitochondrial dysfunctions in hippocampus. Brain Res 10:128–137

Atroshi F, Rizzo A, Biese I, Veijalainen P, Saloniemi H, Sankari S, Andersson K (1999) Fumonisin B-1-induced DNA damage in rat liver and spleen: effects of pretreatment with coenzyme Q(10), L-carnitine, alpha-tocopherol and selenium. Pharmacol Res 40:459–467

Bashir A, Banday MZ, Haq E (2011) Lipopolysaccharide, mediator of sepsis enigma: recognition and signalling. Int J Biochem Res Rev 1:1–13

Bhavsar TM, Patel SN, Lau-Cam CA (2010) Protective action of taurine, given as a pretreatment or as a post-treatment, against endotoxin-induced acute lung inflammation in hamsters. J Biomed Sci 17:S19

Bohlinger I, Leist M, Gantner F, Angermüller S, Tiegs G, Wendel A (1996) DNA fragmentation in mouse organs during endotoxic shock. Am J Pathol 149:1381–1393

Burton K (1968) Determination of DNA concentration with diphenylamine. Methods Enzymol 12:163–166

Carrol ED, Mankhambo LA, Jeffers G, Parker D, Guiver M, Newland P, Banda DL, IPD Study Group, Molyneux EM, Heyderman RS, Molyneux ME, Hart CA (2009) The diagnostic and prognostic accuracy of five markers of serious bacterial infection in Malawian children with signs of severe infection. PLoS One 4:e6621

Colín-González AL, Santana RA, Silva-Islas CA, Chánez-Cárdenas ME, Santamaría A, Maldonado PD (2012) The antioxidant mechanisms underlying the aged garlic extract and S-allylcysteine induced protection. Oxid Med Cell Longev 2012:907162

Cortas NK, Wakid NW (1990) Determination of inorganic nitrate in serum and urine by a kinetic cadmium-reduction method. Clin Chem 36:1440–1443

Ekingen G, Ceran C, Demirtola A, Demirogullari B, Sancak B, Poyraz A, Sonmez K, Basaklar AC, Kale N (2006) The effect of reperfusion duration in intestinal ischemia reperfusion on bio-chemical parameters and small intestinal anastomosis healing. J Inonu Univ Med Fac 13:7–12

Escames G, Acuña-Castroviejo D, López LC, Tan DX, Maldonado MD, Sánchez-Hidalgo M, León J, Reiter RJ (2006) Pharmacological utility of melatonin in the treatment of septic shock: experimental and clinical evidence. J Pharm Pharmacol 58:1153–1165

Galley HF (2011) Oxidative stress and mitochondrial dysfunction in sepsis. Br J Anaesth 107:57–64

García E, Villeda-Hernández J, Pedraza-Chaverrí J, Maldonado PD, Santamaría A (2010) S-allylcysteine reduces the MPTP-induced striatal cell damage via inhibition of pro-inflammatory cytokine tumor necrosis factor-α and inducible nitric oxide synthase expressions in mice. Phytomedicine 15:65–73

González-Renovato ED, Alatorre-Jiménez M, Bitzer-Quintero OK, Sánchez-Luna S, Flores-Alvarado LJ, Romero-Dávalos R, Romero L, Hernández-Andalón JJ, Ortiz GG, Pacheco-Moisés FP (2013) Effect of Nutrisim© on endotoxic shock induced by lipopolysaccharide from Escherichia coli: 0111:b4 in rats: structural study of liver, kidney and lung. J Clin Exp Pathol 4:1

Ho SE, Ide N, Lau BH (2001) S-allyl cysteine reduces oxidant load in cells involved in the atherogenic process. Phytomedicine 8:39–46

Ippoushi K, Itou H, Azuma K, Higashio H (2002) Effect of naturally occurring organosulfur compounds on nitric oxide production in lipopolysaccharide-activated macrophages. Life Sci 71:411–419

Javed H, Khan MM, Khan A, Vaibhav K, Ahmad A, Khuwaja G, Ahmed ME, Raza SS, Ashafaq M, Tabassum R, Siddiqui MS, El-Agnaf OM, Safhi MM, Islam F (2011) S-allyl cysteine attenuates oxidative stress associated cognitive impairment and neurodegeneration in mouse model of streptozotocin-induced experimental dementia of Alzheimer's type. Brain Res 1389:133–142

Jesmin S, Zaedi S, Islam AM, Sultana SN, Iwashima Y, Wada T, Yamaguchi N, Hiroe M, Gando S (2012) Time-dependent alterations of VEGF and its signalling molecules in acute lung injury in a rat model of sepsis. Inflammation 35:484–500

Kim KM, Chun SB, Koo MS, Choi WJ, Kim TW, Kwon YG, Chung HT, Billiar TR, Kim YM (2001) Differential regulation of NO availability from macrophages and endothelial cells by the garlic component S-allyl cysteine. Free Radic Biol Med 30:747–756

Kingsley GR (1942) The direct biuret method for the determination of serum proteins as applied to photoelectric and visual colorimetry. J Lab Clin Med 27:840–846

Kitazumi I, Tsukahara M (2011) Regulation of DNA fragmentation: the role of caspases and phosphorylation. FEBS J 278:427–441

Kodera Y, Suzuki A, Imada O, Kasuga S, Sumioka I, Kanezawa A, Taru N, Fujikawa M, Nagae S, Masamoto K, Maeshige K, Ono K (2002) Physical, chemical, and biological properties of s-allyl cysteine, an amino acid derived from garlic. J Agric Food Chem 30:622–632

Li A, Dong L, Duan ML, Sun K, Liu YY, Wang MX, Deng JN, Fan JY, Wang BE, Han JY (2013) Emodin improves lipopolysaccharide-induced microcirculatory disturbance in rat mesentery. Microcirculation 20:617–628

Liu Z, Yu Y, Jiang Y, Li J (2002) Growth hormone increases lung NF-κB activation and lung microvascular injury induced by lipopolysaccharide in rats. Ann Clin Lab Sci 32:164–170

Liu YC, Chang AY, Tsai YC, Chan JY (2009) Differential protection against oxidative stress and nitric oxide overproduction in cardiovascular and pulmonary systems by propofol during endotoxemia. J Biomed Sci 16:8

Lowes DA, Webster NR, Murphy MP, Galley HF (2013) Antioxidants that protect mitochondria reduce interleukin-6 and oxidative stress, improve mitochondrial function, and reduce biochemical markers of organ dysfunction in a rat model of acute sepsis. Br J Anaesth 110:472–480

Medan D, Wang L, Yang X, Dokka S, Castranova V, Rojanasakul Y (2002) Induction of neutrophil apoptosis and secondary necrosis during endotoxin-induced pulmonary inflammation in mice. J Cell Physiol 191:320–326

Medina-Campos ON, Barrera D, Segoviano-Murillo S, Rocha D, Maldonado PD, Mendoza-Patiño N, Pedraza-Chaverri J (2007) S-allylcysteine scavenges singlet oxygen and hypochlorous acid and protects LLC-PK1 cells of potassium dichromate-induced toxicity. Food Chem Toxicol 4:2030–2039

Mohamadin AM, Elberry AA, Elkablawy MA, Gawad HS, Al-Abbasi FA (2011) Montelukast, a leukotriene receptor antagonist abrogates lipopolysaccharide-induced toxicity and oxidative stress in rat liver. Pathophysiology 18:235–242

Morikawa A, Kato Y, Sugiyama T, Koide N, Chakravortty D, Yoshida T, Yokochi T (1999) Role of nitric oxide in lipopolysaccharide-induced hepatic injury in D-galactosamine-sensitized mice as an experimental endotoxic shock model. Infect Immun 67:1018–1024

Ozdemir D, Uysal N, Tugyan K, Gonenc S, Acikgoz O, Aksu I, Ozkan H (2007) The effect of melatonin on endotoxemia-induced intestinal apoptosis and oxidative stress in infant rats. Intensive Care Med 33:511–516

Pérez-Severiano F, Salvatierra-Sánchez R, Rodríguez-Pérez M, Cuevas-Martínez EY, Guevara J, Limón D, Maldonado PD, Medina-Campos ON, Pedraza-Chaverrí J, Santamaría A (2004) S-Allylcysteine prevents amyloid-peptide-induced oxidative stress in rat hippocampus and ameliorates learning deficits. Eur J Pharmacol 12:197–202

Pierrakos C, Vincent JL (2010) Sepsis biomarkers: a review. Crit Care 14:R15

Ren Y, Xie Y, Jiang G, Fan J, Yeung J, Li W, Tam PK, Savill J (2008) Apoptotic cells protect mice against lipopolysaccharide-induced shock. J Immunol 180:4978–4985

Sandoval M, Zhang XJ, Liu X, Mannick EE, Clark DA, Miller MJ (1997) Peroxynitrite-induced apoptosis in T84 and RAW 264.7 cells: attenuation by L-ascorbic acid. Free Radic Biol Med 22:489–495

Sepehr R, Audi SH, Maleki S, Staniszewski EAL, Konduri GG, Ranji M (2013) Optical imaging of lipopolysaccharide induced oxidative stress in acute lung injury from hyperoxia and sepsis. J Innov Opt Health Sci 6:1350017

Tiruppathi C, Naqvi T, Wu Y, Vogel SM, Minshall RD, Malik AB (2004) Albumin mediates the transcytosis of myeloperoxidase by means of caveolae in endothelial cells. Proc Natl Acad Sci U S A 101:7699–7704

von Dessauer B, Bongain J, Molina V, Quilodrán J, Castillo R, Rodrigo R (2011) Oxidative stress as a novel target in pediatric sepsis management. J Crit Care 26:103.e1–7

Werner J, Saghir M, Warshaw AL, Lewandrowski KB, Laposata M, Lozzo RV, Carter EA, Schatz RJ, Ferna C, Castillo ND (2002) Alcoholic pancreatitis in rats: injury from nonoxidative metabolites of ethanol. Jens Am J Physiol Gastrointest Liver Physiol 283:65–73

Yamashita T, Kawashima S, Ohashi Y, Ozaki M, Ueyama T, Ishida T, Inoue N, Hirata K, Akita H, Yokoyama M (2000) Resistance to endotoxin shock in transgenic mice overexpressing endothelial nitric oxide synthase. Circulation 101:931–937

Yan CK, Zeng FD (2005) Pharmacokinetics and tissue distribution of S-allylcysteine in rats. Asian J Drug Metab Pharmacokinet 5:61–69

Yang J, Li W, Duan M, Zhou Z, Lin N, Wang Z, Sun J, Xu J (2005) Large dose ketamine inhibits lipopolysaccharide-induced acute lung injury in rats. Inflamm Res 54:133–137
Acknowledgments
The authors declare no conflicts of interest in this study.
About this article
Cite this article
Bayraktar, O., Tekin, N., Aydın, O. et al. Effects of S-allyl cysteine on lung and liver tissue in a rat model of lipopolysaccharide-induced sepsis. Naunyn-Schmiedeberg's Arch Pharmacol 388, 327–335 (2015). https://doi.org/10.1007/s00210-014-1076-z
Received:

Accepted:

Published:

Issue Date:

DOI: https://doi.org/10.1007/s00210-014-1076-z
Keywords
Lipopolysaccharide

S-allyl cysteine

Nitric oxide

DNA fragmentation

Antioxidant