Abstract
Acute itch (pruritus) is unpleasant and acts as an alerting mechanism for removing irritants. However, severe chronic itch is debilitating and impairs the quality of life. Rapid progress has been made in recent years in our understanding of the fundamental neurobiology of itch. Notably, several temperature-sensitive transient receptor potential (thermo-TRP) ion channels have emerged as critical players in many types of itch, in addition to pain. They serve as markers that define the itch neural pathway. Thermo-TRP ion channels are thus becoming attractive targets for developing effective anti-pruritic therapies.
Access options
Buy single article
Instant access to the full article PDF.
USD 39.95
Price includes VAT (USA)
Tax calculation will be finalised during checkout.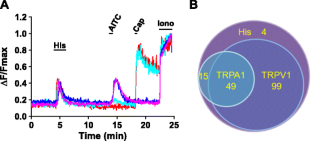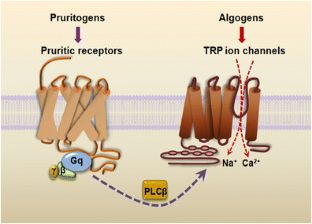 References
Akiyama T, Carstens E (2013) Neural processing of itch. Neuroscience 250:697–714

Akiyama T, Carstens MI, Carstens E (2010) Enhanced scratching evoked by PAR-2 agonist and 5-HT but not histamine in a mouse model of chronic dry skin itch. Pain 151:378–383

Alemi F, Kwon E, Poole DP, Lieu T, Lyo V, Cattaruzza F, Cevikbas F, Steinhoff M, Nassini R, Materazzi S, Guerrero-Alba R, Valdez-Morales E, Cottrell GS, Schoonjans K, Geppetti P, Vanner SJ, Bunnett NW, Corvera CU (2013) The TGR5 receptor mediates bile acid-induced itch and analgesia. J Clin Invest 123:1513–1530

Amadesi S, Nie J, Vergnolle N, Cottrell GS, Grady EF, Trevisani M, Manni C, Geppetti P, McRoberts JA, Ennes H, Davis JB, Mayer EA, Bunnett NW (2004) Protease-activated receptor 2 sensitizes the capsaicin receptor transient receptor potential vanilloid receptor 1 to induce hyperalgesia. J Neurosci 24:4300–4312

Bautista DM, Siemens J, Glazer JM, Tsuruda PR, Basbaum AI, Stucky CL, Jordt SE, Julius D (2007) The menthol receptor TRPM8 is the principal detector of environmental cold. Nature 448:204–208

Bautista DM, Pellegrino M, Tsunozaki M (2013) TRPA1: a gatekeeper for inflammation. Annu Rev Physiol 75:181–200

Belghiti M, Estevez-Herrera J, Gimenez-Garzo C, Gonzalez-Usano A, Montoliu C, Ferrer-Montiel A, Felipo V, Planells-Cases R (2013) Potentiation of the transient receptor potential vanilloid 1 channel contributes to pruritogenesis in a rat model of liver disease. J Biol Chem 288:9675–9685

Bell JK, McQueen DS, Rees JL (2004) Involvement of histamine H4 and H1 receptors in scratching induced by histamine receptor agonists in Balb C mice. Br J Pharmacol 142:374–380

Brederson JD, Kym PR, Szallasi A (2013) Targeting TRP channels for pain relief. Eur J Pharmacol 716:61–76

Carstens E, Jinks SL (1998) Skin cooling attenuates rat dorsal horn neuronal responses to intracutaneous histamine. Neuroreport 9:4145–4149

Cevikbas F, Wang X, Akiyama T, Kempkes C, Savinko T, Antal A, Kukova G, Buhl T, Ikoma A, Buddenkotte J, Soumelis V, Feld M, Alenius H, Dillon SR, Carstens E, Homey B, Basbaum A, Steinhoff M (2014) A sensory neuron-expressed IL-31 receptor mediates T helper cell-dependent itch: involvement of TRPV1 and TRPA1. J Allergy Clin Immunol 133:448–460

Cheng X, Jin J, Hu L, Shen D, Dong XP, Samie MA, Knoff J, Eisinger B, Liu ML, Huang SM, Caterina MJ, Dempsey P, Michael LE, Dlugosz AA, Andrews NC, Clapham DE, Xu H (2010) TRP channel regulates EGFR signaling in hair morphogenesis and skin barrier formation. Cell 141:331–343

Chuang HH, Neuhausser WM, Julius D (2004) The super-cooling agent icilin reveals a mechanism of coincidence detection by a temperature-sensitive TRP channel. Neuron 43:859–869

Chung MK, Lee H, Caterina MJ (2003) Warm temperatures activate TRPV4 in mouse 308 keratinocytes. J Biol Chem 278:32037–32046

Chung MK, Lee H, Mizuno A, Suzuki M, Caterina MJ (2004) TRPV3 and TRPV4 mediate warmth-evoked currents in primary mouse keratinocytes. J Biol Chem 279:21569–21575

Colburn RW, Lubin ML, Stone DJ Jr, Wang Y, Lawrence D, D'Andrea MR, Brandt MR, Liu Y, Flores CM, Qin N (2007) Attenuated cold sensitivity in TRPM8 null mice. Neuron 54:379–386

Dai Y, Moriyama T, Higashi T, Togashi K, Kobayashi K, Yamanaka H, Tominaga M, Noguchi K (2004) Proteinase-activated receptor 2-mediated potentiation of transient receptor potential vanilloid subfamily 1 activity reveals a mechanism for proteinase-induced inflammatory pain. J Neurosci 24:4293–4299

Dai Y, Wang S, Tominaga M, Yamamoto S, Fukuoka T, Higashi T, Kobayashi K, Obata K, Yamanaka H, Noguchi K (2007) Sensitization of TRPA1 by PAR2 contributes to the sensation of inflammatory pain. J Clin Invest 117:1979–1987

Davidson S, Zhang X, Yoon CH, Khasabov SG, Simone DA, Giesler GJ Jr (2007) The itch-producing agents histamine and cowhage activate separate populations of primate spinothalamic tract neurons. J Neurosci 27:10007–10014

Davidson S, Zhang X, Khasabov SG, Moser HR, Honda CN, Simone DA, Giesler GJ Jr (2012) Pruriceptive spinothalamic tract neurons: physiological properties and projection targets in the primate. J Neurophysiol 108:1711–1723

Dhaka A, Murray AN, Mathur J, Earley TJ, Petrus MJ, Patapoutian A (2007) TRPM8 is required for cold sensation in mice. Neuron 54:371–378

Feng J, Chen Y, Xiong J, Chen X, Liang J, Ji W (2014) The kinin B1 receptor mediates alloknesis in a murine model of inflammation. Neurosci Lett 560:31–35

Fernandes ES, Vong CT, Quek S, Cheong J, Awal S, Gentry C, Aubdool AA, Liang L, Bodkin JV, Bevan S, Heads R, Brain SD (2013) Superoxide generation and leukocyte accumulation: key elements in the mediation of leukotriene B(4)-induced itch by transient receptor potential ankyrin 1 and transient receptor potential vanilloid 1. FASEB J 27:1664–1673

Fruhstorfer H, Hermanns M, Latzke L (1986) The effects of thermal stimulation on clinical and experimental itch. Pain 24:259–269

Gomes LO, Hara DB, Rae GA (2012) Endothelin-1 induces itch and pain in the mouse cheek model. Life Sci 91:628–633

Grant AD, Cottrell GS, Amadesi S, Trevisani M, Nicoletti P, Materazzi S, Altier C, Cenac N, Zamponi GW, Bautista-Cruz F, Lopez CB, Joseph EK, Levine JD, Liedtke W, Vanner S, Vergnolle N, Geppetti P, Bunnett NW (2007) Protease-activated receptor 2 sensitizes the transient receptor potential vanilloid 4 ion channel to cause mechanical hyperalgesia in mice 2. J Physiol 578:715–733

Greaves MW (2007) Recent advances in pathophysiology and current management of itch. Ann Acad Med Singap 36:788–792

Greaves MW, Davies MG (1982) Histamine receptors in human skin: indirect evidence. Br J Dermatol 107(Suppl 23):101–105

Guler AD, Lee H, Iida T, Shimizu I, Tominaga M, Caterina M (2002) Heat-evoked activation of the ion channel, TRPV4. J Neurosci 22:6408–6414

Han SK, Mancino V, Simon MI (2006) Phospholipase Cbeta 3 mediates the scratching response activated by the histamine H1 receptor on C-fiber nociceptive neurons. Neuron 52:691–703

Han JH, Choi HK, Kim SJ (2012) Topical TRPM8 agonist (icilin) relieved vulva pruritus originating from lichen sclerosus et atrophicus. Acta Derm Venereol 92:561–562

Han L, Ma C, Liu Q, Weng HJ, Cui Y, Tang Z, Kim Y, Nie H, Qu L, Patel KN, Li Z, McNeil B, He S, Guan Y, Xiao B, Lamotte RH, Dong X (2013) A subpopulation of nociceptors specifically linked to itch. Nat Neurosci 16:174–182

Hosogi M, Schmelz M, Miyachi Y, Ikoma A (2006) Bradykinin is a potent pruritogen in atopic dermatitis: a switch from pain to itch. Pain 126:16–23

Huang J, Zhang X, McNaughton PA (2006) Modulation of temperature-sensitive TRP channels. Semin Cell Dev Biol 17:638–645

Huang SM, Lee H, Chung MK, Park U, Yu YY, Bradshaw HB, Coulombe PA, Walker JM, Caterina MJ (2008) Overexpressed transient receptor potential vanilloid 3 ion channels in skin keratinocytes modulate pain sensitivity via prostaglandin E2. J Neurosci 28:13727–13737

Ikoma A, Steinhoff M, Stander S, Yosipovitch G, Schmelz M (2006) The neurobiology of itch. Nat Rev Neurosci 7:535–547

Imamachi N, Park GH, Lee H, Anderson DJ, Simon MI, Basbaum AI, Han SK (2009) TRPV1-expressing primary afferents generate behavioral responses to pruritogens via multiple mechanisms. Proc Natl Acad Sci U S A 106:11330–11335

Jariwala SP, Abrams E, Benson A, Fodeman J, Zheng T (2011) The role of thymic stromal lymphopoietin in the immunopathogenesis of atopic dermatitis. Clin Exp Allergy 41:1515–1520

Johanek LM, Meyer RA, Hartke T, Hobelmann JG, Maine DN, Lamotte RH, Ringkamp M (2007) Psychophysical and physiological evidence for parallel afferent pathways mediating the sensation of itch. J Neurosci 27:7490–7497

Johanek LM, Meyer RA, Friedman RM, Greenquist KW, Shim B, Borzan J, Hartke T, Lamotte RH, Ringkamp M (2008) A role for polymodal C-fiber afferents in nonhistaminergic itch. J Neurosci 28:7659–7669

Julius D (2013) TRP channels and pain. Annu Rev Cell Dev Biol 29:355–384

Kardon AP, Polgar E, Hachisuka J, Snyder LM, Cameron D, Savage S, Cai X, Karnup S, Fan CR, Hemenway GM, Bernard CS, Schwartz ES, Nagase H, Schwarzer C, Watanabe M, Furuta T, Kaneko T, Koerber HR, Todd AJ, Ross SE (2014) Dynorphin acts as a neuromodulator to inhibit itch in the dorsal horn of the spinal cord. Neuron 82:573–586

Kido-Nakahara M, Buddenkotte J, Kempkes C, Ikoma A, Cevikbas F, Akiyama T, Nunes F, Seeliger S, Hasdemir B, Mess C, Buhl T, Sulk M, Muller FU, Metze D, Bunnett NW, Bhargava A, Carstens E, Furue M, Steinhoff M (2014) Neural peptidase endothelin-converting enzyme 1 regulates endothelin 1-induced pruritus. J Clin Invest 124:2683–2695

Kim SJ, Park GH, Kim D, Lee J, Min H, Wall E, Lee CJ, Simon MI, Lee SJ, Han SK (2011) Analysis of cellular and behavioral responses to imiquimod reveals a unique itch pathway in transient receptor potential vanilloid 1 (TRPV1)-expressing neurons. Proc Natl Acad Sci U S A 108:3371–3376

Kremer AE, Martens JJ, Kulik W, Rueff F, Kuiper EM, van Buuren HR, van Erpecum KJ, Kondrackiene J, Prieto J, Rust C, Geenes VL, Williamson C, Moolenaar WH, Beuers U, Oude Elferink RP (2010) Lysophosphatidic acid is a potential mediator of cholestatic pruritus. Gastroenterology 139(1008–18):1018

Lagerstrom MC, Rogoz K, Abrahamsen B, Persson E, Reinius B, Nordenankar K, Olund C, Smith C, Mendez JA, Chen ZF, Wood JN, Wallen-Mackenzie A, Kullander K (2010) VGLUT2-dependent sensory neurons in the TRPV1 population regulate pain and itch. Neuron 68:529–542

Lamotte RH, Dong X, Ringkamp M (2014) Sensory neurons and circuits mediating itch. Nat Rev Neurosci 15:19–31

Lee J, Kim T, Hong J, Woo J, Min H, Hwang E, Lee SJ, Lee CJ (2012) Imiquimod enhances excitability of dorsal root ganglion neurons by inhibiting background (K(2P)) and voltage-gated (K(v)1.1 and K(v)1.2) potassium channels. Mol Pain 8:2

Li L, Hasan R, Zhang X (2014) The basal thermal sensitivity of the TRPV1 Ion channel is determined by PKCbetaII. J Neurosci 34:8246–8258

Liang J, Kawamata T, Ji W (2010) Molecular signaling of pruritus induced by endothelin-1 in mice. Exp Biol Med (Maywood) 235:1300–1305

Liang J, He Y, Ji W (2012) Bradykinin-evoked scratching responses in complete Freund's adjuvant-inflamed skin through activation of B1 receptor. Exp Biol Med (Maywood) 237:318–326

Lieu T, Jayaweera G, Zhao P, Poole DP, Jensen D, Grace M, McIntyre P, Bron R, Wilson YM, Krappitz M, Haerteis S, Korbmacher C, Steinhoff MS, Nassini R, Materazzi S, Geppetti P, Corvera CU, Bunnett NW (2014) The Bile Acid Receptor TGR5 Activates the TRPA1 Channel to Induce Itch in Mice. Gastroenterology

Liu T, Ji RR (2012) Oxidative stress induces itch via activation of transient receptor potential subtype ankyrin 1 in mice. Neurosci Bull 28:145–154

Liu Q, Tang Z, Surdenikova L, Kim S, Patel KN, Kim A, Ru F, Guan Y, Weng HJ, Geng Y, Undem BJ, Kollarik M, Chen ZF, Anderson DJ, Dong X (2009) Sensory neuron-specific GPCR Mrgprs are itch receptors mediating chloroquine-induced pruritus. Cell 139:1353–1365

Liu T, Xu ZZ, Park CK, Berta T, Ji RR (2010a) Toll-like receptor 7 mediates pruritus. Nat Neurosci 13:1460–1462

Liu Y, Abdel SO, Zhang L, Duan B, Tong Q, Lopes C, Ji RR, Lowell BB, Ma Q (2010b) VGLUT2-dependent glutamate release from nociceptors is required to sense pain and suppress itch. Neuron 68:543–556

Liu Q, Weng HJ, Patel KN, Tang Z, Bai H, Steinhoff M, Dong X (2011) The distinct roles of two GPCRs, MrgprC11 and PAR2, in itch and hyperalgesia. Sci Signal 4:ra45

Liu Q, Sikand P, Ma C, Tang Z, Han L, Li Z, Sun S, Lamotte RH, Dong X (2012) Mechanisms of itch evoked by beta-alanine. J Neurosci 32:14532–14537

Liu B, Escalera J, Balakrishna S, Fan L, Caceres AI, Robinson E, Sui A, McKay MC, McAlexander MA, Herrick CA, Jordt SE (2013) TRPA1 controls inflammation and pruritogen responses in allergic contact dermatitis. FASEB J 27:3549–3563

Malin SA, Molliver DC, Koerber HR, Cornuet P, Frye R, Albers KM, Davis BM (2006) Glial cell line-derived neurotrophic factor family members sensitize nociceptors in vitro and produce thermal hyperalgesia in vivo. J Neurosci 26:8588–8599

Malin S, Molliver D, Christianson JA, Schwartz ES, Cornuet P, Albers KM, Davis BM (2011) TRPV1 and TRPA1 function and modulation are target tissue dependent. J Neurosci 31:10516–10528

Mandadi S, Sokabe T, Shibasaki K, Katanosaka K, Mizuno A, Moqrich A, Patapoutian A, Fukumi-Tominaga T, Mizumura K, Tominaga M (2009) TRPV3 in keratinocytes transmits temperature information to sensory neurons via ATP. Pflugers Arch

McKemy DD, Neuhausser WM, Julius D (2002) Identification of a cold receptor reveals a general role for TRP channels in thermosensation. Nature 416:52–58

McMahon SB, Koltzenburg M (1992) Itching for an explanation. Trends Neurosci 15:497–501

Mihara H, Boudaka A, Sugiyama T, Moriyama Y, Tominaga M (2011) Transient receptor potential vanilloid 4 (TRPV4)-dependent calcium influx and ATP release in mouse oesophageal keratinocytes. J Physiol 589:3471–3482

Miyamoto T, Petrus MJ, Dubin AE, Patapoutian A (2011) TRPV3 regulates nitric oxide synthase-independent nitric oxide synthesis in the skin. Nat Commun 2:369

Mizumura K, Sugiura T, Katanosaka K, Banik RK, Kozaki Y (2009) Excitation and sensitization of nociceptors by bradykinin: what do we know. Exp Brain Res 196:53–65

Moqrich A, Hwang SW, Earley TJ, Petrus MJ, Murray AN, Spencer KS, Andahazy M, Story GM, Patapoutian A (2005) Impaired thermosensation in mice lacking TRPV3, a heat and camphor sensor in the skin. Science 307:1468–1472

Murota H, Izumi M, Abd El-Latif MI, Nishioka M, Terao M, Tani M, Matsui S, Sano S, Katayama I (2012) Artemin causes hypersensitivity to warm sensation, mimicking warmth-provoked pruritus in atopic dermatitis. J Allergy Clin Immunol 130:671–682

Nakagawa H, Hiura A (2013) Four possible itching pathways related to the TRPV1 channel, histamine, PAR-2 and serotonin. Malays J Med Sci 20:5–12

Nilius B, Biro T (2013) TRPV3: a 'more than skinny' channel. Exp Dermatol 22:447–452

Nilius B, Owsianik G (2011) The transient receptor potential family of ion channels. Genome Biol 12:218

Nilius B, Owsianik G, Voets T, Peters JA (2007) Transient receptor potential cation channels in disease. Physiol Rev 87:165–217

Oh MH, Oh SY, Lu J, Lou H, Myers AC, Zhu Z, Zheng T (2013) TRPA1-dependent pruritus in IL-13-induced chronic atopic dermatitis. J Immunol 191:5371–5382

Papoiu AD, Tey HL, Coghill RC, Wang H, Yosipovitch G (2011) Cowhage-induced itch as an experimental model for pruritus. A comparative study with histamine-induced itch. PLoS ONE 6:e17786

Patel KN, Dong X (2010) An itch to be scratched. Neuron 68:334–339

Peier AM, Reeve AJ, Andersson DA, Moqrich A, Earley TJ, Hergarden AC, Story GM, Colley S, Hogenesch JB, McIntyre P, Bevan S, Patapoutian A (2002) A heat-sensitive TRP channel expressed in keratinocytes. Science 296:2046–2049

Pezet S, McMahon SB (2006) Neurotrophins: mediators and modulators of pain. Annu Rev Neurosci 29:507–538

Proudfoot CJ, Garry EM, Cottrell DF, Rosie R, Anderson H, Robertson DC, Fleetwood-Walker SM, Mitchell R (2006) Analgesia mediated by the TRPM8 cold receptor in chronic neuropathic pain. Curr Biol 16:1591–1605

Rabenhorst A, Hartmann K (2014) Interleukin-31: a novel diagnostic marker of allergic diseases. Curr Allergy Asthma Rep 14:423

Reddy VB, Iuga AO, Shimada SG, Lamotte RH, Lerner EA (2008) Cowhage-evoked itch is mediated by a novel cysteine protease: a ligand of protease-activated receptors. J Neurosci 28:4331–4335

Ringkamp M, Schepers RJ, Shimada SG, Johanek LM, Hartke TV, Borzan J, Shim B, Lamotte RH, Meyer RA (2011) A role for nociceptive, myelinated nerve fibers in itch sensation. J Neurosci 31:14841–14849

Roberson DP, Gudes S, Sprague JM, Patoski HA, Robson VK, Blasl F, Duan B, Oh SB, Bean BP, Ma Q, Binshtok AM, Woolf CJ (2013) Activity-dependent silencing reveals functionally distinct itch-generating sensory neurons. Nat Neurosci 16:910–918

Ross SE, Mardinly AR, McCord AE, Zurawski J, Cohen S, Jung C, Hu L, Mok SI, Shah A, Savner EM, Tolias C, Corfas R, Chen S, Inquimbert P, Xu Y, McInnes RR, Rice FL, Corfas G, Ma Q, Woolf CJ, Greenberg ME (2010) Loss of inhibitory interneurons in the dorsal spinal cord and elevated itch in Bhlhb5 mutant mice. Neuron 65:886–898

Rossbach K, Nassenstein C, Gschwandtner M, Schnell D, Sander K, Seifert R, Stark H, Kietzmann M, Baumer W (2011) Histamine H1, H3 and H4 receptors are involved in pruritus. Neuroscience 190:89–102

Rukwied RR, Main M, Weinkauf B, Schmelz M (2013) NGF sensitizes nociceptors for cowhage- but not histamine-induced itch in human skin. J Invest Dermatol 133:268–270

SHELLEY WB, ARTHUR RP (1955) Mucunain, the active pruritogenic proteinase of cowhage. Science 122:469–470

Shim WS, Tak MH, Lee MH, Kim M, Kim M, Koo JY, Lee CH, Kim M, Oh U (2007) TRPV1 mediates histamine-induced itching via the activation of phospholipase A2 and 12-lipoxygenase. J Neurosci 27:2331–2337

Smith GD, Gunthorpe MJ, Kelsell RE, Hayes PD, Reilly P, Facer P, Wright JE, Jerman JC, Walhin JP, Ooi L, Egerton J, Charles KJ, Smart D, Randall AD, Anand P, Davis JB (2002) TRPV3 is a temperature-sensitive vanilloid receptor-like protein. Nature 418:186–190

Steinhoff M, Neisius U, Ikoma A, Fartasch M, Heyer G, Skov PS, Luger TA, Schmelz M (2003) Proteinase-activated receptor-2 mediates itch: a novel pathway for pruritus in human skin. J Neurosci 23:6176–6180

Story GM, Peier AM, Reeve AJ, Eid SR, Mosbacher J, Hricik TR, Earley TJ, Hergarden AC, Andersson DA, Hwang SW, McIntyre P, Jegla T, Bevan S, Patapoutian A (2003) ANKTM1, a TRP-like channel expressed in nociceptive neurons, is activated by cold temperatures. Cell 112:819–829

Than JY, Li L, Hasan R, Zhang X (2013) Excitation and modulation of TRPA1, TRPV1, and TRPM8 channel-expressing sensory neurons by the pruritogen chloroquine. J Biol Chem 288:12818–12827

Trentin PG, Fernandes MB, D'Orleans-Juste P, Rae GA (2006) Endothelin-1 causes pruritus in mice. Exp Biol Med (Maywood) 231:1146–1151

Venkatachalam K, Montell C (2007) TRP channels. Annu Rev Biochem 76:387–417

Wilson SR, Gerhold KA, Bifolck-Fisher A, Liu Q, Patel KN, Dong X, Bautista DM (2011) TRPA1 is required for histamine-independent, Mas-related G protein-coupled receptor-mediated itch. Nat Neurosci 14:595–602

Wilson SR, Nelson AM, Batia L, Morita T, Estandian D, Owens DM, Lumpkin EA, Bautista DM (2013a) The ion channel TRPA1 is required for chronic itch. J Neurosci 33:9283–9294

Wilson SR, The L, Batia LM, Beattie K, Katibah GE, McClain SP, Pellegrino M, Estandian DM, Bautista DM (2013b) The epithelial cell-derived atopic dermatitis cytokine TSLP activates neurons to induce itch. Cell 155:285–295

Xu H, Ramsey IS, Kotecha SA, Moran MM, Chong JA, Lawson D, Ge P, Lilly J, Silos-Santiago I, Xie Y, DiStefano PS, Curtis R, Clapham DE (2002) TRPV3 is a calcium-permeable temperature-sensitive cation channel. Nature 418:181–186

Xu H, Delling M, Jun JC, Clapham DE (2006) Oregano, thyme and clove-derived flavors and skin sensitizers activate specific TRP channels. Nat Neurosci 9:628–635

Yamaguchi J, Aihara M, Kobayashi Y, Kambara T, Ikezawa Z (2009) Quantitative analysis of nerve growth factor (NGF) in the atopic dermatitis and psoriasis horny layer and effect of treatment on NGF in atopic dermatitis. J Dermatol Sci 53:48–54

Yamamoto-Kasai E, Imura K, Yasui K, Shichijou M, Oshima I, Hirasawa T, Sakata T, Yoshioka T (2012) TRPV3 as a therapeutic target for itch. J Invest Dermatol 132:2109–2112

Yamamoto-Kasai E, Yasui K, Shichijo M, Sakata T, Yoshioka T (2013) Impact of TRPV3 on the development of allergic dermatitis as a dendritic cell modulator. Exp Dermatol 22:820–824

Yang YS, Cho SI, Choi MG, Choi YH, Kwak IS, Park CW, Kim HO (2014) Increased Expression of Three Types of Transient Receptor Potential Channels (TRPA1, TRPV4 and TRPV3) in Burn Scars with Post-burn Pruritus. Acta Derm Venereol

Yoshioka T, Imura K, Asakawa M, Suzuki M, Oshima I, Hirasawa T, Sakata T, Horikawa T, Arimura A (2009) Impact of the Gly573Ser substitution in TRPV3 on the development of allergic and pruritic dermatitis in mice. J Invest Dermatol 129:714–722

Yosipovitch G, Greaves MW, Schmelz M (2003) Itch. Lancet 361:690–694

Zhang X, Huang J, McNaughton PA (2005) NGF rapidly increases membrane expression of TRPV1 heat-gated ion channels. EMBO J 24:4211–4223

Zhang X, Li L, McNaughton PA (2008) Proinflammatory mediators modulate the heat-activated ion channel TRPV1 via the scaffolding protein AKAP79/150. Neuron 59:450–461
About this article
Cite this article
Zhang, X. Targeting TRP ion channels for itch relief. Naunyn-Schmiedeberg's Arch Pharmacol 388, 389–399 (2015). https://doi.org/10.1007/s00210-014-1068-z
Received:

Accepted:

Published:

Issue Date:
Keywords
TRP ion channels

Itch

Pain

Somatosensory transduction