Abstract
Atypical antipsychotic drugs such as olanzapine induce weight gain and metabolic changes associated with the development of type 2 diabetes. The mechanisms underlying these metabolic side-effects are unknown at the moment. In this study, we investigated the metabolic changes induced by a chronic treatment, as well as the influence of a preceding chronic treatment on the acute effects of olanzapine on glucose metabolism. The effect of chronic olanzapine treatment (±6.5 mg/kg/day, administered via drinking water) on body weight, locomotor activity, body temperature, fat distribution and energy expenditure was investigated in male rats. After 5 weeks, the animals received an acute olanzapine challenge (intragastric, IG) at 3 mg/kg/h during 160 min to investigate the acute effects of olanzapine on glucose metabolism. Chronic olanzapine-treated animals showed a slight decrease in nocturnal body temperature, and increased perirenal fat pad weights as well as plasma leptin. In addition, chronic olanzapine-treated animals showed hyperinsulinaemia with unchanged blood glucose concentrations. The acute challenge with IG olanzapine elevated blood glucose levels and endogenous glucose production in control animals, but not in chronic olanzapine-pre-treated rats. Chronic olanzapine-treated animals also showed reduced locomotor activity and a higher respiratory exchange ratio. Thus, chronic treatment with olanzapine in rats causes desensitization to its acute effects on glucose metabolism but promotes adiposity probably due to a shift from lipids to carbohydrates as an energy source. Chronic exposure to olanzapine changes body fat distribution and insulin sensitivity in an unfavourable direction, but it is still unclear what the primary mechanism is.
This is a preview of subscription content, log in to check access.
Access options
Buy single article
Instant access to the full article PDF.
US$ 39.95
Price includes VAT for USA
Subscribe to journal
Immediate online access to all issues from 2019. Subscription will auto renew annually.
US$ 199
This is the net price. Taxes to be calculated in checkout.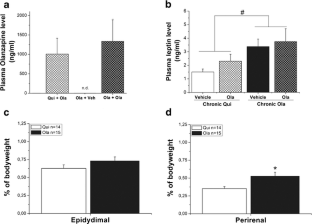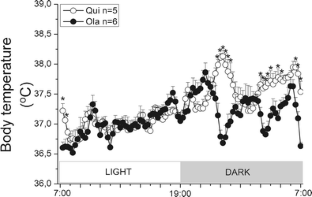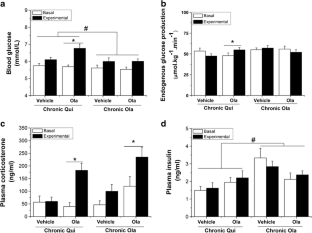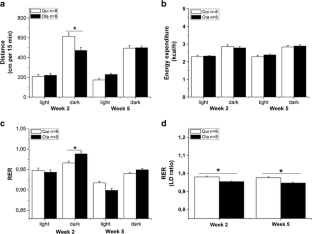 References
Ackermans MT, Pereira Arias AM, Bisschop PH, Endert E, Sauerwein HP, Romijn JA (2001) The quantification of gluconeogenesis in healthy men by (2)H2O and [2-(13)C]glycerol yields different results: rates of gluconeogenesis in healthy men measured with (2)H2O are higher than those measured with [2-(13)C]glycerol. J Clin Endocrinol Metab 86:2220–2226

Aichhorn W, Whitworth AB, Weiss EM, Hinterhuber H, Marksteiner J (2007) Differences between men and women in side effects of second-generation antipsychotics. Nervenarzt 78:45–52. doi:10.1007/s00115-006-2112-0

Albaugh VL, Judson JG, She P, Lang CH, Maresca KP, Joyal JL, Lynch CJ (2010) Olanzapine promotes fat accumulation in male rats by decreasing physical activity, repartitioning energy and increasing adipose tissue lipogenesis while impairing lipolysis. Mol Psychiatry. doi:10.1038/mp.2010.33

Albaugh VL, Singareddy R, Mauger D, Lynch CJ (2011) A double blind, placebo-controlled, randomized crossover study of the acute metabolic effects of olanzapine in healthy volunteers. PLoS One 6:e22662. doi:10.1371/journal.pone.0022662

Albaugh VL, Vary TC, Ilkayeva O, Wenner BR, Maresca KP, Joyal JL, Breazeale S, Elich TD, Lang CH, Lynch CJ (2012) Atypical antipsychotics rapidly and inappropriately switch peripheral fuel utilization to lipids, impairing metabolic flexibility in rodents. Schizophr Bull. doi:10.1093/schbul/sbq053

Aravagiri M, Teper Y, Marder SR (1999) Pharmacokinetics and tissue distribution of olanzapine in rats. Biopharm Drug Dispos 20:369–377. doi:10.1002/1099-081X(199911)20:8<369::AID-BDD200>3.0.CO;2–6

Basson BR, Kinon BJ, Taylor CC, Szymanski KA, Gilmore JA, Tollefson GD (2001) Factors influencing acute weight change in patients with schizophrenia treated with olanzapine, haloperidol, or risperidone. J Clin Psychiatry 62:231–238

Blass DM, Chuen M (2004) Olanzapine-associated hypothermia. Psychosomatics 45:135–139. doi:10.1176/appi.psy.45.2.135

Boyda HN, Procyshyn RM, Tse L, Wong D, Pang CC, Honer WG, Barr AM (2012) Intermittent treatment with olanzapine causes sensitization of the metabolic side-effects in rats. Neuropharmacology 62:1391–1400. doi:10.1016/j.neuropharm.2011.02.019

Chintoh AF, Mann SW, Lam L, Lam C, Cohn TA, Fletcher PJ, Nobrega JN, Giacca A, Remington G (2008a) Insulin resistance and decreased glucose-stimulated insulin secretion after acute olanzapine administration. J Clin Psychopharmacol 28:494–499. doi:10.1097/JCP.0b013e318184b4c5

Chintoh AF, Mann SW, Lam TK, Giacca A, Remington G (2008b) Insulin resistance following continuous, chronic olanzapine treatment: an animal model. Schizophr Res 104:23–30. doi:10.1016/j.schres.2008.06.006

Cooper GD, Pickavance LC, Wilding JP, Halford JC, Goudie AJ (2005) A parametric analysis of olanzapine-induced weight gain in female rats. Psychopharmacology (Berl) 181:80–89. doi:10.1007/s00213-005-2224-4

Davey KJ, O'Mahony SM, Schellekens H, O'Sullivan O, Bienenstock J, Cotter PD, Dinan TG, Cryan JF (2012) Gender-dependent consequences of chronic olanzapine in the rat: effects on body weight, inflammatory, metabolic and microbiota parameters. Psychopharmacology (Berl) 221:155–169. doi:10.1007/s00213-011-2555-2

Evers SS, Calcagnoli F, van Dijk G, Scheurink AJ (2010) Olanzapine causes hypothermia, inactivity, a deranged feeding pattern and weight gain in female Wistar rats. Pharmacol Biochem Behav 97:163–169. doi:10.1016/j.pbb.2010.05.029

Girault EM, Alkemade A, Foppen E, Ackermans MT, Fliers E, Kalsbeek A (2012) Acute peripheral but not central administration of olanzapine induces hyperglycemia associated with hepatic and extra-hepatic insulin resistance. PLoS One 7:e43244. doi:10.1371/journal.pone.0043244

Haack S, Seeringer A, Thurmann PA, Becker T, Kirchheiner J (2009) Sex-specific differences in side effects of psychotropic drugs: genes or gender? Pharmacogenomics 10:1511–1526. doi:10.2217/pgs.09.102

Hagg S, Mjorndal T, Lindqvist L (2001) Repeated episodes of hypothermia in a subject treated with haloperidol, levomepromazine, olanzapine, and thioridazine. J Clin Psychopharmacol 21:113–115

Hakko H, Komulainen MT, Koponen H, Saari K, Laitinen J, Jarvelin MR, Lindeman S (2006) Are females at special risk of obesity if they become psychotic? The longitudinal Northern Finland 1966 birth cohort study. Schizophr Res 84:15–19. doi:10.1016/j.schres.2006.03.020

Haupt DW, Luber A, Maeda J, Melson AK, Schweiger JA, Newcomer JW (2005) Plasma leptin and adiposity during antipsychotic treatment of schizophrenia. Neuropsychopharmacology 30:184–191. doi:10.1038/sj.npp.1300563

Houseknecht KL, Robertson AS, Zavadoski W, Gibbs EM, Johnson DE, Rollema H (2007) Acute effects of atypical antipsychotics on whole-body insulin resistance in rats: implications for adverse metabolic effects. Neuropsychopharmacology 32:289–297. doi:10.1038/sj.npp.1301209

Ishii Y, Blundell JE, Halford JC, Rodgers RJ (2003) Palatability, food intake and the behavioural satiety sequence in male rats. Physiol Behav 80:37–47

Kapur S, VanderSpek SC, Brownlee BA, Nobrega JN (2003) Antipsychotic dosing in preclinical models is often unrepresentative of the clinical condition: a suggested solution based on in vivo occupancy. J Pharmacol Exp Ther 305:625–631. doi:10.1124/jpet.102.046987

Lee E, Leung CM, Wong E (2004) Atypical antipsychotics and weight gain in Chinese patients: a comparison of olanzapine and risperidone. J Clin Psychiatry 65:864–866

Lieberman JA, Stroup TS, McEvoy JP, Swartz MS, Rosenheck RA, Perkins DO, Keefe RS, Davis SM, Davis CE, Lebowitz BD, Severe J, Hsiao JK (2005) Effectiveness of antipsychotic drugs in patients with chronic schizophrenia. N Engl J Med 353:1209–1223. doi:10.1056/NEJMoa051688

Liebig M, Gossel M, Pratt J, Black M, Haschke G, Elvert R, Juretschke HP, Neumann-Haefelin C, Kramer W, Herling AW (2010) Profiling of energy metabolism in olanzapine-induced weight gain in rats and its prevention by the CB1-antagonist AVE1625. Obesity (Silver Spring) 18:1952–1958. doi:10.1038/oby.2010.17

Llorente-Berzal A, Mela V, Borcel E, Valero M, Lopez-Gallardo M, Viveros MP, Marco EM (2012) Neurobehavioral and metabolic long-term consequences of neonatal maternal deprivation stress and adolescent olanzapine treatment in male and female rats. Neuropharmacology 62:1332–1341. doi:10.1016/j.neuropharm.2011.07.031

Masand PS (2000) Weight gain associated with psychotropic drugs. Expert Opin Pharmacother 1:377–389. doi:10.1517/14656566.1.3.377

Mattiuz E, Franklin R, Gillespie T, Murphy A, Bernstein J, Chiu A, Hotten T, Kassahun K (1997) Disposition and metabolism of olanzapine in mice, dogs, and rhesus monkeys. Drug Metab Dispos 25:573–583

McNamara RK, Jandacek R, Rider T, Tso P, Cole-Strauss A, Lipton JW (2011) Atypical antipsychotic medications increase postprandial triglyceride and glucose levels in male rats: relationship with stearoyl-CoA desaturase activity. Schizophr Res 129:66–73. doi:10.1016/j.schres.2011.03.016

Minet-Ringuet J, Even PC, Goubern M, Tome D, de Beaurepaire R (2006) Long term treatment with olanzapine mixed with the food in male rats induces body fat deposition with no increase in body weight and no thermogenic alteration. Appetite 46:254–262. doi:10.1016/j.appet.2006.01.008

Nasrallah HA (2008) Atypical antipsychotic-induced metabolic side effects: insights from receptor-binding profiles. Mol Psychiatry 13:27–35. doi:10.1038/sj.mp.4002066

Phan TG, Yu RY, Hersch MI (1998) Hypothermia induced by risperidone and olanzapine in a patient with Prader-Willi syndrome. Med J Aust 169:230–231

Raskind MA, Burke BL, Crites NJ, Tapp AM, Rasmussen DD (2007) Olanzapine-induced weight gain and increased visceral adiposity is blocked by melatonin replacement therapy in rats. Neuropsychopharmacology 32:284–288. doi:10.1038/sj.npp.1301093

Shobo M, Yamada H, Koakutsu A, Hamada N, Fujii M, Harada K, Ni K, Matsuoka N (2011) Chronic treatment with olanzapine via a novel infusion pump induces adiposity in male rats. Life Sci 88:761–765. doi:10.1016/j.lfs.2011.02.014

Smith GC, Chaussade C, Vickers M, Jensen J, Shepherd PR (2008) Atypical antipsychotic drugs induce derangements in glucose homeostasis by acutely increasing glucagon secretion and hepatic glucose output in the rat. Diabetologia 51:2309–2317. doi:10.1007/s00125-008-1152-3

Smith GC, Vickers MH, Shepherd PR (2011) Olanzapine effects on body composition, food preference, glucose metabolism and insulin sensitivity in the rat. Arch Physiol Biochem 117:241–249. doi:10.3109/13813455.2011.576681

Steele R (1959) Influences of glucose loading and of injected insulin on hepatic glucose output. Ann N Y Acad Sci 82:420–430

Stefanidis A, Verty AN, Allen AM, Owens NC, Cowley MA, Oldfield BJ (2009) The role of thermogenesis in antipsychotic drug-induced weight gain. Obesity (Silver Spring) 17:16–24. doi:10.1038/oby.2008.468

Terry AV Jr, Warner SE, Vandenhuerk L, Pillai A, Mahadik SP, Zhang G, Bartlett MG (2008) Negative effects of chronic oral chlorpromazine and olanzapine treatment on the performance of tasks designed to assess spatial learning and working memory in rats. Neuroscience 156:1005–1016. doi:10.1016/j.neuroscience.2008.08.030

Umbricht DS, Pollack S, Kane JM (1994) Clozapine and weight gain. J Clin Psychiatry 55(Suppl B):157–160

van der Zwaal EM, Luijendijk MC, Adan RA, la Fleur SE (2008) Olanzapine-induced weight gain: chronic infusion using osmotic minipumps does not result in stable plasma levels due to degradation of olanzapine in solution. Eur J Pharmacol 585:130–136. doi:10.1016/j.ejphar.2007.11.078

van der Zwaal EM, Luijendijk MC, Evers SS, la Fleur SE, Adan RA (2010) Olanzapine affects locomotor activity and meal size in male rats. Pharmacol Biochem Behav 97:130–137. doi:10.1016/j.pbb.2010.05.009

Verma S, Liew A, Subramaniam M, Poon LY (2009) Effect of treatment on weight gain and metabolic abnormalities in patients with first-episode psychosis. Aust N Z J Psychiatry 43:812–817. doi:10.1080/00048670903107609

Wathen AB, West ES, Lydic R, Baghdoyan HA (2012) Olanzapine causes a leptin-dependent increase in acetylcholine release in mouse prefrontal cortex. Sleep 35:315–323. doi:10.5665/sleep.1686

Weston-Green K, Huang XF, Deng C (2012) Alterations to melanocortinergic, GABAergic and cannabinoid neurotransmission associated with olanzapine-induced weight gain. PLoS One 7:e33548. doi:10.1371/journal.pone.0033548
Acknowledgments
The project was founded by a grant of Top Institute Pharma (TIPharma; T2-105). TIPharma had no role in study design, collection, analyses and interpretation of data, in writing the report and in the decision to submit the article for publication.
Conflict of interest
All authors declare that they have no conflict of interest.
About this article
Cite this article
Girault, E.M., Guigas, B., Alkemade, A. et al. Chronic treatment with olanzapine increases adiposity by changing fuel substrate and causes desensitization of the acute metabolic side effects. Naunyn-Schmiedeberg's Arch Pharmacol 387, 185–195 (2014). https://doi.org/10.1007/s00210-013-0933-5
Received:

Accepted:

Published:

Issue Date:
Keywords
Body fat composition

Energy expenditure

Glucose metabolism

Locomotor activity

Respiratory exchange ratio

Food intake