Abstract
This study examined the effect of age, ovariectomy and dietary phytoestrogen ingestion on adenosine A2B receptor mediated relaxant responses and mRNA expression of adenosine receptor subtypes in the rat isolated bladder. Female Wistar rats (8 weeks) were anaesthetised and the ovaries were removed (ovx) or left intact (sham). Rats were fed either normal rat chow (soy, phytoestrogens) or a non-soy (phytoestrogen free) diet. Isolated bladder from rats aged 12, 24 or 52 weeks were pre-contracted with 3 μM carbachol prior to a concentration response curve to 5′-(N-ethylcarboxamido) adenosine (NECA) being obtained. In 12-week-old rats, the bladder exhibited enhanced relaxant responses to NECA in soy-fed rats (P < 0.05), whilst at 24 weeks of age, the relaxant responses to NECA were attenuated in all the groups studied except soy-treated sham rat bladders in which the relaxant responses were enhanced. At 52 weeks of age, no relaxant effects were observed in any of the treatment groups and NECA-induced contractile responses occurred. In all bladders, the adenosine A2B receptor was the most abundantly expressed. In bladders from young and mature female rats, the mRNA expression of adenosine receptors (A1, A2A and A2B) was lowest in the bladder from non-soy-fed ovariectomised animals and the use of phytoestrogens in the diet increased the mRNA expression of these receptors (P < 0.05). While a soy diet improves the relaxant effects to the adenosine analogue via adenosine A2B receptors in bladders from younger rats, the benefits are lost with advancing age.
Access options
Buy single article
Instant access to the full article PDF.
USD 39.95
Price excludes VAT (USA)
Tax calculation will be finalised during checkout.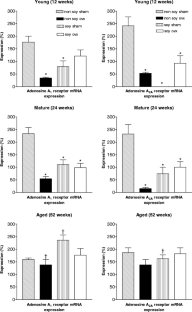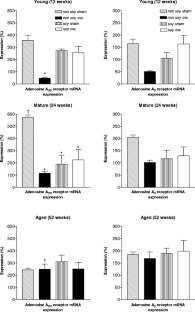 References
Alagwu EA, Neli RO (2005) Effect of ovariectomy on the levels of plasma sex hormones in albino rats. Nig J Phys Sci 20:90–94

Andersson KE, Arner A (2004) Urinary bladder contraction and relaxation: physiology and pathophysiology. Physiol Rev 84:935–986

Apodaca G, Balestreire E, Birder LA (2007) The uroepithelial-associated sensory web. Kidney Int 72:1057–1064

Aronsson P, Andersson M, Ericsson T, Giglio D (2010) Assessment and characterisation of purinergic contractions and relaxations in the rat urinary bladder. Bas Clin Pharmacol Toxicol 107:603–613

Brading AF, Turner WH (1994) The unstable bladder: towards a common mechanism. Br J Urol 73:3–8

Burnstock G (2007) Purine and pyrimidine receptors. Cell Mol Life Sci 64:1471–1483

Derweesh IH, Wheeler MA, Weiss RM (2000) Alterations in G-proteins and β-adrenergic responsive adenylyl cyclase in rat urinary bladder during aging. JPET 294:969–974

Diep N, Contantinou CR (1999) Age dependent response to exogenous estrogen on micturition, contractility and cholinergic receptors of the rat bladder. Life Sci 64:PL279–289

Dixon AK, Gubitz AK, Sirinathsinghji DJS, Richardson PJ, Freeman TC (1996) Tissue distribution of adenosine receptor mRNAs in the rat. Br J Pharmacol 118:1461–1468

Frazier EP, Schneider T, Michel MC (2005) Beta-adrenergic urinary bladder relaxation in rats prone to overactive bladder. FASEB J 19:A535

Frazier EP, Schneider T, Michel MC (2006) Effects of gender, age and hypertension on β-adrenergic receptor function in rat urinary bladder. Naunyn Schmiedeberg's Arch Pharmacol 373:300–309

Frazier EP, Peters SL, Braverman AS, Ruggieri MR Sr, Michel MC (2008) Signal transduction underlying the control of urinary bladder smooth muscle tone by muscarinic receptors and beta-adrenoceptors. Naunyn Schmiedeberg's Arch Pharmacol 377:449–462

Fujii K (1988) Evidence for adenosine triphosphate as an excitatory transmitter in guinea-pig, rabbit and pig urinary bladder. J Physiol 404:39–52

Grodin JM, Siiteri PK, MacDonald PC (1973) Source of estrogen production in postmenopausal women. J Clin Endocrinol Metab 36:207–214

Hourani SMO, Jones DAD (1994) Post-junctional excitatory adenosine A1 receptors in the rat vas deferens. Gen Pharmacol 25(3):417–420

Jenner TL, Rose'Meyer RB (2006) Loss of vascular adenosine receptors with age in the rat heart. Vasc Pharmacol 45:341–349

Kories C, Czyborra C, Fetscher C, Schneider T, Krege S, Michel MC (2003) Gender comparison of muscarinic receptor expression and function in rat and human urinary bladder: differential regulation of M2 and M3 receptors? Naunyn Schmiedeberg's Arch Pharmacol 367:524–531

Kullmann FA, Limberg BJ, Artim DE, Shah M, Downs TR, Contract D, Wos J, Rosenbaum JS, de Groat WC (2009) Effects of β3-adrenergic receptor activation on rat urinary bladder hyperactivity induced by ovariectomy. JPET 330(3):704–717

Massa HM, Bruce NW (1999) Effects of unilateral ovariectomy with compensatory hypertrophy on ovarian blood flow, oxygen consumption and progestin secretion in the 16-day pregnant rat. Reprod Fertil Dev 1:153–158

Merry BJ, Holehan AM (1979) Onset of puberty and duration of fertility in rats fed a restricted diet. J Reprod Fert 57:253–259

Michel MC, Parra S (2008) Similarities and differences in the autonomic control of airway and urinary bladder smooth muscle. Naunyn Schmiedeberg's Arch Pharmacol 378:217–224

Morito K, Hirose T, Kinjo J, Hirakawa T, Okawa M, Nohara T, Ogawa S, Inoue S, Muramats M, Masamune Y (2001) Interaction of phytoestrogens with estrogen receptors α and β. Biol Pharmaceut Bull 24(4):351–356

Nadeem A, Obiefuna PCM, Wilson CN, Mustafa SJ (2006) Adenosine A1 receptor antagonist versus montelukast on airway reactivity and inflammation. Eur J Pharmacol 551(1–3):116–124

Namasivayam S, Eardley I, Morrison JF (1999) Purinergic sensory neurotransmission in the urinary bladder: an in vitro study in the rat. BJU Int 84:854–860

Nicholls J, Hourani SMO, Kitchen I (1992) Characterisation of P1-purinoceptors on rat duodenum and urinary bladder. Brit J Pharmacol 105:639–642

Nishimoto T, Latifpour J, Wheeler MA, Yoshida M, Weiss RM (1995) Age-dependent alterations in β-adrenergic responsiveness of rat detrusor smooth muscle. J Urol 153:1701–1705

Otsuka A, Shinbo H, Matsumoto R, Kurita Y, Ozono S (2008) Expression and functional role of β-adrenoceptors in the human urinary bladder urothelium. Naunyn Schmiedeberg's Arch Pharmacol 377:473–481

Owen SJ, Rose'Meyer RB, Massa HM (2011) Dietary phytoestrogens maintain contractile responses to carbachol with age in the female rat isolated bladder. Life Sci 89(7–8):213–220

Rekers H, Drogendijkb AC, Valkenburgc HA, Riphagena F (1992) The menopause, urinary incontinence and other symptoms of the genito-urinary tract. Maturitas 15(2):101–111

Rose'Meyer RB, Mellick AS, Garnham BG, Harrison GJ, Massa HM, Griffiths LR (2003) The measurement of adenosine and estrogen receptor expression in rat brains following ovariectomy using quantitative PCR analysis. Brain Res Prot 11:9–18

Ruggieri MR Sr (2006) Mechanisms of disease: role of purinergic signaling in the pathophysiology of bladder dysfunction. Nat Clin Pract Urol 3:206–215

Schneider T, Hein P, Michel-Reher MB, Michel MC (2005) Effects of ageing on muscarinic receptor subtypes and function in rat urinary bladder. Naunyn Schmiedeberg's Arch Pharmacol 372:71–78

Sun Y, Keay S, De Deyne PG, Chai TC (2001) Augmented stretch activated adenosine triphosphate release from bladder uroepithelial cells in patients with interstitial cystitis. J Urol 166(5):1951–1956

Thielemann A, Wuttke W, Wuttke M, Seidlova-Wuttke D (2010) Comparison of urodynamic effects of phytoestrogens equol, puerarin and genistein with these of estradiol 17β in ovariectomized rats. Exp Gerontol 45(2):129–137

Tong Y-C, Hung Y-C, Shinozuka K, Kunitomo M, Cheng J-T (1997) Evidence of adenosine 5′-triphosphate release from nerve and P2X-purinoceptor mediated contraction during electrical stimulation of rat urinary bladder smooth muscle. J Urol 158(5):1973–1977

Vesela R, Aronsson P, Tobin G (2011) Functional and morphological examinations of P1A1 purinoceptors in the normal and inflamed urinary bladder of the rat. Auton Neurosci: Bas Clin 159:26–31

Yamaguchi O (2002) β3-Adrenoceptors in human detrusor muscle. Urol 59(Suppl 5A):25–29

Yamaguchi O, Chapple CR (2007) Beta3-adrenoceptors in urinary bladder. Neurourol Urodyn 26:752–756

Yamanishi T, Chapple CR, Yasuda K, Yoshida K-Y, Chess-Williams R (2003) Role of β-adrenoceptor subtypes in mediating relaxation of the pig bladder trigonal muscle in vitro. Neurol Urodynamics 22:338–342

Yoshimura N, Kaiho Y, Miyazato M, Yunoki T, Tai C, Chancellor MB, Tyagi P (2008) Therapeutic receptor targets for lower urinary tract dysfunction. Naunyn Schmiedeberg's Arch Pharmacol 377:437–448

Yu W, Zacharia LC, Jackson EK, Apodaca G (2006) Adenosine receptor expression and function in bladder uroepithelium. Am J Physiol Cell Physiol 291:C254–265
About this article
Cite this article
Owen, S.J., Massa, H.H. & Rose'Meyer, R.B. Loss of adenosine A2B receptor mediated relaxant responses in the aged female rat bladder; effects of dietary phytoestrogens. Naunyn-Schmiedeberg's Arch Pharmacol 385, 539–549 (2012). https://doi.org/10.1007/s00210-011-0722-y
Received:

Accepted:

Published:

Issue Date:

DOI: https://doi.org/10.1007/s00210-011-0722-y
Keywords
Bladder

Ageing

Adenosine receptors

Phytoestrogens