Abstract
(−)-α-Bisabolol is an unsaturated, optically active sesquiterpene alcohol obtained by the direct distillation of essential oil from plants such as Vanillosmopsis erythropappa and Matricaria chamomilla. (−)-α-Bisabolol has generated considerable economic interest, as it possesses a delicate floral odour and has been shown to have antiseptic and gastroprotective activities. In this study, (−)-α-bisabolol was tested in standardised rodent models by gavage administration at doses of 100 and 200 mg/kg in the models of inflammation and 25 and 50 mg/kg in the models of nociception. In the inflammatory models of paw oedema induced by carrageenan and dextran, the mice treated with (−)-α-bisabolol showed smaller oedemas compared to animals treated only with the vehicle. (−)-α-Bisabolol was capable of reducing paw oedemas induced by 5-HT but not oedemas induced by histamine. (−)-α-Bisabolol demonstrated anti-nociceptive activity in the models of visceral nociception induced by acetic acid and in the second phase of the nociception test induced by the intraplantar administration of formalin. (−)-α-Bisabolol did not have any effect in a thermal nociception model using a hot plate but was able to diminish mechanical inflammatory hypernociception evoked by carrageenan. These findings suggest that the anti-nociceptive action of (−)-α-bisabolol is not linked to a central mechanism but instead is related to the inflammatory process. (−)-α-Bisabolol was able to decrease leukocyte migration, protein extravasations and the amount of TNF-α to the peritoneal cavity in response to carrageenan. Additionally, (−)-α-bisabolol reduced neutrophil degranulation in response to phorbol-myristate-acetate. We demonstrate, for the first time, the peripheral anti-inflammatory and anti-nociceptive activities of (−)-α-bisabolol.
Access options
Buy single article
Instant access to the full article PDF.
USD 39.95
Price includes VAT (USA)
Tax calculation will be finalised during checkout.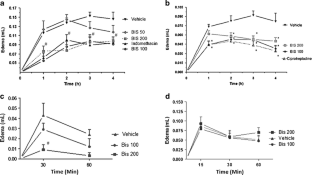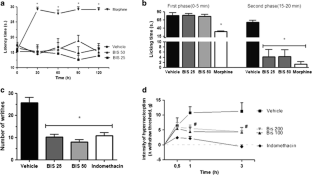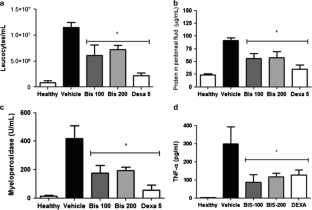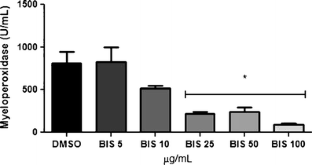 References
Aggarwal BB, Natarajan K (1996) Tumor necrosis factors: developments during the last decade. Eur Cytokine Netw 7:93–124

Almeida FRC, Oliveira FS (2006) Avaliação de drogas analgésicas de ação central. In: Almeida RN (ed) Psicofarmacologia: Fundamentos Práticos. Guanabara Koogan, Rio de Janeiro, pp 179–188

Alves AM, Gonçalves JC, Cruz JS, Araújo DA (2010) Evaluation of the sesquiterpene (−)-alpha-bisabolol as a novel peripheral nervous blocker. Neurosci Lett 472:11–15

Araújo FLO, Melo CTV, Rocha NFM, Moura BA et al (2009) Antinociceptive effects of (O-methyl)-N-benzoyl tyramine (riparin I) from Aniba riparia (Nees) Mez (Lauraceae) in mice. NaunSchm Arch Pharmacol 380:337–344

Berkenkopf JW, Weichman BM (1988) Production of prostacyclin in mice following intraperitoneal injection of acetic acid, phenylbenzoquinone and zymosan: its role in the writhing response. Prostaglandins 36:693–709

Boyum A (1968) Isolation of mononuclear cells and granulocytes from human blood. Scand J Clin Lab Invest 21:77–89

Bradley PP, Christensen RD, Rothstein G (1982) Cellular and extracellular myeloperoxidase in pyogenic inflammation. Blood 60:618–622

Braga PC, Dal Sasso M, Fonti E, Culici M (2009) Antioxidant activity of bisabolol: inhibitory effects on chemiluminescence of human neutrophil bursts and cell-free systems. Pharmacology 83:110–115

Brown P, Ganey PE (1995) Neutrophil degranulation and superoxide production induced by polychlorinated biphenyls are calcium dependent. Toxicol Appl Pharmacol 131:198–205

Collier HO, Dinneen LC, Johnson CA, Schneider C (1968) The abdominal constriction response and its suppression by analgesic drugs in mouse. Br J Pharmacol Chemother 32:295–310

Crosara DP, Ribeiro RA, Moraes-Filho MO, Porto PR, Cunha FQ, Ferreira SH (1995) Tumor necrosis factor accounts for the neutrophil emigration activity released by cultured malignant fibrous histiocytoma cells. Braz J Med Biol Res 28(6):671–678

Cunha FQ, Lorenzetti BB, Poole S, Ferreira SH (1991) Interleukin-8 as a mediator of sympathetic pain. Br J Pharmacol 104:765–767

Cunha FQ, Poole S, Lorenzetti BB, Ferreira SH (1992) The pivotal role of tumour necrosis factor alpha in the development of inflammatory hyperalgesia. Br J Pharmacol 107:660–664

Cunha FM, Fröde TS, Mendes GL, Yunes RA, Calixto JB (2001) Additional evidence for the anti-inflammatory and anti-allergic properties of the sesquiterpene polygodial. Life Sci 70:159–169

Cunha TM, Verri WA Jr, Silva JS, Poole S, Cunha FQ, Ferreira SH (2005) A cascade of cytokines mediates mechanical inflammatory hypernociception in mice. Proc Natl Acad Sci USA 102(5):1755–1760

Cunha TM, Verri WA Jr, Schivo IR, Napimoga MH, Parada CA, Poole S, Teixeira MM, Ferreira SH, Cunha FQ (2008) Crucial role of neutrophils in the development of mechanical inflammatory hypernociception. J Leukoc Biol 83(4):824–832

de Lira PN, Andrade EH, Sousa PJ, Silva NN et al (2009) Essential oil composition of three Peperomia species from the Amazon, Brazil. Nat Prod Commun 4:427–430

Deraedt R, Jouquey S, Benzoni J, Peterfalvi M (1976) Inhibition of prostaglandins biosynthesis by non-narcotic analgesic drugs. Arch Int Pharmacodyn Ther 224:30–42

Di Rosa M, Giroud JP, Willoughby DA (1971) Studies on the mediators of the acute inflammatory response induced in rats in different sites by carrageenan and turpentine. J Pathol 104:15–29

Eddy NB, Leimbach DJ (1953) Synthetic analgesics. II. Dithienylbutenyl and dithienylbutilamines. J Pharmac Exp Ther 107:385–393

Elisabetsky E, Amador TA, Albuquerque RR, Nunes DS et al (1995) Analgesic activity of Psychotria colorata (wild ex Ret S) Muell. Arg Alkaloids J Ethnopharmacol 48:77–83

Frosch F (1987) Bioactive substances from BASF for cosmetics. Tluszce, Srodki Piorace, Kosmet 31:144–147

Graeme B, Ryan MB, Majno G (1977) Acute inflammation. Am J Pathol 86:185–274

Guo L, Ye C, Chen W, Ye H et al (2008) Anti-inflammatory and analgesic potency of carboxyamidotriazole, a tumoristatic agent. American Society for Pharmacology and Experimental Therapeutics (ASPET) 325:10–16

Gupta M, Mazumdar UK, Sivakumar T et al (2003) Evaluation of anti-inflammatory activity of chloroform extract of Bryonia laciniosa in experimental animal models. Biol Pharm Bull 26:1342–1344

Hampton MB, Kettle AJ, Winterbourn CC (1998) Inside the neutrophil phagosome: oxidants, myeloperoxidase, and bacterial killing. Blood 92:3007–3017

Henriques MG, Silva PM, Martins MA, Flores CA et al (1987) Mouse paw edema. A new model for inflammation? Braz J Med Biol Res 20:243–249

Hunskaar S, Fasmer OB, Hole K (1985) Formalin test in mice, a useful technique for evaluating mild analgesics. J Neurosci Meth 14:69–76

Koster R, Anderson M, de Beer J (1959) Acetic acid for analgesic screening. Fed Proc 18:412–417

Kumar V, Abbas AK, Fausto N, Mitchell R (2007a) Robbins basic pathology. Saunders, Philadelphia

Kumar V, Abbas AK, Fausto N, Mitchell R (2007b) Robbins basic pathology. Saunders, Philadelphia, pp 31–53

Laine L, Takeuchi K, Tarnawski A (2008) Gastric mucosal defense and cytoprotection: bench to bedside. Gastroenterology 135:41–60

Leal LK, Canuto KM, da Silva Costa KC, Nobre-Júnior HV et al (2008) Effects of amburoside A and isokaempferide, polyphenols from Amburana cearensis, on rodent inflammatory processes and myeloperoxidase activity in human neutrophils. Basic Clin Pharm Toxicology 104:198–205

Levy L (1969) Carrageenan paw edema in the mouse. Life Sci 8:601–606

Li M, Shang X, Zhang R, Jia Z et al (2010) Antinociceptive and anti-inflammatory activities of iridoid glycosides extract of Lamiophlomis rotata (Benth.) Kudo. Fitoterapia 81:167–172

Lo TN, Almeida AP, Beaven MA (1982) Dextran and carrageenan evoke different inflammatory response in rat with respect to composition of infiltrates and effect of indomethacin. J Pharmacol Exp Ther 221:261–267

Lorenzetti BB, Veiga FH, Canetti CA, Poole S, Cunha FQ, Ferreira SH (2002) Cytokine-induced neutrophil chemoattractant 1 (CINC-1) mediates the sympathetic component of inflammatory mechanical hypersensitivity in rats. Eur Cytokine Netw 13:456–461

Lowry OH, Rosebrough NJ, Farr AL, Randall RJJ (1951) Protein measurement with the Folin-phenol reagents. Biol Chem 193:265–275

Lucisano YM, Mantovani B (1984) Lysosomal enzyme release from polymorphonuclear leukocytes induced by immune complexes of IgM and of IgG. J Immunol 132:2015–2020

Malmberg AB, Yaksh TL (1992) Antinociceptive actions of spinal anti-inflammatory agents on the formalin test in the rat. Jour of Pharma and Experim Therap 263:136–146

McAndrew BA (1992) Sesquiterpenoids: the lost dimension of perfumery. Perfum Flavour 17:1–17

Moreno-Fernandes M, Alvares-Pereira N, Gonçalves-Paulo L (1992) Anti-inflammatory activity of copaíba balsam (Copaifera cearensis, Huber). Rev Bras Farm 73:53–56

Padaratz P, Fracasso M, Corrêa R, Niero R et al (2009) Antinociceptive activity of a new benzofuranone derived from a chalcone. Basic Clin Pharmacol Toxicol 115:257–261

Petrović S, Dobrić S, Mimica-Dukić N, Simin N (2008) The antiinflammatory, gastroprotective and antioxidant activities of Hieracium gymnocephalum extract. Phytother Res 22:1548–1551

Posadas I, Bucci M, Roviezzo F, Rossi A, Parente L, Sautebin L, Cirino G (2004) Carrageenan-induced mouse paw edema is biphasic, age-weight dependent and displays differential nitric oxide and cyclooxygenase-2 expression. Br J Pharmacology 142:331–338

Reynolds JEF (1996) Martindale, the extra pharmacopoeia. The Pharmaceutical, London

Ribeiro RA, Vale ML, Thomazzi SM, Paschoalato ABPETAL (2000) Involvement of resident macrophages and mast cells in the writhing nociceptive response induced by zymosan and acetic acid in mice. Eur J Pharmacol 387:111–118

Rocha NFM, Venâncio ER, Moura BA, Silva MIG (2009) Gastroprotection of (−)-a-bisabolol on acute gastric mucosal lesions in mice: the possible involved pharmacological mechanisms. Fund & Clin Pharm 380:233–245

Salustiano ME, Ferraz Filho AC, Pozza EA, Castro HA (2006) Extratos de candeia (Eremanthus erythropappus (DC.) MacLeish) na inibição in vitro de Cylindrocladium scoparium e de quatro espécies de ferrugens. Cerne 12:189–193

Schoenfeld P, Kimmey MB, Scheiman J, Bjorkman D et al (1999) Review article: nonsteroidal anti-inflammatory drug-associated gastrointestinal complications—guidelines for prevention and treatment. Aliment Pharmacol Ther 13:1273–1285

Shibata M, Ohkubo T, Takahashi H, Inoki R (1989) Modified formalin test: characteristic biphasic pain response. Pain 38:347–352

Silva MI, Moura BA, Rocha NFM, Carvalho AMR (2009) Gastroprotective activity of isopulegol on experimentally induced gastric lesions in mice: investigation of possible mechanisms of action. Naun Schm Arch Pharmacology 380:233–245

Souza GEP, Ferreira SH (1985) Blockade by antimacrophage serum of the migration of PMN neutrophils into the inflamed peritoneal cavity. Inflamm Res 17:97–103

Stepanovic-Petrovic RM, Tomic MA, Vuckovic SM, Paranos S et al (2008) The antinociceptive effects of anticonvulsants in a mouse visceral pain model. Anesth Analg 106:1897–1903

Tauber AI, Cox JA, Curnutte JT, Carrol PM et al (1989) Activation of human neutrophil NADPH-oxidase in vitro by the catalytic fragment of protein kinase-C. Biochem Biophys Res Commun 1583:884–890

Taylor CA, Senchyna M, Flanagan J, Joyce EM, Cliche DO, Boone AN, Culp-Stewart S, Thompson JE (2004) Role of eIF5A in TNF-α-mediated apoptosis of lamina cribrosa cells. IOVS 45(10):3568–3576

Torrado S, Torrado S, Agis A, Jimenez ME, Cadórniga R (1995) Effect of dissolution profile and (−)-α-bisabolol on the gastrotoxicity of acetylsalicylic acid. Pharmazie 50:141–143

Vichnewski W, Takahashi AM, Nasi AMT, Gonçalves DCRG, Dias DA, Lopes JNC, Goedken VL, Gutierrez AB, Herz W (1989) Sesquiterpene lactones and other constituents from Eremanthus seidelli, E. goyazensis and Vanillosmopsis erythropappa. Phytochemistry 29:1441–1451

Vinegar R, Schreiber W, Hugo R (1969) Biphasic development of carrageenan-edema in rats. J Pharmacol Exp Ther 166:96–103

Zanboori A, Tamaddonfard E, Mojtahedein A (2008) Effect of chlorpheniramine and ranitidine on the visceral nociception induced by acetic acid in rats: role of opioid system. Pak J Biol Sci 11:2428–2432

Zdunić G, Godevac D, Milenković M, Vucićević D, Savikin K, Menković N, Petrović S (2009) Evaluation of Hypericum perforatum oil extracts for an antiinflammatory and gastroprotective activity in rats. Phytother Res 23:1554–1564
About this article
Cite this article
Rocha, N.F.M., Rios, E.R.V., Carvalho, A.M.R. et al. Anti-nociceptive and anti-inflammatory activities of (−)-α-bisabolol in rodents. Naunyn-Schmiedeberg's Arch Pharmacol 384, 525–533 (2011). https://doi.org/10.1007/s00210-011-0679-x
Received:

Accepted:

Published:

Issue Date:
Keywords
Inflammation

Nociception

(−)-α-Bisabolol

TNF-α

Neutrophil migration

Natural product