Abstract
GPR120 is a G-protein-coupled receptor whose endogenous ligands have recently been identified as free fatty acids. It has been implicated as playing an important role in the control of lipid and glucose metabolism by regulating the secretion of glucagon-like peptide-1 and cholecystokinin. We have developed an antibody against the extracellular domain of GPR120. The specificity of the antibody was demonstrated by immunoprecipitation, Western blotting, flow cytometry, and immunocytochemistry using GPR120-transfected cells. Immunoreactivity for GPR120 was abundant in the mouse large intestine, lung, and adipose tissue. Furthermore, we found that the expression of GPR120 protein was up-regulated during the adipogenic differentiation of 3T3-L1 cells, which corresponded well with changes in mRNA expression. The anti-GPR120 antibody will be of value for the further study of the function of this nutrient-sensing receptor.
Access options
Buy single article
Instant access to the full article PDF.
US$ 39.95
Tax calculation will be finalised during checkout.
Subscribe to journal
Immediate online access to all issues from 2019. Subscription will auto renew annually.
US$ 119
Tax calculation will be finalised during checkout.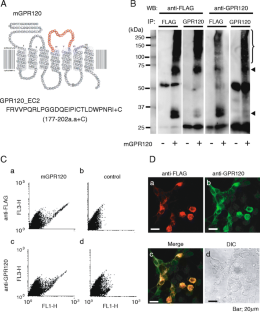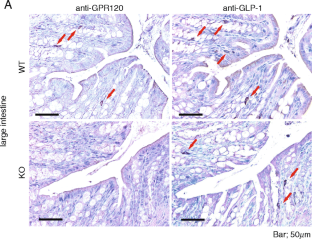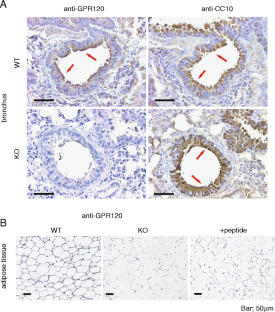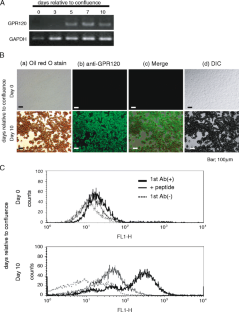 Reference
Briscoe CP, Tadayyon M, Andrews JL, Benson WG, Chambers JK, Eilert MM, Ellis C, Elshourbagy NA, Goetz AS, Minnick DT, Murdock PR, Sauls HR Jr., Shabon U, Spinage LD, Strum JC, Szekeres PG, Tan KB, Way JM, Ignar DM, Wilson S, Muir AI (2003) The orphan G protein-coupled receptor GPR40 is activated by medium and long chain fatty acids. J Biol Chem 278(13):11303–11311

Brown AJ, Goldsworthy SM, Barnes AA, Eilert MM, Tcheang L, Daniels D, Muir AI, Wigglesworth MJ, Kinghorn I, Fraser NJ, Pike NB, Strum JC, Steplewski KM, Murdock PR, Holder JC, Marshall FH, Szekeres PG, Wilson S, Ignar DM, Foord SM, Wise A, Dowell SJ (2003) The Orphan G protein-coupled receptors GPR41 and GPR43 are activated by propionate and other short chain carboxylic acids. J Biol Chem 278(13):11312–11319

Fukunaga S, Setoguchi S, Hirasawa A, Tsujimoto G (2006) Monitoring ligand-mediated internalization of G protein-coupled receptor as a novel pharmacological approach. Life Sci 80(1):17–23

Gotoh C, Hong YH, Iga T, Hishikawa D, Suzuki Y, Song SH, Choi KC, Adachi T, Hirasawa A, Tsujimoto G, Sasaki S, Roh SG (2007) The regulation of adipogenesis through GPR120. Biochem Biophys Res Commun 354(2):591–597

Hirasawa A, Tsumaya K, Awaji T, Shibata K, Homma N, Shinomiya T, Tsujimoto G (1996) Flow cytometry analysis of alpha1-adrenoceptor subtypes. FEBS Lett 386(2–3):141–148

Hirasawa A, Tsumaya K, Awaji T, Katsuma S, Adachi T, Yamada M, Sugimoto Y, Miyazaki S, Tsujimoto G (2005) Free fatty acids regulate gut incretin glucagon-like peptide-1 secretion through GPR120. Nat Med 11(1):90–94

Hirasawa A, Itsubo C, Sadakane K, Hara T, Shinagawa S, Koga H, Nose H, Koshimizu TA, Tsujimoto G (2008) Production and characterization of a monoclonal antibody against GPR40 (FFAR1; free fatty acid receptor 1). Biochem Biophys Res Commun 365(1):22–28

Hong YH, Nishimura Y, Hishikawa D, Tsuzuki H, Miyahara H, Gotoh C, Choi KC, Feng DD, Chen C, Lee HG, Katoh K, Roh SG, Sasaki S (2005) Acetate and propionate short chain fatty acids stimulate adipogenesis via GPCR43. Endocrinology 146(12):5092–5099

Katsuma S, Hatae N, Yano T, Ruike Y, Kimura M, Hirasawa A, Tsujimoto G (2005) Free fatty acids inhibit serum deprivation-induced apoptosis through GPR120 in a murine enteroendocrine cell line STC-1. J Biol Chem 280(20):19507–19515

Singh G, Katyal SL (2000) Clara cell proteins. Ann N Y Acad Sci 923:43–58

Tanaka T, Katsuma S, Adachi T, Koshimizu TA, Hirasawa A, Tsujimoto G (2008a) Free fatty acids induce cholecystokinin secretion through GPR120. Naunyn Schmiedebergs Arch Pharmacol 377(4–6):523–527

Tanaka T, Yano T, Adachi T, Koshimizu TA, Hirasawa A, Tsujimoto G (2008b) Cloning and characterization of the rat free fatty acid receptor GPR120: in vivo effect of the natural ligand on GLP-1 secretion and proliferation of pancreatic beta cells. Naunyn Schmiedebergs Arch Pharmacol 377:515–522

Zeng FY, Wess J (1999) Identification and molecular characterization of m3 muscarinic receptor dimers. J Biol Chem 274(27):19487–19497
Acknowledgments
This work was supported in part by a research grant from the Scientific Fund of the Ministry of Education, Culture, Sports, Science and Technology of Japan (to A.H., G.T.); the Program for Promotion of Fundamental Studies in Health Sciences of the National Institute of Biomedical Innovation (NIBIO; to G.T., A.H.); the Ajinomoto Amino Acid Research Program (to G.T.); the Suzuken Memorial Foundation (to A.H.); and the Research Foundation for Pharmaceutical Sciences (to A.H.).
About this article
Cite this article
Miyauchi, S., Hirasawa, A., Iga, T. et al. Distribution and regulation of protein expression of the free fatty acid receptor GPR120. Naunyn-Schmied Arch Pharmacol 379, 427–434 (2009). https://doi.org/10.1007/s00210-008-0390-8
Received:

Accepted:

Published:

Issue Date:
Keywords
GPR120

Free fatty acid receptor

Immunohistochemistry

3T3-L1 cell

Adipocyte cell