Abstract
Betulinic acid (BA) is a pentacyclic triterpene found in many plant species, among others in the bark of white birch Betula alba. BA was reported to display a wide range of biological effects, including antiviral, antiparasitic, antibacterial and anti-inflammatory activities, and in particular to inhibit growth of cancer cells. The aim of the study was further in vitro characterization of BA anticancer activity. In this study, we demonstrated a remarkable antiproliferative effect of BA in all tested tumor cell cultures including neuroblastoma, rabdomyosarcoma-medulloblastoma, glioma, thyroid, breast, lung and colon carcinoma, leukemia and multiple myeloma, as well as in primary cultures isolated from ovarian carcinoma, cervical carcinoma and glioblastoma multiforme. Furthermore, we have shown that BA decreased cancer cell motility and induced apoptotic cell death. We also observed decrease of bcl2 and cyclin D1 genes expression, and increase of bax gene expression after betulinic acid treatment. These findings demonstrate the anticancer potential of betulinic acid and suggest that it may be taken into account as a supportive agent in the treatment of cancers with different tissue origin.
This is a preview of subscription content, log in to check access.
Access options
Buy single article
Instant access to the full article PDF.
US$ 39.95
Tax calculation will be finalised during checkout.
Subscribe to journal
Immediate online access to all issues from 2019. Subscription will auto renew annually.
US$ 199
Tax calculation will be finalised during checkout.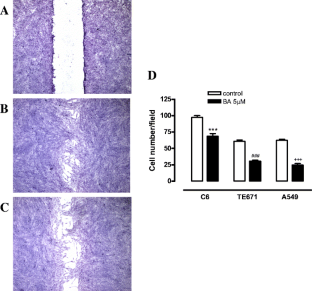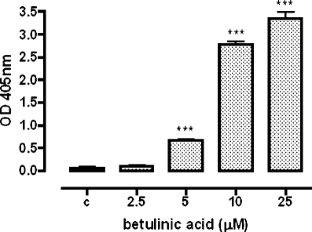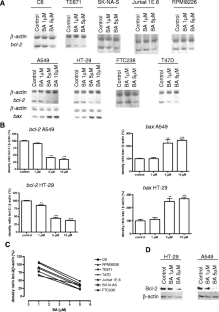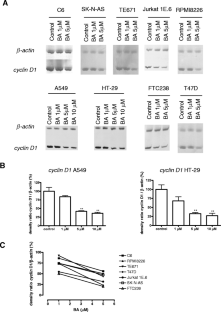 References
Adams JM, Cory S (1998) The Bcl-2 protein family: arbiters of cell survival. Science 281:1322–1326

Basu S, Ma R, Boyle PJ, Mikulla B, Bradley M, Smith B, Basu M, Banerjee S (2004) Apoptosis of human carcinoma cells in the presence of potential anti-cancer drugs. III. Treatment of Colo-205 and SKBR3 cells with: cis-platin, tamoxifen, melphalan, betulinic acid, L-PDMP, L-PPMP, and GD3 ganglioside. Glycoconj J 20:563–577

Bernard P, Scior T, Didier B, Hibert M, Berthon JY (2001) Etnopharmacology and bioinformatic combination for leads discovery: application to phospholipase A2 inhibitors. Phytochemistry 58:865–874

Chan SL, Yu VC (2004) Proteins of the bcl-2 family in apoptosis signalling: from mechanistic insights to therapeutic opportunities. Clin Exp Pharmacol Physiol 31:119–128

Eder-Czembirek C, Czembirek C, Erovic BM, Selzer E, Turhani D, Vormittag L, Thurnher D (2005) Combination of betulinic acid with cisplatin-different cytotoxic effects in two head and neck cancer cell lines. Oncol Rep 14:667–671

Ehrhardt H, Fulda S, Fuhrer M, Debatin KM, Jeremias I (2004) Betulinic acid-induced apoptosis in leukemia cells. Leukemia 8:1406–1412

Einzhammer DA, Xu ZQ (2004) Betulinic acid: a promising anticancer candidate. IDrugs 4:359–373

Fulda S, Debatin K (2000) Betulinic acid induces apoptosis through a direct effect on mitochondria in neuroectodermal tumors. Med Pediatr Oncol 35:616–618

Fulda S, Debatin KM (2005) Sensitization for anticancer drug-induced apoptosis by betulinic Acid. Neoplasia 7:162–170

Fulda S, Friesen C, Los M, Scaffidi C, Mier W, Benedict M, Nunez G, Krammer PH, Peter ME, Debatin KM (1997) Betulinic acid triggers CD95 (APO-1/Fas)- and p53-independent apoptosis via activation of caspases in neuroectodermal tumors. Cancer Res 57:4956–4964

Fulda S, Jeremias J, Steiner HH, Pietsch T, Debatin KM (1999) Betulinic acid: a new cytotoxic agent against malignant brain tumors. Int J Cancer 82:435–441

Ji ZN, Ye WC, Liu GG, Hsiao WL (2002) 23-Hydroxybetulinic acid-mediated apoptosis is accompanied by decreases in bcl-2 expression and telomerase activity in HL-60 Cells. Life Sci 72:1–9

Litchfield JT, Wilcoxon F (1949) A simplified method of evaluating dose-effect experiments. J Pharmacol Exp Ther 96:99–113

Pisha E, Chai H, Lee IS, Chagwedera TE, Farnsworth NR, Cordell GA, Beecher CW, Fong HH, Kinghorn AD, Brown DM, et al (1995) Discovery of betulinic acid as a selective inhibitor of human melanoma that functions by induction of apoptosis. Nat Med 1:1046–1051

Poon KH, Zhang J, Wang C, Tse AK, Wang CK, Fong WF (2004) Betulinic acid enhances lalpha, 25-dihydroxyvitamin D3-induced differentiation in human HL-60 promyelocytic leukemia cells. Anticancer Drugs 15:619–624

Raghuvar Gopal DV, Nakar AA, Badrinath Y, Mishra KP, Joshi DS (2005) Betulinic acid induces apoptosis in human chronic myelogenous leukemia (CML) cell line K-562 without altering the levels of Bcr-Abl. Toxicol Lett 15:343–351

Raisova M, Hossini AM, Eberle J, Riebeling C, Wieder T, Sturm I, Daniel PT, Orfanos CE, Geilen CC (2001) The Bax/Bcl-2 ratio determines the susceptibility of human melanoma cells to CD95/Fas-mediated apoptosis. J Invest Dermatol 117:333–340

Sarek J, Klinot J, Dzubak P, Klinotova E, Noskova V, Krecek V, Korinkova G, Thomson JO, Janostakova A, Wang S, Parson S, Fischer PM, Zhelev NZ, Hajduch M (2003) New lupane derived compounds with pro-apoptotic activity in cancer cells: synthesis and structure-activity relationships. J Med Chem 46:5402–5415

Schmidt ML, Kuzmanoff KL, Ling-Indeck L, Pezzuto JM (1997) Betulinic acid induces apoptosis in human neuroblastoma cell lines. Eur J Cancer 33:2007–2012

Selzer E, Pimental E, Wacheck V, Schlegel W, Pehamberger H, Jansen B, Kodym R (2000) Effects of betulinic acid alone and in combination with irradiation in human melanoma cells. J Invest Dermatol 114:935–942

Thurnher D, Turhani D, Pelzmann M, Wannemacher B, Knerer B, Formanek M, Wacheck V, Selzer E (2003) Betulinic acid: a new cytotoxic compound against malignant head and neck cancer cells. Head Neck 25:732–740

Wick W, Grimmel C, Wagenknecht B, Dichgans J, Weller M (1999) Betulinic acid-induced apoptosis in glioma cells: A sequential requirement for new protein synthesis, formation of reactive oxygen species, and caspase processing. J Pharmacol Exp Ther 289:1306–1312

Zuco V, Supino R, Righetti SC, Cleris L, Marchesi E, Gambacorti-Passerini C, Formelli F (2002) Selective cytotoxicity of betulinic acid on tumor cell lines, but not on normal cells. Cancer Lett 175:17–25
About this article
Cite this article
Rzeski, W., Stepulak, A., Szymański, M. et al. Betulinic acid decreases expression of bcl-2 and cyclin D1, inhibits proliferation, migration and induces apoptosis in cancer cells. Naunyn-Schmied Arch Pharmacol 374, 11–20 (2006). https://doi.org/10.1007/s00210-006-0090-1
Received:

Accepted:

Published:

Issue Date:
Keywords
Betulinic acid

Proliferation

Migration

Apoptosis

Bcl-2

Cyclin D1