Abstract
The outbred Sprague–Dawley (SD) rats, similar to the inbred Lewis (LEW) rats, have been recently demonstrated to be highly susceptible to adjuvant-induced arthritis (AIA). We herein compared AIA in SD and LEW rats in terms of clinical, histological, radiological, and immuno-inflammatory features. The results showed that, following inoculation with a ground Mycobacterium tuberculosis (MT) suspension, SD and LEW rats manifested closely similar disease progression, with 100% incidence and similar severity. The development of arthritis was accompanied by significantly higher erythrocyte sedimentation rate (ESR) and C-reactive protein (CRP) levels than in control rats. Radiographic examination of the hind paws showed that both SD and LEW AIA rats manifested conspicuous soft tissue swelling, bone matrix resorption, periosteal new bone formation and bone erosion, while histopathological analysis of the synovial joints revealed marked cellular infiltration, angiogenesis, synovial hyperplasia, pannus formation, narrowing of joint space, and cartilage and bone destruction. Moreover, in relation to disease progression, serum tumor necrosis factor-α (TNF-α), interleukin-1β (IL-1β), and IL-6 levels were markedly overexpressed in both SD and LEW AIA versus control rats, and SD and LEW AIA rats exhibited divergent profiles for the expression of TNF-α and IL-1β. Taken together, these results demonstrated that the SD rat AIA model shares several arthritic features with the comparable model in LEW rats. Hence, given the more favorable characteristics of SD rats than LEW rats (i.e., lower cost, wider availability, and heterogenic background), this SD rat AIA model is more cost effective and advantageous for screening and testing novel anti-arthritic agents.
This is a preview of subscription content, log in to check access.
Access options
Buy single article
Instant access to the full article PDF.
US$ 39.95
Price includes VAT for USA
Subscribe to journal
Immediate online access to all issues from 2019. Subscription will auto renew annually.
US$ 199
This is the net price. Taxes to be calculated in checkout.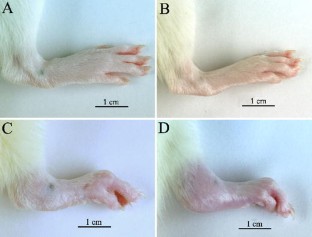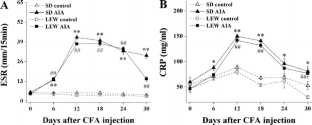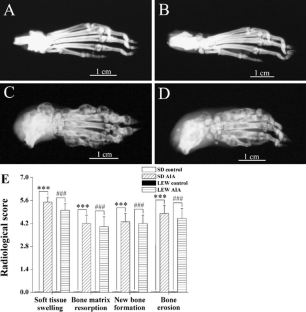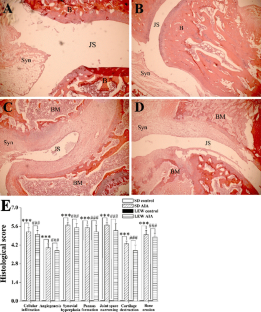 References
Anderson GD, Hauser SD, Mcgarity KL, Bremer ME, Isakson PC, Gregory SA (1996) Selective inhibition of cyclooxygenase (COX)-2 reverses inflammation and expression of COX-2 and interleukin 6 in rat adjuvant arthritis. J Clin Invest 97:2672–2679

Banik RK, Kasai M, Mizumura K (2002) Reexamination of the difference in susceptibility to adjuvant-induced arthritis among LEW/Crj, Slc/Wistar/ST and Slc/SD rats. Exp Anim 51:197–201

Billingham ME (1983) Models of arthritis and the search for anti-arthritic drugs. Pharmacol Ther 21:389–428

Bull BS, Caswell M, Ernst E, Kallner A, Koepke JA, Lewis SM, Lowe GDO, Rampling MW, Stuart J (1993) ICSH recommendations for measurement of erythrocyte sedimentation rate. J Clin Pathol 46:198–203

Burger D, Rezzonico R, Li JM, Modoux C, Pierce RA, Welgus HG, Dayer J (1998) Imbalance between interstitial collagenase and tissue inhibitor of metalloproteinases 1 in synoviocytes and fibroblasts upon direct contact with stimulated T lymphocytes: involvement of membrane-associated cytokines. Arthritis Rheum 41:1748–1759

Cai X, Zhou H, Wong YF, Xie Y, Liu ZQ, Jiang ZH, Bian ZX, Xu HX, Liu L (2005) Suppressive effects of QFGJS, a preparation from an anti-arthritic herbal formula, on rat experimental adjuvant-induced arthritis. Biochem Biophys Res Commun 337:586–594

Deodhar AA, Woolf AD (1996) Bone mass measurement and bone metabolism in rheumatoid arthritis: a review. Br J Rheumatol 35:309–322

Esser RE, Hildebrand AR, Angelo RA, Watts LM, Murphey MD, Baugh L (1995) Measurement of radiographic changes in adjuvant-induced arthritis in rats by quantitative image analysis. Arthritis Rheum 38:129–138

Feldmann M, Maini RN (2001) Anti-TNF alpha therapy of rheumatoid arthritis: what have we learned? Annu Rev Immunol 19:163–196

Feldmann M, Brennan FM, Maini RN (1996) Role of cytokines in rheumatoid arthritis. Annu Rev Immunol 14:397–440

Goldring SR (1996) Osteoporosis and rheumatic diseases. In: Favus MJ (ed) Primer on the metabolic bone diseases and disorders of mineral metabolism, 3rd edn. Lippincott-Raven, Philadelphia, pp 299–301

Gravallese EM, Goldring SR (2000) Cellular mechanism and the role of cytokines in bone erosions in rheumatoid arthritis. Arthritis Rheum 43:2143–2151

Kushner I (1991) C-reactive protein in rheumatology. Arthritis Rheum 34:1065–1068

Maini RN, Taylor PC (2000) Anti-cytokines therapy for rheumatoid arthritis. Annu Rev Med 51:207–229

McCartney-Francis NL, Chan J, Wahl SM (2003) Inflammatory joint disease: clinical, histological, and molecular parameters of acute and chronic inflammation and tissue destruction. In: Winyard PG, Willoughby DA (eds) Inflammation protocols. Humana Press, New Jersey, pp 147–159

McGonagle D, Conaghan PG, O'Connor P, Gibbon W, Green M, Wakefield R, Ridgway J, Emery P (1999) The relationship between synovitis and bone changes in early untreated rheumatoid arthritis: a controlled magnetic resonance imaging study. Arthritis Rheum 42:1706–1711

Newbould BB (1964) Role of lymph nodes in adjuvant-induced arthritis in rats. Ann Rheum Dis 23:392–396

Panayi GS, Lanchbury JS, Kingsley GH (1992) The importance of the T cell in initiating and maintaining the chronic synovitis of rheumatoid arthritis. Arthritis Rheum 35:729–735

Pascual V, Allantaz F, Arce E, Punaro M, Banchereau J (2005) Role of interleukin-1 (IL-1) in the pathogenesis of systemic onset juvenile idiopathic arthritis and clinical response to IL-1 blockade. J Exp Med 201:1479–1486

Pearson CM (1956) Development of arthritis, periarthritis and periostitis in rats given adjuvant. Proc Soc Exp Biol Med 91:95–101

Pearson CM (1963) Experimental joint disease observations on adjuvant-induced arthritis. J Chronic Dis 16:863–874

Pepys MB, Hirschfield GM (2003) C-reactive protein: a critical update. J Clin Invest 111:1805–1812

Rosenthale ME (1970) A comparative study of the Lewis and Sprague Dawley rat in adjuvant arthritis. Arch Int Pharmacodyn Ther 188:14–22

Smolen JS, Steiner G (2003) Therapeutic strategies for rheumatoid arthritis. Nat Rev Drug Discov 2:473–488

Szekanecz Z, Koch AE, Kunkel SL, Strieter RM (1998) Cytokines in rheumatoid arthritis: potential targets for pharmacological intervention. Drug Aging 12:377–390

van Eden W, Holoshitz J, Nevo Z, Frenkel A, Klajman A, Cohen IR (1985) Arthritis induced by a T-lymphocyte clone that responds to M. tuberculosis and to cartilage proteoglycans. Proc Natl Acad Sci U S A 82:5117–5120

van Eden W, Wagenaar-Hilbers JPA, Wauben MHM (1994) Animal models for autoimmune and inflammatory disease: adjuvant arthritis in the rat. In: Colagin JE (ed) Current protocols in immunology. Wiley, New York, pp 1–11

van Leeuwen MA, van Rijswijk MH (1994) Acute phase proteins in the monitoring of inflammatory disorders. Baillieres Clin Rheumatol 8:531–552

van Vollenhoven RF, Thole JER, van der Zee R, Noordzij A, van Embden JDA, Hensen EJ, Cohen IR (1988) The role of immunity to cartilage proteoglycan in adjuvant arthritis: intravenous injection of bovine proteoglycan enhances adjuvant arthritis. J Immunol 141:1168–1173

Waksman BH, Pearson CM, Sharp JT (1960) Studies of arthritis and other lesions induced in rats by injection of mycobacterial adjuvant. II. Evidence that the disease is a disseminated immunologic response to exogenous antigen. J Immunol 85:403–417

Wolfe F, Michaud K (1994) The clinical and research significance of the erythrocyte sedimentation rate. J Rheumatol 21:1227–1237
Acknowledgments
This research was funded by the Hong Kong Jockey Club Charities Trust. We are grateful to Profs. Biao Yan Du, Pei Xun Wang and Liang Zhou of the Guangzhou University of Traditional Chinese Medicine (GUTCM), for their assistance in histological analysis, and to Ms. Rui Yan Liang of GUTCM and Mr. Yong Huang and Mr. Yao Hua Huang of the First Affiliated Hospital of GUTCM for their assistance in radiographic analysis. We also thank Dr. Martha Dahlen for her excellent language editing of the manuscript.
About this article
Cite this article
Cai, X., Wong, Y.F., Zhou, H. et al. The comparative study of Sprague–Dawley and Lewis rats in adjuvant-induced arthritis. Naunyn Schmied Arch Pharmacol 373, 140 (2006). https://doi.org/10.1007/s00210-006-0062-5
Received:

Accepted:

Published:
Keywords
Adjuvant-induced arthritis

Sprague–Dawley rats

Lewis rats

Mycobacterium tuberculosis

Pro-inflammatory cytokines