Abstract
N6-Methyladenosine (m6A) is the most prevalent modification of RNA in eukaryotes, and is associated with many cellular processes and even the development of cancers. We hypothesized that single-nucleotide polymorphisms (SNPs) in m6A modification genes, including its "writers", "erasers" and "readers", might affect the m6A functions and associate with the susceptibility to pancreatic ductal adenocarcinoma (PDAC). We first conducted a two-stage case–control study in Chinese population to interrogate all SNPs in 22 m6A modification genes. In the discovery stage, a total of 2735 SNPs were genotyped in 980 patients and 1991 controls. Then, the promising SNP was replicated in another independent population consisting of 858 cases and 2084 controls. As a result, we found the rs7495 in 3′UTR of hnRNPC was significantly associated with increased risk of PDAC in both stages (combined odds ratio = 1.22, 95% confidence interval = 1.12–1.32, P = 2.39 × 10–6). To further reveal the biological function of rs7495 and hnRNPC, we performed a series of biochemical experiments. Luciferase reporter assays indicated that rs7495G allele promoted hnRNPC expression through disrupting a putative binding site for has-miR-183-3p. Cell viability assay demonstrated that knockdown of hnRNPC suppressed the proliferation of PDAC cells. RNA-seq analysis suggested that as an m6A "reader", hnRNPC played an important role in RNA biological processes. In conclusion, our findings elucidated that rs7495G could confer higher risk of PDAC via promoting the expression of hnRNPC through a miRNA-mediated manner. These results provided a novel insight into the critical role of m6A modification in tumorigenesis.
Access options
Buy single article
Instant access to the full article PDF.
US$ 39.95
Tax calculation will be finalised during checkout.
Subscribe to journal
Immediate online access to all issues from 2019. Subscription will auto renew annually.
US$ 119
Tax calculation will be finalised during checkout.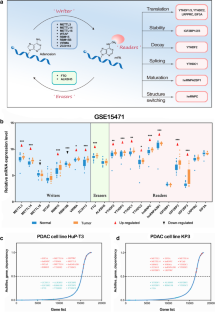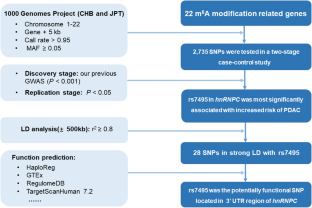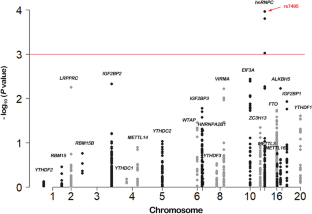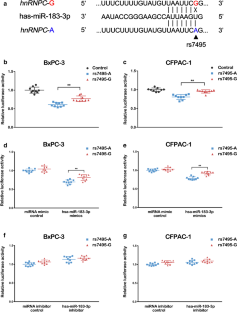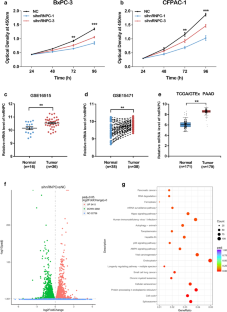 Acknowledgements
We gratefully acknowledge the members of the Miao lab for the suggestions and contributions to this work. This work was supported National Natural Science Foundation of China NSFC-81673256, National High-Tech Research and Development Program of China 2014AA020609, Program for HUST Academic Frontier Youth Team and National Science Fund for Distinguished Young Scholars of China for Xiaoping Miao, National Program for Support of Top-notch Young Professionals and the Young Elite Scientist Sponsorship Program by CAST (2018QNRC001) for Jiang Chang.
Ethics declarations
Conflict of interest
The authors declare no conflicts of interest.
Ethical approval
All the procedures involving human participants were in accordance with the ethical standards laid down in the 1964 Declaration of Helsinki and its later amendments.
Informed consent
The datasets during the current study are available from the corresponding author on reasonable request. Informed consent was obtained from each subject, and this study was approved by the Chinese Academy of Medical Sciences Cancer Institute and the Institutional Review Board of Tongji Medical College, HUST. All participants gave written informed consent.
Additional information
Publisher's Note
Springer Nature remains neutral with regard to jurisdictional claims in published maps and institutional affiliations.
Supplementary Information
Below is the link to the electronic supplementary material.
About this article
Cite this article
Ying, P., Li, Y., Yang, N. et al. Identification of genetic variants in m6A modification genes associated with pancreatic cancer risk in the Chinese population. Arch Toxicol 95, 1117–1128 (2021). https://doi.org/10.1007/s00204-021-02978-5
Received:

Accepted:

Published:

Issue Date:
Keywords
N6-Methyladenosine

hnRNPC

Genetic variant

Pancreatic ductal adenocarcinoma