Abstract
Temephos (Tem) is the larvicide of choice to control mosquito transmission of dengue, Zika, and chikungunya. The toxicokinetic and toxicological information of temephos is very limited. The aim of this work was to determine the toxicokinetics and dosimetry of temephos and its metabolites. Male Wistar rats were orally administered temephos (300 mg/kg) emulsified with saline solution and sacrificed over time after dosing. Temephos and its metabolites were analyzed in blood and tissues by high performance liquid chromatography-diode array detector. At least eleven metabolites were detected, including temephos-sulfoxide (Tem-SO), temephos-oxon (Tem-oxon), temephos-oxon-sulfoxide (Tem-oxon-SO), temephos-oxon-SO-monohydrolyzed (Tem-oxon-SO-OH), 4,4´-thiodiphenol, 4,4´-sulfinyldiphenol, and 4,4´-sulfonyldiphenol or bisphenol S (BPS). The mean blood concentrations of temephos were fitted to a one-compartment model for kinetic analysis. At 2 h, the peak was reached (t1/2 abs = 0.38 h), and only trace levels were detected at 36 h (t1/2 elim = 8.6 h). Temephos was detected in all tissues and preferentially accumulated in fat. Temephos-sulfone-monohydrolyzed (Tem-SO2-OH) blood levels remained constant until 36 h and gradually accumulated in the kidney. Tem-oxon was detected in the brain, liver, kidney, and fat. Clearance from the liver and kidney were 7.59 and 5.52 ml/min, respectively. These results indicate that temephos is well absorbed, extensively metabolized, widely distributed and preferentially stored in adipose tissue. It is biotransformed into reactive metabolites such as Tem-oxons, Tem-dioxons, and BPS. Tem-SO2-OH, the most abundant metabolite of temephos, could be used as an exposure biomarker for toxicokinetic modeling. These results could provide critical insight into the dosimetry and toxicity of temephos and its metabolites.
Access options
Buy single article
Instant access to the full article PDF.
US$ 39.95
Tax calculation will be finalised during checkout.
Subscribe to journal
Immediate online access to all issues from 2019. Subscription will auto renew annually.
US$ 119
Tax calculation will be finalised during checkout.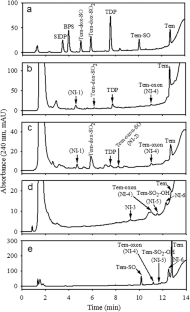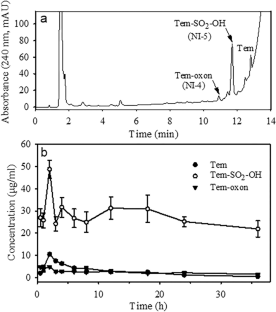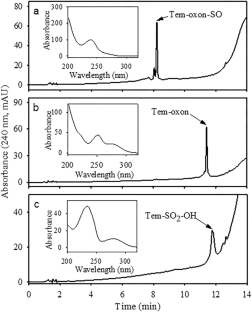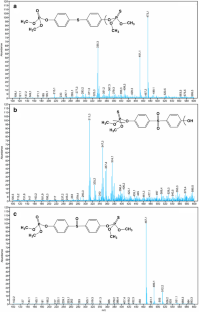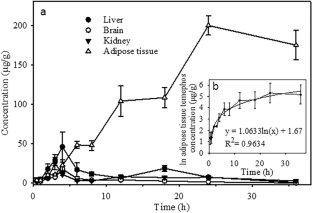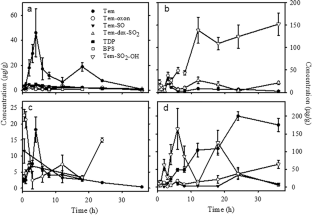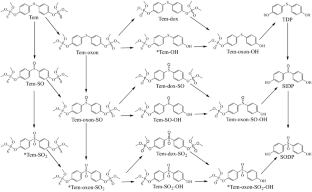 References
Baker LM (1998) Introduction. In: Clesceri LS, Greenber AE, Eaton AD (eds) Standard methods for the examination of water and wastewater, 20th edn. APHA-AWWA-WEF, Washington, DC, p 1

Benitez-Trinidad AB, Herrera-Moreno JF, Vázquez-Estrada G, Verdín-Betancourt FA, Sordo M, Ostrosky-Wegman P, Bernal-Hernández YY, Medina-Díaz IM, Barrón-Vivanco BS, Robledo-Marenco ML, Salazar AM, Rojas-García AE (2015) Cytostatic and genotoxic effect of temephos in human lymphocytes and HepG2 cells. Toxicol In Vitro 29:779–786. https://doi.org/10.1016/j.tiv.2015.02.008

Blinn RC (1969) Metabolic fate of Abate insecticide in the rat. J Agr Food Chem 17:118–122

Buratti F, Volpe MT, Meneguz A, Vittozzi L, Testaia E (2003) CYP-specific bioactivation of four organophosphorothioate pesticides by human liver microsomes. Toxicol Appl Pharmacol 186:143–154. https://doi.org/10.1016/S0041-008X(02)00027-3

Buratti F, Leoni C, Testai E (2007) The human metabolism of organophosphorothionate pesticides: consequences for toxicological risk assessment. J Verbr Lebensm 2:37–44. https://doi.org/10.1007/s00003-006-0109-z

Butler A, Murray M (1997) Inhibition and inactivation cytochrome P450 in rat liver by paration. Mol Pharmacol 43:902–908

De Buck SS, Sinha VK, Fenu LA, Nijsen MJ, Mackie CE, Gilissen RA (2007) Prediction of human pharmacokinetics using physiologically based modeling: a retrospective analysis of 26 clinically tested drugs. Drug Metabol Disp. 35:1766–1780. https://doi.org/10.1124/dmd.107.015644

Dressman J, Amidon G, Fleisher D (1985) Absorption potential: estimating the fraction absorbed for orally administered compounds. J Pharm Sci 74:588–589. https://doi.org/10.1002/jps.2600740523

Ennin M, Franklin C (1979) Some sub-cellular effects of an organophosphorus insecticide. Abate Br J Pharmacol 66:72

Eyer F, Meischner V, Kiderlen D, Thiermann H, Worek F, Haberkom M, Felgenhauer N, Zilker T, Eyer P (2003) Human parathion poisoning, a toxicokinetic analysis. Toxicol Rev 22:143–163. https://doi.org/10.2165/00139709-200322030-00003

Eyer F, Roberts DM, Buckley NA, Eddleston M, Thiermann H, Worek F, Eyer P (2009) Extreme variability in the formation of chlorpyrifos oxon (CPO) in patients poisoned by chlorpyrifos (CPF). Biochem Pharmacol. 78:531–537. https://doi.org/10.1016/j.bcp.2009.05.004

Ferguson PW, Medon PJ, Nasri E (1985) Temephos (Abate) metabolism and toxicity in rats. Arch Environ Contam Toxicol 147:143–147

Fest C, Schmidt KJ (1973) The chemistry of organophosphorus pesticides. Reactivity – synthesis – mode of action – toxicology, 1st edn. Springer-Verlag, Berlin Heidelberg, New York

Gallo MA, Lawryk NJ (1991) Organic phosphorus pesticides. In: Hayes WJ Jr, Laws ER Jr (eds) Handbook of pesticide toxicology: classes of pesticides, vol 2. Academic Press, San Diego

Hayes W Jr, Laws E Jr (2006) Handbook of pesticide toxicology volume 1: general principles; volumes 2 and 3: classes of pesticides. Academic Press, San Diego, pp 153–154

Hodgson E, Rose R (2006) Organophosphorus chemicals: potent inhibitors of the human metabolism of steroid hormones and xenobiotics. Drug Metabol Rev 38:149–162. https://doi.org/10.1080/03602530600569984

HSDB (2003) Hazardous substances databank: temephos. National Library of Medicine, National Toxicology Program. Available http://www.toxnet.nlm.nih.gov/cgi-bin/sis/htmlgen?HSDB

INE (2000) Instituto Nacional de Ecología. Available http://www2.ine.gob.mx/sistemas/plaguicidas/pdf/temefos.pdf. Accessed January 2017

Jokanovic M (2001) Biotransformation of organophosphorus compounds. Toxicology 166:139–160. https://doi.org/10.1016/S0300-483X(01)00463-2

Kamel A, Byrne C, Vigo C, Ferrario J, Stafford C, Verdin G, Siegelman F, Knizner S, Hetrick J (2009) Oxidation of selected organophosphate pesticides during chlorination of simulated drinking water. Water Res 43:522–534. https://doi.org/10.1016/j.watres.2008.10.038

Katagi T, Tanaka H (2016) Metabolism, bioaccumulation, and toxicity of pesticides in aquatic insect larvae. J Pestic Sci 41:25–37. https://doi.org/10.1584/jpestics.D15-064

Kim S-H, Bae J-W, Kim D-H, Jeong D-J, Ha JJ, Yi JK, Kwon W-S (2020) Detrimental effects of temephos on male fertility: an in vitro study on a mouse model. Reprod Toxicol 96:150–155. https://doi.org/10.1016/j.reprotox.2020.06.008

Lacorte S, Ehresmann N, Barceló D (1996) Persistence of temephos and its transformation products in rice crop field waters. Environ Sci Technol 30:917–923. https://doi.org/10.1021/es9503589

Lacorte S, Jeanty G, Marty JL, Barcelo D (1997) Identification of fenthion and temephos and their transformation products in water by high-performance liquid chromatography with diode array detection and atmospheric pressure chemical ionization mass spectrometric detection. J Chromatogr A 777:99–114. https://doi.org/10.1016/S0021-9673(97)00557-8

Laurentino AOM, Medeiros FD, Oliveira J, Rosa N, Gomez TM, Peretti EM, Prophiro JS, Fortunato JJ (2019) Effects of prenatal exposure to temephos on behavior and social interaction. Neuropsyc Dis Treatm 15:669–673. https://doi.org/10.2147/NDT.S193896

Laws ER Jr, Morales FR, Hayes J Jr, Joseph CR (1967) Toxicology of Abate in volunteers. Arch Environ Health 14:289–291. https://doi.org/10.1080/00039896.1967.10664733

Laws ER Jr, Sedlak VA, Miles JW, Joseph CR, Lacomba JR, Diaz-Rivera A (1968) Field study of the safety of abate for treating potable water and observations on the effectiveness of a control program involving both abate and malathion. Bull World Health Organ 38:439–445

Leesch JG, Fukuto TR (1972) The metabolism of abate in mosquito larvae and houseflies. Pestic Biochem Physiol 2:223–235

Martins G, Pimenta P (2008) Structural changes in fat body of Aedes aegypti caused by aging and blood feeding. J Medical Entomol 45:1102–1107. https://doi.org/10.1093/jmedent/45.6.1102

Molina-Molina J, Amaya E, Grimaldi M, Sáenz J, Real M, Fernández M, Balaguer P, Olea N (2013) In vitro study on the agonistic and antagonistic activities of bisphenol-S and other bisphenol-A congeners and derivatives via nuclear receptors. Toxicol Appl Pharmacol 272:127–136. https://doi.org/10.1016/J.TAAP.2013.05.015

Murphy SD, Cheever KL (1972) Carboxylesterase and cholinesterase inhibition in rats. Arch Environ Health 24:107–114

NTRL (1984) Health and environmental effects profile for temephos. National Technical Reports Library. U.S. Department of Commerce. https://ntrl.ntis.gov/NTRL/dashboard/searchResults/titleDetail/PB88162342.xhtml. Accessed 4 December 2020.

Oie S (1986) Rug distribution and binding. J Clin Pharmacol 26:583–586

Reyes-Chaparro A, Verdín-Betancourt FA, Sierra-Santoyo A (2020) Human biotransformation pathway of temephos using an in silico approach. Chem Res Toxicol 33:2765–2774. https://doi.org/10.1021/acs.chemrestox.0c00105

Roberts MS, Magnusson BM, Burczynski FJ, Weiss M (2002) Enterohepatic circulation: physiological, pharmacokinetic and clinical implications. Clin Pharmacokin 41:751–790. https://doi.org/10.2165/00003088-200241100-00005

Roma GC, Bueno OC, Camargo-Mathias MI (2010) Morpho-physiological analysis of the insect fat body: a review. Micron 41:395–401. https://doi.org/10.1016/j.micron.2009.12.007

Seliskar M, Rozman D (2007) Mammalian cytochromes P450-importance of tissue specificity. Biochim Biophys Acta 1770:458–466. https://doi.org/10.1016/j.bbagen.2006.09.016

Sogorb MA, Estévez J, Vilanova E (2019) Case study: is bisphenol S safer than bisphenol A in thermal papers? Arch Toxicol 93:1835–1852. https://doi.org/10.1007/s00204-019-02474-x

Sultatos LG, Murphy SD (1983) Hepatic microsomal detoxification of the organophosphates paraoxon and chlorpyrifos oxon in the mouse. Drug Metabol Disp 11:232–238. https://doi.org/10.1007/BF00831892

Usmani K, Cho T, Rose R, Hodgson E (2006) Inhibition of the human liver microsomal and human cytochrome P450 1A2 and 3A4 metabolism of estradiol by deployment-related and other chemicals. Drug Metabol Disp 34:1606–1614. https://doi.org/10.1124/dmd.106.010439

U.S. EPA (2008) Environmental protection agency. Reregistration eligibility decision (RED) of temephos. Retrieved from http://www.epa.gov/oppsrrd1/REDs/temephos_red.htm#IIIB. Accessed January 2018

U.S. EPA (2014) Health and environmental effects profile for temephos. U.S. Environmental Protection Agency, Washington, DC. EPA/600/X-84/230 (NTIS PB88162342). Accessed 2 December 2020

Verdín-Betancourt FA, Figueroa M, López-González ML, Gómez E, Bernal-Hernández YY, Rojas-García AE, Sierra-Santoyo A (2019) In vitro inhibition of human red blood cell acetylcholinesterase (AChE) by temephos-oxidized products. Sci Rep 9:14758. https://doi.org/10.1038/s41598-019-51261-2

Voicu VA, Thiermann H, Radulescu FS, Mircioiu C, Miron DS (2009) The toxicokinetics and toxicodynamics of organophosphonates versus the pharmacokinetics and pharmacodynamics of oxime antidotes: biological consequences. Basic Clin Pharmacol Toxicol 106:73–85. https://doi.org/10.1111/j.1742-7843.2009.00486.x

WHO (2006) Temephos. In: Pesticide residues in food 2006. Joint FAO/WHO meeting on pesticide residues. FAO/WHO, Rome, pp 220–224. http://www.fao.org/fileadmin/templates/agphome/documents/Pests_Pesticides/JMPR/JMPRrepor2006.pdf. Accessed 8 December 2020

WHO (2010) The WHO recommended classification of pesticides by hazard and guidelines to classification 2009. World Health Organization. https://apps.who.int/iris/handle/10665/44271

WHO (2017) Guidelines for drinking-water quality. Fourth edition incorporating the first addendum. World Health Organization, Geneva, pp 441–442
Acknowledgements
We would like to acknowledge the excellent animal technical support of UPEAL-Cinvestav from Benjamín Emmanuel Chávez Álvarez, Rafael Leyva-Muñoz, María Antonieta López-López, and UPEAL Chairman Dr. Jorge Fernández.
Ethics declarations
Conflict of interest
The authors declare that there are no conflicts of interest.
Additional information
Publisher's Note
Springer Nature remains neutral with regard to jurisdictional claims in published maps and institutional affiliations.
About this article
Cite this article
Verdín-Betancourt, F.A., Figueroa, M., Soto-Ramos, A.G. et al. Toxicokinetics of temephos after oral administration to adult male rats. Arch Toxicol 95, 935–947 (2021). https://doi.org/10.1007/s00204-021-02975-8
Received:

Accepted:

Published:

Issue Date:
Keywords
Temephos

Organophosphorus pesticides

Toxicokinetics

Metabolism

Biomarkers