Abstract
Recent studies suggest that the anabolic effect of ecdysterone, a naturally occurring steroid hormone claimed to enhance physical performance, is mediated by estrogen receptor (ER) binding. In comparison with the prohibited anabolic agents (e.g., metandienone and others), ecdysterone revealed to be even more effective in a recent study performed in rats. However, scientific studies in humans are very rarely accessible. Thus, our project aimed at investigating the effects of ecdysterone-containing products on human sport exercise. A 10-week intervention study of strength training of young men (n = 46) was carried out. Different doses of ecdysterone-containing supplements have been administered during the study to evaluate the performance-enhancing effect. Analysis of blood and urine samples for ecdysterone and potential biomarkers of performance enhancement has been conducted. To ensure the specificity of the effects measured, a comprehensive screening for prohibited performance-enhancing substances was also carried out. Furthermore, the administered supplement has been tested for the absence of anabolic steroid contaminations prior to administration. Significantly higher increases in muscle mass were observed in those participants that were dosed with ecdysterone. The same hypertrophic effects were also detected in vitro in C2C12 myotubes. Even more relevant with respect to sports performance, significantly more pronounced increases in one-repetition bench press performance were observed. No increase in biomarkers for liver or kidney toxicity was noticed. These data underline the effectivity of an ecdysterone supplementation with respect to sports performance. Our results strongly suggest the inclusion of ecdysterone in the list of prohibited substances and methods in sports in class S1.2 "other anabolic agents".
Access options
Buy single article
Instant access to the full article PDF.
US$ 39.95
Tax calculation will be finalised during checkout.
Subscribe to journal
Immediate online access to all issues from 2019. Subscription will auto renew annually.
US$ 119
Tax calculation will be finalised during checkout.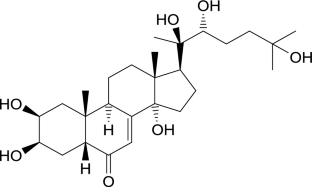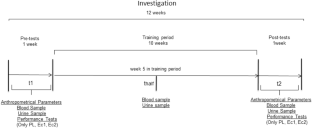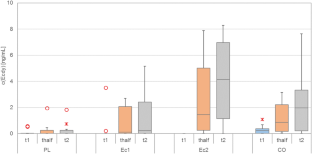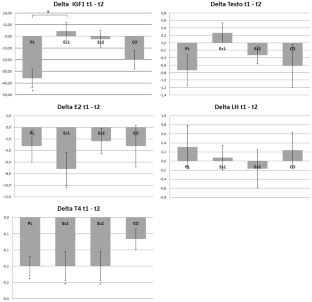 References
Arking R, Shaaya E (1969) Effect of ecdysone on protein synthesis in the larval fat body of Calliphora. J Insect Physiol 15(2):287–296

Azizov AP, Seifulla RD (1998) The effect of elton, leveton, fitoton and adapton on the work capacity of experimental animals. Eksperimental'naia i klinicheskaia farmakologiia 61(3):61–63

Bathori M, Toth N, Hunyadi A, Marki A, Zador E (2008) Phytoecdysteroids and anabolic-androgenic steroids–structure and effects on humans. Curr Med Chem 15(1):75–91

Bhasin S, Storer TW, Berman N et al (1996) The effects of supraphysiologic doses of testosterone on muscle size and strength in normal men. N Engl J Med 335(1):1–7. https://doi.org/10.1056/NEJM199607043350101

Borack MS, Volpi E (2016) Efficacy and safety of leucine supplementation in the elderly. J Nutr 146(12):2625S–2629S. https://doi.org/10.3945/jn.116.230771

Burdette W, Coda R (1963) Effect of ecdysone on the incorporation of 14C-Leucine into hepatic protein in vitro. Proc Soc Exp Biol Med 112:216–217

Chermnykh NS, Shimanovskii NL, Shutko GV, Syrov VN (1988) The action of methandrostenolone and ecdysterone on the physical endurance of animals and on protein metabolism in the skeletal muscles. Farmakologiia i toksikologiia 51(6):57–60

Courtheyn D, Le Bizec B, Brambilla G et al (2002) Recent developments in the use and abuse of growth promoters. Anal Chim Acta 473(1–2):71–82. https://doi.org/10.1016/S0003-2670(02)00753-5

Dinan L (2001) Phytoecdysteroids: biological aspects. Phytochemistry 57(3):325–339

Dinan L (2009) The karlson lecture. Phytoecdysteroids what use are they? Arch Insect Biochem Physiol 72(3):126–141. https://doi.org/10.1002/arch.20334

Dinan L, Lafont R (2006) Effects and applications of arthropod steroid hormones (ecdysteroids) in mammals. J Endocrinol 191(1):1–8. https://doi.org/10.1677/joe.1.06900

Faul F, Erdfelder E, Buchner A, Lang A-G (2009) Statistical power analyses using G* Power 3.1: tests for correlation and regression analyses. Behav Res Methods 41(4):1149–1160

Gnanou JV, Raj T, Kurpad AV, Regan MM (2006) Branched-chain amino acid requirements in healthy adult human subjects. J Nutr 136(1):256S–263S. https://doi.org/10.1093/jn/136.1.256S

Gorelick-Feldman J, Maclean D, Ilic N et al (2008) Phytoecdysteroids increase protein synthesis in skeletal muscle cells. J Agric Food Chem 56(10):3532–3537. https://doi.org/10.1021/jf073059z

Haupt O, Tchoukouegno Ngueu S, Diel P, Parr M (2012) Anabolic effect of ecdysterone results in hypertrophy of C2C12 myotubes by an estrogen receptor mediated pathway. In: Schänzer W, Geyer H, Gotzmann A, Mareck U (eds) Recent advances in dope analysis. Sport und Buch Strauß, Cologne

Joao GA, Evangelista AL, Gomes JH et al (2014) Effect of 16 weeks of periodized resistance training on strength gains of powerlifting athletes. J Exerc Physiol Online 17(3):102–110

Kumpun S, Girault JP, Dinan L et al (2011) The metabolism of 20-hydroxyecdysone in mice: relevance to pharmacological effects and gene switch applications of ecdysteroids. Steroid Biochem Mol Biol 126(1–2):1–9. https://doi.org/10.1016/j.jsbmb.2011.03.016

Lafont R, Dinan L (2003) Practical uses for ecdysteroids in mammals including humans: an update. J Insect Sci 3:7

McBride MJ (2013) Phytoecdysteroids: a novel, non-androgenic alternative for muscle health and performance. J Steroids Horm Sci 12(01):10–12. https://doi.org/10.4172/2157-7536.s12-e001

Okui S, Otaka T, Uchiyama M, Takemoto T, Hikino H (1968) Stimulation of protein synthesis in mouse liver by insect-moulting steroids. Chem Pharm Bull 16(2):384–387

Parr MK, Haupt O, Ngueu ST, Fritzemeier K-H, Muhn P, Diel PR (2013) Estrogen receptor beta mediated anabolic effects—insights from mechanistic studies on the phytoecdysteroid ecdysterone and selective ligands. Endocrine reviews 5:6. https://doi.org/10.1210/endo-meetings.2013.nrsha.3.sat-340

Parr MK, Zhao P, Haupt O et al (2014) Estrogen receptor beta is involved in skeletal muscle hypertrophy induced by the phytoecdysteroid ecdysterone. Mol Nutr Food Res 58(9):1861–1872. https://doi.org/10.1002/mnfr.201300806

Parr MK, Botre F, Nass A, Hengevoss J, Diel P, Wolber G (2015a) Ecdysteroids: A novel class of anabolic agents? Biol Sport 32(2):169–173. https://doi.org/10.5604/20831862.1144420

Parr MK, Wolber G, Naß A, Ambrosio G, Botrè F, Diel PR (2015b) ER-beta mediated action of dietary supplement ingredient edcysterone confirmed by docking experiments. Endocrine Rev FRI-270

Schoenfeld BJ, Ratamess NA, Peterson MD, Contreras B, Tiryaki-Sonmez G (2015) Influence of resistance training frequency on muscular adaptations in well-trained men. J Strength Cond Res 29(7):1821–1829. https://doi.org/10.1519/JSC.0000000000000970

Seidlova-Wuttke D, Ehrhardt C, Wuttke W (2010) Metabolic effects of 20-OH-ecdysone in ovariectomized rats. J Steroid Biochem Mol Biol 119(3–5):121–126. https://doi.org/10.1016/j.jsbmb.2010.01.006

Slama K, Kodkoua M (1975) Insect hormones and bioanalogues: their effect on respiratory metabolism in Dermestes vulpinus L. (Coleoptera). Biol Bull 148(2):320–332. https://doi.org/10.2307/1540550

Slama K, Koudela K, Tenora J, Mathova A (1996) Insect hormones in vertebrates: anabolic effects of 20-hydroxyecdysone in Japanese quail. Experientia 52(7):702–706

Tchoukouegno Ngueu S (2013) Bioactivity of plants secondary metabolites: Estrogenic, cytotoxic and anabolic effects on estrogen target organs of an extract of Erythrina excelsa and Ecdysterone. German Sport University, Cologne

Toth N, Szabo A, Kacsala P, Heger J, Zador E (2008) 20-Hydroxyecdysone increases fiber size in a muscle-specific fashion in rat. Phytomedicine 15(9):691–698. https://doi.org/10.1016/j.phymed.2008.04.015

Wilborn CD, Taylor LW, Campbell BI et al (2006) Effects of methoxyisoflavone, ecdysterone, and sulfo-polysaccharide supplementation on training adaptations in resistance-trained males. J Int Soc Sports Nutr 3:19–27. https://doi.org/10.1186/1550-2783-3-2-19

Wisløff U, Castagna C, Helgerud J, Jones R, Hoff J (2004) Strong correlation of maximal squat strength with sprint performance and vertical jump height in elite soccer players. Br J Sports Med 38(3):285–288

Zheng W, Hemker ML, Xie M, Soukup ST, Diel P (2018) Anabolic activity of a soy extract and three major isoflavones in C2C12 myotubes. Planta Med 84(14):1022–1029. https://doi.org/10.1055/a-0598-4812
Acknowledgements
The authors acknowledge the financial support from the World Anti-Doping Agency (grant no. WADA 15C18MP). Dr. Jan F Joseph, Core Facility BioSupramol, Freie Universitaet Berlin (FUB), Germany, is acknowledged for analytical support and Steffen Loke, Institute of Pharmacy, FUB, for copyediting.
Ethics declarations
Conflict of interest
The authors declare no conflict of interest.
Additional information
Publisher's Note
Springer Nature remains neutral with regard to jurisdictional claims in published maps and institutional affiliations.
Electronic supplementary material
Below is the link to the electronic supplementary material.
About this article
Cite this article
Isenmann, E., Ambrosio, G., Joseph, J.F. et al. Ecdysteroids as non-conventional anabolic agent: performance enhancement by ecdysterone supplementation in humans. Arch Toxicol 93, 1807–1816 (2019). https://doi.org/10.1007/s00204-019-02490-x
Received:

Accepted:

Published:

Issue Date:
Keywords
Sports performance

Doping

Ecdysterone

Spinach extract

Humans

Resistance training