Abstract
Venoms from marine animals have been recognized as a new emerging source of peptide-based therapeutics. Several peptide toxins from sea anemone have been investigated as therapeutic leads or pharmacological tools. Venom complexity should be further highlighted using combined strategies of large-scale sequencing and data analysis which integrated transcriptomics and proteomics to elucidate new proteins or peptides to be compared among species. In this work, transcriptomic and proteomic analyses were combined to identify six groups of expressed peptide toxins in Zoanthus natalensis. These include neurotoxin, hemostatic and hemorrhagic toxin, protease inhibitor, mixed function enzymes, venom auxiliary proteins, allergen peptides, and peptides related to the innate immunity. Molecular docking analysis indicated that one expressed Zoanthus Kunitz-like peptide, ZoaKuz1, could be a voltage-gated potassium channels blocker and, hence, it was selected for functional studies. Functional bioassays revealed that ZoaKuz1 has an intrinsic neuroprotective activity in zebrafish model of Parkinson's disease. Since pharmacological blockade of KV channels is known to induce neuroprotective effects, ZoaKuz1 holds the potential to be developed in a therapeutic tool to control neural dysfunction by slowing or even halting neurodegeneration mediated by ion-channel hyperactivity.
Access options
Buy single article
Instant access to the full article PDF.
US$ 39.95
Tax calculation will be finalised during checkout.
Subscribe to journal
Immediate online access to all issues from 2019. Subscription will auto renew annually.
US$ 119
Tax calculation will be finalised during checkout.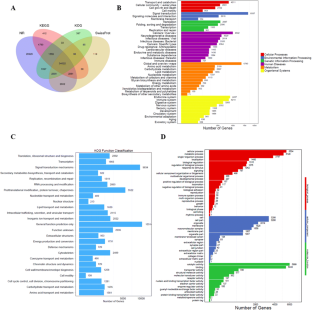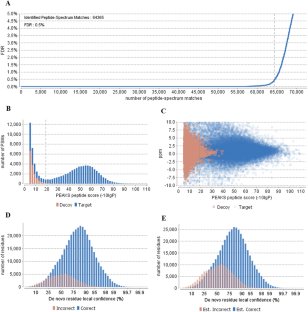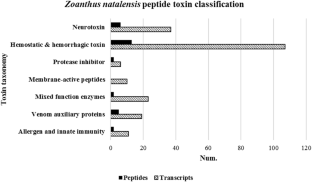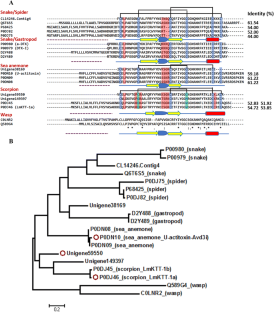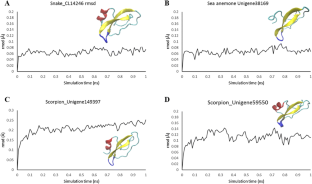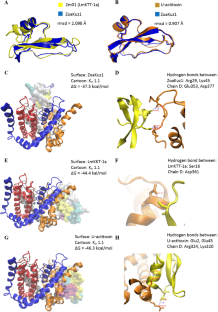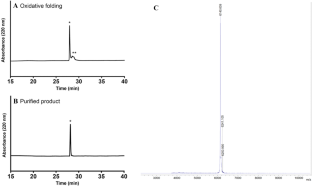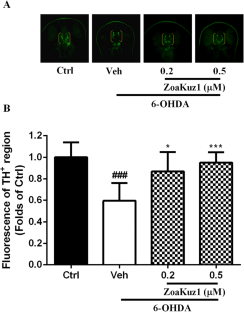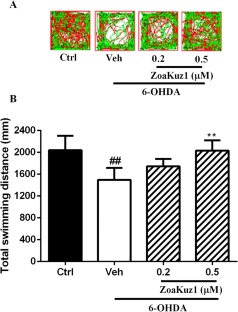 References
Anichtchik OV, Kaslin J, Peitsaro N, Scheinin M, Panula P (2004) Neurochemical and behavioural changes in zebrafish Danio rerio after systemic administration of 6-hydroxydopamine and 1-methyl-4-phenyl-1,2,3,6-tetrahydropyridine. J Neurochem 88(2):443–453

Arnold K, Bordoli L, Kopp J, Schwede T (2006) The SWISS-MODEL workspace: a web-based environment for protein structure homology modelling. Bioinformatics 22(2):195–201. https://doi.org/10.1093/bioinformatics/bti770

Balasubramanian PG, Beckmann A, Warnken U, Schnolzer M, Schuler A, Bornberg-Bauer E, Ozbek S (2012) Proteome of hydra nematocyst. J Biol Chem 287(13):9672–9681. https://doi.org/10.1074/jbc.M111.328203

Beeton C, Wulff H, Barbaria J, Clot-Faybesse O, Pennington M, Bernard D, Beraud E (2001) Selective blockade of T lymphocyte K(+) channels ameliorates experimental autoimmune encephalomyelitis, a model for multiple sclerosis. Proc Natl Acad Sci USA 98(24):13942–13947. https://doi.org/10.1073/pnas.241497298

Beeton C, Wulff H, Standifer NE, Azam P, Mullen KM, Pennington MW, Chandy KG (2006) Kv1.3 channels are a therapeutic target for T cell-mediated autoimmune diseases. Proc Natl Acad Sci USA 103(46):17414–17419. https://doi.org/10.1073/pnas.0605136103

Berghmans S, Butler P, Goldsmith P, Waldron G, Gardner I, Golder Z, Fleming A (2008) Zebrafish based assays for the assessment of cardiac, visual and gut function—potential safety screens for early drug discovery. J Pharmacol Toxicol Methods 58(1):59–68. https://doi.org/10.1016/j.vascn.2008.05.130

Castaneda O, Harvey AL (2009) Discovery and characterization of cnidarian peptide toxins that affect neuronal potassium ion channels. Toxicon 54(8):1119–1124. https://doi.org/10.1016/j.toxicon.2009.02.032

Chan JY, Zhou H, Kwan YW, Chan SW, Radis-Baptista G, Lee SM (2017) Evaluation in zebrafish model of the toxicity of rhodamine B-conjugated crotamine, a peptide potentially useful for diagnostics and therapeutics. J Biochem Mol Toxicol. https://doi.org/10.1002/jbt.21964

Chen R, Li L, Weng Z (2003a) ZDOCK: an initial-stage protein-docking algorithm. Proteins 52(1):80–87. https://doi.org/10.1002/prot.10389

Chen R, Tong W, Mintseris J, Li L, Weng Z (2003b) ZDOCK predictions for the CAPRI challenge. Proteins 52(1):68–73. https://doi.org/10.1002/prot.10388

Choo YM, Lee KS, Yoon HJ, Qiu Y, Wan H, Sohn MR, Jin BR (2012) Antifibrinolytic role of a bee venom serine protease inhibitor that acts as a plasmin inhibitor. PLoS One 7(2):e32269. https://doi.org/10.1371/journal.pone.0032269

Cruz IC, Meira VH, de Kikuchi RK, Creed JC (2016) The role of competition in the phase shift to dominance of the zoanthid Palythoa cf. variabilis on coral reefs. Mar Environ Res 115:28–35. https://doi.org/10.1016/j.marenvres.2016.01.008

de Souza JM, Goncalves BDC, Gomez MV, Vieira LB, Ribeiro FM (2018) Animal toxins as therapeutic tools to treat neurodegenerative diseases. Front Pharmacol 9:145. https://doi.org/10.3389/fphar.2018.00145

Deutsch EW, Csordas A, Sun Z, Jarnuczak A, Perez-Riverol Y, Ternent T, Vizcaino JA (2017) The ProteomeXchange consortium in 2017: supporting the cultural change in proteomics public data deposition. Nucleic Acids Res 45(D1):D1100–D1106. https://doi.org/10.1093/nar/gkw936

Diochot S, Baron A, Rash LD, Deval E, Escoubas P, Scarzello S, Lazdunski M (2004) A new sea anemone peptide, APETx2, inhibits ASIC3, a major acid-sensitive channel in sensory neurons. EMBO J 23(7):1516–1525. https://doi.org/10.1038/sj.emboj.7600177

Edgar RC (2004) MUSCLE: multiple sequence alignment with high accuracy and high throughput. Nucleic Acids Res 32(5):1792–1797. https://doi.org/10.1093/nar/gkh340

Erwin DH, Laflamme M, Tweedt SM, Sperling EA, Pisani D, Peterson KJ (2011) The Cambrian conundrum: early divergence and later ecological success in the early history of animals. Science 334(6059):1091–1097. https://doi.org/10.1126/science.1206375

FastQC: a quality control tool for high throughput sequence data (2011). https://www.bioinformatics.babraham.ac.uk/projects/fastqc/. Accessed 1 Apr 2017

Fordyce CB, Jagasia R, Zhu X, Schlichter LC (2005) Microglia Kv1.3 channels contribute to their ability to kill neurons. J Neurosci 25(31):7139–7149. https://doi.org/10.1523/jneurosci.1251-05.2005

Fry BG, Roelants K, Champagne DE, Scheib H, Tyndall JD, King GF, de la Vega RC (2009) The toxicogenomic multiverse: convergent recruitment of proteins into animal venoms. Annu Rev Genom Hum Genet 10:483–511. https://doi.org/10.1146/annurev.genom.9.081307.164356

Gan HH, Perlow RA, Roy S, Ko J, Wu M, Huang J, Schlick T (2002) Analysis of protein sequence/structure similarity relationships. Biophys J 83(5):2781–2791

Haas BJ, Papanicolaou A, Yassour M, Grabherr M, Blood PD, Bowden J, Regev A (2013) De novo transcript sequence reconstruction from RNA-seq using the Trinity platform for reference generation and analysis. Nat Protoc 8(8):1494–1512. https://doi.org/10.1038/nprot.2013.084

Harvey AL (2001) Twenty years of dendrotoxins. Toxicon 39(1):15–26

Huang C, Morlighem JR, Zhou H, Lima EP, Gomes PB, Cai J, Radis-Baptista G (2016) The transcriptome of the Zoanthid Protopalythoa variabilis (Cnidaria, Anthozoa) predicts a basal repertoire of toxin-like and venom-auxiliary polypeptides. Genome Biol Evol 8(9):3045–3064. https://doi.org/10.1093/gbe/evw204

Humphrey W, Dalke A, Schulten K (1996) VMD: visual molecular dynamics. J Mol Graph 14(1):33–38

Imredy JP, MacKinnon R (2000) Energetic and structural interactions between delta-dendrotoxin and a voltage-gated potassium channel. J Mol Biol 296(5):1283–1294. https://doi.org/10.1006/jmbi.2000.3522

Jensen JE, Cristofori-Armstrong B, Anangi R, Rosengren KJ, Lau CH, Mobli M, Rash LD (2014) Understanding the molecular basis of toxin promiscuity: the analgesic sea anemone peptide APETx2 interacts with acid-sensing ion channel 3 and hERG channels via overlapping pharmacophores. J Med Chem 57(21):9195–9203. https://doi.org/10.1021/jm501400p

Jouiaei M, Sunagar K, Federman Gross A, Scheib H, Alewood PF, Moran Y, Fry BG (2015) Evolution of an ancient venom: recognition of a novel family of cnidarian toxins and the common evolutionary origin of sodium and potassium neurotoxins in sea anemone. Mol Biol Evol 32(6):1598–1610. https://doi.org/10.1093/molbev/msv050

Jungo F, Bougueleret L, Xenarios I, Poux S (2012) The UniProtKB/Swiss-Prot Tox-Prot program: a central hub of integrated venom protein data. Toxicon 60(4):551–557. https://doi.org/10.1016/j.toxicon.2012.03.010

Kayal E, Bastian B, Pankey MS, Ohdera A, Medina M, Plachetzki DC, Ryan JF (2017) Comprehensive phylogenomic analyses resolve cnidarian relationships and the origins of key organismal traits. PeerJ Prepr 5:e3172v1. https://doi.org/10.7287/peerj.preprints.3172v1

King GF (2011) Venoms as a platform for human drugs: translating toxins into therapeutics. Expert Opin Biol Ther 11(11):1469–1484. https://doi.org/10.1517/14712598.2011.621940

Koeberle PD, Wang Y, Schlichter LC (2010) Kv1.1 and Kv1.3 channels contribute to the degeneration of retinal ganglion cells after optic nerve transection in vivo. Cell Death Differ 17(1):134–144. https://doi.org/10.1038/cdd.2009.113

Kuba H, Yamada R, Ishiguro G, Adachi R (2015) Redistribution of Kv1 and Kv7 enhances neuronal excitability during structural axon initial segment plasticity. Nat Commun 6:8815. https://doi.org/10.1038/ncomms9815

Kvetkina A, Leychenko E, Yurchenko E, Pislyagin E, Peigneur S, Tytgat Y, Kozlovskaya E (2018) A new Iq-peptide of the Kunitz type from the Heteractis magnifica sea anemone exhibits neuroprotective activity in a model of Alzheimer's disease. Russ J Bioorg Chem 44(4):416–423

Lazcano-Perez F, Hernandez-Guzman U, Sanchez-Rodriguez J, Arreguin-Espinosa R (2016) Cnidarian neurotoxic peptides affecting central nervous system targets. Cent Nerv Syst Agents Med Chem 16(3):173–182

Lazcano-Perez F, Zavala-Moreno A, Rufino-Gonzalez Y, Ponce-Macotela M, Garcia-Arredondo A, Cuevas-Cruz M, Arreguin-Espinosa R (2018) Hemolytic, anticancer and antigiardial activity of Palythoa caribaeorum venom. J Venom Anim Toxins Incl Trop Dis 24:12. https://doi.org/10.1186/s40409-018-0149-8

Li H, Durbin R (2010) Fast and accurate long-read alignment with Burrows–Wheeler transform. Bioinformatics 26(5):589–595. https://doi.org/10.1093/bioinformatics/btp698

Li H, Handsaker B, Wysoker A, Fennell T, Ruan J, Homer N, Genome Project Data Processing, S (2009) The sequence alignment/map format and SAMtools. Bioinformatics 25(16):2078–2079. https://doi.org/10.1093/bioinformatics/btp352

Li R, Yu H, Yue Y, Liu S, Xing R, Chen X, Li P (2016) Combined proteomics and transcriptomics identifies sting-related toxins of jellyfish Cyanea nozakii. J Proteom 148:57–64. https://doi.org/10.1016/j.jprot.2016.07.023

Liao Q, Gong G, Siu SWI, Wong CTT, Yu H, Tse YC, Lee SM (2018a) A novel ShK-like toxic peptide from the transcriptome of the Cnidarian Palythoa caribaeorum displays neuroprotection and cardioprotection in zebrafish. Toxins (Basel). https://doi.org/10.3390/toxins10060238

Liao Q, Li S, Siu SWI, Yang B, Huang C, Chan JY, Lee SM (2018b) Novel Kunitz-like peptides discovered in the Zoanthid Palythoa caribaeorum through transcriptome sequencing. J Proteome Res 17(2):891–902. https://doi.org/10.1021/acs.jproteome.7b00686

Ma B, Zhang K, Hendrie C, Liang C, Li M, Doherty-Kirby A, Lajoie G (2003) PEAKS: powerful software for peptide de novo sequencing by tandem mass spectrometry. Rapid Commun Mass Spectrom 17(20):2337–2342. https://doi.org/10.1002/rcm.1196

Macrander J, Brugler MR, Daly M (2015) A RNA-seq approach to identify putative toxins from acrorhagi in aggressive and non-aggressive Anthopleura elegantissima polyps. BMC Genom 16:221. https://doi.org/10.1186/s12864-015-1417-4

Madio B, Undheim EAB, King GF (2017) Revisiting venom of the sea anemone Stichodactyla haddoni: omics techniques reveal the complete toxin arsenal of a well-studied sea anemone genus. J Proteom 166:83–92. https://doi.org/10.1016/j.jprot.2017.07.007

Magno LD, Fontes A, Goncalves BM, Gouveia A Jr (2015) Pharmacological study of the light/dark preference test in zebrafish (Danio rerio): waterborne administration. Pharmacol Biochem Behav 135:169–176. https://doi.org/10.1016/j.pbb.2015.05.014

Michalski A, Damoc E, Hauschild JP, Lange O, Wieghaus A, Makarov A, Horning S (2011) Mass spectrometry-based proteomics using Q Exactive, a high-performance benchtop quadrupole Orbitrap mass spectrometer. Mol Cell Proteom 10(9):M111-011015. https://doi.org/10.1074/mcp.m111.011015

Minagawa S, Sugiyama M, Ishida M, Nagashima Y, Shiomi K (2008) Kunitz-type protease inhibitors from acrorhagi of three species of sea anemones. Comp Biochem Physiol B Biochem Mol Biol 150(2):240–245. https://doi.org/10.1016/j.cbpb.2008.03.010

Moreels L, Peigneur S, Galan DT, De Pauw E, Beress L, Waelkens E, Tytgat J (2017) APETx4, a novel sea anemone toxin and a modulator of the cancer-relevant potassium channel KV10.1. Mar Drugs. https://doi.org/10.3390/md15090287

Nutile-McMenemy N, Elfenbein A, Deleo JA (2007) Minocycline decreases in vitro microglial motility, beta1-integrin, and Kv1.3 channel expression. J Neurochem 103(5):2035–2046. https://doi.org/10.1111/j.1471-4159.2007.04889.x

Oldrati V, Arrell M, Violette A, Perret F, Sprungli X, Wolfender JL, Stocklin R (2016) Advances in venomics. Mol Biosyst 12(12):3530–3543. https://doi.org/10.1039/c6mb00516k

Ovsepian SV, LeBerre M, Steuber V, O'Leary VB, Leibold C, Oliver Dolly J (2016) Distinctive role of KV1.1 subunit in the biology and functions of low threshold K(+) channels with implications for neurological disease. Pharmacol Ther 159:93–101. https://doi.org/10.1016/j.pharmthera.2016.01.005

Ozbek S, Balasubramanian PG, Holstein TW (2009) Cnidocyst structure and the biomechanics of discharge. Toxicon 54(8):1038–1045. https://doi.org/10.1016/j.toxicon.2009.03.006

Park E, Hwang DS, Lee JS, Song JI, Seo TK, Won YJ (2012) Estimation of divergence times in cnidarian evolution based on mitochondrial protein-coding genes and the fossil record. Mol Phylogenet Evol 62(1):329–345. https://doi.org/10.1016/j.ympev.2011.10.008

Patil AA, Ouellette AJ, Lu W, Zhang G (2013) Rattusin, an intestinal alpha-defensin-related peptide in rats with a unique cysteine spacing pattern and salt-insensitive antibacterial activities. Antimicrob Agents Chemother 57(4):1823–1831. https://doi.org/10.1128/AAC.02237-12

Peigneur S, Tytgat J (2018) Toxins in drug discovery and pharmacology. Toxins (Basel). https://doi.org/10.3390/toxins10030126

Perez-Riverol Y, Xu QW, Wang R, Uszkoreit J, Griss J, Sanchez A, Vizcaino JA (2016) PRIDE inspector toolsuite: moving toward a universal visualization tool for proteomics data standard formats and quality assessment of proteomeXchange datasets. Mol Cell Proteom 15(1):305–317. https://doi.org/10.1074/mcp.O115.050229

Pertea G, Huang X, Liang F, Antonescu V, Sultana R, Karamycheva S, Quackenbush J (2003) TIGR gene indices clustering tools (TGICL): a software system for fast clustering of large EST datasets. Bioinformatics 19(5):651–652

Pierce BG, Hourai Y, Weng Z (2011) Accelerating protein docking in ZDOCK using an advanced 3D convolution library. PLoS One 6(9):e24657. https://doi.org/10.1371/journal.pone.0024657

Poewe W, Seppi K, Tanner CM, Halliday GM, Brundin P, Volkmann J, Lang AE (2017) Parkinson disease. Nat Rev Dis Prim 3:17013. https://doi.org/10.1038/nrdp.2017.13

Prashanth JR, Lewis RJ, Dutertre S (2012) Towards an integrated venomics approach for accelerated conopeptide discovery. Toxicon 60(4):470–477. https://doi.org/10.1016/j.toxicon.2012.04.340

Prashanth JR, Brust A, Jin AH, Alewood PF, Dutertre S, Lewis RJ (2014) Cone snail venomics: from novel biology to novel therapeutics. Future Med Chem 6(15):1659–1675. https://doi.org/10.4155/fmc.14.99

Prashanth JR, Hasaballah N, Vetter I (2017) Pharmacological screening technologies for venom peptide discovery. Neuropharmacology 127:4–19. https://doi.org/10.1016/j.neuropharm.2017.03.038

Prentis PJ, Pavasovic A, Norton RS (2018) Sea anemones: quiet achievers in the field of peptide toxins. Toxins (Basel). https://doi.org/10.3390/toxins10010036

Pronk S, Pall S, Schulz R, Larsson P, Bjelkmar P, Apostolov R, Lindahl E (2013) GROMACS 4.5: a high-throughput and highly parallel open source molecular simulation toolkit. Bioinformatics 29(7):845–854. https://doi.org/10.1093/bioinformatics/btt055

Quinlan AR, Hall IM (2010) BEDTools: a flexible suite of utilities for comparing genomic features. Bioinformatics 26(6):841–842. https://doi.org/10.1093/bioinformatics/btq033

Rachamim T, Morgenstern D, Aharonovich D, Brekhman V, Lotan T, Sher D (2015) The dynamically evolving nematocyst content of an anthozoan, a scyphozoan, and a hydrozoan. Mol Biol Evol 32(3):740–753. https://doi.org/10.1093/molbev/msu335

Reeves TM, Trimmer PA, Colley BS, Phillips LL (2016) Targeting Kv1.3 channels to reduce white matter pathology after traumatic brain injury. Exp Neurol 283(Pt A):188–203. https://doi.org/10.1016/j.expneurol.2016.06.011

Reimer NS, Yasunobu CL, Yasunobu KT, Norton TR (1985) Amino acid sequence of the Anthopleura xanthogrammica heart stimulant, anthopleurin-B. J Biol Chem 260(15):8690–8693

Reimer JD, Ono S, Takishita K, Tsukahara J, Maruyama T (2006) Molecular evidence suggesting species in the zoanthid genera Palythoa and Protopalythoa (Anthozoa: Hexacorallia) are congeneric. Zool Sci 23(1):87–94. https://doi.org/10.2108/zsj.23.87

Reimer JD, Takishita K, Ono S, Tsukahara J, Maruyama T (2007) Molecular evidence suggesting interspecific hybridization in Zoanthus spp. (Anthozoa: Hexacorallia). Zool Sci 24(4):346–359. https://doi.org/10.2108/zsj.24.346

Reimer JD, Poliseno A, Hoeksema BW (2014) Shallow-water zoantharians (Cnidaria, Hexacorallia) from the Central Indo-Pacific. Zookeys 444:1–57. https://doi.org/10.3897/zookeys.444.7537

Robinson SD, Undheim EAB, Ueberheide B, King GF (2017) Venom peptides as therapeutics: advances, challenges and the future of venom-peptide discovery. Expert Rev Proteom 14(10):931–939. https://doi.org/10.1080/14789450.2017.1377613

Schneider CA, Rasband WS, Eliceiri KW (2012) NIH Image to ImageJ: 25 years of image analysis. Nat Methods 9(7):671–675

Tamura K, Stecher G, Peterson D, Filipski A, Kumar S (2013) MEGA6: molecular evolutionary genetics analysis version 6.0. Mol Biol Evol 30(12):2725–2729. https://doi.org/10.1093/molbev/mst197

Tarcha EJ, Olsen CM, Probst P, Peckham D, Munoz-Elias EJ, Kruger JG, Iadonato SP (2017) Safety and pharmacodynamics of dalazatide, a Kv1.3 channel inhibitor, in the treatment of plaque psoriasis: a randomized phase 1b trial. PLoS One 12(7):e0180762. https://doi.org/10.1371/journal.pone.0180762

UniProt Consortium, T (2018) UniProt: the universal protein knowledgebase. Nucleic Acids Res 46(5):2699. https://doi.org/10.1093/nar/gky092

Van Der Spoel D, Lindahl E, Hess B, Groenhof G, Mark AE, Berendsen HJ (2005) GROMACS: fast, flexible, and free. J Comput Chem 26(16):1701–1718. https://doi.org/10.1002/jcc.20291

Vizcaino JA, Deutsch EW, Wang R, Csordas A, Reisinger F, Rios D, Hermjakob H (2014) ProteomeXchange provides globally coordinated proteomics data submission and dissemination. Nat Biotechnol 32(3):223–226. https://doi.org/10.1038/nbt.2839

Vizcaino JA, Csordas A, del-Toro N, Dianes JA, Griss J, Lavidas I, Hermjakob H (2016) 2016 update of the PRIDE database and its related tools. Nucleic Acids Res 44(D1):D447–D456. https://doi.org/10.1093/nar/gkv1145

Vonk FJ, Casewell NR, Henkel CV, Heimberg AM, Jansen HJ, McCleary RJ, Richardson MK (2013) The king cobra genome reveals dynamic gene evolution and adaptation in the snake venom system. Proc Natl Acad Sci USA 110(51):20651–20656. https://doi.org/10.1073/pnas.1314702110

Wang T, Wang SW, Zhang Y, Wu XF, Peng Y, Cao Z, Zhao J (2014) Scorpion venom heat-resistant peptide (SVHRP) enhances neurogenesis and neurite outgrowth of immature neurons in adult mice by up-regulating brain-derived neurotrophic factor (BDNF). PLoS One 9(10):e109977. https://doi.org/10.1371/journal.pone.0109977

Westerfield M (2000) A guide for the laboratory use of zebrafish (Danio rerio) Eugene, 4th edn. University of Oregon Press, pp 1.1, 9.7, 10.16

Weston AJ, Dunlap WC, Shick JM, Klueter A, Iglic K, Vukelic A, Long PF (2012) A profile of an endosymbiont-enriched fraction of the coral Stylophora pistillata reveals proteins relevant to microbial–host interactions. Mol Cell Proteom 11(6):M111-015487. https://doi.org/10.1074/mcp.m111.015487

Wisniewski JR, Mann M (2012) Consecutive proteolytic digestion in an enzyme reactor increases depth of proteomic and phosphoproteomic analysis. Anal Chem 84(6):2631–2637. https://doi.org/10.1021/ac300006b

Wisniewski JR, Zougman A, Nagaraj N, Mann M (2009) Universal sample preparation method for proteome analysis. Nat Methods 6(5):359–362. https://doi.org/10.1038/nmeth.1322

Yamashita A, Inada H, Chihara K, Yamada T, Deguchi J, Funabashi H (2014) Improvement of the evaluation method for teratogenicity using zebrafish embryos. J Toxicol Sci 39(3):453–464

Young GA, Hagadorn JW (2010) The fossil record of cnidarian medusae. Palaeoworld 19(3):212–221. https://doi.org/10.1016/j.palwor.2010.09.014

Zhang J, Xin L, Shan B, Chen W, Xie M, Yuen D, Ma B (2012a) PEAKS DB: de novo sequencing assisted database search for sensitive and accurate peptide identification. Mol Cell Proteom 11(4):M111-010587. https://doi.org/10.1074/mcp.m111.010587

Zhang ZJ, Cheang LC, Wang MW, Li GH, Chu IK, Lin ZX, Lee SM (2012b) Ethanolic extract of fructus Alpinia oxyphylla protects against 6-hydroxydopamine-induced damage of PC12 cells in vitro and dopaminergic neurons in zebrafish. Cell Mol Neurobiol 32(1):27–40. https://doi.org/10.1007/s10571-011-9731-0

Zhang XG, Wang X, Zhou TT, Wu XF, Peng Y, Zhang WQ, Zhao J (2016) Scorpion venom heat-resistant peptide protects transgenic Caenorhabditis elegans from beta-amyloid toxicity. Front Pharmacol 7:227. https://doi.org/10.3389/fphar.2016.00227

Zhao R, Dai H, Qiu S, Li T, He Y, Ma Y, Cao Z (2011) SdPI, the first functionally characterized Kunitz-type trypsin inhibitor from scorpion venom. PLoS One 6(11):e27548. https://doi.org/10.1371/journal.pone.0027548

Zhao F, Lan X, Li T, Xiang Y, Zhao F, Zhang Y, Lee WH (2018) Proteotranscriptomic analysis and discovery of the profile and diversity of toxin-like proteins in centipede. Mol Cell Proteom 17(4):709–720. https://doi.org/10.1074/mcp.RA117.000431
Acknowledgements
This research was supported by Grants from the Science and Technology Development Fund (FDCT) of Macao SAR (ref. no. 069/2015/A2 and no. 134/2014/A3) and Research Committee, University of Macau (MYRG2016-00133-ICMS-QRCM, MYRG2015-00182-ICMS-QRCM, and MYRG2016-00129-ICMS-QRCM). In Brazil, research was endorsed by the Brazilian National Council for Scientific and Technological Development (CNPq), the Ministry of Science, Technology, Innovation and Communication (MCTI-C).
Ethics declarations
Conflict of interest
The authors declare no conflict of interest.
Additional information
Publisher's Note
Springer Nature remains neutral with regard to jurisdictional claims in published maps and institutional affiliations.
Electronic supplementary material
Below is the link to the electronic supplementary material.
Supplementary material 1 (DOCX 1804 kb)
Supplementary material 2 (DOCX 14 kb)
About this article
Cite this article
Liao, Q., Gong, G., Poon, T.C.W. et al. Combined transcriptomic and proteomic analysis reveals a diversity of venom-related and toxin-like peptides expressed in the mat anemone Zoanthus natalensis (Cnidaria, Hexacorallia). Arch Toxicol 93, 1745–1767 (2019). https://doi.org/10.1007/s00204-019-02456-z
Received:

Accepted:

Published:

Issue Date:
Keywords
Cnidaria

Zoantharian

Transcriptomic

Proteomic

Venom-derived peptide

Neuroprotection