Abstract
The characteristics of wildland fire smoke exposures which initiate or exacerbate cardiopulmonary conditions are unclear. We previously reported that, on a mass basis, lung toxicity associated with particulate matter (PM) from flaming smoke aspirated into mouse lungs is greater than smoldering PM. In this study, we developed a computer-controlled inhalation system which can precisely control complex biomass smoke emissions from different combustion conditions. This system was used to examine the toxicity of inhaled biomass smoke from peat, eucalyptus, and oak fuels generated under smoldering and flaming phases with emissions set to the same approximate concentration of carbon monoxide (CO) for each exposure (60–110 ppm), resulting in PM levels of ~ 4 mg/m3 for flaming and ~ 40 mg/m3 for smoldering conditions. Mice were exposed by inhalation 1 h/day for 2 days, and assessed for lung toxicity at 4 and 24 h after the final exposure. Peat (flaming and smoldering) and eucalyptus (smoldering) smoke elicited significant inflammation (neutrophil influx) in mouse lungs at 4 h with the peat (flaming) smoke causing even greater lung inflammation at 24-h post-exposure. A significant alteration in ventilatory timing was also observed in mice exposed to the peat (flaming) and eucalyptus (flaming and smoldering) smoke immediately after each day of exposure. No responses were seen for exposures to similar concentrations of flaming or smoldering oak smoke. The lung toxicity potencies (neutrophil influx per PM mass) agreed well between the inhalation and previously reported aspiration studies, demonstrating that although flaming smoke contains much less PM mass than smoldering smoke, it is more toxic on a mass basis than smoldering smoke exposure, and that fuel type is also a controlling factor.
Access options
Buy single article
Instant access to the full article PDF.
USD 39.95
Price excludes VAT (USA)
Tax calculation will be finalised during checkout.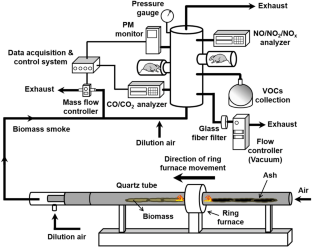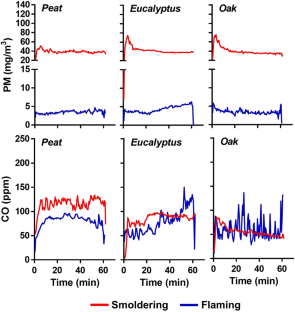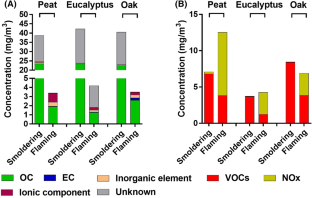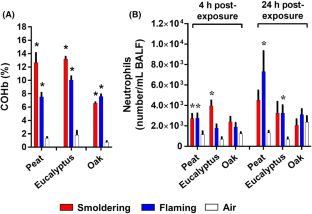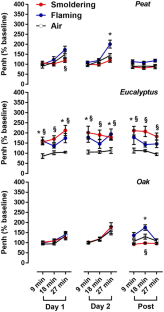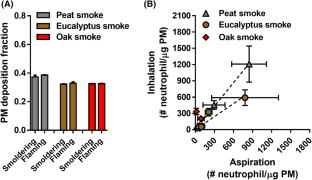 References
Adler A, Cieslewicz G, Irvin CG (2004) Unrestrained plethysmography is an unreliable measure of airway responsiveness in BALB/c and C57BL/6 mice. J Appl Physiol 97:286–292. https://doi.org/10.1152/japplphysiol.00821.2003

Asgharian B et al (2014) Computational modeling of nanoscale and microscale particle deposition, retention and dosimetry in the mouse respiratory tract. Inhal Toxicol 26:829–842. https://doi.org/10.3109/08958378.2014.935535

ATSDR (2012) Toxicological profile for carbon monoxide. U.S. Department of Health and Human Services, Agency for Toxic Substances and Disease Registry, Atlanta

Bates JH, Irvin CG (2003) Measuring lung function in mice: the phenotyping uncertainty principle. J Appl Physiol 94:1297–1306. https://doi.org/10.1152/japplphysiol.00706.2002

Canova C et al (2010) Carbon monoxide pollution is associated with decreased lung function in asthmatic adults. Eur Respir J 35:266–272. https://doi.org/10.1183/09031936.00043709

Cascio WE (2018) Wildland fire smoke and human health. Sci Total Environ 624:586–595. https://doi.org/10.1016/j.scitotenv.2017.12.086

de Hennezel L, Debarre S, Ramisse F, Delamanche S, Harf A, Alonso JM, Calvet JH (2001) Plethysmography for the assessment of pneumococcal pneumonia and passive immunotherapy in a mouse model. Eur Respir J 17:94–99

Dolinay T, Szilasi M, Liu M, Choi AM (2004) Inhaled carbon monoxide confers antiinflammatory effects against ventilator-induced lung injury. Am J Respir Crit Care Med 170:613–620. https://doi.org/10.1164/rccm.200401-023OC

Dowell AR, Kilburn KH, Pratt PC (1971) Short-term exposure to nitrogen dioxide. Effects on pulmonary ultrastructure, compliance, and the surfactant system. Arch Intern Med 128:74–80

Driscoll KE, Costa DL, Hatch G, Henderson R, Oberdorster G, Salem H, Schlesinger RB (2000) Intratracheal instillation as an exposure technique for the evaluation of respiratory tract toxicity: uses and limitations. Toxicol Sci 55:24–35

Foresti R, Bani-Hani MG, Motterlini R (2008) Use of carbon monoxide as a therapeutic agent: promises and challenges. Intensive Care Med 34:649–658. https://doi.org/10.1007/s00134-008-1011-1

Foster WM, Walters DM, Longphre M, Macri K, Miller LM (2001) Methodology for the measurement of mucociliary function in the mouse by scintigraphy. J Appl Physiol 90:1111–1117. https://doi.org/10.1152/jappl.2001.90.3.1111

Frey AK et al (2009) Chemical composition and mass size distribution of fine particulate matter emitted by a small masonry heater. Boreal Env Res 14:255–271

George IJ, Hays MD, Snow R, Faircloth J, George BJ, Long T, Baldauf RW (2014) Cold temperature and biodiesel fuel effects on speciated emissions of volatile organic compounds from diesel trucks. Environ Sci Technol 48:14782–14789. https://doi.org/10.1021/es502949a

George IJ, Black RR, Geron CD, Aurell J, Hays MD, Preston WT, Gullett BK (2016) Volatile and semivolatile organic compounds in laboratory peat fire emissions. Atmos Environ 132:163–170. https://doi.org/10.1016/j.atmosenv.2016.02.025

Gibbs-Flournoy EA et al (2018) Differential exposure and acute health impacts of inhaled solid-fuel emissions from rudimentary and advanced cookstoves in female CD-1 mice. Environ Res 161:35–48. https://doi.org/10.1016/j.envres.2017.10.043

Goebel U et al (2008) Carbon monoxide inhalation reduces pulmonary inflammatory response during cardiopulmonary bypass in pigs. Anesthesiology 108:1025–1036. https://doi.org/10.1097/ALN.0b013e3181733115

Greenberg JP, Friedli H, Guenther AB, Hanson D, Harley P, Karl T (2006) Volatile organic emissions from the distillation and pyrolysis of vegetation. Atmos Chem Phys 6:81–91. https://doi.org/10.5194/acp-6-81-2006

Hoymann HG (2012) Lung function measurements in rodents in safety pharmacology studies. Front Pharmacol 3:156. https://doi.org/10.3389/fphar.2012.00156

Jaffe DA, Wigder NL (2012) Ozone production from wildfires: a critical review. Atmos Environ 51:1–10. https://doi.org/10.1016/j.atmosenv.2011.11.063

Kim YH et al (2018) Mutagenicity and lung toxicity of smoldering vs flaming emissions from various biomass fuels: implications for health effects from wildland fires. Environ Health Perspect 126:017011. https://doi.org/10.1289/ehp2200

Kleeman MJ, Schauer JJ, Cass GR (1999) Size and composition distribution of fine particulate matter emitted from wood burning, meat charbroiling, and cigarettes. Environ Sci Technol 33:3516–3523

Lacaux JP, Delmas R, Jambert C, Kuhlbusch TAJ (1996) NOx emissions from African savanna fires. J Geophys Res 101:23585–23595. https://doi.org/10.1029/96JD01624

Lam CW, James JT, McCluskey R, Hunter RL (2004) Pulmonary toxicity of single-wall carbon nanotubes in mice 7 and 90 days after intratracheal instillation. Toxicol Sci 77:126–134. https://doi.org/10.1093/toxsci/kfg243

Lim R et al (2014) Measuring respiratory function in mice using unrestrained whole-body plethysmography. J Vis Exp. https://doi.org/10.3791/51755

Liu JC, Pereira G, Uhl SA, Bravo MA, Bell ML (2015) A systematic review of the physical health impacts from non-occupational exposure to wildfire smoke. Environ Res 136:120–132. https://doi.org/10.1016/j.envres.2014.10.015

NRC (1998) Acute toxicity of nitrogen dioxide. In: Assessment of exposure-response functions for rocket-emission toxicants. National Academy Press, Washington, D.C.

Osier M, Oberdorster G (1997) Intratracheal inhalation vs intratracheal instillation: differences in particle effects. Fundam Appl Toxicol 40:220–227

Otterbein LE et al (2000) Carbon monoxide has anti-inflammatory effects involving the mitogen-activated protein kinase pathway. Nat Med 6:422–428. https://doi.org/10.1038/74680

Rau JA (1989) Composition and size distribution of residential wood smoke particles. Aerosol Sci Technol 10:181–192. https://doi.org/10.1080/02786828908959233

Reid JS, Hobbs PV (1998) Physical and optical properties of young smoke from individual biomass fires in Brazil. J Geophys Res Atmos 103:32013–32030. https://doi.org/10.1029/98JD00159

Reid CE, Brauer M, Johnston FH, Jerrett M, Balmes JR, Elliott CT (2016) Critical review of health impacts of wildfire smoke exposure. Environ Health Perspect 124:1334–1343. https://doi.org/10.1289/ehp.1409277

Rose JJ, Wang L, Xu Q, McTiernan CF, Shiva S, Tejero J, Gladwin MT (2017) Carbon monoxide poisoning: pathogenesis, management, and future directions of therapy. Am J Respir Crit Care Med 195:596–606. https://doi.org/10.1164/rccm.201606-1275ci

Sallsten G et al (2006) Experimental wood smoke exposure in humans. Inhal Toxicol 18:855–864. https://doi.org/10.1080/08958370600822391

Tesfaigzi Y et al (2002) Health effects of subchronic exposure to low levels of wood smoke in rats. Toxicol Sci 65:115–125

Thomas HV, Mueller PK, Wright R (1967) Response of rat lung mast cells to nitrogen dioxide inhalation. J Air Pollut Control Assoc 17:33–35. https://doi.org/10.1080/00022470.1967.10468939

Urbanski S (2014) Wildland fire emissions, carbon, and climate: emission factors. For Ecol Manage 317:51–60. https://doi.org/10.1016/j.foreco.2013.05.045

Vaickus LJ, Bouchard J, Kim J, Natarajan S, Remick DG (2010) Assessing pulmonary pathology by detailed examination of respiratory function. Am J Pathol 177:1861–1869. https://doi.org/10.2353/ajpath.2010.100053

Vanoirbeek JA et al (2010) Noninvasive and invasive pulmonary function in mouse models of obstructive and restrictive respiratory diseases. Am J Respir Cell Mol Biol 42:96–104. https://doi.org/10.1165/rcmb.2008-0487OC

Ward DE, Hardy CC (1991) Smoke emissions from wildland fires. Environ Int 17:117–134. https://doi.org/10.1016/0160-4120(91)90095-8

WHO (2000) Carbon monoxide, vol. European Series, No. 91, 2nd edn. WHO Regional Publications, Geneva

Wilson MR, O'Dea KP, Dorr AD, Yamamoto H, Goddard ME, Takata M (2010) Efficacy and safety of inhaled carbon monoxide during pulmonary inflammation in mice. PLoS One 5:e11565. https://doi.org/10.1371/journal.pone.0011565

Wong BA (2007) Inhalation exposure systems: design, methods and operation. Toxicol Pathol 35:3–14. https://doi.org/10.1080/01926230601060017

Youssouf H et al (2014) Non-accidental health impacts of wildfire smoke. Int J Environ Res Public Health 11:11772–11804. https://doi.org/10.3390/ijerph111111772
Acknowledgements
The authors would like to thank Wanda Williams, Rachel Grindstaff, and Judy Richards for technical assistance in toxicological analyses; Dr. Kasey Kovalcik for technical assistance in PM chemical analyses; and Drs. Aimen Farraj and Barbara Buckley for their careful review of this manuscript. This study was supported by the Joint Fire Science Program Project (14-1-04-16) and was performed, while Dr. Yong Ho Kim held a National Research Council Senior Research Associateship Award at the U.S. Environmental Protection Agency. Additional support was provided by the intramural research program of the Office of Research and Development, U.S. Environmental Protection Agency, Research Triangle Park, NC. The research described in this manuscript has been reviewed by the National Health and Environmental Effects Research Laboratory, U.S. Environmental Protection Agency, and approved for publication. Approval does not signify that contents necessarily reflect the views and policies of the Agency, nor does the mention of trade names or commercial products constitute endorsement or recommendation for use.
Ethics declarations
Conflict of interest
The authors declare that they have no competing financial interests.
Additional information
Publisher's Note
Springer Nature remains neutral with regard to jurisdictional claims in published maps and institutional affiliations.
Electronic supplementary material
Below is the link to the electronic supplementary material.
About this article
Cite this article
Kim, Y.H., King, C., Krantz, T. et al. The role of fuel type and combustion phase on the toxicity of biomass smoke following inhalation exposure in mice. Arch Toxicol 93, 1501–1513 (2019). https://doi.org/10.1007/s00204-019-02450-5
Received:

Accepted:

Published:

Issue Date:

DOI: https://doi.org/10.1007/s00204-019-02450-5
Keywords