Abstract
Several ATP-binding cassette (ABC) proteins reduce intracellular concentrations of antitumor drugs and hence weaken the response of cancer cells to chemotherapy. Accordingly, the inhibition of these export pumps constitutes a promising strategy to chemosensitize highly chemoresistant tumors, such as hepatocellular carcinoma (HCC). Here, we have investigated the ability of β-caryophyllene oxide (CRYO), a naturally occurring sesquiterpene component of many essential oils, to inhibit, at non-toxic doses, ABC pumps and improve the response of HCC cells to sorafenib. First, we have obtained a clonal subline (Alexander/R) derived from human hepatoma cells with enhanced multidrug resistance (MDR) associated to up-regulation (mRNA and protein) of MRP1 and MRP2. Analysis of fluorescent substrates export (flow cytometry) revealed that CRYO did not affect the efflux of fluorescein (MRP3, MRP4 and MRP5) but inhibited that of rhodamine 123 (MDR1) and calcein (MRP1 and MRP2). This ability was higher for CRYO than for other sesquiterpenes assayed. CRYO also inhibited sorafenib efflux, increased its intracellular accumulation (HPLC–MS/MS) and enhanced its cytotoxic response (MTT). For comparison, the effect of known ABC pumps inhibitors was also determined. They induced strong (diclofenac on MRPs), modest (verapamil on MDR1) or null (fumitremorgin C on BCRP) effect on sorafenib efflux and cytotoxicity. In the mouse xenograft model, the response to sorafenib treatment of subcutaneous tumors generated by mouse hepatoma Hepa 1–6/R cells, with marked MDR phenotype, was significantly enhanced by CRYO co-administration. In conclusion, at non-toxic dose, CRYO is able to chemosensitizating liver cancer cells to sorafenib by favoring its intracellular accumulation.
Access options
Buy single article
Instant access to the full article PDF.
USD 39.95
Price includes VAT (USA)
Tax calculation will be finalised during checkout.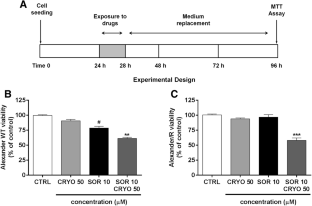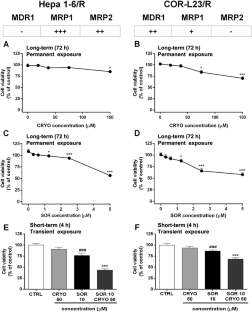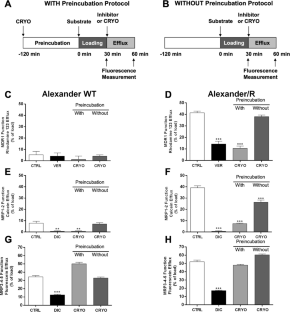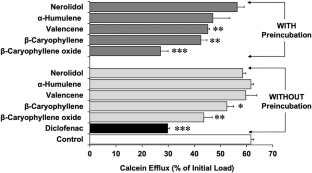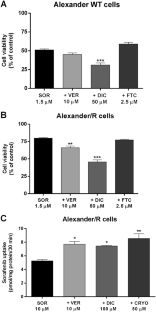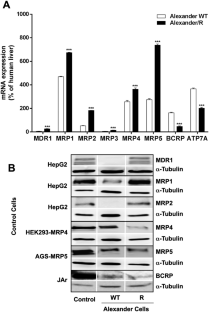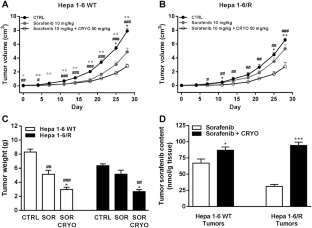 References
Ambroz M, Bousova I, Skarka A et al (2015) The influence of sesquiterpenes from Myrica rubra on the antiproliferative and pro-oxidative effects of doxorubicin and its accumulation in cancer cells. Molecules 20(8):15343–15358. https://doi.org/10.3390/molecules200815343

Briz O, Serrano MA, Macias RI, Marin JJ (2000) Overcoming cisplatin resistance in vitro by a free and liposome-encapsulated bile acid derivative: BAMET-R2. Int J Cancer 88(2):287–292

Briz O, Macias RI, Vallejo M, Silva A, Serrano MA, Marin JJ (2003) Usefulness of liposomes loaded with cytostatic bile acid derivatives to circumvent chemotherapy resistance of enterohepatic tumors. Mol Pharmacol 63(3):742–750

Brozik A, Hegedus C, Erdei Z et al (2011) Tyrosine kinase inhibitors as modulators of ATP binding cassette multidrug transporters: substrates, chemosensitizers or inducers of acquired multidrug resistance? Expert Opin Drug Metab Toxicol 7(5):623–642. https://doi.org/10.1517/17425255.2011.562892

Chen J, Jin R, Zhao J et al (2015) Potential molecular, cellular and microenvironmental mechanism of sorafenib resistance in hepatocellular carcinoma. Cancer Lett 367(1):1–11. https://doi.org/10.1016/j.canlet.2015.06.019

Chen W, Xiao W, Zhang K et al (2016) Activation of c-Jun predicts a poor response to sorafenib in hepatocellular carcinoma: preliminary clinical evidence. Sci Rep 6:22976. https://doi.org/10.1038/srep22976

Choi CH (2005) ABC transporters as multidrug resistance mechanisms and the development of chemosensitizers for their reversal. Cancer Cell Int 5:30. https://doi.org/10.1186/1475-2867-5-30

de Oliveira CC, de Oliveira CV, Grigoletto J et al (2016) Anticonvulsant activity of beta-caryophyllene against pentylenetetrazol-induced seizures. Epilepsy Behav 56:26–31. https://doi.org/10.1016/j.yebeh.2015.12.040

de Souza GA, da Silva NC, de Souza J et al (2017) In vitro and in vivo antimalarial potential of oleoresin obtained from Copaifera reticulata Ducke (Fabaceae) in the Brazilian Amazon rainforest. Phytomedicine 24:111–118. https://doi.org/10.1016/j.phymed.2016.11.021

Di Sotto A, Maffei F, Hrelia P, Castelli F, Sarpietro MG, Mazzanti G (2013) Genotoxicity assessment of beta-caryophyllene oxide. Regul Toxicol Pharmacol 66(3):264–268. https://doi.org/10.1016/j.yrtph.2013.04.006

Di Giacomo S, Mazzanti G, Di Sotto A (2016) Mutagenicity of cigarette butt waste in the bacterial reverse mutation assay: the protective effects of beta-caryophyllene and beta-caryophyllene oxide. Environ Toxicol 31(11):1319–1328. https://doi.org/10.1002/tox.22136

Di Giacomo S, Di Sotto A, Mazzanti G, Wink M (2017) Chemosensitizing properties of beta-caryophyllene and beta-caryophyllene oxide in combination with doxorubicin in human cancer cells. Anticancer Res 37(3):1191–1196. https://doi.org/10.21873/anticanres.11433

Di Giacomo S, Abete L, Cocchiola R, Mazzanti G, Eufemi M, Di Sotto A (2018) Caryophyllane sesquiterpenes inhibit DNA-damage by tobacco smoke in bacterial and mammalian cells. Food Chem Toxicol 111:393–404. https://doi.org/10.1016/j.fct.2017.11.018

Gillet JP, Gottesman MM (2010) Mechanisms of multidrug resistance in cancer. Methods Mol Biol 596:47–76. https://doi.org/10.1007/978-1-60761-416-6_4

Hanusova V, Caltova K, Svobodova H et al (2017) The effects of beta-caryophyllene oxide and trans-nerolidol on the efficacy of doxorubicin in breast cancer cells and breast tumor-bearing mice. Biomed Pharmacother 95:828–836. https://doi.org/10.1016/j.biopha.2017.09.008

Herraez E, Gonzalez-Sanchez E, Vaquero J et al (2012) Cisplatin-induced chemoresistance in colon cancer cells involves FXR-dependent and FXR-independent up-regulation of ABC proteins. Mol Pharm 9(9):2565–2576. https://doi.org/10.1021/mp300178a

Herraez E, Lozano E, Macias RI et al (2013) Expression of SLC22A1 variants may affect the response of hepatocellular carcinoma and cholangiocarcinoma to sorafenib. Hepatology 58(3):1065–1073. https://doi.org/10.1002/hep.26425

Ishida T (2005) Biotransformation of terpenoids by mammals, microorganisms, and plant-cultured cells. Chem Biodivers 2(5):569–590. https://doi.org/10.1002/cbdv.200590038

Kaneda N, Pezzuto JM, Kinghorn AD et al (1992) Plant anticancer agents, L. cytotoxic triterpenes from Sandoricum koetjape stems. J Nat Prod 55(5):654–659

Kato A, Miyazaki M, Ambiru S et al (2001) Multidrug resistance gene (MDR-1) expression as a useful prognostic factor in patients with human hepatocellular carcinoma after surgical resection. J Surg Oncol 78(2):110–115

Kim C, Cho SK, Kim KD et al (2014) Beta-caryophyllene oxide potentiates TNFalpha-induced apoptosis and inhibits invasion through down-modulation of NF-kappaB-regulated gene products. Apoptosis 19(4):708–718. https://doi.org/10.1007/s10495-013-0957-9

Korita PV, Wakai T, Shirai Y et al (2010) Multidrug resistance-associated protein 2 determines the efficacy of cisplatin in patients with hepatocellular carcinoma. Oncol Rep 23(4):965–972

Kubo I, Chaudhuri SK, Kubo Y et al (1996) Cytotoxic and antioxidative sesquiterpenoids from Heterotheca inuloides. Planta Med 62(5):427–430. https://doi.org/10.1055/s-2006-957932

Lee JS, Chu IS, Heo J et al (2004) Classification and prediction of survival in hepatocellular carcinoma by gene expression profiling. Hepatology 40(3):667–676. https://doi.org/10.1002/hep.20375

Legault J, Dahl W, Debiton E, Pichette A, Madelmont JC (2003) Antitumor activity of balsam fir oil: production of reactive oxygen species induced by alpha-humulene as possible mechanism of action. Planta Med 69(5):402–407. https://doi.org/10.1055/s-2003-39695

Li J, Kumar P, Anreddy N et al (2017) Quizartinib (AC220) reverses ABCG2-mediated multidrug resistance: in vitro and in vivo studies. Oncotarget 8(55):93785–93799. https://doi.org/10.18632/oncotarget.21078

Llovet JM, Hernandez-Gea V (2014) Hepatocellular carcinoma: reasons for phase III failure and novel perspectives on trial design. Clin Cancer Res 20(8):2072–2079. https://doi.org/10.1158/1078-0432.CCR-13-0547

Llovet JM, Ricci S, Mazzaferro V et al (2008) Sorafenib in advanced hepatocellular carcinoma. N Engl J Med 359(4):378–390. https://doi.org/10.1056/NEJMoa0708857

Lozano E, Monte MJ, Briz O et al (2015) Enhanced antitumour drug delivery to cholangiocarcinoma through the apical sodium-dependent bile acid transporter (ASBT). J Control Release 216:93–102. https://doi.org/10.1016/j.jconrel.2015.08.022

Marin JJG, Briz O, Herraez E et al (2018a) Molecular bases of the poor response of liver cancer to chemotherapy. Clin Res Hepatol Gastroenterol 42(3):182–192. https://doi.org/10.1016/j.clinre.2017.12.006

Marin JJG, Lozano E, Herraez E et al (2018b) Chemoresistance and chemosensitization in cholangiocarcinoma. Biochim Biophys Acta 1864(4 Pt B):1444–1453 https://doi.org/10.1016/j.bbadis.2017.06.005

Markwell MA, Haas SM, Bieber LL, Tolbert NE (1978) A modification of the Lowry procedure to simplify protein determination in membrane and lipoprotein samples. Anal Biochem 87(1):206–210

Munoz-Martinez F, Lu P, Cortes-Selva F et al (2004) Celastraceae sesquiterpenes as a new class of modulators that bind specifically to human P-glycoprotein and reverse cellular multidrug resistance. Cancer Res 64(19):7130–7138. https://doi.org/10.1158/0008-5472.CAN-04-1005

Oliveira-Tintino CDM, Pessoa RT, Fernandes MNM et al (2018) Anti-inflammatory and anti-edematogenic action of the Croton campestris A. St.-Hil (Euphorbiaceae) essential oil and the compound beta-caryophyllene in in vivo models. Phytomedicine 41:82–95. https://doi.org/10.1016/j.phymed.2018.02.004

Park KR, Nam D, Yun HM et al (2011) Beta-caryophyllene oxide inhibits growth and induces apoptosis through the suppression of PI3K/AKT/mTOR/S6K1 pathways and ROS-mediated MAPKs activation. Cancer Lett 312(2):178–188. https://doi.org/10.1016/j.canlet.2011.08.001

Rinninella E, Cerrito L, Spinelli I et al (2017) Chemotherapy for hepatocellular carcinoma: current evidence and future perspectives. J Clin Transl Hepatol 5(3):235–248. https://doi.org/10.14218/JCTH.2017.00002

Sibanda S, Chigwada G, Poole M et al (2004) Composition and bioactivity of the leaf essential oil of Heteropyxis dehniae from Zimbabwe. J Ethnopharmacol 92(1):107–111. https://doi.org/10.1016/j.jep.2004.02.010

Sikkema J, de Bont JA, Poolman B (1994) Interactions of cyclic hydrocarbons with biological membranes. J Biol Chem 269(11):8022–8028

Sun Z, Zhao Z, Li G et al (2010) Relevance of two genes in the multidrug resistance of hepatocellular carcinoma: in vivo and clinical studies. Tumori 96(1):90–96

Tomonari T, Takeishi S, Taniguchi T et al (2016) MRP3 as a novel resistance factor for sorafenib in hepatocellular carcinoma. Oncotarget 7(6):7207–7215. https://doi.org/10.18632/oncotarget.6889

Vander Borght S, Komuta M, Libbrecht L et al (2008) Expression of multidrug resistance-associated protein 1 in hepatocellular carcinoma is associated with a more aggressive tumour phenotype and may reflect a progenitor cell origin. Liver Int 28(10):1370–1380. https://doi.org/10.1111/j.1478-3231.2008.01889.x

Velaei K, Samadi N, Soltani S, Barazvan B, Soleimani Rad J (2017) NFkappaBP65 transcription factor modulates resistance to doxorubicin through ABC transporters in breast cancer. Breast Cancer 24(4):552–561. https://doi.org/10.1007/s12282-016-0738-8

Wagner H (2011) Synergy research: approaching a new generation of phytopharmaceuticals. Fitoterapia 82(1):34–37. https://doi.org/10.1016/j.fitote.2010.11.016

Wakamatsu T, Nakahashi Y, Hachimine D, Seki T, Okazaki K (2007) The combination of glycyrrhizin and lamivudine can reverse the cisplatin resistance in hepatocellular carcinoma cells through inhibition of multidrug resistance-associated proteins. Int J Oncol 31(6):1465–1472

Wang Q, Zhong YJ, Yuan JP et al (2013) Targeting therapy of hepatocellular carcinoma with doxorubicin prodrug PDOX increases anti-metastatic effect and reduces toxicity: a preclinical study. J Transl Med 11:192. https://doi.org/10.1186/1479-5876-11-192

Wang H, Qian Z, Zhao H et al (2015) CSN5 silencing reverses sorafenib resistance of human hepatocellular carcinoma HepG2 cells. Mol Med Rep 12(3):3902–3908. https://doi.org/10.3892/mmr.2015.3871

Wang H, Jia XH, Chen JR et al (2016) HOXB4 knockdown reverses multidrug resistance of human myelogenous leukemia K562/ADM cells by downregulating P-gp, MRP1 and BCRP expression via PI3K/Akt signaling pathway. Int J Oncol 49(6):2529–2537. https://doi.org/10.3892/ijo.2016.3738

Wink M (2008) Evolutionary advantage and molecular modes of action of multi-component mixtures used in phytomedicine. Curr Drug Metab 9(10):996–1009

Wink M, Ashour ML, El-Readi MZ (2012) Secondary metabolites from plants inhibiting ABC transporters and reversing resistance of cancer cells and microbes to cytotoxic and antimicrobial agents. Front Microbiol 3:130. https://doi.org/10.3389/fmicb.2012.00130

Zhu M, Li W, Lu Y et al (2016) Alpha fetoprotein antagonizes apoptosis induced by paclitaxel in hepatoma cells in vitro. Sci Rep 6:26472. https://doi.org/10.1038/srep26472
Acknowledgements
This study was supported by the CIBERehd (EHD15PI05/2016) and Fondo de Investigaciones Sanitarias, Instituto de Salud Carlos III, Spain (PI16/00598, co-funded by European Regional Development Fund/European Social Fund, "Investing in your future"); Spanish Ministry of Economy, Industry and Competitiveness (SAF2016-75197-R); Junta de Castilla y Leon (SA063P17); Fundación Mutua Madrileña, Spain (Call 2015); Fundación Samuel Solórzano Barruso, Spain (FS/7-2016, FS/8-2017 and FS/13-2017); AECC Scientific Foundation (2017/2020), Spain. S. Di Giacomo and A. Di Sotto were supported by the "Enrico and Enrica Sovena" Foundation (Italy); S. Di Giacomo was also financed by the Italian Society of Pharmacology (SIF).
Ethics declarations
Conflict of interest
The authors declare that there is no conflict of interest.
Ethical approval
All applicable international, national, and/or institutional guidelines for the care and use of animals were followed. All procedures performed in studies involving animals were in accordance with the ethical standards of the institution or practice at which the studies were conducted.
Additional information
Publisher's Note
Springer Nature remains neutral with regard to jurisdictional claims in published maps and institutional affiliations.
Electronic supplementary material
Below is the link to the electronic supplementary material.
About this article
Cite this article
Di Giacomo, S., Briz, O., Monte, M.J. et al. Chemosensitization of hepatocellular carcinoma cells to sorafenib by β-caryophyllene oxide-induced inhibition of ABC export pumps. Arch Toxicol 93, 623–634 (2019). https://doi.org/10.1007/s00204-019-02395-9
Received:

Accepted:

Published:

Issue Date:
Keywords
Chemotherapy

Liver cancer

Multidrug resistance

Sesquiterpenes

Tyrosine kinase inhibitor