Abstract
1,2,4-Benzenetriol (BT) is one of the phenolic metabolites of benzene, a general occupational hazard and ubiquitous environmental air pollutant with leukemogenic potential in humans. Previous studies have revealed that the benzene metabolites phenol and hydroquinone can inhibit hemin-induced erythroid differentiation in K562 cells. We investigated the roles of DNA methylation and histone acetylation in BT-inhibited erythroid differentiation in K562 cells. When K562 cells were treated with 0, 5, 10, 15 or 20 µM BT for 72 h, hemin-induced hemoglobin synthesis decreased in a concentration-dependent manner. Both 5-aza-2′-deoxycytidine (5-aza-CdR, DNA methyltransferase inhibitor) and trichostatin A (TSA, histone deacetylases inhibitor) could prevent 20 µM BT from inhibiting hemin-induced hemoglobin synthesis and the mRNA expression of erythroid genes. Exposure to BT changed DNA methylation levels at several CpG sites of erythroid-specific genes, as well as the acetylation of histone H3 and H4, chromatin occupancy of GATA-1 and recruitment of RNA polymerase II at α-globin and β-globin gene clusters after hemin induction. These results demonstrated that BT could inhibit hemin-induced erythroid differentiation, where DNA methylation and histone acetylation also played important roles by down-regulating erythroid-specific genes. This partly explained the mechanisms of benzene hematotoxicity.
Access options
Buy single article
Instant access to the full article PDF.
USD 39.95
Price includes VAT (USA)
Tax calculation will be finalised during checkout.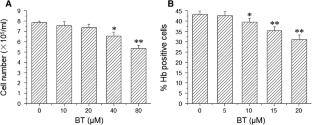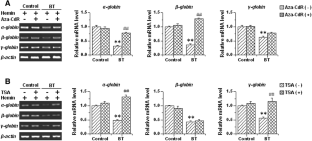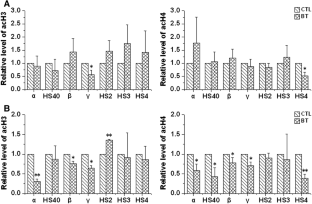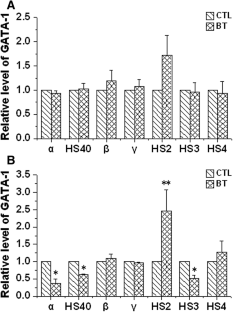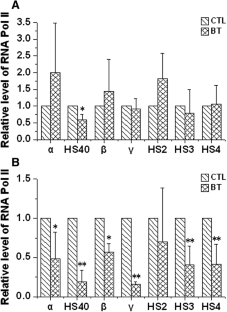 References
Adelman K, Lis JT (2012) Promoter-proximal pausing of RNA polymerase II: emerging roles in metazoans. Nat Rev Genet 13:720–731

Aksoy M (1989) Hematotoxicity and carcinogenicity of benzene. Environ Health Perspect 82:193–197

Baylin SB, Jones PA (2011) A decade of explorin the cancer epigenome-biological and translational implications. Nat Rev Cancer 11:726–734

Bird AP, Taggart MH, Nicholls RD, Higgs DR (1987) Non-methylated CpG-rich islands at the human alpha-globin locus: implications for evolution of the alpha-globin pseudogene. EMBO J 6:999–1004

Bresnick EH, Katsumura KR, Lee HY, Johnson KD, Perkins AS (2012) Master regulatory GATA transcription factors: mechanistic principles and emerging links to hematologic malignancies. Nucleic Acids Res 40:5819–5831

Cho Y, Song SH, Lee JJ, Choi N, Kim CG, Dean A et al (2008) The role of transcriptional activator GATA-1 at human beta-globin HS2. Nucleic Acids Res 36:4521–4528

Chung HW, Kang SJ, Kim SY (2002) A combination of the micronucleus assay and a FISH technique for evaluation of the genotoxicity of 1,2,4-benzenetriol. Mutat Res 516:49–56

Di Croce L (2002) Methyltransferase recruitment and DNA hypermethylation of target promoters by an oncogenic transcription factor. Science 295:1079–1082

Ehrich M, Nelson MR, Stanssens P, Zabeau M, Liloglou T, Xinarianos G et al (2005) Quantitative high-throughput analysis of DNA methylation patterns by base-specific cleavage and mass spectrometry. Proc Natl Acad Sci USA 102:15785–15790

Fathallah H, Weinberg RS, Galperin Y, Sutton M, Atweh GF (2007) Role of epigenetic modifications in normal globin gene regulation and butyrate-mediated induction of fetal hemoglobin. Blood 110:3391–3397

Fathallah H, Portnoy G, Atweh GF (2008) Epigenetic analysis of the human alpha- and beta-globin gene clusters. Blood Cells Mol Dis 40:166–173

Figueroa ME, Skrabanek L, Li Y, Jiemjit A, Fandy TE, Paietta E et al (2009) MDS and secondary AML display unique patterns and abundance of aberrant DNA methylation MDS and secondary AML display unique patterns and abundance of aberrant DNA methylation. Blood 114:3448–3458

Frantz CE, Chen H, Eastmond DA (1996) Inhibition of human topoisomerase II in vitro by bioactive benzene metabolites. Environ Health Perspect 104:1319–1323

Harju S, McQueen KJ, Peterson KR (2002) Chromatin structure and control of beta-like globin gene switching. Exp Biol Med (Maywood) 227:683–700

Herman JG, Umar A, Polyak K, Graff JR, Ahuja N, Issa JP et al (1998) Incidence and functional consequences of hMLH1 promoter hypermethylation in colorectal carcinoma. Proc Natl Acad Sci USA 95:6870–6875

Higgs DR, Wood WG, Jarman AP, Sharpe J, Lida J, Pretorius IM et al (1990) A major positive regulatory region located far upstream of the human α-globin gene locus. Genes Dev 4:1588–1601

Hiramoto K, Kida T, Kikugawa K (2002) Increased urinary hydrogen peroxide levels caused by coffee drinking. Biol Pharm Bull 25:1467–1471

Huff J (2007) Benzene-induced cancers: abridged history and occupational health impact. Int J Occup Environ Health 13:213–221

Ikonomi P, Noguchi CT, Miller W, Kassahun H, Hardison R, Schechter AN (2000) Levels of GATA-1/GATA-2 transcription factors modulate expression of embryonic and fetal hemoglobins. Gene 261:277–287

Inoue O, Seiji K, Nakatsuka H, Watanabe T, Yin S, Li GL et al (1989) Excretion of 1,2,4-benzenetriol in the urine of workers exposed to benzene. Br J Ind Med 46:559–565

Jaenisch R (1997) DNA methylation and imprinting. Why bother? Trends Genet 13:323–329

Jarman AP, Wood WG, Sharpe JA, Gourdon G, Ayyub H, Higgs DR (1991) Characterization of the major regulatory element upstream of the human alpha-globin gene cluster. Mol Cell Biol 11:4679–4689

Jones PA, Baylin SB (2007) The epigenomics of cancer. Cell 128:683–692

Kawanishi S, Inoue S, Kawanishi M (1989) Human DNA damage induced by 1,2,4-benzenetriol, a benzene metabolite. Cancer Res 49:164–168

Kelly TK, De Carvalho DD, Jones PA (2012) Epigenetic modifications as therapeutic targets. Nat Biotechnol 28:1069–1078

Kim CG, Swendeman SL, Barnhart KM, Sheffery M (1990) Promoter elements and erythroid cell nuclear factors that regulate alpha-globin gene transcription in vitro. Mol Cell Biol 10:5958–5966

Kolachana P, Subrahmanyam VV, Meyer KB, Zhang L, Smith MT (1993) Benzene and its phenolic metabolites produce oxidative DNA damage in HL60 cells in vitro and in the bone marrow in vivo. Cancer Res 53:1023–1026

Lathrop MJ, Hsu M, Richardson CA, Olivier EN, Qiu C, Bouhassira EE et al (2009) Developmentally regulated extended domains of DNA hypomethylation encompass highly transcribed genes of the human beta-globin locus. Exp Hematol 37:807–813

Lewis JG, Stewart W, Adams DO (1988) Role of oxygen radicals in induction of DNA damage by metabolites of benzene. Cancer Res 48:4762–4765

Li XF, Wu XR, Xue M, Wang Y, Wang J, Li Y et al (2012) The role of DNA methylation in catechol-enhanced erythroid differentiation of K562 cells. Toxicol Appl Pharmacol 265:43–50

Li Y, Wu XR, Li XF, Suriguga ZJ, Yu CH, Li YR et al (2013) Changes in DNA methylation of erythroid-specific genes in K562 cells exposed to phenol and hydroquinone. Toxicology 312:108–114

Liew CK, Simpson RJY, Kwan AHY, Crofts LA, Loughlin FE, Matthews JM et al (2005) Zinc fingers as protein recognition motifs: structural basis for the GATA-1/friend of GATA interaction. Proc Natl Acad Sci USA 102:583–588

Lozzio CB, Lozzio BB (1975) Human chronic myelogenous leukemia cell-line with positive Philadelphia chromosome. Blood 45(3):321–334

Lyko F, Brown R (2005) DNA methyltransferase inhibitors and the development of epigenetic cancer therapies. J Natl Cancer Inst 97:1498–1506

Mabaera R, Richardson CA, Johnson K, Hsu M, Fiering S, Lowrey CH (2007) Developmental- and differentiation-specific patterns of human gamma- and beta-globin promoter DNA methylation. Blood 110:1343–1352

Marks P, Rifkind RA, Richon VM, Breslow R, Miller T, Kelly WK (2001) Histone deacetylases and cancer: causes and therapies. Nat Rev Cancer 1:194–202

Müller C, Hemmersbach S, van't Slo G, Hofmann T (2006) Synthesis and structure determination of covalent conjugates formed from the sulfury-roastysmelling 2-furfurylthiol and di- or trihydroxybenzenes and their identification in coffee brew. J Agric Food Chem 54:10076–10085

Newton A, Mackay J, Crossley M (2001) The N-terminal zinc finger of the erythroid transcription factor GATA-1 binds GATC motifs in DNA. J Biol Chem 276:35794–35801

Ochiai R, Chikama A, Kataoka K, Tokimitsu I, Maekawa Y, Ohishi M et al (2009) Effects of hydroxyhydroquinone-reduced coffee on vasoreactivity and blood pressure. Hypertens Res 32:969–974

Pastore F, Levine RL (2016) Epigenetic regulators and their impact on therapy in acute myeloid leukemia. Haematologica 101:269–278

Pondel MD, Murphy S, Pearson L, Craddock C, Proudfoot NJ (1995) Sp1 functions in a chromatin-dependent manner to augment human alpha-globin promoter activity. Proc Natl Acad Sci USA 92:7237–7241

Rothman N, Smith MT, Hayes RB, Li GL, Irons RD, Dosemeci M et al (1996) An epidemiologic study of early biologic effects of benzene in Chinese workers. Environ Health Perspect 104:1365–1370

Ruthenburg AJ, Li H, Patel DJ, Allis CD (2015) Multivalent engagement of chromatin modifications by linked binding modules. Nat Rev Mol Cell Biol 8:983–994

Saito Y, Hibino S, Saito H (2014) Alterations of epigenetics and microRNA in hepatocellular carcinoma. Hepatol Res 44:31–42

Schaefer M, Meusburger M, Lyko F (2007) Non-mammalian models for epigenetic analyses in cancer. Hum Mol Genet 16:1–6

Scheidegger A, Nechaev S (2016) RNA polymerase II pausing as a context-dependent reader of the genome. Biochem Cell Biol 94:82–92

Shewchuk BM, Hardison RC (1997) CpG islands from the α-globin gene cluster increase gene expression in an integration-dependent manner. Mol Cell Biol 17:5856–5866

Snyder R, Hedli CC (1996) An overview of benzene metabolism. Environ Health Perspect 104:1165–1171

Soriano AO, Yang H, Faderl S, Estrov Z, Giles F, Ravandi F et al (2007) Safety and clinical activity of the combination of 5-azacytidine, valproic acid, and all-trans retinoic acid in acute myeloid leukemia and myelodysplastic syndrome. Blood 110:2302–2308

Stamatoyannopoulos G (2005) Control of globin gene expression during development and erythroid differentiation. Exp Hematol 33:259–271

Stresemann C, Lyko F (2008) Modes of action of the DNA methyltransferase inhibitors azacytidine and decitabine. Int J Cancer 123:8–13

Struhl K (1998) Histone acetylation and transcriptional regulatory mechanisms. Genes Dev 12:599–606

Tang KY, Yu CH, Jiang L, Gong M, Liu WJ, Wang Y et al (2016) Long-term exposure of K562 cells to benzene metabolites inhibited erythroid differentiation and elevated methylation in erythroid specific genes. Toxicol Res (Camb) 5:1284–1297

Timms JA, Relton CL, Rankin J, Strathdee G, McKay JA (2016) DNA methylation as a potential mediator of environmental risks in the development of childhood acute lymphoblastic leukemia. Epigenomics 8:519–536

Townes TM, Lingrel JB, Chen HY, Brinster RL, Palmiter RD (1985) Erythroid-specific expression of human beta-globin genes in transgenic mice. EMBO J 4:1715–1723

Vogelauer M, Wu J, Suka N, Grunstein M (2000) Global histone acetylation and deacetylation in yeast. Nature 408:495–498

Wang Y, Zhang GY, Han QL, Wang J, Suriguga ZJ, Li Y et al (2014) Phenolic metabolites of benzene induced caspase-dependent cytotoxicities to K562 cells accompanied with decrease in cell surface sialic acids. Environ Toxicol 29:1437–1451

Whysner J, Reddy MV, Ross PM, Mohan M, Lax EA (2004) Genotoxicity of benzene and its metabolites. Mutat Res 566:99–130

Yang H, Hoshino K, Sanchez-Gonzalez B, Kantarjian H, Garcia-Manero G (2005) Antileukemia activity of the combination of 5-aza-2′-deoxycytidine with valproic acid. Leuk Res 29:739–748

Yu CH, Cui NX, Wang Y, Wang Y, Liu WJ, Gong M et al (2017) Changes in DNA methylation of erythroid-specific genes in K562 cells exposed to catechol in long term. Toxicol In Vitro 43:21–28

Zhang C, Zhong JF, Stucky A, Chen X-L, Press MF, Zhang X (2015) Histone acetylation: novel target for the treatment of acute lymphoblastic leukemia. Clin Epigenet 7:117
Acknowledgements
This work was supported by grants from Natural Science Foundation of China (Project nos. 81070091 and 81573192) and the Academic Excellence Foundation of BUAA for Ph.D. Students. We thank Miss Huimeng Wang for linguistic assistance during the preparation of this manuscript.
Ethics declarations
Conflict of interest
The authors declare that there is no conflict of interest.
About this article
Cite this article
Yu, CH., Li, Y., Zhao, X. et al. Benzene metabolite 1,2,4-benzenetriol changes DNA methylation and histone acetylation of erythroid-specific genes in K562 cells. Arch Toxicol 93, 137–147 (2019). https://doi.org/10.1007/s00204-018-2333-6
Received:

Accepted:

Published:

Issue Date:
Keywords
1,2,4-Benzenetriol

Erythroid differentiation

DNA methylation

Histone acetylation