Abstract
Despite the wide consumption of coffee, its anti-inflammatory effect on clinical severity of psoriasis is still debatable. The aim of this study was to evaluate the association between the coffee consumption and clinical severity of psoriasis in a sample of patients stratified according to the presence of the metabolic syndrome (MetS) and smoking. This cross-sectional case–control observational study was conducted on 221 treatment-naïve psoriatic patients. Lifestyle habits, anthropometric measures, clinical and biochemical evaluations were obtained. Clinical severity of psoriasis was assessed by Psoriasis Area and Severity Index (PASI) score. Data on energy caloric intake and coffee consumption were collected using a 7-day food diary record. The coffee consumption was analyzed as coffee intake (consumers and non-consumers) and daily servings (range 0–4 servings/day). Coffee consumers have a lower PASI score vs non-consumers (p < 0.001). The lowest PASI score and MetS prevalence were found in patients consuming 3 cups of coffee/day (p < 0.001), which was also the most common daily serving (34.8%), whereas the highest PASI score was found among those drinking ≥ 4 cups/day. Grouping the case patients according to smoking and MetS, the best odds of PASI score was observed in those drinking 3 cups of coffee per day and no smokers, after adjusting for total energy intake (OR 74.8; p < 0.001). As a novel finding, we reported a negative association between coffee intake, MetS prevalence and clinical severity of psoriasis. The evaluation of the anti-inflammatory effect of coffee on clinical severity of psoriasis, whose metabolic risk increases along with its clinical severity, could be of great importance from a public health perspective.
Access options
Buy single article
Instant access to the full article PDF.
USD 39.95
Price excludes VAT (USA)
Tax calculation will be finalised during checkout.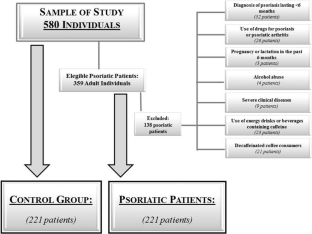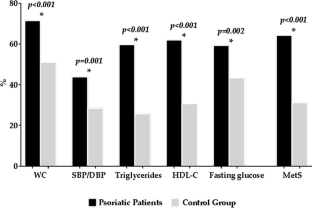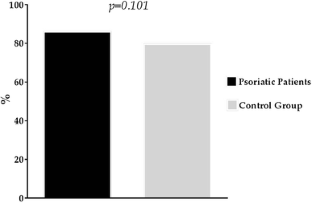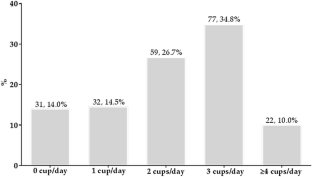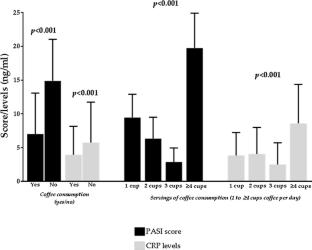 References
Ahdout J, Kotlerman J, Elashoff D, Kim J, Chiu MW (2012) Modifiable lifestyle factors associated with metabolic syndrome in patients with psoriasis. Clin Exp Dermatol 37(5):477–483. https://doi.org/10.1111/j.1365-2230.2012.04360.x

Akash MS, Rehman K, Chen S (2014) Effects of coffee on type 2 diabetes mellitus. Nutrition 30(7–8):755–763. https://doi.org/10.1016/j.nut.2013.11.020

Altieri B, Muscogiuri G, Barrea L, Mathieu C, Vallone CV, Mascitelli L, Bizzaro G, Altieri VM, Tirabassi G, Balercia G, Savastano S, Bizzaro N, Ronchi CL, Colao A, Pontecorvi A, Della Casa S (2017) Does vitamin D play a role in autoimmune endocrine disorders? A proof of concept. Rev Endocr Metab Disord 18(3):335–346. https://doi.org/10.1007/s11154-016-9405-9

Bae JH, Park JH, Im SS, Song DK (2014) Coffee and health. Integr Med Res 3(4):189–191. https://doi.org/10.1016/j.imr.2014.08.002

Balato N, Napolitano M, Ayala F, Patruno C, Megna M, Tarantino G (2015a) Nonalcoholic fatty liver disease, spleen and psoriasis: new aspects of low-grade chronic inflammation. World J Gastroenterol 21(22):6892–6897. https://doi.org/10.3748/wjg.v21.i22.6892

Balato N, Megna M, Palmisano F, Patruno C, Napolitano M, Scalvenzi M, Ayala F (2015b) Psoriasis and sport: a new ally? J Eur Acad Dermatol Venereol 29(3):515–520. https://doi.org/10.1111/jdv.12607

Barrea L, Balato N, Di Somma C, Macchia PE, Napolitano M, Savanelli MC, Esposito K, Colao A, Savastano S (2015a) Nutrition and psoriasis: is there any association between the severity of the disease and adherence to the Mediterranean diet?. J Transl Med 13:18. https://doi.org/10.1186/s12967-014-0372-1

Barrea L, Macchia PE, Tarantino G, Di Somma C, Pane E, Balato N, Napolitano M, Colao A, Savastano S (2015b) Nutrition: a key environmental dietary factor in clinical severity and cardio-metabolic risk in psoriatic male patients evaluated by 7-day food-frequency questionnaire. J Transl Med 13:303. https://doi.org/10.1186/s12967-015-0658-y

Barrea L, Nappi F, Di Somma C, Savanelli MC, Falco A, Balato A, Balato N, Savastano S (2016a) Environmental risk factors in psoriasis: the point of view of the nutritionist. Int J Environ Res Public Health. https://doi.org/10.3390/ijerph13070743

Barrea L, Macchia PE, Di Somma C, Napolitano M, Balato A, Falco A, Savanelli MC, Balato N, Colao A, Savastano S (2016b) Bioelectrical phase angle and psoriasis: a novel association with psoriasis severity, quality of life and metabolic syndrome. J Transl Med 14(1):130. https://doi.org/10.1186/s12967-016-0889-6

Barrea L, Savanelli MC, Di Somma C, Napolitano M, Megna M, Colao A, Savastano S (2017) Vitamin D and its role in psoriasis: an overview of the dermatologist and nutritionist. Rev Endocr Metab Disord 18(2):195–205. https://doi.org/10.1007/s11154-017-9411-6

Baspinar B, Eskici G, Ozcelik AO (2017) How coffee affects metabolic syndrome and its components. Food Funct 8(6):2089–2101. https://doi.org/10.1039/c7fo00388a

Chu YF, Hu K, Hatzold T, Black RM, Chen D (2013) Flaking process increases the NF-κB inhibition activity and melanoidin extractability of coffee. Food Sci Nutr 1(5):363–368. https://doi.org/10.1002/fsn3.19

Corrêa TA, Rogero MM, Mioto BM, Tarasoutchi D, Tuda VL, César LA, Torres EA (2013) Paper-filtered coffee increases cholesterol and inflammation biomarkers independent of roasting degree: a clinical trial. Nutrition 29(7–8):977–981. https://doi.org/10.1016/j.nut.2013.01.003

Duffy DL, Spelman LS, Martin NG (1993) Psoriasis in Australian twins. J Am Acad Dermatol 29(3):428–434

Expert Panel on Detection (2001) Evaluation, and treatment of high blood cholesterol in adults: executive summary of the third report of the national cholesterol education program (NCEP) expert panel on detection, evaluation, and treatment of high blood cholesterol in adults (adult treatment panel III). JAMA 285(19):2486–2497

Festugato M (2011) Pilot study on which foods should be avoided by patients with psoriasis. An Bras Dermatol 86(6):1103–1108

Fleming P, Kraft J, Gulliver WP, Lynde C (2015) The relationship of obesity with the severity of psoriasis: a systematic review. J Cutan Med Surg 19(5):450–456. https://doi.org/10.1177/1203475415586332

Floegel A, Pischon T, Bergmann MM, Teucher B, Kaaks R, Boeing H (2012) Coffee consumption and risk of chronic disease in the European Prospective Investigation into Cancer and Nutrition (EPIC)-Germany study. Am J Clin Nutr 95(4):901–908. https://doi.org/10.3945/ajcn.111.023648

Frediksson T, Pettersson U (1978) Severe psoriasis – oral therapy with a new retinoid. Dermatologica 157:238–244

Freedman ND, Park Y, Abnet CC, Hollenbeck AR, Sinha R (2012) Association of coffee drinking with total and cause-specific mortality. N Engl J Med 366(20):1891–1904. https://doi.org/10.1056/NEJMoa1112010

Ganzetti G, Campanati A, Molinelli E, Offidani A (2016) Psoriasis, non-alcoholic fatty liver disease, and cardiovascular disease: Three different diseases on a unique background. World J Cardiol 8(2):120–131. https://doi.org/10.4330/wjc.v8.i2.120

Gisondi P, Galvan A, Idolazzi L, Girolomoni G (2015) Management of moderate to severe psoriasis in patients with metabolic comorbidities. Front Med (Lausanne) 2:1. https://doi.org/10.3389/fmed.2015.00001

Gökcen BB, Şanlier N (2017) Coffee consumption and disease correlations. Crit Rev Food Sci Nutr. https://doi.org/10.1080/10408398.2017.1369391

Goulet J, Nadeau G, Lapointe A, Lamarche B, Lemieux S (2004) Validity and reproducibility of an interviewer-administered food frequency questionnaire for healthy French-Canadian men and women. Nutr J 3:13. https://doi.org/10.1186/1475-2891-3-13

Grosso G, Godos J, Galvano F, Giovannucci EL (2017) Coffee, caffeine, and health outcomes: an umbrella review. Annu Rev Nutr 37:131–156. https://doi.org/10.1146/annurev-nutr-071816-064941

Guida B, Napoleone A, Trio R, Nastasi A, Balato N, Laccetti R, Cataldi M (2014) Energy-restricted, n-3 polyunsaturated fatty acids-rich diet improves the clinical response to immuno-modulating drugs in obese patients with plaque-type psoriasis: a randomized control clinical trial. Clin Nutr 33(3):399–405. https://doi.org/10.1016/j.clnu.2013.09.010

Hall S, Desbrow B, Anoopkumar-Dukie S, Davey AK, Arora D, McDermott C, Schubert MM, Perkins AV, Kiefel MJ, Grant GD (2015) A review of the bioactivity of coffee, caffeine and key coffee constituents on inflammatory responses linked to depression. Food Res Int 76(Pt 3):626–636. https://doi.org/10.1016/j.foodres.2015.07.027

Hewlett P, Smith A (2006) Correlates of daily caffeine consumption. Appetite 46(1):97–99. https://doi.org/10.1016/j.appet.2005.10.004

Hoidrup S, Andreasen AH, Osler M, Pedersen AN, Jorgensen LM, Jorgensen T, Schroll M, Heitmann BL (2002) Assessment of habitual energy and macronutrient intake in adults: comparison of a seven day food record with a dietary history interview. Eur J Clin Nutr 56(2):105–113. https://doi.org/10.1038/sj.ejcn.1601292

International Coffee Council (2017). Trends in Coffee Consumption in Selected Importing Countries. http://www.ico.org/documents/icc-109-8e-trends-consumption.pdf. Accessed 13 Dec 2017

Khan FA, Maalik A, Murtaza G (2016) Inhibitory mechanism against oxidative stress of caffeic acid. J Food Drug Anal 24(4):695–702. https://doi.org/10.1016/j.jfda.2016.05.003

Kim CR, Lee JH (2013) An observational study on the obesity and metabolic status of psoriasis patients. Ann Dermatol 25(4):440–444. https://doi.org/10.5021/ad.2013.25.4.440

Lee YH, Song GG (2018) Association between circulating 25-hydroxyvitamin D levels and psoriasis, and correlation with disease severity: a meta-analysis. Clin Exp Dermatol. https://doi.org/10.1111/ced.13381

Li W, Han J, Qureshi AA (2012) No association between coffee and caffeine intake and risk of psoriasis in US women. Arch Dermatol 148(3):395–397. https://doi.org/10.1001/archdermatol.2011.2933

Liu F, Wang X, Wu G, Chen L, Hu P, Ren H, Hu H (2015) Coffee consumption decreases risks for hepatic fibrosis and cirrhosis: a meta-analysis. PLoS One 10(11):e0142457. https://doi.org/10.1371/journal.pone.0142457

Lopez-Garcia E, van Dam RM, Qi L, Hu FB (2006) Coffee consumption and markers of inflammation and endothelial dysfunction in healthy and diabetic women. Am J Clin Nutr 84(4):888–893

Ludwig IA, Clifford MN, Lean ME, Ashihara H, Crozier A (2014) Coffee: biochemistry and potential impact on health. Food Funct 5:1695–1717. https://doi.org/10.1039/c4fo00042k

Madeira MH, Boia R, Ambrósio AF, Santiago AR (2017) Having a coffee break: the impact of caffeine consumption on microglia-mediated inflammation in neurodegenerative diseases. Mediators Inflamm 2017:4761081. https://doi.org/10.1155/2017/4761081

Millsop JW, Bhatia BK, Debbaneh M, Koo J, Liao W (2014) Diet and psoriasis, part III: role of nutritional supplements. J Am Acad Dermatol 71(3):561–569. https://doi.org/10.1016/j.jaad.2014.03.016

Mitchell DC, Hockenberry J, Teplansky R, Hartman TJ (2015) Assessing dietary exposure to caffeine from beverages in the U.S. population using brand-specific versus category-specific caffeine values. Food Chem Toxicol 80:247–252. https://doi.org/10.1016/j.fct.2015.03.024

Montagnana M, Favaloro EJ, Lippi G (2012) Coffee intake and cardiovascular disease: virtue does not take center stage. Semin Thromb Hemost 38(2):164–177. https://doi.org/10.1055/s-0032-1301414

National Center for Health Statistics (NCHS) (2011) Anthropometry Procedures Manual. National Health and Nutrition Examination Survey (NHANES). https://www.cdc.gov/nchs/data/nhanes/nhanes_11_12/Anthropometry_Procedures_Manual.pdf. Accessed 15 Nov 2017

Rodríguez-Zúñiga MJM, García-Perdomo HA (2017) Systematic review and meta-analysis of the association between psoriasis and metabolic syndrome. J Am Acad Dermatol 77(4):657–666.e8. https://doi.org/10.1016/j.jaad.2017.04.1133

Sääksjärvi K, Knekt P, Männistö S, Heliövaara M (2010) Self-administered questionnaire is a reliable measure of coffee consumption. J Epidemiol 20(5):363–369

Setty AR, Curhan G, Choi HK (2007) Smoking and the risk of psoriasis in women: nurses' health study II. Am J Med 120(11):953–959. https://doi.org/10.1016/j.amjmed.2007.06.020

Shahwan KT, Kimball AB (2015) Psoriasis and cardiovascular disease. Med Clin North Am 99(6):1227–1242. https://doi.org/10.1016/j.mcna.2015.08.001

Sharif K, Watad A, Bragazzi NL, Adawi M, Amital H, Shoenfeld Y (2017) Coffee and autoimmunity: more than a mere hot beverage! Autoimmun Rev 16(7):712–721. https://doi.org/10.1016/j.autrev.2017.05.007

Shin HS, Satsu H, Bae MJ, Totsuka M, Shimizu M (2017) Catechol groups enable reactive oxygen species scavenging-mediated suppression of PKD-NFkappaB-IL-8 signaling pathway by chlorogenic and caffeic acids in human intestinal cells. Nutrients. https://doi.org/10.3390/nu9020165

Spiller MA (1984) The chemical components of coffee. Prog Clin Biol Res 158:91–147

Spuls PI, Lecluse LL, Poulsen ML, Bos JD, Stern RS, Nijsten T (2010) How good are clinical severity and outcome measures for psoriasis?: quantitative evaluation in a systematic review. J Invest Dermatol 130(4):933–943. https://doi.org/10.1038/jid.2009.391

Swanson JA, Lee JW, Hopp JW (1994) Caffeine and nicotine: a review of their joint use and possible interactive effects in tobacco withdrawal. Addict Behav 19(3):229–256

Swanson DL, Barnes SA, Mengden Koon SJ, el-Azhary RA (2007) Caffeine consumption and methotrexate dosing requirement in psoriasis and psoriatic arthritis. Int J Dermatol 46(2):157–159. https://doi.org/10.1111/j.1365-4632.2006.02954.x

Tajik N, Tajik M, Mack I, Enck P (2017) The potential effects of chlorogenic acid, the main phenolic components in coffee, on health: a comprehensive review of the literature. Eur J Nutr. https://doi.org/10.1007/s00394-017-1379-1

Thompson FE, Subar AF (2013) Chap. 1—dietary assessment methodology. In: Ferruzzi AMCJBG (eds) Nutrition in the prevention and treatment of disease, 3rd edn. Academic, London, pp 5–46

Trojacka E, Zaleska M, Galus R (2015) Influence of exogenous and endogenous factors on the course of psoriasis. Pol Merkur Lekarski 38(225):169–173

Vali A, Asilian A, Khalesi E, Khoddami L, Shahtalebi M, Mohammady M (2005) Evaluation of the efficacy of topical caffeine in the treatment of psoriasis vulgaris. J Dermatolog Treat 16(4):234–237. https://doi.org/10.1080/09546630510011801

Voiculescu VM, Lupu M, Papagheorghe L, Giurcaneanu C, Micu E (2014) Psoriasis and metabolic syndrome—scientific evidence and therapeutic implications. J Med Life 7(4):468–471

Ware JJ, Tanner JA, Taylor AE, Bin Z, Haycock P, Bowden J, Rogers PJ, Davey Smith G, Tyndale RF, Munafò MR (2017) Does coffee consumption impact on heaviness of smoking? Addiction 112(10):1842–1853. https://doi.org/10.1111/add.13888

Welch AA, McTaggart A, Mulligan AA, Luben R, Walker N, Khaw KT, Day NE, Bingham SA (2001) DINER (data into nutrients for epidemiological research)—a new data-entry program for nutritional analysis in the EPIC-Norfolk cohort and the 7-day diary method. Public Health Nutr 4(6):1253–1265

Wijarnpreecha K, Thongprayoon C, Ungprasert P (2017) Coffee consumption and risk of nonalcoholic fatty liver disease: a systematic review and meta-analysis. Eur J Gastroenterol Hepatol 29(2):e8-e12. https://doi.org/10.1097/MEG.0000000000000776

Wolters M (2006) The significance of diet and associated factors in psoriasis Hautarzt. 57(11):999–1004. https://doi.org/10.1007/s00105-006-1164-1

World Health Organ Tech Rep Ser (2000) Obesity: preventing and managing the global epidemic. Rep WHO Consult 894:1–253

Zampelas A, Panagiotakos DB, Pitsavos C, Chrysohoou C, Stefanadis C (2004) Associations between coffee consumption and inflammatory markers in healthy persons: the ATTICA study. Am J Clin Nutr 80(4):862–867
Acknowledgements
We would like to thank Dr. Daniela Laudisio for data retrieval.
Funding
This research did not receive any specific grant from funding agencies in the public, commercial, or not-for-profit sectors.
Ethics declarations
Conflict of interest
The authors declare no conflicts of interest.
Electronic supplementary material
Below is the link to the electronic supplementary material.
About this article
Cite this article
Barrea, L., Muscogiuri, G., Di Somma, C. et al. Coffee consumption, metabolic syndrome and clinical severity of psoriasis: good or bad stuff?. Arch Toxicol 92, 1831–1845 (2018). https://doi.org/10.1007/s00204-018-2193-0
Received:

Accepted:

Published:

Issue Date:

DOI: https://doi.org/10.1007/s00204-018-2193-0
Keywords