Abstract
Reconstructed human epidermis (RHE) is used for risk assessment of chemicals and cosmetics and RHE as well as reconstructed human full-thickness skin (RHS) become important for e.g., the pre-clinical development of drugs. Yet, the knowledge regarding their biotransformation capacity is still limited, although the metabolic activity is highly relevant for skin sensitization, genotoxicity, and the efficacy of topical dermatics. The biotransformation of the aromatic amine 2,4-toluenediamine (2,4-TDA) has been compared in two commercially available RHS to normal human skin ex vivo, and in primary epidermal keratinocytes and dermal fibroblasts as well as in vitro generated epidermal Langerhans cells and dermal dendritic cells. The mono N-acetylated derivative N-(3-amino-4-methyl-phenyl)acetamide (M1) was the only metabolite detectable in substantial amounts indicating the predominance of N-acetylation. RHS exceeded human skin ex vivo in N-acetyltransferase activity and in cell cultures metabolite formation ranked as follows: keratinocytes > fibroblasts ~ Langerhans cells ~ dendritic cells. In conclusion, our results underline the principal suitability of RHS as an adequate test matrix for the investigation of N-acetylation of xenobiotics which is most relevant for risk assessment associated with cutaneous exposure to aromatic amines.
Access options
Buy single article
Instant access to the full article PDF.
USD 39.95
Price excludes VAT (USA)
Tax calculation will be finalised during checkout.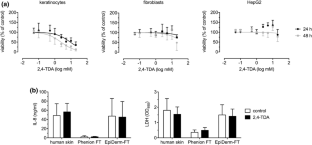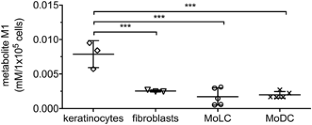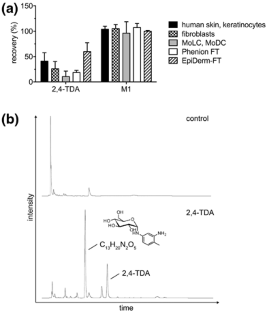 Abbreviations
2,4-TDA:

2,4-Toluenediamine

DMSO:

Dimethylsulfoxide

ESI-TOF:

Electrospray ionization-time of flight

FCS:

Fetal calve serum

HPLC:

High-performance liquid chromatography

IL:

Interleukin

IUPAC:

International Union of Pure and Applied Chemistry

LC-MS:

Liquid chromatography-mass spectrometry

LDH:

Lactate dehydrogenase

M1:

N-(3-Amino-4-methyl-phenyl)acetamide

M2:

N-(5-Amino-2-methylphenyl)acetamide

MoDC:

Monocyte-derived dendritic cells

MoLC:

Monocyte-derived Langerhans cells

MTT:

3-(4,5-Dimethylthiazol-2-yl)-2,5-diphenyltetrazolium bromide

NAT:

N-Acetyltransferase

NMR:

Nuclear magnetic resonance

OD:

Optical density

PBS:

Phosphate buffered saline

PPD:

Para-phenylenediamine

REACh:

Registration, Evaluation, Authorization and Restriction of Chemicals

RHE:

Reconstructed human epidermis

RHS:

Reconstructed human full-thickness skin

SD:

Standard deviation

SDS:

Sodium dodecyl sulfate

TRIS:

Tris(hydroxymethyl)aminomethane

UV:

Ultraviolet light

XME:

Xenobiotic metabolizing enzyme
References
Ackermann K, Borgia SL, Korting HC, Mewes KR, Schäfer-Korting M (2010) The phenion full-thickness skin model for percutaneous absorption testing. Skin Pharmacol Physiol 23(2):105–112. doi:10.1159/000265681

Aeby P, Sieber T, Beck H, Gerberick GF, Goebel C (2009) Skin sensitization to p-phenylenediamine: the diverging roles of oxidation and N-acetylation for dendritic cell activation and the immune response. J Invest Dermatol 129(1):99–109. doi:10.1038/jid.2008.209

Bätz FM, Klipper W, Korting HC et al (2013) Esterase activity in excised and reconstructed human skin–biotransformation of prednicarbate and the model dye fluorescein diacetate. Eur J Pharm Biopharm 84(2):374–385. doi:10.1016/j.ejpb.2012.11.008

Bhaiya P, Roychowdhury S, Vyas PM, Doll MA, Hein DW, Svensson CK (2006) Bioactivation, protein haptenation, and toxicity of sulfamethoxazole and dapsone in normal human dermal fibroblasts. Toxicol Appl Pharmacol 215(2):158–167. doi:10.1016/j.taap.2006.02.006

Bonifas J, Blömeke B (2015) N-acetylation of aromatic amines: Implication for skin and immune cells. Front Biosci (Elite Ed) 7:305–321

Bonifas J, Scheitza S, Clemens J, Blömeke B (2010) Characterization of N-acetyltransferase 1 activity in human keratinocytes and modulation by para-phenylenediamine. J Pharmacol Exp Ther 334(1):318–326. doi:10.1124/jpet.110.167874

Burns LA, Bradley SG, White KL et al (1994) Immunotoxicity of 2,4-diaminotoluene in female B6C3F1 mice. Drug Chem Toxicol 17(3):401–436. doi:10.3109/01480549409017865

Campling BG, Pym J, Galbraith PR, Cole SP (1988) Use of the MTT assay for rapid determination of chemosensitivity of human leukemic blast cells. Leuk Res 12(10):823–831

Cheung YL, Snelling J, Mohammed NN, Gray TJ, Ioannides C (1996) Interaction with the aromatic hydrocarbon receptor, CYP1A induction, and mutagenicity of a series of diaminotoluenes: implications for their carcinogenicity. Toxicol Appl Pharmacol 139(1):203–211. doi:10.1006/taap.1996.0159

Cunningham ML, Matthews HB (1990) Evidence for an acetoxyarylamine as the ultimate mutagenic reactive intermediate of the carcinogenic aromatic amine 2,4-diaminotoluene. Mutat Res 242(2):101–110

Dierolf D, Scheitza S, Bonifas J, Blömeke B (2012) Cyanamide-mediated Inhibition of N-acetyltransferase 1. Toxicology 302(1):1–10. doi:10.1016/j.tox.2012.06.019

Do N, Weindl G, Grohmann L et al (2014) Cationic membrane-active peptides—anticancer and antifungal activity as well as penetration into human skin. Exp Dermatol 23(5):326–331. doi:10.1111/exd.12384

Eilstein J, Lereaux G, Budimir N, Hussler G, Wilkinson S, Duché D (2014) Comparison of xenobiotic metabolizing enzyme activities in ex vivo human skin and reconstructed human skin models from SkinEthic. Arch Toxicol 88(9):1681–1694. doi:10.1007/s00204-014-1218-6

Furlong BB, Weaver RP, Goldstein JA (1987) Covalent binding to DNA and mutagenicity of 2,4-diaminotoluene metabolites produced by isolated hepatocytes and 9000 g supernatant from Fischer 344 rats. Carcinogenesis 8(2):247–251

Glinsukon T, Benjamin T, Grantham PH, Weisburger EK, Roller PP (1975) Enzymic N-acetylation of 2,4-toluenediamine by liver cytosols from various species. Xenobiotica 5(8):475–483. doi:10.3109/00498257509056118

Goebel C, Hewitt NJ, Kunze G et al (2009) Skin metabolism of aminophenols: human keratinocytes as a suitable in vitro model to qualitatively predict the dermal transformation of 4-amino-2-hydroxytoluene in vivo. Toxicol Appl Pharmacol 235(1):114–123. doi:10.1016/j.taap.2008.11.014

Goebel C, Troutman J, Hennen J et al (2014) Introduction of a methoxymethyl side chain into p-phenylenediamine attenuates its sensitizing potency and reduces the risk of allergy induction. Toxicol Appl Pharmacol 274(3):480–487. doi:10.1016/j.taap.2013.11.016

Götz C, Pfeiffer R, Tigges J et al (2012) Xenobiotic metabolism capacities of human skin in comparison with a 3D epidermis model and keratinocyte-based cell culture as in vitro alternatives for chemical testing: activating enzymes (Phase I). Exp Dermatol 21(5):358–363. doi:10.1111/j.1600-0625.2012.01486.x

Grantham PH, Mohan L, Benjamin T, Roller PP, Miller JR, Weisburger EK (1979) Comparison of the metabolism of 2,4-toluenediamine in rats and mice. J Environ Pathol Toxicol 3(1–2):149–166

Gysler A, Lange K, Korting HC, Schäfer-Korting M (1997) Prednicarbate biotransformation in human foreskin keratinocytes and fibroblasts. Pharm Res 14(6):793–797

Hein DW, Doll MA, Rustan TD et al (1993) Metabolic activation and deactivation of arylamine carcinogens by recombinant human NAT1 and polymorphic NAT2 acetyltransferases. Carcinogenesis 14(8):1633–1638

Hewitt NJ, Edwards RJ, Fritsche E et al (2013) Use of human in vitro skin models for accurate and ethical risk assessment: metabolic considerations. Toxicol Sci 133(2):209–217. doi:10.1093/toxsci/kft080

Ito N, Hiasa Y, Konishi Y, Marugami M (1969) The development of carcinoma in liver of rats treated with m-toluylenediamine and the synergistic and antagonistic effects with other chemicals. Cancer Res 29(5):1137–1145

Jäckh C, Blatz V, Fabian E et al (2011) Characterization of enzyme activities of Cytochrome P450 enzymes, Flavin-dependent monooxygenases, N-acetyltransferases and UDP-glucuronyltransferases in human reconstructed epidermis and full-thickness skin models. Toxicol In Vitro 25(6):1209–1214. doi:10.1016/j.tiv.2011.03.012

Jäckh C, Fabian E, van Ravenzwaay B, Landsiedel R (2012) Relevance of xenobiotic enzymes in human skin in vitro models to activate pro-sensitizers. J Immunotoxicol 9(4):426–438. doi:10.3109/1547691X.2012.664578

Jondeau A, Dahbi L, Bani-Estivals MH, Chagnon MC (2006) Evaluation of the sensitivity of three sublethal cytotoxicity assays in human HepG2 cell line using water contaminants. Toxicology 226(2–3):218–228. doi:10.1016/j.tox.2006.07.007

Kirkland D, Kasper P, Müller L, Corvi R, Speit G (2008) Recommended lists of genotoxic and non-genotoxic chemicals for assessment of the performance of new or improved genotoxicity tests: a follow-up to an ECVAM workshop. Mutat Res 653(1–2):99–108. doi:10.1016/j.mrgentox.2008.03.008

Lichter J, Heckelen A, Fischer K, Blömeke B (2008) Expression of N-acetyltransferase in monocyte-derived dendritic cells. J Toxicol Environ Health A 71(13–14):960–964. doi:10.1080/15287390801989135

Lotte C, Patouillet C, Zanini M, Messager A, Roguet R (2002) Permeation and skin absorption: reproducibility of various industrial reconstructed human skin models. Skin Pharmacol Appl Skin Physiol 15 (Suppl 1):18–30

Luu-The V, Duché D, Ferraris C, Meunier JR, Leclaire J, Labrie F (2009) Expression profiles of phases 1 and 2 metabolizing enzymes in human skin and the reconstructed skin models Episkin and full thickness model from Episkin. J Steroid Biochem Mol Biol 116(3–5):178–186. doi:10.1016/j.jsbmb.2009.05.011

Marzulli FN, Anjo DM, Maibach HI (1981) In vivo skin penetration studies of 2,4-toluenediamine, 2,4-diaminoanisole, 2-nitro-p-phenylenediamine, p-dioxane and N-nitrosodiethanolamine in cosmetics. Food Cosmet Toxicol 19(6):743–747

Modi BG, Neustadter J, Binda E et al (2012) Langerhans cells facilitate epithelial DNA damage and squamous cell carcinoma. Science 335(6064):104–108. doi:10.1126/science.1211600

Nohynek GJ, Duché D, Garrigues A, Meunier PA, Toutain H, Leclaire J (2005) Under the skin: biotransformation of para-aminophenol and para-phenylenediamine in reconstructed human epidermis and human hepatocytes. Toxicol Lett 158(3):196–212. doi:10.1016/j.toxlet.2005.03.014

Oesch F, Fabian E, Guth K, Landsiedel R (2014) Xenobiotic-metabolizing enzymes in the skin of rat, mouse, pig, guinea pig, man, and in human skin models. Arch Toxicol 88(12):2135–2190. doi:10.1007/s00204-014-1382-8

Pot LM, Scheitza SM, Coenraads PJ, Blömeke B (2013) Penetration and haptenation of p-phenylenediamine. Contact Dermat 68(4):193–207. doi:10.1111/cod.12032

Reus AA, Reisinger K, Downs TR et al (2013) Comet assay in reconstructed 3D human epidermal skin models–investigation of intra- and inter-laboratory reproducibility with coded chemicals. Mutagenesis 28(6):709–720. doi:10.1093/mutage/get051

Said A, Bock S, Lajqi T, Müller G, Weindl G (2014) Chloroquine promotes IL-17 production by CD4 + T cells via p38-dependent IL-23 release by monocyte-derived Langerhans-like cells. J Immunol 193(12):6135–6143. doi:10.4049/jimmunol.1303276

Said A, Bock S, Müller G, Weindl G (2015) Inflammatory conditions distinctively alter immunological functions of Langerhans-like cells and dendritic cells in vitro. Immunology 144(2):218–230. doi:10.1111/imm.12363

Schäfer-Korting M, Bock U, Diembeck W et al (2008) The use of reconstructed human epidermis for skin absorption testing: results of the validation study. Altern Lab Anim 36(2):161–187

Schmook FP, Meingassner JG, Billich A (2001) Comparison of human skin or epidermis models with human and animal skin in in-vitro percutaneous absorption. Int J Pharm 215(1–2):51–56

Severin I, Jondeau A, Dahbi L, Chagnon MC (2005) 2,4-Diaminotoluene (2,4-DAT)-induced DNA damage, DNA repair and micronucleus formation in the human hepatoma cell line HepG2. Toxicology 213(1–2):138–146. doi:10.1016/j.tox.2005.05.021

Sharma AM, Uetrecht J (2013) Bioactivation of drugs in the skin: relationship to cutaneous adverse drug reactions. Drug Metab Rev. doi:10.3109/03602532.2013.848214

Timchalk C, Smith FA, Bartels MJ (1994) Route-dependent comparative metabolism of [14C]toluene 2,4-diisocyanate and [14C]toluene 2,4-diamine in Fischer 344 rats. Toxicol Appl Pharmacol 124(2):181–190. doi:10.1006/taap.1994.1022

Vanoirbeek JA, De Vooght V, Synhaeve N, Nemery B, Hoet PH (2009) Is toluene diamine a sensitizer and is there cross-reactivity between toluene diamine and toluene diisocyanate? Toxicol Sci 109(2):256–264. doi:10.1093/toxsci/kfp065

Wagner H, Kostka KH, Lehr CM, Schaefer UF (2001) Interrelation of permeation and penetration parameters obtained from in vitro experiments with human skin and skin equivalents. J Control Release 75(3):283–295

Waring RH, Pheasant AE (1976) Some phenolic metabolites of 2, 4-diaminotoluene in the rabbit, rat and guinea-pig. Xenobiotica 6(4):257–262. doi:10.3109/00498257609151635

Weindl G, Castello F, Schäfer-Korting M (2011) Evaluation of anti-inflammatory and atrophogenic effects of glucocorticoids on reconstructed human skin. Altern Lab Anim 39(2):173–187

Zeller A, Pfuhler S (2014) N-acetylation of three aromatic amine hair dye precursor molecules eliminates their genotoxic potential. Mutagenesis 29(1):37–48. doi:10.1093/mutage/get053
Acknowledgements
This work was part of a joint project pre-validating RHS for comet assay and its financial support by the German Federal Ministry for Education and Research (project no. 0316008B) is gratefully acknowledged. We thank Dr Maria Parr for critical discussion and Ruth Hesse, Gerrit Müller, and the NMR core facility of the Freie Universität Berlin for excellent technical support.
Ethics declarations
Conflict of interest
The authors declare that they have no conflict of interest.
Electronic supplementary material
Below is the link to the electronic supplementary material.
About this article
Cite this article
Grohmann, L., Becker, D., Rademann, J. et al. Biotransformation of 2,4-toluenediamine in human skin and reconstructed tissues. Arch Toxicol 91, 3307–3316 (2017). https://doi.org/10.1007/s00204-017-1954-5
Received:

Accepted:

Published:

Issue Date:

DOI: https://doi.org/10.1007/s00204-017-1954-5
Keywords