Abstract
One of the most commonly used chemotherapeutics, platinum drugs are used to treat a wide range of cancer types. Although many cancers initially respond well to those drugs, drug resistance occurs frequently and different molecular mechanisms have been associated with it. However, predictive biomarkers of cellular response in specific tumour types still do not exist. Epithelial–mesenchymal transition (EMT) is a malignant cancer phenotype characterized by aggressive invasion and metastasis, and resistance to apoptosis. Recent studies indicate that EMT accompanies the development of drug resistance to a number of cancer chemotherapies. The link between these two phenomena is still not elucidated, although several important molecules involved in both these complex processes, such as transcription factors (SNAIL, TWIST, ZEB, etc.) and miRNAs (miRNA-200 family, miR-15, miR-186, etc.) have been recognized as important. This article reviews numerous unresolved issues regarding platinum drugs resistance and EMT, the complexity of the signalling networks that regulate those two phenomena and their importance in tumour response and spreading which are becoming focuses of interest of many scientists. This article also presents molecules involved in platinum resistance and EMT as possible targets for new cancer therapy.
Access options
Buy single article
Instant access to the full article PDF.
US$ 39.95
Tax calculation will be finalised during checkout.
Subscribe to journal
Immediate online access to all issues from 2019. Subscription will auto renew annually.
US$ 119
Tax calculation will be finalised during checkout.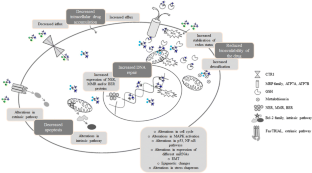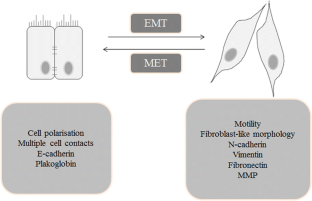 Abbreviations
AKT:

Protein kinase B

ATP7A and ATP7B:

Copper-transporting P-type ATPase 7A and 7B

BAK:

BCL-2 homologous antagonist/killer

BAX:

BCL-2-like protein 4

BCL-2:

B-cell lymphoma 2

BMP:

Bone morphogenetic protein

cMOAT:

Canalicular multispecific organic anion transporter 1

CTR1:

Copper transporter

DYRK2:

Dual specificity tyrosine phosphorylation regulated kinase 2

EGF:

Epidermal growth factor

EMT:

Epithelial–mesenchymal transition

FAS:

Death receptor

FGF:

Fibroblast growth factors

FOX:

Forkhead box

GSH:

Glutathione

HGF:

Hepatocyte growth factor

IAP:

Inhibitor of apoptosis

ILK:

Integrin-linked kinase

JNK:

c-Jun N-terminal kinase

MAPK:

Mitogen-activated protein kinases

MDR1/P-gp:

Multidrug-resistant protein 1/P-glycoprotein

MET:

Mesenchymal–epithelial transition

MET proto-oncogene:

Receptor tyrosine kinase

miRNA:

Micro-RNA

miR:

Micro-RNA

MMP2:

Matrix metalloproteinase-2

MMP3:

Matrix metalloproteinase-3

MMP9:

Matrix metalloproteinase-9

NF-κB:

Nuclear factor κ-light-chain-enhancer of activated B cells

p21:

Cyclin-dependent kinase inhibitor 1

p53:

Tumour protein 53

p63:

Tumour protein 63

PEBP4:

Phosphatidylethanolamine binding protein 4

PI3-K:

Phosphatidylinositol-4,5-bisphosphate 3-kinase

PKB:

Serine/threonine protein kinase B

PTEN:

Phosphatase and tensin homolog

RKIP:

Raf kinase inhibitor protein

RNAi:

RNA interference

ROS:

Reactive oxygen species

SMAD:

SMAD protein

Snail1 and 2:

Zinc finger protein Snail1 and 2

SOX:

SRY-related HMG-box

STAT3:

Signal-transducer-and-activator-of-transcription 3

TGFβ:

Transforming growth factor β

TWIST1 and 2:

TWIST-related protein 1 and 2

ZEB1 and 2:

Zinc finger E-box-binding homeobox 1 and 2
References
Arumugam T, Ramachandran V, Fournier KF et al (2009) Epithelial to mesenchymal transition contributes to drug resistance in pancreatic cancer. Cancer Res 69(14):5820–5828. doi:10.1158/0008-5472.CAN-08-2819

Banyard J, Bielenberg DR (2015) The role of EMT and MET in cancer dissemination. Connect Tissue Res 56(5):403–413. doi:10.3109/03008207.2015.1060970

Baribeau S, Chaudhry P, Parent S, Asselin E (2014) Resveratrol inhibits cisplatin-induced epithelial-to-mesenchymal transition in ovarian cancer cell lines. PLoS ONE 9(1):e86987. doi:10.1371/journal.pone.0086987

Bieller A, Pasche B, Frank S et al (2001) Isolation and characterization of the human forkhead gene FOXQ1. DNA Cell Biol 20(9):555–561. doi:10.1089/104454901317094963

Boulikas T, Vougiouka M (2003) Cisplatin and platinum drugs at the molecular level (review). Oncol Rep 10(6):1663–1682

Brozovic A, Osmak M (2007) Activation of mitogen-activated protein kinases by cisplatin and their role in cisplatin-resistance. Cancer Lett 251(1):1–16

Brozovic A, Fritz G, Christmann M et al (2004) Long-term activation of SAPK/JNK, p38 kinase and fas-L expression by cisplatin is attenuated in human carcinoma cells that acquired drug resistance. Int J Cancer 112(6):974–985

Brozovic A, Majhen D, Roje V et al (2008) Alpha(v)beta(3) integrin-mediated drug resistance in human laryngeal carcinoma cells is caused by glutathione-dependent elimination of drug-induced reactive oxidative species. Mol Pharmacol 74(1):298–306

Brozovic A, Damrot J, Tsaryk R et al (2009) Cisplatin sensitivity is related to late DNA damage processing and checkpoint control rather than to the early DNA damage response. Mutat Res 670(1–2):32–41

Brozovic A, Ambriovic-Ristov A, Osmak M (2010) The relationship between cisplatin-induced reactive oxygen species, glutathione, and BCL-2 and resistance to cisplatin. Crit Rev Toxicol 40(4):347–359

Brozovic A, Duran GE, Wang YC, Francisco EB, Sikic BI (2015) The miR-200 family differentially regulates sensitivity to paclitaxel and carboplatin in human ovarian carcinoma OVCAR-3 and MES-OV cells. Mol Oncol 9(8):1678–1693. doi:10.1016/j.molonc.2015.04.015

Ceppi P, Mudduluru G, Kumarswamy R et al (2010) Loss of miR-200c expression induces an aggressive, invasive, and chemoresistant phenotype in non-small cell lung cancer. Mol Cancer Res 9:1207–1216. doi:10.1158/1541-7786.MCR-10-0052

Chen Y, Ke G, Han D, Liang S, Yang G, Wu X (2014) MicroRNA-181a enhances the chemoresistance of human cervical squamous cell carcinoma to cisplatin by targeting PRKCD. Exp Cell Res 320(1):12–20. doi:10.1016/j.yexcr.2013.10.014

Chen QY, Jiao DM, Wang J et al (2016) miR-206 regulates cisplatin resistance and EMT in human lung adenocarcinoma cells partly by targeting MET. Oncotarget 7(17):24510–24526. doi:10.18632/oncotarget.8229

Chiu WT, Huang YF, Tsai HY et al (2015) FOXM1 confers to epithelial–mesenchymal transition, stemness and chemoresistance in epithelial ovarian carcinoma cells. Oncotarget 6(4):2349–2365. doi:10.18632/oncotarget.2957

Chowanadisai W, Messerli SM, Miller DH et al (2016) Cisplatin resistant spheroids model clinically relevant survival mechanisms in ovarian tumors. PLoS ONE 11(3):e0151089. doi:10.1371/journal.pone.0151089

Dasari S, Tchounwou PB (2014) Cisplatin in cancer therapy: molecular mechanisms of action. Eur J Pharmacol 740:364–378

Demirkan B (2013) The roles of epithelial-to-mesenchymal transition (EMT) and mesenchymal-to-epithelial transition (MET) in breast cancer bone metastasis: potential targets for prevention and treatment. J Clin Med 2(4):264–282. doi:10.3390/jcm2040264

Diessner J, Bruttel V, Stein RG et al (2014) Targeting of preexisting and induced breast cancer stem cells with trastuzumab and trastuzumab emtansine (T-DM1). Cell Death Dis 5:e1149. doi:10.1038/cddis.2014.115

Dmitriev OY (2011) Mechanism of tumor resistance to cisplatin mediated by the copper transporter ATP7B. Biochem Cell Biol 89(2):138–147. doi:10.1139/o10-150

Dwivedi SK, Mustafi SB, Mangala LS et al (2016) Therapeutic evaluation of microRNA-15a and microRNA-16 in ovarian cancer. Oncotarget 7(12):15093–15104. doi:10.18632/oncotarget.7618

Fabregat I, Malfettone A, Soukupova J (2016) New insights into the crossroads between EMT and stemness in the context of cancer. J Clin Med. doi:10.3390/jcm5030037

Feng J, Xu L, Ni S et al (2014) Involvement of FoxQ1 in NSCLC through regulating EMT and increasing chemosensitivity. Oncotarget 5(20):9689–9702. doi:10.18632/oncotarget.2103

Ferlay J, Soerjomataram I, Dikshit R et al (2015) Cancer incidence and mortality worldwide: sources, methods and major patterns in GLOBOCAN 2012. Int J Cancer 136(5):E359–E386. doi:10.1002/ijc.29210

Fischer KR, Durrans A, Lee S et al (2015) Epithelial-to-mesenchymal transition is not required for lung metastasis but contributes to chemoresistance. Nature 527(7579):472–476. doi:10.1038/nature15748

Fitchett JE, Hay ED (1989) Medial edge epithelium transforms to mesenchyme after embryonic palatal shelves fuse. Dev Biol 131(2):455–474

Freeman CL, Harding JH, Quigley D, Rodger PM (2010) Structural control of crystal nuclei by an eggshell protein. Angew Chem Int Ed Engl 49(30):5135–5137. doi:10.1002/anie.201000679

Fuertes MA, Castilla J, Alonso C, Perez JM (2003) Cisplatin biochemical mechanism of action: from cytotoxicity to induction of cell death through interconnections between apoptotic and necrotic pathways. Curr Med Chem 10(3):257–266

Galluzzi L, Senovilla L, Vitale I et al (2012) Molecular mechanisms of cisplatin resistance. Oncogene 31(15):1869–1883

Gasparotto D, Polesel J, Marzotto A et al (2011) Overexpression of TWIST2 correlates with poor prognosis in head and neck squamous cell carcinomas. Oncotarget 2(12):1165–1175. doi:10.18632/oncotarget.390

Gebeshuber CA, Zatloukal K, Martinez J (2009) miR-29a suppresses tristetraprolin, which is a regulator of epithelial polarity and metastasis. EMBO Rep 10(4):400–405. doi:10.1038/embor.2009.9

Gibalova L, Seres M, Rusnak A et al (2012) P-glycoprotein depresses cisplatin sensitivity in L1210 cells by inhibiting cisplatin-induced caspase-3 activation. Toxicol In Vitro 26(3):435–444. doi:10.1016/j.tiv.2012.01.014

Gregory PA, Bert AG, Paterson EL et al (2008) The miR-200 family and miR-205 regulate epithelial to mesenchymal transition by targeting ZEB1 and SIP1. Nat Cell Biol 10(5):593–601. doi:10.1038/ncb1722

Guadamillas MC, Cerezo A, Del Pozo MA (2011) Overcoming anoikis–pathways to anchorage-independent growth in cancer. J Cell Sci 124(Pt 19):3189–3197. doi:10.1242/jcs.072165

Han M, Liu M, Wang Y et al (2012a) Antagonism of miR-21 reverses epithelial–mesenchymal transition and cancer stem cell phenotype through AKT/ERK1/2 inactivation by targeting PTEN. PLoS ONE 7(6):e39520. doi:10.1371/journal.pone.0039520

Han M, Wang Y, Liu M et al (2012b) MiR-21 regulates epithelial–mesenchymal transition phenotype and hypoxia-inducible factor-1α expression in third-sphere forming breast cancer stem cell-like cells. Cancer Sci 103(6):1058–1064. doi:10.1111/j.1349-7006.2012.02281.x

Hannan R, Tumati V, Xie XJ et al (2016) Stereotactic body radiation therapy for low and intermediate risk prostate cancer-Results from a multi-institutional clinical trial. Eur J Cancer 59:142–151. doi:10.1016/j.ejca.2016.02.014

Haslehurst AM, Koti M, Dharsee M et al (2012) EMT transcription factors snail and slug directly contribute to cisplatin resistance in ovarian cancer. BMC Cancer 12:91

Hay ED (1995) An overview of epithelio-mesenchymal transformation. Acta Anat 154(1):8–20

Heldin CH, Vanlandewijck M, Moustakas A (2012) Regulation of EMT by TGFbeta in cancer. FEBS Lett 586(14):1959–1970. doi:10.1016/j.febslet.2012.02.037

Hohn A, Kruger K, Skowron MA et al (2016) Distinct mechanisms contribute to acquired cisplatin resistance of urothelial carcinoma cells. Oncotarget. doi:10.18632/oncotarget.9321

Hsu DS, Lan HY, Huang CH et al (2010) Regulation of excision repair cross-complementation group 1 by Snail contributes to cisplatin resistance in head and neck cancer. Clin Cancer Res 16(18):4561–4571. doi:10.1158/1078-0432.CCR-10-0593

Humphries B, Yang C (2015) The microRNA-200 family: small molecules with novel roles in cancer development, progression and therapy. Oncotarget 6(9):6472–6498. doi:10.18632/oncotarget.3052

Jiang J, Tang YL, Liang XH (2011) EMT: a new vision of hypoxia promoting cancer progression. Cancer Biol Ther 11(8):714–723

Jiang X, Wang J, Zhang K, Tang S, Ren C, Chen Y (2015) The role of CD29-ILK-Akt signaling-mediated epithelial–mesenchymal transition of liver epithelial cells and chemoresistance and radioresistance in hepatocellular carcinoma cells. Med Oncol 32(5):141. doi:10.1007/s12032-015-0595-x

Kalluri R, Weinberg RA (2009) The basics of epithelial–mesenchymal transition. J Clin Invest 119(6):1420–1428. doi:10.1172/JCI39104

Kaneda H, Arao T, Tanaka K et al (2010) FOXQ1 is overexpressed in colorectal cancer and enhances tumorigenicity and tumor growth. Cancer Res 70(5):2053–2063

Khan MA, Chen HC, Zhang D, Fu J (2013) Twist: a molecular target in cancer therapeutics. Tumour Biol 34(5):2497–2506. doi:10.1007/s13277-013-1002-x

Koberle B, Tomicic MT, Usanova S, Kaina B (2010) Cisplatin resistance: preclinical findings and clinical implications. Biochim Biophys Acta 2:172–182. doi:10.1016/j.bbcan.2010.07.004

Lamouille S, Xu J, Derynck R (2014) Molecular mechanisms of epithelial–mesenchymal transition. Nat Rev Mol Cell Biol 15(3):178–196. doi:10.1038/nrm3758

Latifi A, Abubaker K, Castrechini N et al (2011) Cisplatin treatment of primary and metastatic epithelial ovarian carcinomas generates residual cells with mesenchymal stem cell-like profile. J Cell Biochem 112(10):2850–2864. doi:10.1002/jcb.23199

Lee JM, Dedhar S, Kalluri R, Thompson EW (2006) The epithelial–mesenchymal transition: new insights in signaling, development, and disease. J Cell Biol 172(7):973–981. doi:10.1083/jcb.200601018

Li Y, Wang W, Yang R et al (2012) Correlation of TWIST2 up-regulation and epithelial–mesenchymal transition during tumorigenesis and progression of cervical carcinoma. Gynecol Oncol 124(1):112–118. doi:10.1016/j.ygyno.2011.09.003

Li J, Wang Y, Song Y, Fu Z, Yu W (2014) miR-27a regulates cisplatin resistance and metastasis by targeting RKIP in human lung adenocarcinoma cells. Mol Cancer 13:193. doi:10.1186/1476-4598-13-193

Li C, Ding H, Tian J et al (2016) Forkhead box protein C2 (FOXC2) promotes the resistance of human ovarian cancer cells to cisplatin in vitro and in vivo. Cell Physiol Biochem 39(1):242–252. doi:10.1159/000445620

Liang S-H, Yan X-Z, Wang B-L et al (2013) Increased expression of FOXQ1 is a prognostic marker for patients with gastric cancer. Tumour Biol 34(5):2605–2609

Liu M, Wang J, Huang H, Hou J, Zhang B, Wang A (2013) miR-181a—Twist1 pathway in the chemoresistance of tongue squamous cell carcinoma. Biochem Biophys Res Commun 441(2):364–370. doi:10.1016/j.bbrc.2013.10.051

Liu W-H, Chen M-T, Wang M-L et al (2015a) Cisplatin-selected resistance is associated with increased motility and stem-like properties via activation of STAT3/Snail axis in atypical teratoid/rhabdoid tumor cells. Oncotarget 6(3):1750–1768

Liu YQ, Zhang GA, Zhang BC et al (2015b) Short low concentration cisplatin treatment leads to an epithelial mesenchymal transition-like response in DU145 prostate cancer cells. Asian Pac J Cancer Prev 16(3):1025–1028

Liu S, Sun J, Cai B et al (2016) NANOG regulates epithelial–mesenchymal transition and chemoresistance through activation of the STAT3 pathway in epithelial ovarian cancer. Tumour Biol 37(7):9671–9680. doi:10.1007/s13277-016-4848-x

Lopez-Novoa JM, Nieto MA (2009) Inflammation and EMT: an alliance towards organ fibrosis and cancer progression. EMBO Mol Med 1(6–7):303–314. doi:10.1002/emmm.200900043

Ma L, Young J, Prabhala H et al (2010) miR-9, a MYC/MYCN-activated microRNA, regulates E-cadherin and cancer metastasis. Nat Cell Biol 12(3):247–256. doi:10.1038/ncb2024

Martello G, Rosato A, Ferrari F et al (2010) A microRNA targeting dicer for metastasis control. Cell 141(7):1195–1207. doi:10.1016/j.cell.2010.05.017

Masui T, Ota I, Yook JI et al (2014) Snail-induced epithelial–mesenchymal transition promotes cancer stem cell-like phenotype in head and neck cancer cells. Int J Oncol 44(3):693–699. doi:10.3892/ijo.2013.2225

Mimoto R, Taira N, Takahashi H et al (2013) DYRK2 controls the epithelial–mesenchymal transition in breast cancer by degrading Snail. Cancer Lett 339(2):214–225. doi:10.1016/j.canlet.2013.06.005

Mutsaers SE, Birnie K, Lansley S, Herrick SE, Lim CB, Prele CM (2015) Mesothelial cells in tissue repair and fibrosis. Front Pharmacol 6:113. doi:10.3389/fphar.2015.00113

Nihira NT, Yoshida K (2015) Engagement of DYRK2 in proper control for cell division. Cell Cycle 14(6):802–807. doi:10.1080/15384101.2015.1007751

Park SM, Gaur AB, Lengyel E, Peter ME (2008) The miR-200 family determines the epithelial phenotype of cancer cells by targeting the E-cadherin repressors ZEB1 and ZEB2. Gene Dev 22(7):894–907. doi:10.1101/gad.1640608

Pasqualato A, Palombo A, Cucina A et al (2012) Quantitative shape analysis of chemoresistant colon cancer cells: correlation between morphotype and phenotype. Exp Cell Res 318(7):835–846. doi:10.1016/j.yexcr.2012.01.022

Qiao Y, Jiang X, Lee ST, Karuturi RK, Hooi SC, Yu Q (2011) FOXQ1 regulates epithelial–mesenchymal transition in human cancers. Cancer Res 71(8):3076–3086. doi:10.1158/0008-5472.CAN-10-2787

Quail DF, Joyce JA (2013) Microenvironmental regulation of tumor progression and metastasis. Nat Med 19(11):1423–1437. doi:10.1038/nm.3394

Radisky ES, Radisky DC (2010) Matrix metalloproteinase-induced epithelial–mesenchymal transition in breast cancer. J Mammary Gland Biol Neoplasia 15(2):201–212. doi:10.1007/s10911-010-9177-x

Sanchez-Tillo E, Siles L, de Barrios O et al (2011) Expanding roles of ZEB factors in tumorigenesis and tumor progression. Am J Cancer Res 1(7):897–912

Schmalhofer O, Brabletz S, Brabletz T (2009) E-cadherin, beta-catenin, and ZEB1 in malignant progression of cancer. Cancer Metastas Rev 28(1–2):151–166. doi:10.1007/s10555-008-9179-y

Seguin L, Desgrosellier JS, Weis SM, Cheresh DA (2015) Integrins and cancer: regulators of cancer stemness, metastasis, and drug resistance. Trends Cell Biol 25(4):234–240. doi:10.1016/j.tcb.2014.12.006

Shen DW, Pouliot LM, Hall MD, Gottesman MM (2012) Cisplatin resistance: a cellular self-defense mechanism resulting from multiple epigenetic and genetic changes. Pharmacol Rev 64(3):706–721. doi:10.1124/pr.111.005637

Sheng WJ, Jiang H, Wu DL, Zheng JH (2013) Early responses of the STAT3 pathway to platinum drugs are associated with cisplatin resistance in epithelial ovarian cancer. Braz J Med Biol Res 46(8):650–658. doi:10.1590/1414-431X20133003

Shibata K, Kajiyama H, Ino K et al (2008) Twist expression in patients with cervical cancer is associated with poor disease outcome. Ann Oncol 19(1):81–85. doi:10.1093/annonc/mdm344

Siddik ZH (2003) Cisplatin: mode of cytotoxic action and molecular basis of resistance. Oncogene 22(47):7265–7279

Singh M, Chaudhry P, Fabi F, Asselin E (2013) Cisplatin-induced caspase activation mediates PTEN cleavage in ovarian cancer cells: a potential mechanism of chemoresistance. BMC Cancer 13:233. doi:10.1186/1471-2407-13-233

Stinson S, Lackner, Adai AT et al (2011a) miR-221/222 targeting of trichorhinophalangeal 1 (TRPS1) promotes epithelial-to-mesenchymal transition in breast cancer. Sci Signal 4(186):pt5. doi:10.1126/scisignal.2002258

Stinson S, Lackner MR, Adai AT et al (2011b) TRPS1 targeting by miR-221/222 promotes the epithelial-to-mesenchymal transition in breast cancer. Sci Signal 4(177):ra41. doi:10.1126/scisignal.2001538

Stojanovic N, Brozovic A, Majhen D et al (2016) Integrin αvβ3 expression in tongue squamous carcinoma cells Cal27 confers anticancer drug resistance through loss of pSrc(Y418). Biochim Biophys Acta 8:1969–1978. doi:10.1016/j.bbamcr.2016.04.019

Stordal B, Davey R (2008) Platinum resistance needs the mythbusters. Toxicol Lett 180(3):230. doi:10.1016/j.toxlet.2008.07.003

Stordal B, Pavlakis N, Davey R (2007) A systematic review of platinum and taxane resistance from bench to clinic: an inverse relationship. Cancer Treat Rev 33(8):688–703. doi:10.1016/j.ctrv.2007.07.013

Stordal B, Hamon M, McEneaney V et al (2012) Resistance to paclitaxel in a cisplatin-resistant ovarian cancer cell line is mediated by P-glycoprotein. PLoS ONE 7(7):e40717. doi:10.1371/journal.pone.0040717

Su J, Yin X, Zhou X, Wei W, Wang Z (2015) The functions of F-box proteins in regulating the epithelial to mesenchymal transition. Curr Pharm Des 21(10):1311–1317

Sun L, Yao Y, Liu B et al (2012) MiR-200b and miR-15b regulate chemotherapy-induced epithelial–mesenchymal transition in human tongue cancer cells by targeting BMI1. Oncogene 31(4):432–445

Telleman P, Overkamp WJ, van Wessel N et al (1995) A new complementation group of mitomycin C-hypersensitive Chinese hamster cell mutants that closely resembles the phenotype of fanconi anemia cells. Cancer Res 55(15):3412–3416

Thiery JP, Acloque H, Huang RY, Nieto MA (2009) Epithelial–mesenchymal transitions in development and disease. Cell 139(5):871–890. doi:10.1016/j.cell.2009.11.007

Thomas JP, Lautermann J, Liedert B, Seiler F, Thomale J (2006) High accumulation of platinum-DNA adducts in strial marginal cells of the cochlea is an early event in cisplatin but not carboplatin ototoxicity. Mol Pharmacol 70(1):23–29. doi:10.1124/mol.106.022244

Tsai JH, Yang J (2013) Epithelial–mesenchymal plasticity in carcinoma metastasis. Gene Dev 27(20):2192–2206. doi:10.1101/gad.225334.113

van Jaarsveld MT, Helleman J, Boersma AW et al (2013) miR-141 regulates KEAP1 and modulates cisplatin sensitivity in ovarian cancer cells. Oncogene 32(36):4284–4293. doi:10.1038/onc.2012.433

Wang Z, Li Y, Ahmad A et al (2010) Targeting miRNAs involved in cancer stem cell and EMT regulation: an emerging concept in overcoming drug resistance. Drug Resist Update 13(4–5):109–118. doi:10.1016/j.drup.2010.07.001

Wang H, Zhang G, Zhang H et al (2014) Acquisition of epithelial–mesenchymal transition phenotype and cancer stem cell-like properties in cisplatin-resistant lung cancer cells through AKT/beta-catenin/Snail signaling pathway. Eur J Pharmacol 723:156–166. doi:10.1016/j.ejphar.2013.12.004

Ween MP, Armstrong MA, Oehler MK, Ricciardelli C (2015) The role of ABC transporters in ovarian cancer progression and chemoresistance. Crit Rev Oncol Hematol 96(2):220–256. doi:10.1016/j.critrevonc.2015.05.012

Weng W, Okugawa Y, Toden S, Toiyama Y, Kusunoki M, Goel A (2016) FOXM1 and FOXQ1 are promising prognostic biomarkers and novel targets of tumor suppressive miR-342 in human colorectal cancer. Clin Cancer Res. doi:10.1158/1078-0432.CCR-16-0360

Xia L, Huang W, Tian D et al (2014) Forkhead box Q1 promotes hepatocellular carcinoma metastasis by transactivating ZEB2 and VersicanV1 expression. Hepatol 59(3):958–973. doi:10.1002/hep.26735

Yamaguchi N, Mimoto R, Yanaihara N et al (2015) DYRK2 regulates epithelial–mesenchymal-transition and chemosensitivity through Snail degradation in ovarian serous adenocarcinoma. Tumour Biol 36(8):5913–5923

Yamashita S-i, Chujo M, Moroga T et al (2009) DYRK2 expression may be a predictive marker for chemotherapy in non-small cell lung cancer. Anticancer Res 29(7):2753–2757

Yan Y, Wang Q, Yan XL et al (2015) miR-10a controls glioma migration and invasion through regulating epithelial–mesenchymal transition via EphA8. FEBS Lett 589(6):756–765. doi:10.1016/j.febslet.2015.02.005

Ye X, Weinberg RA (2015) Epithelial–mesenchymal plasticity: a central regulator of cancer progression. Trends Cell Biol 25(11):675–686. doi:10.1016/j.tcb.2015.07.012

Ye X, Tam WL, Shibue T et al (2015) Distinct EMT programs control normal mammary stem cells and tumour-initiating cells. Nature 525(7568):256–260. doi:10.1038/nature14897

Yu H, Jove R (2004) The STATs of cancer–new molecular targets come of age. Nat Rev Cancer 4(2):97–105. doi:10.1038/nrc1275

Yu H, Jin GZ, Liu K et al (2013a) Twist2 is a valuable prognostic biomarker for colorectal cancer. World J Gastroenterol 19(15):2404–2411. doi:10.3748/wjg.v19.i15.2404

Yu M, Bardia A, Wittner BS et al (2013b) Circulating breast tumor cells exhibit dynamic changes in epithelial and mesenchymal composition. Science 339(6119):580–584. doi:10.1126/science.1228522

Zeisberg M, Neilson EG (2009) Biomarkers for epithelial–mesenchymal transitions. J Clin Invest 119(6):1429–1437. doi:10.1172/JCI36183

Zhang X, Tang N, Hadden TJ, Rishi AK (2011) Akt, FoxO and regulation of apoptosis. Biochim Biophys Acta 11:1978–1986. doi:10.1016/j.bbamcr.2011.03.010

Zhang L, Nadeem L, Connor K, Xu G (2016) Mechanisms and therapeutic targets of microRNA-associated chemoresistance in epithelial ovarian cancer. Curr Cancer Drug Targets 16(5):429–441

Zhao Z, Zhang L, Yao Q, Tao Z (2015) miR-15b regulates cisplatin resistance and metastasis by targeting PEBP4 in human lung adenocarcinoma cells. Cancer Gene Ther 22(3):108–114. doi:10.1038/cgt.2014.73

Zhu K, Chen L, Han X, Wang J (2012) Short hairpin RNA targeting Twist1 suppresses cell proliferation and improves chemosensitivity to cisplatin in HeLa human cervical cancer cells. Oncol Rep 27(4):1027–1034. doi:10.3892/or.2012.1633

Zhu X, Shen H, Yin X et al (2016) miR-186 regulation of Twist1 and ovarian cancer sensitivity to cisplatin. Oncogene 35(3):323–332. doi:10.1038/onc.2015.84

Zhuo W-L, Wang Y, Zhuo X-L, Zhang Y-S, Chen Z-T (2008a) Short interfering RNA directed against TWIST, a novel zinc finger transcription factor, increases A549 cell sensitivity to cisplatin via MAPK/mitochondrial pathway. Biochem Biophys Res Commun 369(4):1098–1102

Zhuo W, Wang Y, Zhuo X, Zhang Y, Ao X, Chen Z (2008b) Knockdown of Snail, a novel zinc finger transcription factor, via RNA interference increases A549 cell sensitivity to cisplatin via JNK/mitochondrial pathway. Lung Cancer 62(1):8–14
Acknowledgements
The author would like to thank Senior Scientist Maja Osmak Ph.D., Assistant Professor Maja T. Tomicic Ph.D. and George E. Duran B.Sc. for critical reading of the manuscript.
Ethics declarations
Conflict of interest
The author declares no conflict of interest.
About this article
Cite this article
Brozovic, A. The relationship between platinum drug resistance and epithelial–mesenchymal transition. Arch Toxicol 91, 605–619 (2017). https://doi.org/10.1007/s00204-016-1912-7
Received:

Accepted:

Published:

Issue Date:
Keywords
Epithelial–mesenchymal transition

Cisplatin

Platinum drugs

Drug resistance

Tumour