Abstract
In previous studies, we showed that the pro-oxidant model agent tert-butyl hydroperoxide (tBuOOH) induces alterations in hepatocanalicular secretory function by activating Ca2+-dependent protein kinase C isoforms (cPKC), via F-actin disorganization followed by endocytic internalization of canalicular transporters relevant to bile formation (Mrp2, Bsep). Since mitogen-activated protein kinases (MAPKs) may be downstream effectors of cPKC, we investigated here the involvement of the MAPKs of the ERK1/2, JNK1/2, and p38MAPK types in these deleterious effects. tBuOOH (100 µM, 15 min) increased the proportion of the active, phosphorylated forms of ERK1/2, JNK1/2, and p38MAPK, and panspecific PKC inhibition with bisindolylmaleimide-1 (100 nM) or selective cPKC inhibition with Gö6976 (1 μM) prevented the latter two events. In isolated rat hepatocyte couplets, tBuOOH (100 µM, 15 min) decreased the canalicular vacuolar accumulation of the fluorescent Bsep and Mrp2 substrates, cholylglycylamido fluorescein, and glutathione-methylfluorescein, respectively, and selective inhibitors of ERK1/2 (PD098059), JNK1/2 (SP600125), and p38MAPK (SB203580) partially prevented these alterations. In in situ perfused rat livers, these three MAPK inhibitors prevented tBuOOH (75 µM)-induced impairment of bile flow and the decrease in the biliary output of the Bsep and Mrp2 substrates, taurocholate, and dinitrophenyl-S-glutathione, respectively. The changes in Bsep/Mrp2 and F-actin localization induced by tBuOOH, as assessed by (immuno)fluorescence staining followed by analysis of confocal images, were prevented total or partially by the MAPK inhibitors. We concluded that MAPKs of the ERK1/2, JNK1/2, and p38MAPK types are all involved in cholestasis induced by oxidative stress, by promoting F-actin rearrangement and further endocytic internalization of canalicular transporters critical for bile formation.
Access options
Buy single article
Instant access to the full article PDF.
US$ 39.95
Tax calculation will be finalised during checkout.
Subscribe to journal
Immediate online access to all issues from 2019. Subscription will auto renew annually.
US$ 119
Tax calculation will be finalised during checkout.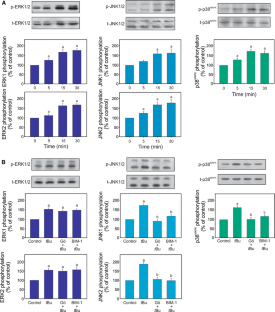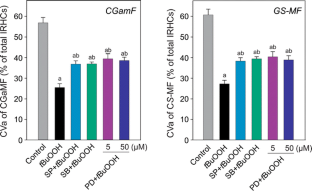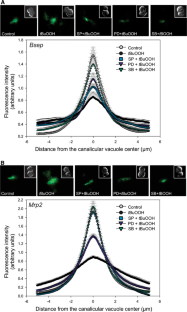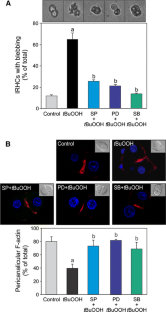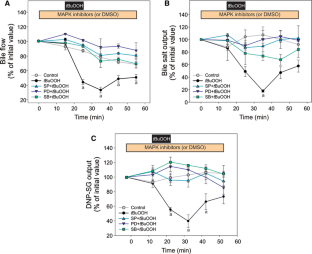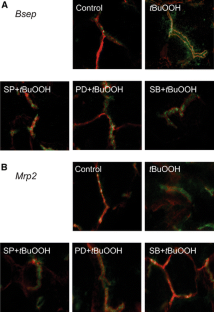 References
Abdelmegeed MA, Kim SK, Woodcroft KJ, Novak RF (2004) Acetoacetate activation of extracellular signal-regulated kinase 1/2 and p38 mitogen-activated protein kinase in primary cultured rat hepatocytes: role of oxidative stress. J Pharmacol Exp Ther 310:728–736. doi:10.1124/jpet.104.066522

Ahmed-Choudhury J, Orsler DJ, Coleman R (1998) Hepatobiliary effects of tertiary-butylhydroperoxide (tBOOH) in isolated rat hepatocyte couplets. Toxicol Appl Pharmacol 152:270–275. doi:10.1006/taap.1998.8495

Aikawa R, Komuro I, Yamazaki T, Zou Y, Kudoh S, Tanaka M, Shiojima I, Hiroi Y, Yazaki Y (1997) Oxidative stress activates extracellular signal-regulated kinases through Src and Ras in cultured cardiac myocytes of neonatal rats. J Clin Invest 100:1813–1821. doi:10.1172/JCI119709

Anwer MS (2012) Intracellular signaling by bile acids. J Biosci 20:1–23. doi:10.3329/jbs.v20i0.17647

Barros LF, Kanaseki T, Sabirov R, Morishima S, Castro J, Bittner CX, Maeno E, Ando-Akatsuka Y, Okada Y (2003) Apoptotic and necrotic blebs in epithelial cells display similar neck diameters but different kinase dependency. Cell Death Differ 10:687–697. doi:10.1038/sj.cdd.4401236

Basiglio CL, Toledo FD, Boaglio AC, Arriaga SM, Ochoa JE, Sanchez Pozzi EJ, Mottino AD, Roma MG (2014) Physiological concentrations of unconjugated bilirubin prevent oxidative stress-induced hepatocanalicular dysfunction and cholestasis. Arch Toxicol 88:501–514. doi:10.1007/s00204-013-1143-0

Berry MN, Friend DS (1969) High-yield preparation of isolated rat liver parenchymal cells: a biochemical and fine structural study. J Cell Biol 43:506–520. doi:10.1083/jcb.43.3.506

Boaglio AC, Zucchetti AE, Toledo FD, Barosso IR, Sanchez Pozzi EJ, Crocenzi FA, Roma MG (2012) ERK1/2 and p38 MAPKs are complementarily involved in estradiol 17β-d-glucuronide-induced cholestasis: crosstalk with cPKC and PI3K. PLoS One 7:e49255. doi:10.1371/journal.pone.0049255

Bogatcheva NV, Zemskova MA, Gorshkov BA, Kim KM, Daglis GA, Poirier C, Verin AD (2011) Ezrin, radixin, and moesin are phosphorylated in response to 2-methoxyestradiol and modulate endothelial hyperpermeability. Am J Respir Cell Mol Biol 45:1185–1194. doi:10.1165/rcmb.2011-0092OC

Canal F, Palygin O, Pankratov Y, Correa SA, Muller J (2011) Compartmentalization of the MAPK scaffold protein KSR1 modulates synaptic plasticity in hippocampal neurons. FASEB J 25:2362–2372. doi:10.1096/fj.10-173153

Chapman MS, Miner JN (2011) Novel mitogen-activated protein kinase kinase inhibitors. Expert Opin Investig Drugs 20:209–220. doi:10.1517/13543784.2011.548803

Cook SJ, McCormick F (1993) Inhibition by cAMP of Ras-dependent activation of Raf. Science 262:1069–1072. doi:10.1126/science.7694367

Copple BL, Jaeschke H, Klaassen CD (2010) Oxidative stress and the pathogenesis of cholestasis. Semin Liver Dis 30:195–204. doi:10.1055/s-0030-1253228

Cosentino-Gomes D, Rocco-Machado N, Meyer-Fernandes JR (2012) Cell signaling through protein kinase C oxidation and activation. Int J Mol Sci 13:10697–10721. doi:10.3390/ijms130910697

Crocenzi FA, Sanchez Pozzi EJ, Ruiz ML, Zucchetti AE, Roma MG, Mottino AD, Vore M (2008) Ca2+-dependent protein kinase C isoforms are critical to estradiol 17β-d-glucuronide-induced cholestasis in the rat. Hepatology 48:1885–1895. doi:10.1002/hep.22532

de la Conde RL, Schoemaker MH, Vrenken TE, Buist-Homan M, Havinga R, Jansen PL, Moshage H (2006) Superoxide anions and hydrogen peroxide induce hepatocyte death by different mechanisms: involvement of JNK and ERK MAP kinases. J Hepatol 44:918–929. doi:10.1016/j.jhep.2005.07.034

Deschesnes RG, Huot J, Valerie K, Landry J (2001) Involvement of p38 in apoptosis-associated membrane blebbing and nuclear condensation. Mol Biol Cell 12:1569–1582. doi:10.1091/mbc.12.6.1569

Elamin E, Masclee A, Troost F, Pieters HJ, Keszthelyi D, Aleksa K, Dekker J, Jonkers D (2014) Ethanol impairs intestinal barrier function in humans through mitogen activated protein kinase signaling: a combined in vivo and in vitro approach. PLoS One 9:e107421. doi:10.1371/journal.pone.0107421

Gao Y, Shan YQ, Pan MX, Wang Y, Tang LJ, Li H, Zhang Z (2004) Protein kinase C-dependent activation of P44/42 mitogen-activated protein kinase and heat shock protein 70 in signal transduction during hepatocyte ischemic preconditioning. World J Gastroenterol 10:1019–1027. doi:10.3748/wjg.v10.i7.1019

Gómez-Lechón MJ, O'Connor E, Castell JV, Jover R (2002) Sensitive markers used to identify compounds that trigger apoptosis in cultured hepatocytes. Toxicol Sci 65:299–308. doi:10.1093/toxsci/65.2.299

Gores GJ, Herman B, Lemasters JJ (1990) Plasma membrane bleb formation and rupture: a common feature of hepatocellular injury. Hepatology 11:690–698

Häussinger D, Kurz AK, Wettstein M, Graf D, vom Dahl S, Schliess F (2003) Involvement of integrins and Src in tauroursodeoxycholate-induced and swelling-induced choleresis. Gastroenterology 124:1476–1487. doi:10.1016/S0016-5085(03)00274-9

Hedges JC, Oxhorn BC, Carty M, Adam LP, Yamboliev IA, Gerthoffer WT (2000) Phosphorylation of caldesmon by ERK MAP kinases in smooth muscle. Am J Physiol Cell Physiol 278:C718–C726

Jaeschke H, Gores GJ, Cederbaum AI, Hinson JA, Pessayre D, Lemasters JJ (2002) Mechanisms of hepatotoxicity. Toxicol Sci 65:166–176. doi:10.1093/toxsci/65.2.166

Ji B, Ito K, Sekine S, Tajima A, Horie T (2004) Ethacrynic-acid-induced glutathione depletion and oxidative stress in normal and Mrp2-deficient rat liver. Free Radic Biol Med 37:1718–1729. doi:10.1016/j.freeradbiomed.2004.08.020

Keller M, Gerbes AL, Kulhanek-Heinze S, Gerwig T, Grutzner U, van Rooijen N, Vollmar AM, Kiemer AK (2005) Hepatocyte cytoskeleton during ischemia and reperfusion—influence of ANP-mediated p38 MAPK activation. World J Gastroenterol 11:7418–7429. doi:10.3748/wjg.v11.i47.7418

Kubitz R, Sutfels G, Kuhlkamp T, Kolling R, Häussinger D (2004) Trafficking of the bile salt export pump from the Golgi to the canalicular membrane is regulated by the p38 MAP kinase. Gastroenterology 126:541–553. doi:10.1053/j.gastro.2003.11.003

Kurz AK, Graf D, Schmitt M, Vom Dahl S, Häussinger D (2001) Tauroursodeoxycholate-induced choleresis involves p38MAPK activation and translocation of the bile salt export pump in rats. Gastroenterology 121:407–419. doi:10.1053/gast.2001.26262

Kyriakis JM, Avruch J (2012) Mammalian MAPK signal transduction pathways activated by stress and inflammation: a 10-year update. Physiol Rev 92:689–737. doi:10.1152/physrev.00028.2011

Lee SH, Lee MY, Lee JH, Han HJ (2008) A potential mechanism for short time exposure to hypoxia-induced DNA synthesis in primary cultured chicken hepatocytes: correlation between Ca2+/PKC/MAPKs and PI3K/Akt/mTOR. J Cell Biochem 104:1598–1611. doi:10.1002/jcb.21657

Liu H, Xiao Y, Xiong C, Wei A, Ruan J (2011) Apoptosis induced by a new flavonoid in human hepatoma HepG2 cells involves reactive oxygen species-mediated mitochondrial dysfunction and MAPK activation. Eur J Pharmacol 654:209–216. doi:10.1016/j.ejphar.2010.12.036

Lowry OH, Rosembrough NJ, Farr AL, Randall RJ (1951) Protein measurement with the folin phenol reagent. J Biol Chem 193:265–275

Maglova LM, Jackson AM, Meng XJ, Carruth MW, Schteingart CD, Ton-Nu HT, Hofmann AF, Weinman SA (1995) Transport characteristics of three fluorescent conjugated bile acid analogs in isolated rat hepatocytes and couplets. Hepatology 22:637–647. doi:10.1002/hep.1840220238

Malumbres M, Pellicer A (1998) RAS pathways to cell cycle control and cell transformation. Front Biosci 3:d887–d912

Mottino AD, Hoffman T, Jennes L, Cao J, Vore M (2001) Expression of multidrug resistance-associated protein 2 in small intestine from pregnant and postpartum rats. Am J Physiol Gastrointest Liver Physiol 280:G1261–G1273

Nguyen KC, Willmore WG, Tayabali AF (2013) Cadmium telluride quantum dots cause oxidative stress leading to extrinsic and intrinsic apoptosis in hepatocellular carcinoma HepG2 cells. Toxicology 306:114–123. doi:10.1016/j.tox.2013.02.010

Perez LM, Milkiewicz P, Ahmed-Choudhury J, Elias E, Ochoa JE, Sanchez Pozzi EJ, Coleman R, Roma MG (2006a) Oxidative stress induces actin-cytoskeletal and tight-junctional alterations in hepatocytes by a Ca2+-dependent, PKC-mediated mechanism: protective effect of PKA. Free Radic Biol Med 40:2005–2017. doi:10.1016/j.freeradbiomed.2006.01.034

Perez LM, Milkiewicz P, Elias E, Coleman R, Sanchez Pozzi EJ, Roma MG (2006b) Oxidative stress induces internalization of the bile salt export pump, Bsep, and bile salt secretory failure in isolated rat hepatocyte couplets: a role for protein kinase C and prevention by protein kinase A. Toxicol Sci 91:150–158. doi:10.1093/toxsci/kfj113

Philips MR (2004) Sef: a MEK/ERK catcher on the Golgi. Mol Cell 15:168–169. doi:10.1016/j.molcel.2004.07.003

Pimienta G, Pascual J (2007) Canonical and alternative MAPK signaling. Cell Cycle 6:2628–2632. doi:10.4161/cc.6.21.4930

Pol A, Calvo M, Enrich C (1998) Isolated endosomes from quiescent rat liver contain the signal transduction machinery. Differential distribution of activated Raf-1 and Mek in the endocytic compartment. FEBS Lett 441:34–38. doi:10.1016/S0014-5793(98)01517-8

Roelofsen H, Soroka CJ, Keppler D, Boyer JL (1998) Cyclic AMP stimulates sorting of the canalicular organic anion transporter (Mrp2/cMoat) to the apical domain in hepatocyte couplets. J Cell Sci 111:1137–1145

Roma MG, Sanchez Pozzi EJ (2008) Oxidative stress: a radical way to stop making bile. Ann Hepatol 7:16–33

Romanelli A, van de Werve G (1997) Activation of mitogen-activated protein kinase in freshly isolated rat hepatocytes by both a calcium- and a protein kinase C-dependent pathway. Metabolism 46:548–555. doi:10.1016/S0026-0495(97)90193-1

Rosseland CM, Wierod L, Oksvold MP, Werner H, Ostvold AC, Thoresen GH, Paulsen RE, Huitfeldt HS, Skarpen E (2005) Cytoplasmic retention of peroxide-activated ERK provides survival in primary cultures of rat hepatocytes. Hepatology 42:200–207. doi:10.1002/hep.20762

Rost D, Kartenbeck J, Keppler D (1999) Changes in the localization of the rat canalicular conjugate export pump Mrp2 in phalloidin-induced cholestasis. Hepatology 29:814–821. doi:10.1002/hep.510290319

Rush GF, Alberts D (1986) tert.-Butyl hydroperoxide metabolism and stimulation of the pentose phosphate pathway in isolated rat hepatocytes. Toxicol Appl Pharmacol 85:324–331. doi:10.1016/0041-008X(86)90339-X

Saitoh M, Nishitoh H, Fujii M, Takeda K, Tobiume K, Sawada Y, Kawabata M, Miyazono K, Ichijo H (1998) Mammalian thioredoxin is a direct inhibitor of apoptosis signal-regulating kinase (ASK) 1. EMBO J 17:2596–2606. doi:10.1093/emboj/17.9.2596

Sarkar MK, Sil PC (2010) Prevention of tertiary butyl hydroperoxide induced oxidative impairment and cell death by a novel antioxidant protein molecule isolated from the herb, Phyllanthus niruri. Toxicol In Vitro 24:1711–1719. doi:10.1016/j.tiv.2010.05.014

Schaeffer HJ, Weber MJ (1999) Mitogen-activated protein kinases: specific messages from ubiquitous messengers. Mol Cell Biol 19:2435–2444. doi:10.1128/MCB.19.4.2435

Schliess F, Kurz AK, vom Dahl S, Häussinger D (1997) Mitogen-activated protein kinases mediate the stimulation of bile acid secretion by tauroursodeoxycholate in rat liver. Gastroenterology 113:1306–1314. doi:10.1053/gast.1997.v113.pm9322526

Schmitt M, Kubitz R, Wettstein M, vom Dahl S, Häussinger D (2000) Retrieval of the mrp2 gene encoded conjugate export pump from the canalicular membrane contributes to cholestasis induced by tert-butyl hydroperoxide and chloro-dinitrobenzene. Biol Chem 381:487–495. doi:10.1515/BC.2000.063

Schonhoff CM, Webster CR, Anwer MS (2010) Cyclic AMP stimulates Mrp2 translocation by activating p38α MAPK in hepatic cells. Am J Physiol Gastrointest Liver Physiol 298:G667–G674. doi:10.1152/ajpgi.00506.2009

Sebbagh M, Renvoizé C, Hamelin J, Riché N, Bertoglio J, Bréard J (2001) Caspase-3-mediated cleavage of ROCK I induces MLC phosphorylation and apoptotic membrane blebbing. Nat Cell Biol 3:346–352. doi:10.1038/35070019

Sekine S, Ito K, Saeki J, Horie T (2011) Interaction of Mrp2 with radixin causes reversible canalicular Mrp2 localization induced by intracellular redox status. Biochim Biophys Acta 1812:1427–1434. doi:10.1016/j.bbadis.2011.07.015

Serriere V, Tran D, Stelly N, Claret M, Alonso G, Tordjmann T, Guillon G (2008) Vasopressin-induced morphological changes in polarized rat hepatocyte multiplets: dual calcium-dependent effects. Cell Calcium 43:95–104. doi:10.1016/j.bbadis.2011.07.015

Somara S, Bitar KN (2006) Phosphorylated HSP27 modulates the association of phosphorylated caldesmon with tropomyosin in colonic smooth muscle. Am J Physiol Gastrointest Liver Physiol 291:G630–G639. doi:10.1152/ajpgi.00350.2005

Stone V, Johnson GD, Wilton JC, Coleman R, Chipman JK (1994) Effect of oxidative stress and disruption of Ca2+ homeostasis on hepatocyte canalicular function in vitro. Biochem Pharmacol 47:625–632. doi:10.1016/0006-2952(94)90124-4

Suda J, Zhu L, Karvar S (2011) Phosphorylation of radixin regulates cell polarity and Mrp-2 distribution in hepatocytes. Am J Physiol Cell Physiol 300:C416–C424. doi:10.1152/ajpcell.00467.2010

Sun Y, Meng GM, Guo ZL, Xu LH (2011) Regulation of heat shock protein 27 phosphorylation during microcystin-LR-induced cytoskeletal reorganization in a human liver cell line. Toxicol Lett 207:270–277. doi:10.1016/j.toxlet.2011.09.025

Talalay P (1960) Enzymatic analysis of steroid hormones. Methods Biochem Anal 8:119–143

Toledo FD, Pérez LM, Basiglio CL, Ochoa JE, Sanchez Pozzi EJ, Roma MG (2014) The Ca2+–calmodulin–Ca2+/calmodulin-dependent protein kinase II signaling pathway is involved in oxidative stress-induced mitochondrial permeability transition and apoptosis in isolated rat hepatocytes. Arch Toxicol 88:1695–1709. doi:10.1007/s00204-014-1219-5

Tripathi M, Singh BK, Kakkar P (2009) Glycyrrhizic acid modulates t-BHP induced apoptosis in primary rat hepatocytes. Food Chem Toxicol 47:339–347. doi:10.1016/j.fct.2008.11.028

Wilton JC, Williams DE, Strain AJ, Parslow RA, Chipman JK, Coleman R (1991) Purification of hepatocyte couplets by centrifugal elutriation. Hepatology 14:180–183. doi:10.1002/hep.1840140129

Zegers MM, Hoekstra D (1997) Sphingolipid transport to the apical plasma membrane domain in human hepatoma cells is controlled by PKC and PKA activity: a correlation with cell polarity in HepG2 cells. J Cell Biol 138:307–321. doi:10.1083/jcb.138.2.307

Zhang C, Wu Y, Xuan Z, Zhang S, Wang X, Hao Y, Wu J, Zhang S (2014) p38MAPK, Rho/ROCK and PKC pathways are involved in influenza-induced cytoskeletal rearrangement and hyperpermeability in PMVEC via phosphorylating ERM. Virus Res 192:6–15. doi:10.1016/j.virusres.2014.07.027
Acknowledgements
This work was supported by grants from Agencia Nacional de Promoción Científica y Tecnológica (ANPCyT) and Consejo Nacional de Investigaciones Científicas y Técnicas (CONICET) to Dr. Marcelo G. Roma. We thank Drs. Marcelo Luquita, Diego Taborda, and Rodrigo Vena for their valuable technical assistance in HPLC determinations, surgical procedures, and confocal imaging, respectively.
Electronic supplementary material
Below is the link to the electronic supplementary material.
About this article
Cite this article
Toledo, F.D., Basiglio, C.L., Barosso, I.R. et al. Mitogen-activated protein kinases are involved in hepatocanalicular dysfunction and cholestasis induced by oxidative stress. Arch Toxicol 91, 2391–2403 (2017). https://doi.org/10.1007/s00204-016-1898-1
Received:

Accepted:

Published:

Issue Date:
Keywords
Oxidative stress

Hepatocellular cholestasis

Canalicular transporters

Mitogen-activated protein kinases

Actin cytoskeleton