Abstract
The unsaturated aldehyde acrolein is pro-atherogenic, and the polyphenol-rich pomegranate juice (PJ), known for its anti-oxidative/anti-atherogenic properties, inhibits macrophage foam cell formation, the hallmark feature of early atherosclerosis. This study aimed to investigate two unexplored areas of acrolein atherogenicity: macrophage lipid metabolism and the gut microbiota composition. The protective effects of PJ against acrolein atherogenicity were also evaluated. Atherosclerotic apolipoprotein E-deficient (apoE−/−) mice that were fed acrolein (3 mg/kg/day) for 1 month showed significant increases in serum and aortic cholesterol, triglycerides, and lipid peroxides. In peritoneal macrophages isolated from the mice and in J774A.1 cultured macrophages, acrolein exposure increased intracellular oxidative stress and stimulated cholesterol and triglyceride accumulation via enhanced rates of their biosynthesis and over-expression of key regulators of cellular lipid biosynthesis: sterol regulatory element-binding proteins (SREBPs), 3-hydroxy-3-methyl-glutaryl-CoA reductase (HMGCR), and diacylglycerol acyltransferase1 (DGAT1). Acrolein-fed mice demonstrated a major shift in the gut microbiota composition, including a significant phylum-level change in increased Firmicutes and decreased Bacteroidetes. At the family level, acrolein significantly increased the prevalence of Ruminococcaceae and Lachnospiraceae of which the Coprococcus genus was significantly and positively correlated with serum, aortic and macrophage lipid levels and peroxidation. The pro-atherogenic effects of acrolein on serum, aortas, macrophages, and the gut microbiota were substantially abolished by PJ. In conclusion, these findings provide novel mechanisms by which acrolein increases macrophage lipid accumulation and alters the gut microbiota composition in association with enhanced atherogenesis. Moreover, PJ was found as an effective strategy against acrolein atherogenicity.
Access options
Buy single article
Instant access to the full article PDF.
US$ 39.95
Tax calculation will be finalised during checkout.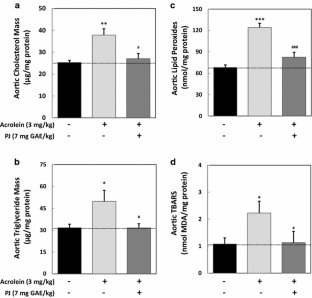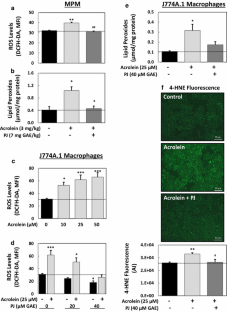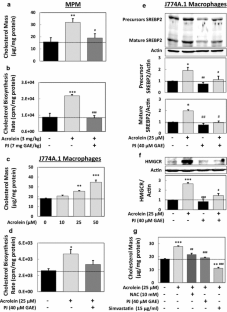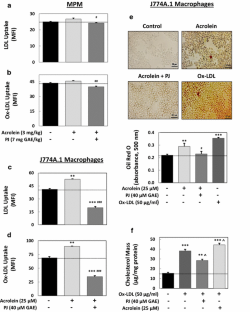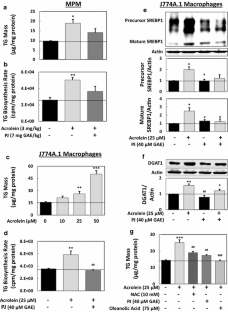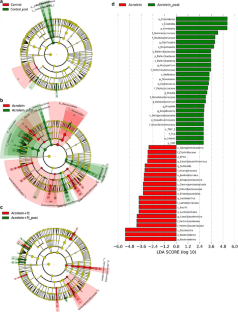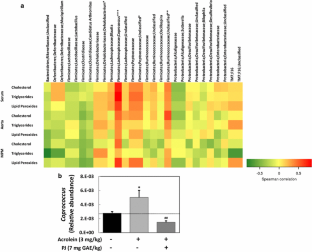 References
Abraham K, Andres S, Palavinskas R et al (2011) Toxicology and risk assessment of acrolein in food. Mol Nutr Food Res 55:1277–1290

Aharoni S, Lati Y, Aviram M et al (2015) Pomegranate juice polyphenols induce a phenotypic switch in macrophage polarization favoring a M2 anti-inflammatory state. Biofactors 41:44–51

Aviram M, Dornfeld L, Rosenblat M et al (2000) Pomegranate juice consumption reduces oxidative stress, atherogenic modifications to LDL, and platelet aggregation: studies in humans and in atherosclerotic apolipoprotein E-deficient mice. Am J Clin Nutr 71:1062–1076

Ben Nasr C, Ayed N, Metche M (1996) Quantitative determination of the polyphenolic content of pomegranate peel. Z Lebensm Unters Forsch 203:374–378

Caporaso JG, Kuczynski J, Stombaugh J et al (2010) QIIME allows analysis of high-throughput community sequencing data. Nat Methods 7:335–336

Chadwick AC, Holme RL, Chen Y et al (2015) Acrolein impairs the cholesterol transport functions of high density lipoproteins. PLoS ONE 10:e0123138

Chen ML, Yi L, Zhang Y et al (2016) Resveratrol attenuates trimethylamine-N-oxide (TMAO)-induced atherosclerosis by regulating TMAO synthesis and bile acid metabolism via remodeling of the gut microbiota. MBio 7:e02210–e02215

Conklin DJ, Barski OA, Lesgards JF et al (2010) Acrolein consumption induces systemic dyslipidemia and lipoprotein modification. Toxicol Appl Pharmacol 243:1–12

Conklin DJ, Prough RA, Juvan P et al (2011) Acrolein-induced dyslipidemia and acute-phase response are independent of HMG-CoA reductase. Mol Nutr Food Res 55:1411–1422

DeJarnett N, Conklin DJ, Riggs DW et al (2014) Acrolein exposure is associated with increased cardiovascular disease risk. J Am Heart Assoc 3:e000934

Di Luccia B, Crescenzo R, Mazzoli A et al (2015) Rescue of fructose-induced metabolic syndrome by antibiotics or faecal transplantation in a rat model of obesity. PLoS ONE 10:e0134893

Dickhout JG, Basseri S, Austin RC (2008) Macrophage function and its impact on atherosclerotic lesion composition, progression, and stability: the good, the bad, and the ugly. Arterioscler Thromb Vasc Biol 28:1413–1415

Du H, Wang Y, Zhang Z et al (2015) Fibronectin overexpression modulates formation of macrophage foam cells by activating SREBP2 involved in endoplasmic reticulum stress. Cell Physiol Biochem 36:1821–1834

Emoto T, Yamashita T, Sasaki N et al (2016) Analysis of gut microbiota in coronary artery disease patients: a possible link between gut microbiota and coronary artery disease. J Atheroscler Thromb 23:908–921

Etxebarria A, Benito-Vicente A, Alves AC et al (2014) Advantages and versatility of fluorescence-based methodology to characterize the functionality of LDLR and class mutation assignment. PLoS ONE 9:e112677

Fuhrman B, Volkova N, Aviram M (2005) Pomegranate juice inhibits oxidized LDL uptake and cholesterol biosynthesis in macrophages. J Nutr Biochem 16:570–576

Fuhrman B, Nitzan O, Karry R et al (2007) Urokinase plasminogen activator (uPA) stimulates cholesterol biosynthesis in macrophages through activation of SREBP-1 in a PI3-kinase and MEK-dependent manner. Atherosclerosis 195:e108–e116

Fuhrman B, Gantman A, Khateeb J et al (2009) Urokinase activates macrophage PON2 gene transcription via the PI3 K/ROS/MEK/SREBP-2 signalling cascade mediated by the PDGFR-beta. Cardiovasc Res 84:145–154

Gil MI, Tomás-Barberán FA, Hess-Pierce B et al (2000) Antioxidant activity of pomegranate juice and its relationship with phenolic composition and processing. J Agric Food Chem 48:4581–4589

Green SJ, Venkatramanan R, Naqib A (2015) Deconstructing the polymerase chain reaction: understanding and correcting bias associated with primer degeneracies and primer-template mismatches. PLoS ONE 10:e0128122

Gugliucci A, Lunceford N, Kinugasa E et al (2007) Acrolein inactivates paraoxonase1: changes in free acrolein levels after hemodialysis correlate with increases in paraoxonase 1 activity in chronic renal failure patients. Clin Chim Acta 384:105–112

He ZQ, Zhen Y, Liang C et al (2008) Vicious cycle composed of gut flora and visceral fat: a novel explanation of the initiation and progression of atherosclerosis. Med Hypotheses 70:808–811

Horton JD, Goldstein JL, Brown MS (2002) SREBPs: activators of the complete program of cholesterol and fatty acid synthesis in the liver. J Clin Invest 109:1125–1131

Kaplan M, Hayek T, Raz A et al (2001) Pomegranate juice supplementation to atherosclerotic mice reduces macrophage lipid peroxidation, cellular cholesterol accumulation and development of atherosclerosis. J Nutr 131:2082–2089

Kaplan M, Kerry R, Aviram M et al (2008) High glucose concentration increases macrophage cholesterol biosynthesis in diabetes through activation of the sterol regulatory element binding protein 1 (SREBP1): inhibitory effect of insulin. J Cardiovasc Pharmacol 52:324–332

Koeth RA, Wang Z, Levison BS et al (2013) Intestinal microbiota metabolism of L-carnitine, a nutrient in red meat, promotes atherosclerosis. Nat Med 19:576–585

Koren O, Spor A, Felin J et al (2011) Human oral, gut, and plaque microbiota in patients with atherosclerosis. Proc Natl Acad Sci USA 108:4592–4598

Lansky EP, Newman RA (2007) Punica granatum (pomegranate) and its potential for prevention and treatment of inflammation and cancer. J Ethnopharmacol 109:177–206

Leonarduzzi G, Gamba P, Gargiulo S et al (2012) Inflammation-related gene expression by lipid oxidation-derived products in the progression of atherosclerosis. Free Radic Biol Med 52:19–34

Li Z, Summanen PH, Komoriya T et al (2015) Pomegranate ellagitannins stimulate growth of gut bacteria in vitro: implications for prebiotic and metabolic effects. Anaerobe 34:164–168

Liu S, Bennett DC, Tun HM et al (2015) The effect of diet and host genotype on ceca microbiota of Japanese quail fed a cholesterol enriched diet. Front Microbiol 6:1092

Meir KS, Leitersdorf E (2004) Atherosclerosis in the apolipoprotein-E-deficient mouse: a decade of progress. Arterioscler Thromb Vasc Biol 24:1006–1014

Mosele JI, Gosalbes MJ, Macià A et al (2015) Effect of daily intake of pomegranate juice on fecal microbiota and feces metabolites from healthy volunteers. Mol Nutr Food Res 59:1942–1953

Ok E, Do GM, Lim Y et al (2013) Pomegranate vinegar attenuates adiposity in obese rats through coordinated control of AMPK signaling in the liver and adipose tissue. Lipids Health Dis 12:163

O'Toole TE, Zheng YT, Hellmann J et al (2009) Acrolein activates matrix metalloproteinases by increasing reactive oxygen species in macrophages. Toxicol Appl Pharmacol 236:194–201

Parks WC, Wilson CL, López-Boado YS (2004) Matrix metalloproteinases as modulators of inflammation and innate immunity. Nat Rev Immunol 4:617–629

Rom O, Aviram M (2016a) Endogenous or exogenous antioxidants vs. pro-oxidants in macrophage atherogenicity. Curr Opin Lipidol 27:204–206

Rom O, Aviram M (2016b) Paraoxsonase2 (PON2) and oxidative stress involvement in pomegranate juice protection against cigarette smoke-induced macrophage cholesterol accumulation. Chem Biol Interact (in press). doi:10.1016/j.cbi.2016.05.009

Rom O, Kaisari S, Aizenbud D et al (2013) The effects of acetaldehyde and acrolein on muscle catabolism in C2 myotubes. Free Radic Biol Med 65:190–200

Rom O, Jeries H, Hayek T et al (2016) Supplementation with linoleic acid-rich soybean oil stimulates macrophage foam cell formation via increased oxidative stress and diacylglycerol acyltransferase1-mediated triglyceride biosynthesis. Biofactors (in press). doi:10.1002/biof.1319

Rosenblat M, Aviram M (2009) Paraoxonases role in the prevention of cardiovascular diseases. Biofactors 35:98–104

Rosenblat M, Aviram M (2011) Pomegranate juice protects macrophages from triglyceride accumulation: inhibitory effect on DGAT1 activity and on triglyceride biosynthesis. Ann Nutr Metab 58:1–9

Rosenblat M, Coleman R, Reddy ST et al (2009) Paraoxonase 2 attenuates macrophage triglyceride accumulation via inhibition of diacylglycerol acyltransferase1. J Lipid Res 50:870–879

Rosenblat M, Volkova N, Aviram M (2013) Pomegranate phytosterol (β-sitosterol) and polyphenolic antioxidant (punicalagin) addition to statin, significantly protected against macrophage foam cells formation. Atherosclerosis 226:110–117

Rosenblat M, Volkova N, Aviram M (2015a) Selective oxidative stress and cholesterol metabolism in lipid-metabolizing cell classes: distinct regulatory roles for pro-oxidants and antioxidants. Biofactors 41:273–288

Rosenblat M, Volkova N, Borochov-Neori H et al (2015b) Anti-atherogenic properties of date vs. pomegranate polyphenols: the benefits of the combination. Food Funct 6:1496–1509

Rosenblat M, Rom O, Volkova N et al (2016) Nitro-oleic acid reduces J774A.1 macrophage oxidative status and triglyceride mass: involvement of paraoxonase2 and triglyceride metabolizing enzymes. Lipids 51:941–953

Segata N, Izard J, Waldron L et al (2011) Metagenomic biomarker discovery and explanation. Genome Biol 12:R60

Sengupta B, Narasimhulu CA, Parthasarathy S (2013) Novel technique for generating macrophage foam cells for in vitro reverse cholesterol transport studies. J Lipid Res 54:3358–3372

Shaban NZ, El-Kersh MA, Bader-Eldin MM et al (2014) Effect of Punica granatum (pomegranate) juice extract on healthy liver and hepatotoxicity induced by diethylnitrosamine and phenobarbital in male rats. J Med Food 17:339–349

Shema-Didi L, Sela S, Ore L et al (2012) One year of pomegranate juice intake decreases oxidative stress, inflammation, and incidence of infections in hemodialysis patients: a randomized placebo-controlled trial. Free Radic Biol Med 53:297–304

Spilmont M, Léotoing L, Davicco MJ et al (2014) Pomegranate and its derivatives can improve bone health through decreased inflammation and oxidative stress in an animal model of postmenopausal osteoporosis. Eur J Nutr 53:1155–1164

Srivastava S, Sithu SD, Vladykovskaya E et al (2011) Oral exposure to acrolein exacerbates atherosclerosis in apoE-null mice. Atherosclerosis 215:301–318

Stevens JF, Maier CS (2008) Acrolein: sources, metabolism, and biomolecular interactions relevant to human health and disease. Mol Nutr Food Res 52:7–25

Wang GW, Guo Y, Vondriska TM et al (2008) Acrolein consumption exacerbates myocardial ischemic injury and blocks nitric oxide-induced PKCepsilon signaling and cardioprotection. J Mol Cell Cardiol 44:1016–1022

Watanabe K, Nakazato Y, Saiki R et al (2013) Acrolein-conjugated low-density lipoprotein induces macrophage foam cell formation. Atherosclerosis 227:51–57

Yang X, Yao H, Chen Y et al (2015) Inhibition of glutathione production induces macrophage CD36 expression and enhances cellular-oxidized low density lipoprotein (oxLDL) uptake. J Biol Chem 290:21788–21799

Yen CL, Stone SJ, Koliwad S et al (2008) Thematic review series: glycerolipids. DGAT enzymes and triacylglycerol biosynthesis. J Lipid Res 49:2283–2301

Zou X, Yan C, Shi Y et al (2014) Mitochondrial dysfunction in obesity-associated nonalcoholic fatty liver disease: the protective effects of pomegranate with its active component punicalagin. Antioxid Redox Signal 21:1557–1570
Acknowledgments
This work was supported by: Technion Rappaport Institute for Research in the Medical Sciences, Bio Rap Technologies, and the Clinical Research Institute at Rambam. Special thanks to Mira Rosenblat, Nina Volkova, and Dr. Niroz Abu-Saleh for their valuable technical assistance.
Ethics declarations
Conflict of interest
The authors declare that they have no conflict of interest.
Ethical approval
All applicable international, national, and institutional guidelines for the care and use of animals were followed.
Electronic supplementary material
Below is the link to the electronic supplementary material.
About this article
Cite this article
Rom, O., Korach-Rechtman, H., Hayek, T. et al. Acrolein increases macrophage atherogenicity in association with gut microbiota remodeling in atherosclerotic mice: protective role for the polyphenol-rich pomegranate juice. Arch Toxicol 91, 1709–1725 (2017). https://doi.org/10.1007/s00204-016-1859-8
Received:

Accepted:

Published:

Issue Date:
Keywords
Acrolein

Gut microbiota

Lipid metabolism

Macrophage foam cells

Oxidative stress