Abstract
Spirulina is a species of filamentous cyanobacteria that has long been used as a food supplement. In particular, Spirulina platensis and Spirulina maxima are the most important. Thanks to a high protein and vitamin content, Spirulina is used as a nutraceutical food supplement, although its other potential health benefits have attracted much attention. Oxidative stress and dysfunctional immunity cause many diseases in humans, including atherosclerosis, cardiac hypertrophy, heart failure, and hypertension. Thus, the antioxidant, immunomodulatory, and anti-inflammatory activities of these microalgae may play an important role in human health. Here, we discuss the antioxidant, immunomodulatory, and anti-inflammatory activities of Spirulina in both animals and humans, along with the underlying mechanisms. In addition, its commercial and regulatory status in different countries is discussed as well. Spirulina activates cellular antioxidant enzymes, inhibits lipid peroxidation and DNA damage, scavenges free radicals, and increases the activity of superoxide dismutase and catalase. Notably, there appears to be a threshold level above which Spirulina will taper off the antioxidant activity. Clinical trials show that Spirulina prevents skeletal muscle damage under conditions of exercise-induced oxidative stress and can stimulate the production of antibodies and up- or downregulate the expression of cytokine-encoding genes to induce immunomodulatory and anti-inflammatory responses. The molecular mechanism(s) by which Spirulina induces these activities is unclear, but phycocyanin and β-carotene are important molecules. Moreover, Spirulina effectively regulates the ERK1/2, JNK, p38, and IκB pathways. This review provides new insight into the potential therapeutic applications of Spirulina and may provide new ideas for future studies.
This is a preview of subscription content, log in to check access.
Access options
Buy single article
Instant access to the full article PDF.
US$ 39.95
Price includes VAT for USA
Subscribe to journal
Immediate online access to all issues from 2019. Subscription will auto renew annually.
US$ 199
This is the net price. Taxes to be calculated in checkout.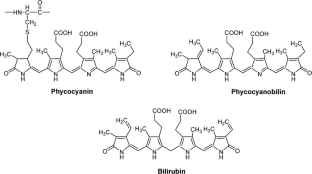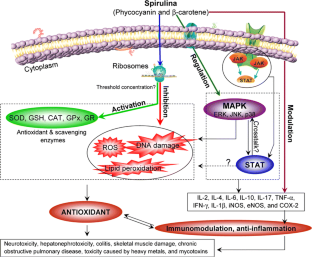 Abbreviations
FDA:

Food and drug administration

GRAS:

Generally recognized as safe

COPD:

Chronic obstructive pulmonary disease

IL:

Interleukin

TNF:

Tumor necrosis factor

MAPK:

Mitogen-activated protein kinase

ROS:

Reactive oxygen species

MDA:

Malondialdehyde

SOD:

Superoxide dismutase

CAT:

Catalase

GPx:

Glutathione peroxidase

GR:

Glutathione reductase

PX:

Peroxidase

APx:

Ascorbate peroxidase

GSH:

Glutathione

GST:

Glutathione S-transferase

DPPH:

2,2-Diphenyl-1-picrylhydrazyl

HSC:

Hepatic stellate cell

HCD:

High-cholesterol diet

PHGPx:

Phospholipid hydroperoxide glutathione peroxidase

6-OHDA:

6-Hydroxydopamine

DLM:

Deltamethrin

NASH:

Nonalcoholic steatohepatitis

ALT:

Alanine aminotransferase

OSF:

Oral submucous fibrosis

COPD:

Chronic obstructive pulmonary disease

AST:

Aspartate transaminase

NO:

Nitric oxide

Se:

Selenium

Te:

Tellurium

IFN:

Interferon

PHA:

Phytohemagglutinin

LPS:

Lipopolysaccharide

iNOS:

Inducible nitric oxide synthase

COX-2:

Cyclooxygenase-2

eNOS:

Endothelial nitric oxide synthase

MPO:

Myeloperoxidase

NASH:

Nonalcoholic steatohepatitis

PD:

Parkinson's disease

AAV9:

Adeno-associated virus vector

NMDA:

N-methyl d-aspartate receptor

OSF:

Oral submucous fibrosis
References
Abd El-Baky HH, El Baz FK, El-Baroty GS (2009) Enhancement of antioxidant production in Spirulina platensis under oxidative stress. Acta Physiol Plant 31:623–631

Abdel-Daim MM, Abuzead SM, Halawa SM (2013) Protective role of Spirulina platensis against acute deltamethrin-induced toxicity in rats. PLoS ONE 8(9):e72991

Abdel-Daim MM, Farouk SM, Madkour FF et al (2015) Anti-inflammatory and immunomodulatory effects of Spirulina platensis in comparison to Dunaliella salina in acetic acid-induced rat experimental colitis. Immunopharmacol Immunotoxicol 37(2):126–139

Abdelkhalek NK, Ghazy EW, Abdel-Daim MM (2015) Pharmacodynamic interaction of Spirulina platensis and deltamethrin in freshwater fish Nile tilapia, Oreochromis niloticus: impact on lipid peroxidation and oxidative stress. Environ Sci Pollut Res Int 22(4):3023–3031

Ali EA, Barakat BM, Hassan R (2015) Antioxidant and angiostatic effect of Spirulina platensis suspension in complete Freund's adjuvant-induced arthritis in rats. PLoS ONE 10(4):e0121523

Anwer R, Khursheed S, Fatma T (2012) Detection of immunoactive insulin in Spirulina. J Appl Phycol 24:583–591

Bai SK, Lee SJ, Na HJ et al (2005) beta-Carotene inhibits inflammatory gene expression in lipopolysaccharide-stimulated macrophages by suppressing redox-based NF-kappaB activation. Exp Mol Med 37(4):323–334

Banji D, Banji OJ, Pratusha NG et al (2013) Investigation on the role of Spirulina platensis in ameliorating behavioural changes, thyroid dysfunction and oxidative stress in offspring of pregnant rats exposed to fluoride. Food Chem 140(1–2):321–331

Beheshtipour H, Mortazavian AM, Haratian P et al (2012) Effects of Chlorella vulgaris and Arthrospira platensis addition on viability of probiotic bacteria in yogurt and its biochemical properties. Eur Food Res Technol 235(4):719–728

Ben Abdallah Kolsi R, Ben Gara A, Chaaben R et al (2015) Anti-obesity and lipid lowering effects of Cymodocea nodosa sulphated polysaccharide on high cholesterol-fed-rats. Arch Physiol Biochem 121(5):210–217

Bergé JP, Debiton E, Dumay J et al (2002) In vitro anti-inflammatory and anti-proliferative activity of sulfolipids from the red alga Porphyridium cruentum. J Agric Food Chem 50(21):6227–6232

Bermejo P, Piñero E, Villar ÁM (2008) Iron-chelating ability and antioxidant properties of phycocyanin isolated from a protean extract of Spirulinaplatensis. Food Chem 110(2):436–445

Bermejo-Bescós P, Piñero-Estrada E, Villar del Fresno AM (2008) Neuroprotection by Spirulina platensis protean extract and phycocyanin against iron-induced toxicity in SH-SY5Y neuroblastoma cells. Toxicol In Vitro 22:1496–1502

Chamorro G, Salazar M, Pages N (1996) Dominant lethal study of Spirulina maxima in male and female rats after short-term feeding. Phytother Res 10:28–32

Chamorro G, Salazar M, Araújo KG et al (2002) Update on the pharmacology of Spirulina (Arthrospira), an unconventional food. Arch Latinoam Nutr 52(3):232–240

Chen JC, Liu KS, Yang TJ et al (2012) Spirulina and C-phycocyanin reduce cytotoxicity and inflammation-related genes expression of microglial cells. Nutr Neurosci 15(6):252–256

Chen HW, Yang TS, Chen MJ et al (2014) Purification and immunomodulating activity of C-phycocyanin from Spirulina platensis cultured using power plant flue gas. Process Biochem 49:1337–1344

Cherdkiatikul T, Suwanwong Y (2014) Production of the α and β subunits of Spirulina Allophycocyanin and C-Phycocyanin in Escherichia coli: a Comparative study of their antioxidant activities. J Biomol Screen 19(6):959–965

Cingi C, Conk-Dalay M, Bal C et al (2008) The effects of spirulina on allergic rhinitis. Eur Arch Otorhinolaryngol 265:1219–1223

Dar BA, KhaliqR JG et al (2014) Protective effects of dietary spirulina against cadmium chloride exposed histoarchitectural changes in the liver of freshwater catfish Clarias batrachus (Linnaeus, 1758). Indian J Fish 61(3):83–87

Dartsch PC (2008) Antioxidant potential of selected Spirulina platensis preparations. Phytother. Res. 22(5):627–633

Das UN (2007) γ-Linolenic acid therapy of human glioma-a review of in vitro, in vivo, and clinical studies. Med Sci Monit 13(7):119–131

Deng R, Chow TJ (2010) Hypolipidemic, antioxidant and antiinflammatory activities of microalgae spirulina. Cardiovasc Ther 28(4):e33–e45

Ding J, Jin A, Shi L et al (2004) Effect of spirulina on antioxdation ability of liver during CCl4 induced chronic liver injury in mice. J Lake Sci 16(4):343–348

Dohnal V, Wu Q, Kuca K (2014) Metabolism of aflatoxins: key enzymes and interindividual as well as interspecies differences. Arch Toxic 88:1634–1644

Domingueti CP, Dusse LM, Carvalho MD, et al (2015) Diabetes mellitus: the linkage between oxidative stress, inflammation, hypercoagulability and vascular complications. J Diabetes Complications. doi:10.1016/j.jdiacomp.2015.12.018. [Epub ahead of print]

DSHEA (1994) Dietary Supplement Health and Education Act. Public Law 103-417. http://www.health.gov/dietsupp/ch1.htm. Accessed 5 April 2016

DSLD (2009) Dietary Supplements Labels Database. http://dietarysupplements.nlm.nih.gov/dietary/index.jsp. Accessed 5 April 2016

El Baz FK, El Baroty GS, Abd El Baky HH et al (2013) Structural characterization and biological activity of sulfolipids from selected marine algae. Grasas Aceites 64(5):561–571

El Sheikh SM, Shalaby MAM, Hafez RA et al (2014) The immunomodulatory effects of probiotic bacteria on peripheral blood mononuclear cells (PBMCS) of allergic patients. Am J Immunol 10(3):116–130

Electronic Code of Federal Regulations (2016) Title 21, Chapter I, Subchapter A, Part 73, Subpart A, §73.530. http://www.ecfr.gov/cgi-bin/text-idx?mc=true&tpl=true&tpl=ecfrbroowse/Title21/21cfr73_main_02.tpl. Accessed 5 April 2016

Elshazly MO, Abd El-Rahman SS, Morgan AM et al (2015) The remedial efficacy of Spirulina platensis versus chromium-induced nephrotoxicity in male sprague-dawley rats. PLoS ONE 10(6):e0126780

El-Tantawy WH (2015) Antioxidant effects of Spirulina supplement against lead acetate-induced hepatic injury in rats. J Traditional Complem Med. doi:10.1016/j.jtcme.2015.02.001

European Advisory Services (2007) The use of substances with nutritional or physiological effect other than vitamins and minerals in food supplements. Study undertaken for DG SANCO, European Comission. http://ec.europa.eu/food/safety/docs/labellingnutrition-supplements-2007_a540169_study_other_substances_en.pdf. Accessed 5 April 2016

Farina M, Soares FA, Zeni G et al (2004) Additive prooxidative effect of methylmercury and ebselen in liver from suckling rat pups. Toxicol Lett 146(3):227–235

FDA (2003) Agency Response Letter GRAS Notice No.GRN 000127. http://www.fda.gov/Food/FoodIngredientsPackaging/GenerallyRecognizedasSafeGRAS/GRASListings/ucm153944.htm. Accessed 5 April 2016

Fournier DB, Gordon GB (2000) COX-2 and colon cancer: potential targets for chemoprevention. J Cell Biochem Suppl 34:97–102

Gad AS, Khadrawy YA, El-Nekeety AA et al (2011) Antioxidant activity and hepatoprotective effects of whey protein and Spirulina in rats. Nutrition 27(5):582–589

GB/T 16919-1997. Food grade Spirulina powder. http://www.tsinfo.js.cn/inquiry/gbtdetails.aspx?A100=GB/T%2016919-1997. Accessed 5 April 2016

González R, Rodríguez S, Romay C et al (1999) Anti-inflammatory activity of phycocyanin extract in acetic acid-induced colitis in rats. Pharmacol Res 39(1):55–59

Gupta NK, Gupta KP (2012) Effects of C-Phycocyanin on the representative genes of tumor development in mouse skin exposed to 12-O-tetradecanoyl-phorbol-13-acetate. Environ Toxicol Pharmacol 34(3):941–948

Gurbuz N, Coskun ZK, Omeroglu S et al (2013) Antioxidative and therapeutic effects of spirulina on trichloroethylene induced cutaneous irritation balb/c mice. Bratisl Lek Listy 114(4):192–198

Gutiérrez-Rebolledo GA, Galar-Martínez M, García-Rodríguez RV, Chamorro-Cevallos GA et al (2015) Antioxidant effect of Spirulina (Arthrospira) maxima on chronic inflammation induced by Freund's complete adjuvant in rats. J Med Food 18(8):865–871

Hassan AM, Abdel-Aziem SH, Abdel-Wahhab MA (2012) Modulation of DNA damage and alteration of gene expression during aflatoxicosis via dietary supplementation of Spirulina (Arthrospira) and Whey protein concentrate. Ecotoxicol Environ Saf 79:294–300

Health Canada (2008). Blue green algae (Cyanobacteria) and their toxins. http://www.hc-sc.gc.ca/ewh-semt/pubs/water-eau/cyanobactereng.php. Accessed 5 April 2016

Hirahashi T, Matsumoto M, Hazeki K et al (2002) Activation of the human innate immune system by Spirulina: augmentation of interferon production and NK cytotoxicity by oral administration of hot water extract of Spirulina platensis. Int Immunopharmacol 2(4):423–434

Hirata T, Tanaka M, Ooike M et al (1999) Radical scavenging activities of phycocyanobilin prepared from a cyanobacterium, Spirulina platensis. Fisheries Sci 65:971–972

Hirata T, Tanaka M, Ooike M et al (2000) Antioxidant activities of phycocyanobilin prepared from Spirulina platensis. J Appl Phycol 12:435–439

Hoang MH, Kim JY, Lee JH et al (2015) Antioxidative, hypolipidemic, and anti-inflammatory activities of sulfated polysaccharides from Monostroma nitidum. Food Sci Biotechnol 24(1):199–205

Hoseini SM, Khosravi-Darani K, Mozafari MR (2013) Nutritional and medical applications of spirulina microalgae. Mini Rev Med Chem 13(8):1231–1237

Huang Z, Guo BJ, Wong RNS et al (2007) Characterization and antioxidant activity of selenium-containing phycocyanin isolated from Spirulina platensis. Food Chem 100:1137–1143

Hwang JH, Chen JC, Yang SY et al (2011a) Expression of COX-2 and NMDA receptor genes at the cochlea and midbrain in salicylate induced tinnitus. Laryngoscope 121:361–364

Hwang JH, Lee IT, Jeng KC et al (2011b) Spirulina prevents memory dysfunction, reduces oxidative stress damage and augments antioxidant activity in senescence-accelerated mice. J Nutr Sci Vitaminol 57(2):186–191

Hwang JH, Chen JC, Chan YC (2013) Effects of C-phycocyanin and Spirulina on salicylate-induced tinnitus, expression of NMDA receptor and inflammatory genes. PLoS ONE 8(3):e58215

Ibrahim AE, Abdel-Daim MM (2015) Modulating Effects of Spirulina platensis against Tilmicosin-induced cardiotoxicity in mice. Cell J 17(1):137–144

Ismail M, Hossain MF, Tanu AR et al (2015) Effect of spirulina intervention on oxidative stress, antioxidant status, and lipid profile in chronic obstructive pulmonary disease patients. Biomed Res Int 2015:486120

Jeyaprakash K, Chinnaswamy P (2007) Antioxidant property of Spirulina and Liv-52 against lead induced toxicity in albino rats. J Nat Remed 7(1):80–85

Kalafati M, Jamurtas AZ, Nikolaidis MG et al (2010) Ergogenic and antioxidant effects of spirulina supplementation in humans. Med Sci Sports Exerc 2(1):142–151

Karkos PD, Leong SC, Karkos CD et al (2011) Spirulina in clinical practice: evidence-based human applications. Evid Based Complement Alternat Med 2011:531053

Katsuura S, Imamura T, Bando N et al (2009) beta-Carotene and beta-cryptoxanthin but not lutein evoke redox and immune changes in RAW264 murine macrophages. Mol Nutr Food Res 53(11):1396–1405

Khan Z, Bhadouria P, Bisen PS (2005) Nutritional and therapeutic potential of Spirulina. Curr Pharm Biotechnol 6(5):373–379

Khan M, Varadharaj S, Ganesan LP et al (2006) C-phycocyanin protects against ischemia-reperfusion injury of heart through involvement of p38 MAPK and ERK signaling. Am J Physiol Heart Circ Physiol 290(5):2136–2145

Kim MY, Cheong SH, Lee JH et al (2010) Spirulina improves antioxidant status by reducing oxidative stress in rabbits fed a high-cholesterol diet. J Med Food 13(2):420–426

Kim SS, Rahimnejad S, Kim KW et al (2013) Effects of dietary supplementation of spirulina and quercetin on growth, innate immune responses, disease resistance against edwardsiella tarda, and dietary antioxidant capacity in the juvenile olive flounder paralichthys olivaceus. Fish Aquat Sci 16(1):7–14

Koníčková R, Vaňková K, Vaníková J et al (2014) Anti-cancer effects of blue-green alga Spirulina platensis, a natural source of bilirubin-like tetrapyrrolic compounds. Ann Hepatol 13(2):273–283

Kris-Etherton P, Harris W, Appel LJ (2003) Fish consumption, fish oil, omega-3 fatty acids, and cardiovascular disease. Arterioscler Thromb Vasc Biol 23:20–30

Kulshreshtha A, Zacharia AJ, Jarouliya U et al (2008) Spirulina in health care management. Curr Pharm Biotechnol 9(5):400–405

Langers I, Renoux VM, Thiry M et al (2012) Natural killer cells: role in local tumor growth and metastasis. Biologics 6:73–82

Lanone S, Bloc S, Foresti R et al (2005) Bilirubin decreases nos2 expression via inhibition of NAD(P)H oxidase: implications for protection against endotoxic shock in rats. FASEB J 19:1890–1892

Lee JB, Hayashi T, Hayashi K et al (1998) Further purification and structural analysis of calcium spirulan from Spirulina platensis. J Nat Prod 61:1101–1104

Lee EH, Park JE, Choi YJ et al (2008) A randomized study to establish the effects of spirulina in type 2 diabetes mellitus patients. Nutr Res Pract 2(4):295–300

Li XL, Xu G, Chen T et al (2009) Phycocyanin protects INS-1E pancreatic beta cells against human islet amyloid polypeptide-induced apoptosis through attenuating oxidative stress and modulating JNK and p38 mitogen-activated protein kinase pathways. Int J Biochem Cell Biol 41(7):1526–1535

Liu YF, Xu LZ, Cheng N et al (2000) Inhibitory effect of phycocyanin from Spirulina platensis on the growth of human leukemia K562 cells. J Appl Phycol 12:125–130

Lorenz RT (1999) A review of Spirulina and Haematococcus algae meal as a carotenoid and vitamin supplement for poultry. Spirulina Pacifica Tech Bull 53:1–14

Lu HK, Hsieh CC, Hsu JJ et al (2006) Preventive effects of Spirulina platensis on skeletal muscle damage under exercise-induced oxidative stress. Eur J Appl Physiol 98(2):220–226

Lu YM, Xiang WZ, Wen YH (2011) Spirulina (Arthrospira) industry in Inner Mongolia of China: current status and prospects. J Appl Phycol 23:265–269

Mader J, Gallo A, Schommartz T et al (2016) Calcium spirulan derived from Spirulina platensis inhibits herpes simplex virus 1 attachment to human keratinocytes and protects against herpes labialis. J Allergy Clin Immunol 137(1):197–203

Mahendra J, Mahendra L, Muthu J et al (2013) Clinical effects of subgingivally delivered spirulina gel in chronic periodontitis cases: a placebo controlled clinical trial. J Clin Diagn Res 7(10):2330–2333

Mallikarjun Gouda KG, Udaya Sankar K, Sarada R et al (2015) Supercritical CO2 extraction of functional compounds from Spirulina and their biological activity. J Food Sci Technol 52(6):3627–3633

Mao TK, Van De Water J, Gershwin ME (2000) Effect of spirulina on the secretion of cytokines from peripheral blood mononuclear cells. J Med Food 3(3):135–140

Mao TK, Van de Water J, Gershwin ME (2005) Effects of a Spirulina-based dietary supplement on cytokine production from allergic rhinitis patients. J Med Food 8(1):27–30

Marles RJ, Barrett ML, Barnes J et al (2011) United States pharmacopeia safety evaluation of spirulina. Crit Rev Food Sci Nutr 51(7):593–604

Matsumoto H, Ishikawa K, Itabe H et al (2006) Carbon monoxide and bilirubin from heme oxygenase-1 suppresses reactive oxygen species generation and plasminogen activator inhibitor-1 induction. Mol Cell Biochem 291:21–28

McCarty MF (2007) Clinical potential of spirulina as a source of phycocyanobilin. J Med Food 10:566–570

McElhaney JE, Kuchel GA, Zhou X et al (2016) T-Cell immunity to influenza in older adults: a pathophysiological framework for development of more effective vaccines. Front Immunol 7:41

MHRA (2009) Medicines and Healthcare products Regulatory Agency, UK. Data on suspected adverse drug reactions. http://www.mhra.gov.uk//Onlineservices/Medicines/Druganalysisprints/index.htm. Accessed 5 April 2016

Miranda MS, Cintra RG, Barros SB et al (1998) Antioxidant activity of the microalga Spirulina maxima. Braz J Med Biol Res 31:1075–1079

Mitra S, Siddiqui WA, Khandelwal S (2015) C-Phycocyanin protects against acute tributyltin chloride neurotoxicity by modulating glial cell activity along with its anti-oxidant and anti-inflammatory property: a comparative efficacy evaluation with N-acetyl cysteine in adult rat brain. Chem Biol Interact 238:138–150

Muga MA, Chao JC (2014) Effects of fish oil and spirulina on oxidative stress and inflammation in hypercholesterolemic hamsters. BMC Complement Altern Med 14:470

Nakagawa H, Montgomery WL (2007) Algae. In: Dietary supplements for the health and quality of cultured fish. Edited by Nakagawa H, Sato S. and Gatlin III. D. CABI North American Office Cambridge, MA 02139 USA, 133–168

Ngo-Matip ME, Pieme CA, Azabji-Kenfack M et al (2015) Impact of daily supplementation of Spirulina platensis on the immune system of naïve HIV-1 patients in Cameroon: a 12-months single blind, randomized, multicenter trial. Nutr J 14:70

Pabon MM, Jernberg JN, Morganti J et al (2012) A spirulina-enhanced diet provides neuroprotection in an α-synuclein model of Parkinson's disease. PLoS ONE 7(9):e45256

Pak W, Takayama F, Mine M, Nakamoto K et al (2012) Anti-oxidative and anti-inflammatory effects of spirulina on rat model of non-alcoholic steatohepatitis. J Clin Biochem Nutr 51(3):227–234

Park HJ, Lee YJ, Ryu HK et al (2008) A randomized double-blind, placebo-controlled study to establish the effects of spirulina in elderly Koreans. Ann Nutr Metab 52(4):322–328

Patil S, Al-Zarea BK, Maheshwari S et al (2015) Comparative evaluation of natural antioxidants spirulina and aloe vera for the treatment of oral submucous fibrosis. J Oral Biol Craniofac Res 5(1):11–15

Pham TX, Kim B, Lee J (2013) Spirulina platensis inhibits lipopolysaccharide-induced inflammation through the repression of histone deacetylases in RAW 264.7 macrophages. FASEB J 27:1

Ponce-Canchihuamán JC, Pérez-Méndez O, Hernández-Muñoz R et al (2010) Protective effects of Spirulina maxima on hyperlipidemia and oxidative-stress induced by lead acetate in the liver and kidney. Lipids Health Dis 9:1–7

Priyadarshani I, Rath B (2012) Commercial and industrial applications of micro algae—a review. J Algal Biomass Utln 3(4):89–100

Qing R, Ye H, Lan L, Fu H (2003) Study of the activity of two antioxidant enzymes of Spirulina maxima under excessive light stress. J Sichuan Univ 40(3):565–569

Qureshi MA, Ali RA (1996) Spirulina platensis exposure enhances macrophage phagocytic function in cats. Immunopharmacol Immunotoxicol 18:457–463

Radman M, Golshiri A, Shamsizadeh A et al (2015) Toll-like receptor 4 plays significant roles during allergic rhinitis. Allergol Immunopathol 43(4):416–420

Rasool M, Sabina EP (2009) Appraisal of immunomodulatory potential of Spirulina fusiformis: an in vivo and in vitro study. J Nat Med 63(2):169–175

Rasool M, Sabina EP, Lavanya B (2006) Anti-inflammatory effect of Spirulina fusiformis on adjuvant-induced arthritis in mice. Biol Pharm Bull 29(12):2483–2487

Rasool MK, Sabina EP, Nithya P, Lavanya K (2009) Suppressive effect of Spirulina fusiformis in relation to lysosomal acid hydrolases, lipid peroxidation, antioxidant status, and inflammatory mediator TNF-alpha on experimental gouty arthritis in mice. Orient Pharm Exp Med 9(2):164–173

Reddy CM, Bhat VB, Kiranmai G et al (2000) Selective inhibition of cyclooxygenase-2 by C-phycocyanin, a biliprotein from Spirulina platensis. Biochem Biophys Res Commun 277(3):599–603

Remirez D, González R, Merino N et al (2002) Inhibitory effects of Spirulina in zymosan-induced arthritis in mice. Mediators Inflamm 11(2):75–79

Riss J, Décordé K, Sutra T et al (2007) Phycobiliprotein C-phycocyanin from Spirulina platensis is powerfully responsible for reducing oxidative stress and NADPH oxidase expression induced by an atherogenic diet in hamsters. J Agric Food Chem 55(19):7962–7967

Romay C, Gonzalez R, Ledon N et al (2003) Cphycocyanin: a biliprotein with antioxidant, anti-inflammatory and neuroprotective effects. Curr Protein Pept Sci 4:207–216

Sagara T, Nishibori N, Kishibuchi R et al (2015) Non-protein components of Arthrospira (Spirulina) platensis protect PC12 cells against iron-evoked neurotoxic injury. J Appl Phycol 27(2):849–855

Sanyal AJ (2001) Nonalcoholic steatohepatitis. Indian J Gastroenterol 20:64–70

Schafer FQ, Wang HP, Kelley EE et al (2002) Comparing beta-carotene, vitamin E and nitric oxide as membrane antioxidants. Biol Chem 383(3–4):671–681

Selmi C, Leung PS, Fischer L et al (2011) The effects of Spirulina on anemia and immune function in senior citizens. Cell Mol Immunol 8(3):248–254

Shalaby EA, Shanab SMM (2013) Comparison of DPPH and ABTS assays for determining antioxidant potential of water and methanol extracts of Spirulina platensis. Indian J Geo Marine Sci 42(5):556–564

Sharma KM, Sharma A, Kumar A et al (2007) Spirulina fusiformis provides protection against mercuric chloride induced oxidative stress in Swiss albino mice. Food Chem Toxicol 45:2412–2419

Sharma S, Yadav N, Pandey A et al (2013) Antioxidant rich diet supplements (Spirulina and tamarind fruit pulp) mitigate hematological disorders in fluoride exposed mice. Toxicol Environ Chem 95(10):1739–1747

Shetty P, Shenai P, Chatra L et al (2013) Efficacy of spirulina as an antioxidant adjuvant to corticosteroid injection in management of oral submucous fibrosis. Indian J Dent Res 24(3):347–350

Shokri H, Khosravi A, Taghavi M (2014) Efficacy of Spirulina platensis on immune functions in cancer mice with systemic candidiasis. J Mycol Res 1(1):7–13

Sin JB, Choi WY, Lee HY (2014) Comparison of anti-inflammatory activity of Spirulina maxima extract by ultrasonication and water extraction process Spirulina maxima. J Korean Soc Food Nutr 43(12):1852–1857

Small E (2011) Spirulina-food for the universe. Biodiversity 12(4):255–265

Soheili M, Khosravi-Darani K (2011) The potential health benefits of algae and micro algae in medicine: a review on Spirulina platensis. Curr Nutr Food Sci 27(4):279–285

Somchit MN, Mohamed NA, Ahmad Z et al (2014) Anti-inflammatory and anti-pyretic properties of Spirulina platensis and Spirulina lonar: a comparative study. Pak J Pharm Sci 27(5):1277–1280

Sotiroudis TG, Sotiroudis GT (2013) Health aspects of Spirulina (Arthrospira) microalga food supplement. J Serb Chem Soc 78(3):395–405

Sudharsan S, Subhapradha N, Seedevi P et al (2015) Antioxidant and anticoagulant activity of sulfated polysaccharide from Gracilaria debilis (Forsskal). Int J Biol Macromol 81:1031–1038

Teng YN, Sheu MJ, Hsieh YW et al (2016) Beta-carotene reverses multidrug resistant cancer cells by selectively modulating human P-glycoprotein function. Phytomedicine 23(3):316–323

TGA (2005) Therapeutic Goods Administration, Australia. Complementary Medicin-es Evaluation Committee 52nd meeting. August 2005. http://www.tga.gov.au/docs/pdf/cmec/cmecmi52.pdf. Accessed 5th April 2016

Tobón-Velasco JC, Palafox-Sánchez V, Mendieta L et al (2013) Antioxidant effect of Spirulina (Arthrospira) maxima in a neurotoxic model caused by 6-OHDA in the rat striatum. J Neural Transm 120(8):1179–1189

Upasani CD, Balaraman R (2003) Protective effect of Spirulina on lead induced deleterious changes in the lipid peroxidation and endogenous antioxidants in rats. Phytother Res 17:330–334

Vázquez-Velasco M, González-Torres L, López-Gasco P et al (2014) Liver oxidation and inflammation in Fa/Fa rats fed glucomannan/spirulina-surimi. Food Chem 159:215–221

Vidé J, Virsolvy A, Romain C et al (2015a) Dietary silicon-enriched spirulina improves early atherosclerosis markers in hamsters on a high-fat diet. Nutrition 31(9):1148–1154

Vidé J, Romain C, Feillet-Coudray C et al (2015b) Assessment of potential toxicological aspects of dietary exposure to silicon-rich spirulina in rats. Food Chem Toxicol 80:108–113

Vo TS, Ryu B, Kim SK (2013) Purification of novel anti-inflammatory peptides from enzymatic hydrolysate of the edible microalgal Spirulina maxima. J Funct foods 5:1336–1346

Walker DM (2004) Oral mucosal immunology: an overview. Ann Acad Med Singapore 33(Suppl):27S–30S

Wang L, Pan B, Sheng J et al (2007) Antioxidant activity of Spirulina platensis extracts by supercritical carbon dioxide extraction. Food Chem 105:36–41

Wang X, Liu Q, Ihsan A et al (2012) JAK/STAT pathway plays a critical role in the proinflammatory gene expression and apoptosis of RAW264.7 cells induced by trichothecenes as DON and T-2 toxin. Toxicol Sci 127:412–424

Wang L, Wang X, Wu H et al (2014a) Overview on biological activities and molecular characteristics of sulfated polysaccharides from marine green algae in recent years. Mar Drugs 12(9):4984–5020

Wang Z, Wu Q, Kuca K et al (2014b) Deoxynivalenol: signaling pathways and human exposure risk assessment—an update. Arch Toxicol 88:1915–1928

Wu LC, Ho JA, Shieh MC et al (2005) Antioxidant and antiproliferative activities of Spirulina and Chlorella water extracts. J Agric Food Chem 53(10):4207–4212

Wu Q, Wang X, Yang W et al (2014a) Oxidative stress mediated cytotoxicity and metabolism of T-2 toxin and deoxynivalenol in animals and humans: an update. Arch Toxicol 88:1309–1326

Wu Q, Wang X, Wan D et al (2014b) Crosstalk of JNK1-STAT3 is critical for RAW264.7 cell survival. Cell Signal 26:2951–2960

Xia D, Liu B, Luan XY et al (2016) Protective effects of C-phycocyanin on alcohol-induced acute liver injury in mice. Chin J Oceanol Limnol 34(2):399–404

Yang LL, Zhou QJ, Wang Y et al (2012) Comparison of the therapeutic effects of extracts from Spirulina platensis and amnion membrane on inflammation-associated corneal neovascularization. Int J Ophthalmol. 5(1):32–37

Yang F, Wong KH, Yang Y et al (2014) Purification and in vitro antioxidant activities of tellurium-containing phycobiliproteins from tellurium-enriched Spirulina platensis. Drug Des Devel Ther 8:1789–1800

Yogianti F, Kunisada M, Nakano E et al (2014) Inhibitory effects of dietary Spirulina platensis on UVB-induced skin inflammatory responses and carcinogenesis. J Invest Dermatol 134(10):2610–2619

Yoshikawa T, Naito Y (2002) What is oxidative stress. JMAJ 45(7):271–276

Youn K, Lee J, Yun EY et al (2014) Biological evaluation and in silico docking study of gamma-linolenic acid as a potential BACE1 inhibitor. J Funct Foods 10:187–191

Zheng J, Inoguchi T, Sasaki S et al (2013) Phycocyanin and phycocyanobilin from Spirulina platensis protect against diabetic nephropathy by inhibiting oxidative stress. Am J Physiol Regul Integr Comp Physiol 304(2):R110–R112

Zhou ZP, Liu LN, Chen XL et al (2005) Factors that effect antioxidant activity of C-phycocyanins from Spirulina platensis. J Food Biochem 29:313–322
Acknowledgments
This work was financially supported by Yangtze Youth Talents Fund (Yangtze University, Grant No. 2015cqr19), National Natural Science Foundation of China (81501269), the project of Excellence FIM UHK, as well as the long-term development plan UHHK.
Ethics declarations
Conflict of interest
The authors declare that they have no conflict of interest.
About this article
Cite this article
Wu, Q., Liu, L., Miron, A. et al. The antioxidant, immunomodulatory, and anti-inflammatory activities of Spirulina: an overview. Arch Toxicol 90, 1817–1840 (2016). https://doi.org/10.1007/s00204-016-1744-5
Received:

Accepted:

Published:

Issue Date:
Keywords
Spirulina

Phycocyanin

Antioxidant

Immunomodulation

Anti-inflammatory

Mechanism of action