Abstract
Polybrominated diphenyl ethers (PBDEs) are used in large quantities as flame-retardant additives in a number of commercial products. Biomonitoring data show that, in recent years, PBDE concentrations have increased rapidly in the bodies of wildlife and humans. Usually, PBDE levels in North America have been reported to be higher than those in Europe and Asia. Moreover, body burden of PBDEs is three- to ninefold higher in infants and toddlers than in adults, showing these last two age groups the highest levels of these compounds, due to exposure via maternal milk and through dust. Tetra-, Penta-, and Hexa-BDEs are the isomers most commonly found in humans. Based on studies on experimental animals, the toxicological endpoints of exposure to PBDEs are likely to be thyroid homeostasis disruption, neurodevelopmental deficits, reproductive changes, and even cancer. Experimental studies in animals and epidemiological observations in humans suggest that PBDEs may be developmental neurotoxicants. Pre- and/or postnatal exposure to PBDEs may cause long-lasting behavioral abnormalities, particularly on motor activity and cognition. This paper is focused on reviewing the current status of PBDEs in the environment, as well as the critical adverse health effects based on the recent studies on the toxic effects of PBDEs.
Access options
Buy single article
Instant access to the full article PDF.
US$ 39.95
Tax calculation will be finalised during checkout.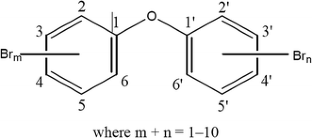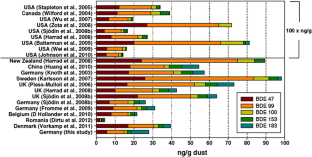 References
Abdelouahab N, Ainmelk Y, Takser L (2011) Polybrominated diphenyl ethers and sperm quality. Reprod Toxicol 31:546–550

Adgent MA, Hoffman K, Goldman BD, Sjödin A, Daniels JL (2014) Paediatr Perinatal Epidemiol 28:48–57

Agrell C, ter Schure AF, Sveder J, Bokenstrand A, Larsson P, Zegers BN (2004) Polybrominated diphenyl ethers (PBDES) at a solid waste incineration plant. I: atmospheric concentrations. Atmos Environ 38:5139–5148

Akutsu K, Takatori S, Nakazawa H, Hayakawa K, Izumi S, Makino T (2008) Dietary intake estimations of polybrominated diphenyl ethers (PBDEs) based on a total diet study in Osaka, Japan. Food Addit Contam Part B Surveill 1:58–68

Alaee M, Arias P, Sjodin A, Bergman A (2003) An overview of commercially used brominated flame retardants, their applications, their use patterns in different countries/regions and possible modes of release. Environ Int 29:683–689

Alivernini S, Battistelli CL, Turrio-Baldassarri L (2011) Human milk as a vector and an indicator of exposure to PCBs and PBDEs: temporal trend of samples collected in Rome. Bull Environ Contam Toxicol 87:21–25

Allen BL, Mallarino AP, Klatt JG, Baker JL, Camara M (2006) Soil and surface runoff phosphorus relationships for five typical USA midwest soils. J Environ Qual 35:599–610

Alonso V, Linares V, Bellés M, Albina ML, Pujol A, Domingo JL, Sánchez DJ (2010) Effects of BDE-99 on hormone homeostasis and biochemical parameters in adult male rats. Food Chem Toxicol 48:2206–2211

Argus Research Laboratories. (1985a). Embryo/fetal toxicity and teratogenic potential study of Saytex® 115 administered orally via gavage to Crl: COBS® CD® (SD) BR presumed pregnant rats. Submitted to the U.S. Environmental Protection Agency under TSCA Section 8E. OTS0000973

Argus Research Laboratories. (1985b). Embryo/fetal toxicity and teratogenic potential study of Saytex® 115 administered orally via gavage to Crl: COBS® CD® (SD) BR presumed pregnant rats. to the U.S. Environmental Protection Agency under TSCA Section 8E. OTS0509725

Ashizuka Y, Nakagawa R, Hori T, Yasutake D, Tobiishi K, Sasaki K (2008) Determination of brominated flame retardants and brominated dioxins in fish collected from three regions of Japan. Mol Nutr Food Res 52:273–283

ATSDR (2004) Agency for Toxic Substances and Disease Registry. Toxicological Profile for Polybrominated Diphenyl Ethers and Polybrominated Biphenyls. www.atsdr.cdc.gov/toxprofiles/tp68.html

Bahn AK, Mills JL, Snyder PJ, Gann PH, Houten L, Bialik O, Hollmann L, Utiger RD (1980) Hypothyroidism in workers exposed to polybrominated biphenyls. N Engl J Med 302:31–33

Bakker MI, de Winter-Sorkina R, de Mul A, Boon PE, van Donkersgoed G, van Klaveren JD, Baumann BA, Hijman WC, van Leeuwen SP, de Boer J, Zeilmaker MJ (2008) Dietary intake and risk evaluation of polybrominated diphenyl ethers in The Netherlands. Mol Nutr Food Res 52:204–216

Batterman S, Godwin C, Chernyak S, Jia S, Charles S (2010) Brominated flame retardants in offices in Michigan U.S.A. Environ Int 36:548–556

Bayen S, Wurl O, Karuppiah S, Sivasothi N, Lee HK, Obbard JP (2005) Persistent organic pollutants in mangrove food webs in Singapore. Chemosphere 61:303–313

Bellés M, Alonso V, Linares V, Albina ML, Sirvent JJ, Domingo JL, Sánchez DJ (2010) Behavioral effects and oxidative status in brain regions of adult rats exposed to BDE-99. Toxicol Lett 194:1–7

Besis A, Samara C (2012) Polybrominated diphenyl ethers (PBDEs) in the indoor and outdoor environments—a review on occurrence and human exposure. Environ Pollut 169:217–229

Bi XH, Qu WY, Sheng GY, Zhang WB, Mai BX, Chen DJ, Yu L, Fu JM (2006) Polybrominated diphenyl ethers in South China maternal and fetal blood and breast milk. Environ Pollut 144:1024–1030

Björklund JA, Thuresson K, Palm Cousins A, Sellström U, Emenius G, de Wit CA (2012) Indoor air is a significant source of tri-decabrominated diphenyl ethers to outdoor air via ventilation systems. Environ Sci Technol 46:5876–5884

Blay P, Nilsson C, Owman C (1993) Transthyretin expression in the rat brain: effect of thyroid functional state and role in thyroxine transport. Brain Res 632:114–120

Bocio A, Llobet JM, Domingo JL, Corbella J, Teixidó A, Casas C (2003) Polybrominated diphenyl ethers (PBDEs) in foodstuffs: human exposure through the diet. J Agric Food Chem 51:3191–3195

Bocio A, Domingo JL, Falcó G, Llobet JM (2007) Concentrations of PCDD/PCDFs and PCBs in fish and seafood from the Catalan (Spain) market: estimated human intake. Environ Int 33:170–175

Bradman A, Castorina R, Sjödin A, Fenster L, Jones RS, Harley KG (2012) Factors associated with serum polybrominated diphenyl ether (PBDE) levels among school-age children in the CHAMACOS cohort. Environ Sci Technol 46(13):7373–7381

Branchi I, Alleva E, Costa LG (2002) Effects of perinatal exposure to a polybrominated diphenyl ether (PBDE 99) on mouse neurobehavioural development. Neurotoxicology 23:375–384

Breslin WJ, Kirk HD, Zimmer MA (1989) Teratogenic evaluation of a polybromodiphenyl oxide misture in New Zealand white rabbits following oral exposure. Fundam Appl Toxicol 12(1):151–157

Bromine Science and Environmental Forum (BSEF) (2009) Available at: http://www.bsef.com

Capen CC (1997) Mechanistic data and risk assessment of selected toxic points of the thyroid gland. Toxicol Pathol 25:39–48

Carrizo D, Grimalt JO (2007) Influence of breastfeeding in the accumulation of polybromodiphenyl ethers during the first years of child growth. Environ Sci Technol 41:4907–4912

Chao HR, Wang SL, Lee WJ, Wang YF, Papke O (2007) Levels of polybrominated diphenyl ethers (PBDEs) in breast milk from central Taiwan and their relation to infant birth outcome and maternal menstruation effects. Environ Int 33:239–245

Chao HR, Tsou TC, Huang HL, Chang-Chien GP (2011) Levels of breast milk PBDEs from southern Taiwan and their potential impact on neurodevelopment. Pediatric Res 70:596–600

Chen SJ, Gao XJ, Mai BX, Chen ZM, Luo XJ, Sheng GY, Fu JM, Zeng EY (2006) Polybrominated diphenyl ethers in surface sediments of the Yangtze River Delta: levels, distribution and potential hydrodynamic influence. Environ Pollut 144:951–957

Chen MY, Tang AS, Ho YY, Xiao Y (2010) Dietary exposure of secondary school students in Hong Kong to polybrominated diphenyl ethers from foods of animal origin. Food Addit Contam Part A 27:521–529

Christiansson A, Hovander L, Athanassiadis I, Jakobsson K, Bergman A (2008) Polybrominated diphenyl ethers in aircraft cabins—a source of human exposure? Chemosphere 73:1654–1660

Costa LG, Giordano G (2007) Developmental neurotoxicity of polybrominated diphenyl ether (PBDE) flame retardants. Neurotoxicology 28:1047–1067

Costa LG, Giordano G, Tagliaferri S, Caglieri A, Mutti A (2008) Polybrominated diphenyl ether (PBDE) flame retardants: environmental contamination, human body burden and potential adverse health effects. Acta Biomed 79:172–183

Covaci A, Harrad S, Abdallah MA-E, Ali N, Law RJ, Herzke D, de Wit CA (2011) Novel brominated flame retardants: a review of their analysis, environmental fate and behaviour. Environ Int 37:532–556

Daniels JL, Pan IJ, Jones R, Anderson S, Patterson DG Jr, Needham LL (2010) Individual characteristics associated with PBDE levels in U.S. human milk samples. Environ Health Perspect 118:155–160

Danon-Schaffer MN, Mahecha-Botero A (2010) Influence of chemical degradation kinetic parameters on the total debromination of PBDEs in a landfill system. Organohalogen Compd 72:47–50

Danon-Schaffer MN, Mahecha-Botero A, Grace JR, Ikonomou M (2013) Mass balance evaluation of polybrominated diphenyl ethers in landfill leachate and potential for transfer from e-waste. Sci Total Environ 461–462:290–301

Darnerud PO, Sinjari T (1996) Effects of polybrominated diphenyl ethers (PBDEs) and polybrominated biphenyls (PCBs) on thyroxine and TSH blood levels in rats and mice. Organohalogen Compd 29:316–319

Darnerud PO, Atuma S, Aune M, Bjerselius R, Glynn A, Grawé KP, Becker W (2006) Dietary intake estimations of organohalogen contaminants (dioxins, PCB, PBDE and chlorinated pesticides, e.g. DDT) based on Swedish market basket data. Food Chem Toxicol 44:1597–1606

Darnerud PO, Aune M, Larsson L, Lignell S, Mutshatshi T, Okonkwo J, Botha B, Agyei N (2011) Levels of brominated flame retardants and other pesistent organic pollutants in breast milk samples from Limpopo Province, South Africa. Sci Total Environ 409:4048–4053

Dassanayake RM, Wei H, Chen RC, Li A (2009) Optimization of the matrix solid phase dispersion extraction procedure for the analysis of polybrominated diphenyl ethers in human placenta. Anal Chem 81:9795–9801

De Wit CA (2002) An overview of brominated flame retardants in the environment. Chemosphere 46:583–624

Deng WJ, Zheng JS, Bi XH, Fu JM, Wong MH (2007) Distribution of PBDEs in air particles from an electronic waste recycling site compared with Guangzhou and Hong Kong, South China. Environ Int 33:1063–1069

Domingo JL (2012) Polybrominated diphenyl ethers in food and human dietary exposure: a review of the recent scientific literatura. Food Chem Toxicol 50:238–249

Domingo JL, Bocio A, Falcó G, Llobet JM (2007) Benefits and risks of fish consumption Part I. A quantitative analysis of the intake of omega-3 fatty acids and chemical contaminants. Toxicology 230:219–226

Domingo JL, Martí-Cid R, Castell V, Llobet JM (2008) Human exposure to PBDEs through the diet in Catalonia, Spain: temporal trend. A review of recent literature on dietary PBDE intake. Toxicology 248:25–32

Dow Chemical Company (1975) Results of a reproduction study in rats maintained on diets containing decabromodiphenyl oxide. Submitted to U.S. Environmental Protection Agency under TSCA Section 8D. OTS0522252

Dow Chemical Company (1985) Decabromodiphenyloxide: A summary of an oral teratology study in Sprague-Dawley rats. Submitted to the U.S. Environmental Protection Agency under TSCA Section 8D. OTS0522284

Driscoll LL, Gibson AM, Hieb A (2009) Chronic postnatal DE-71 exposure: effects on learning, attention and thyroxine levels. Neurotoxicol Teratol 31:76–84

Driscoll LL, Kaplan J, Bucuvalas E, Allen H, Kraut J, Fitzpatrick J (2012) Acute postnatal exposure to the pentaBDE commercial mixture DE-71 at 5 or 15 mg/kg/day does not produce learning or attention deficits in rats. Neurotoxicol Teratol 34:20–26

Dufault C, Poles G, Driscoll LL (2005) Brief postnatal PBDE exposure alters learning and the cholinergic modulation of attention in rats. Toxicol Sci 88:172–180

Environment Agency (2002) Guidance on monitoring of landfill leachate, groundwater and surface water. Available at: http://www.ehsdata.com/media/pdf/technical/monitoring%20guidance-june%2002%20v.3a.pdf

Eskenazi B, Fenster L, Castorina R, Marks AR, Sjödin A, Rosas LG (2011) A comparison of PBDE serum concentrations in Mexican and Mexican-American children living in California. Environ Health Perspect 119:1442–1448

Eskenazi B, Chevrier J, Rauch SA, Kogut K, Harley KG, Johnson C (2013) In utero and childhood polybrominated diphenyl ether (PBDE) exposures and neurodevelopment in the CHAMACOS Study. Environ Health Perspect 121:2562–2572

EU RAR (2003) Diphenyl ether, octabromoderivative. European Chemicals Bureau. (European Risk Assessment Report, 1st Priority List, vol 16)

European Commission (EC) (2011) Final report: study on waste related issues of newly listed POPs and candidate POPs

European Court of Justice (2008) Judgement of the European Court of Justice on Joint Cases C-14/06 and C-295/06. http://eur-lex.europa.eu/LexUriServ/ LexUriServ.do? uri¼CELEX: 62006J0014:EN:HTML

European Food Safety Agency (EFSA) (2011) Panel on Contaminants in the Food Chain (CONTAM); Scientific Opinion on Polybrominated Diphenyl Ethers (PBDEs) in Food. EFSA Journal 9,2156. Available at: http://www.efsa.europa.eu/efsajournal

Fängström B, Athanassiadis I, Odsjö T, Norén K, Bergman A (2008) Temporal trends of polybrominated diphenyl ethers and hexabromocyclododecane in milk from Stockholm mothers, 1980–2004. Mol Nutr Food Res 52:187–193

Fernandes A, Dicks P, Mortimer D, Gem M, Smith F, Driffield M, White S, Rose M (2008) Brominated and chlorinated dioxins, PCBs and brominated flame retardants in Scottish shellfish: methodology, occurrence and human dietary exposure. Mol Nutr Food Res 52:238–249

Fernandes A, Tlustos C, Smith F, Carr M, Petch R, Rose M (2009a) Polybrominated diphenyl ethers (PBDEs) and brominated dioxins (PBDD/Fs) in Irish food of animal origin. Food Addit Contam Part B 2:86–94

Fernandes A, Mortimer D, Gem M, Dicks P, Smith F, White S, Rose M (2009b) Brominated dioxins (PBDD/Fs) and PBDEs in marine shellfish in the UK. Food Addit Contam Part A 26:918–927

Fischer D, Hooper K, Athanasiadou M, Athanassiadis I, Bergman A (2006) Children show highest levels of polybrominated diphenyl ethers in a California family of four: a case study. Environ Health Perspect 114:1581–158

Foster WG, Gregorovich S, Morrison KM, Atkinson SA, Kubwabo C, Stewart B, Teo K (2011) Human maternal and umbilical cord blood concentrations of polybrominated diphenyl ethers. Chemosphere 84:1301–1309

Fowles JR, Fairbrother A, Baecher-Steppan L, Kerkvliet NI (1994) Immunologic and endocrine effects of the flame-retardant pentabromodiphenyl ether (DE-71) in C57BL/6J mice. Toxicology 86:49–61

Fraser AJ, Webster TF, McClean MD (2009) Diet contributes significantly to the body burden of PBDEs in the general U.S. population. Environ Health Perspect 117:1520–1525

Frazzoli C, Asongalem EA, Orisakwe OE (2012) Cameroon–Nigeria–Italy scientific cooperation: veterinary public health and sustainable food safety to promote "one health/one prevention". Rapporti ISTISAN 12/49

Frederiksen M, Vorkamp K, Thomsen M, Knudsen LE (2009a) Human internal and external exposure to PBDEs–a review of levels and sources. Int J Hyg Environ Health 212:109–134

Frederiksen M, Thomsen M, Vorkamp K, Knudsen LE (2009b) Patterns and concentration levels of polybrominated diphenyl ethers (PBDEs) in placental tissue of women in Denmark. Chemosphere 76:1464–1469

Frederiksen M, Vorkamp K, Mathiesen L, Mose T, Knudsen LE (2010) Placental transfer of the polybrominated diphenyl ethers BDE-47, BDE-99 and BDE-209 in a human placenta perfusion system: an experimental study. Environ Health 9:32

Fromme H, Körner W, Shahin N, Wanner A, Albrecht M, Boehmer S (2009) Human exposure to polybrominated diphenyl ethers (PBDE), as evidenced by data from a duplicate diet study, indoor air, house dust, and biomonitoring in Germany. Environ Int 35:1125–1135

Fromme H, Hilger B, Kopp E, Miserok M, Völkel W (2014) Polybrominated diphenyl ethers (PBDEs), hexabromocyclododecane (HBCD) and "novel" brominated flame retardants in house dust in Germany. Environ Int 64:61–68

Gascon M, Vrijheid M, Martinez D, Forns J, Grimalt JO, Torrent M (2011) Effects of pre and postnatal exposure to low levels of polybromodiphenyl ethers on neurodevelopment and thyroid hormone levels at 4 years of age. Environ Int 37:605–611

Gascon M, Fort M, Martínez D, Carsin AE, Forns J, Grimalt JO, Santa Marina L, Lertxundi N, Sunyer J, Vrijheid M (2012) Polybrominated diphenyl ethers (PBDEs) in breast milk and neuropsychological development in infants. Environ Health Perspect 120:1760–1765

Gee JR, Moser VC (2008) Acute postnatal exposure to brominated diphenylether 47 delays neuromotor ontogeny and alters motor activity in mice. Neurotoxicol Teratol 30:79–87

Gómara B, Herrero L, González MJ (2006) Survey of polybrominated diphenyl ether levels in Spanish commercial foodstuffs. Environ Sci Technol 40:7541–7547

Great Lakes Chemical Corporation (1978) Octabromodiphenyl ether. Subacute inhalation toxicity study in rats. International Research and Development Corporation. Submitted to the U.S. Environmental Protection Agency under TSCA Section 8D. OTS0522293

Great Lakes Chemical Corporation (2000) A 90-day inhalation toxicity study of octabromodiphenyl oxide in albino rats, dated 04/04/02. Submitted to the U.S. Environmental Protection Agency under TCSA Section 8E. OTS0574171-1

Great Lakes Chemical Corporation (2001a) Initial submission: Letter from Great Lakes Chemical Corporation to U.S. EPA summarizing 90-day inhalation toxicity study of octabromodiphenyl oxide in albino rats, dated 05/25/01. Submitted to the U.S. Environmental Protection Agency under TSCA Section 8E. OTS0574171

Great Lakes Chemical Corporation (2001b) Support: Letter from Great Lakes Chemical Corporation to U.S. EPA summarizing 90-day inhalation toxicity study of octabromodiphenyl oxide in albino rats, dated 05/25/01. Submitted to the U.S. Environmental Protection Agency under TSCA Section 8E. OTS0574171-1

Gump BB, Yun S, Kannan K (2014) Polybrominated diphenyl ether (PBDE) exposure in children: possible associations with cardiovascular and psychological functions. Environ Res 132:244–2450

Guo Y, Yu HY, Zhang BZ, Zeng EY (2009) Persistent halogenated hydrocarbons in fish feeds manufactured in South China. J Agric Food Chem 57:3674–3680

Hagmar L, Bjork J, Sjodin A, Bergman A, Erfurth EM (2001) Plasma levels of persistent organohalogens and hormone levels in adult male humans. Arch Environ Health 56:138–143

Hakk H, Larsen G, Klasson-Wehler E (2002) Tissue disposition, excretion and metabolism of 2,2′,4,4′,5-pentabromodiphenyl ether (BDE-99) in the male Sprague-Dawley rat. Xenobiotica 32:369–382

Hale RC, Kim SL, Harvey E, La Guardia MJ, Mainor TM, Bush EO, Jacobs EM (2008) Antarctic research bases: local sources of polybrominated diphenyl ether (PBDE) flame retardants. Environ Sci Technol 42:1452–1457

Hallgren S, Darnerud P (1998) Effects of polybrominated diphenyl ethers (PBDEs), polychlorinated biphenyls (PCBs) and chlorinated paraffins (CPs) on thyroid hormone levels and enzyme activities in rats. Organohalogen Compd 35:391–394

Hallgren S, Sinjari T, Hakansson H, Darnerud P (2001) Effects of polybrominated diphenyl ethers (PBDEs) and polychlorinated biphenyls (PCBs) on thyroid hormone and vitamin A levels in rats and mice. Arch Toxicol 75:200–208

Haraguchi K, Koizumi A, Inoue K, Harada KH, Hitomi T, Minata M, Tanabe M, Kato Y, Nishimura E, Yamamoto Y, Watanabe T, Takenaka K, Uehara S, Yang HR, Kim MY, Moon CS, Kim HS, Wang PY, Liu AP, Hung NN (2009) Levels and regional trends of persistent organochlorines and polybrominated diphenyl ethers in Asian breast milk demonstrate POPs signatures unique to individual countries. Environ Int 35:1072–1079

Hardy M, Biesemeier J, Manor O. (2001) Results of a prenatal developmental toxicity study of decabromodiphenyl oxide in rats. The second international workshop on brominated flame retardants. BFR 2001. Stockholm, Sweden, 253–257

Hardy ML, Schroeder R, Biesemeier J (2002) Prenatal oral (gavage) developmental toxicity study of decabromodiphenyl oxide in rats. Int J Toxicol 21:83–91

Harju M, Heimstad ES, Sandanger DH, Posner S, Wania F (2008) Current state of knowledge and monitoring requirements emerging "new" brominated flame retardants in flame retarded products and the environment. Oslo: Statens forurensningstilsyn Available at: http://www.miljodirektoratet.no/old/klif/publikasjoner/2462/ta2462.pdf

Harley KG, Chevrier J, Schall RA, Sjodin A, Bradman A, Eskenazi B (2011) Association of prenatal exposure to polybrominated diphenyl ethers and infant birth weight. Am J Epidemiol 174:885–892

Harrad S, Hazrati S, Ibarra C (2006) Concentrations of polychlorinated biphenyls in indoor air and polybrominated diphenyl ethers in indoor air and dust in Birmingham, United Kingdom: implications for human exposure. Environ Sci Technol 40:4633–4638

Harrad S, Goosey E, Desborough J, Abdallah MA, Roosens L, Covaci A (2010) Dust from U.K. primary school classrooms and daycare centers: the significance of dust as a pathway of exposure of young U.K. children to brominated flame retardants and polychlorinated biphenyls. Environ Sci Technol 44:4198–4202

Hazrati S, Harrad S (2006) Causes of variability in concentrations of polychlorinated biphenyls and polybrominated diphenyl ethers in indoor air. Environ Sci Technol 40:7584–7589

Herbstman JB, Sjodin A, Apelberg BJ, Witter FR, Halden RU, Patterson DG, Panny SR, Needham LL, Goldman LR (2008) Birth delivery mode modifies the associations between prenatal polychlorinated biphenyl (PCB) and polybrominated diphenyl ether (PBDE) and neonatal thyroid hormone levels. Environ Health Perspect 116:1376–1382

Herbstman JB, Sjodin A, Kurzon M, Lederman SA, Jones RS, Rauh V (2010) Prenatal exposure to PBDEs and neurodevelopment. Environ Health Perspect 118:712–719

Herzke D, Gabrielsen GW, Evenset A, Burkow IC (2003) Polychlorinated camphenes (toxaphenes), polybrominated diphenylethers and other halogenated organic pollutants in glaucous gull (Larus hyperboreus) from Svalbard and Bjørnøya (Bear Island). Environ Pollut 121:293–300

Hoffman K, Adgent M, Davis Goldman B, Sjodin A, Daniels JL (2012) Lactational exposure to polybrominated diphenyl ethers and its relation to social and emotional development among toddlers. Environ Health Perspect 120:1438–1442

Huwe JK, Hakk H, Smith DJ, Diliberto JJ, Richardson V, Stapleton HM, Birnbaum LS (2008) Comparative absorption and bioaccumulation of polybrominated diphenyl ethers following ingestion via dust and oil in male rats. Environ Sci Technol 42:2694–2700

IRDC (1976) Decabromodiphenyl ether and octabromodiphenyl ether. A twenty-eight day toxicity study in rats. International Research and Development Corporation. Submitted to the U.S. Environmental Protection Agency under TSCA Section 8D. OTS0523322

IRDC (1977) Octabromodiphenyl ether. Thirteen week feeding study in rats. International Research and Development Corporation. Submitted to the U.S. Environmental Protection Agency under TSCA Section 8D. OTS0522297

IRIS (Integrated Risk Information System) (2012). Online: http://cfpub.epa.gov/ncea/iris/index.cfm

Jaward FM, Meijer SN, Steinnes E, Thomas GO, Jones KC (2004) Further studies on the latitudinal and temporal trends of persistent organic pollutants in Norwegian and U.K. background air. Environ Sci Technol 38:2523–2530

Johnson-Restrepo B, Kannan K (2009) An assessment of sources and pathways of human exposure to polybrominated diphenyl ethers in the United States. Chemosphere 76:542–548

Jones-Otazo HA, Clarke JP, Diamond ML, Archbold JA, Ferguson G, Harner T, Richardson GM, Ryan JJ, Wilford B (2005) Is house dust the missing exposure pathway for PBDEs? An analysis of the urban fate and human exposure to PBDEs. Environ Sci Technol 39:5121–5130

Kajiwara N, Takigami H (2013) Emission behavior of hexabromocyclododecanes and polybrominated diphenyl ethers from flame-retardant treated textiles. Environ Sci Process Impact 15:1957–1963

Kim S, Park J, Kim HJ, Lee JJ, Choi G, Choi S, Kim S, Kim SY, Moon HB, Kim S, Choi K (2013) Association between several persistent organic pollutants and thyroid hormone levels in serum among the pregnant women of Korea. Environ Int 59:442–448

Kiviranta H, Ovaskainen ML, Vartiainen T (2004) Market basket study on dietary intake of PCDD/Fs, PCBs, and PBDEs in Finland. Environ Int 30:923–932

Kjeldsen P, Barlaz MA, Rooker AP, Baun A, Ledin A, Christensen TH (2002) Present and long-term composition of MSW landfill leachate: a review. Crit Rev Environ Sci Technol 32:297–336

Knutsen HK, Kvalem HE, Thomsen C, Frøshaug M, Haugen M, Becher G, Alexander J, Meltzer HM (2008) Dietary exposure to brominated flame retardants correlates with male blood levels in a selected group of Norwegians with a wide range of seafood consumption. Mol Nutr Food Res 52:217–227

Kuriyama S, Chahoud I (2003) Maternal exposure to low dose 2,2',4,4',5 pentabromo diphenyl ether (PBDE 99) impairs male reproductive performance in adult rat offspring. Organohalogen Compd 61:92–95

Kuriyama SN, Talsness CE, Grote K, Chahoud I (2005) Developmental exposure to low dose PBDE 99: effects on male fertility and neurobehavior in rat offspring. Environ Health Perspect 113:149–154

Law RJ (2010) Brominated flame retardants. In: Harrad SJ (ed) Persistent organic pollutants. Wiley p, Chichester, pp 5–24

Law RJ, Covaci A, Harrad S, Herzke D, Abdallah MA, Fernie K, Toms LM, Takigami H (2014) Levels and trends of PBDEs and HBCDs in the global environment: status at the end of 2012. Environ Int 65:147–158

Laws SC, Ferrell JM, Hedge JM (2003) The effects of DE-71, a commercial polybrominated diphenyl ether mixture, on female pubertal development and thyroid function. Toxicologist 72(5–1):136

Lee S, Kannan K, Moon HB (2013) Assessment of exposure to polybrominated diphenyl ethers (PBDEs) via seafood consumption and dust ingestion in Korea. Sci Total Environ 443:24–30

Lenters V, Thomsen C, Smit LA, Jönsson BA, Pedersen HS, Ludwicki JK, Zviezdai V, Piersma AH, Toft G, Bonde JP, Becher G, Vermeulen R, Heederik D (2013) Serum concentrations of polybrominated diphenyl ethers (PBDEs) and a polybrominated biphenyl (PBB) in men from Greenland, Poland and Ukraine. Environ Int 61:8–16

Leung AOW, Chan JKY, Xing GH, Xu Y, Wu SC, Wong CKC, Leung CKM, Wong MH (2010) Body burdens of polybrominated diphenyl ethers in childbearing-aged women at an intensive electronic-waste recycling site in China. Environ Sci Pollut Res 17:1300–1313

Li JG, Yu HF, Zhao YF, Zhang G, Wu YN (2008) Levels of polybrominated diphenyl ethers (PBDEs) in breast milk from Beijing, China. Chemosphere 73:182–186

Lichtensteiger W, Ceccatelli R, Faass O (2003) Effects of polybrominated diphenylether (PBDE) on reproductive organ and brain development and gene expression in rats. The Toxicologist 72:133

Life Sciences Research Israel LTD (1987). FR-1208: Teratology study in the rat. Submitted to the U.S. Environmental Protection Agency under TSCA Section 4/8. OTS0513908

Lignell S, Aune M, Darnerud PO, Hanberg A, Larsson SC, Glynn A (2013) Prenatal exposure to polychlorinated biphenyls (PCBs) and polybrominated diphenyl ethers (PBDEs) may influence birth weight among infants in a Swedish cohort with background exposure: a cross-sectional study. Environ Health 31(12):44

Lorber M (2008) Exposure of Americans to polybrominated diphenyl ethers. J Expo Sci Environ Epidemiol 18:2–19

Ma J, Cheng JP, Wang WH, Kunisue T, Wu MH, Kannan K (2011) Elevated concentrations of polychlorinated dibenzo-p-dioxins and polychlorinated dibenzofurans and polybrominated diphenyl ethers in hair from workers at an electronic waste recycling facility in Eastern China. J Hazard Mater 186:1966–1971

Martin OV, Lester JN, Voulvoulis N, Boobis AR (2007) Human health and endocrine disruption: a simple multicriteria framework for the qualitative assessment of end point specific risks in a context of scientific uncertainty. Toxicol Sci 98:332–347

Mato Y, Suzuki N, Katatani N, Kadokami K, Nakano T, Nakayama S, Sekii H, Komoto S, Miyake S, Morita M (2007) Human intake of PCDDs, PCDFs, and dioxin like PCBs in Japan, 2001 and 2002. Chemosphere 67:S247–S255

Mazdai A, Dodder NG, Abernathy MP, Hites RA, Bigsby RM (2003) Polybrominated diphenyl ethers in maternal and fetal blood samples. Environ Health Perspect 111:1249–1252

Meeker JD, Johnson PI, Camann D, Hauser R (2009) Polybrominated diphenyl ether (PBDE) concentrations in house dust are related to hormone levels in men. Sci Total Environ 407:3425–3429

Miller MF, Chernyak SM, Batterman S, Loch-Caruso R (2009) Polybrominated diphenyl ethers in human gestational membranes from women in southeast Michigan. Environ Sci Technol 43:3042–3046

Miller MF, Chernyak SM, Domino SE, Batterman SA, Loch-Caruso R (2012) Concentrations and speciation of polybrominated diphenyl ethers in human amniotic fluid. Sci Total Environ 417–418:294–298

Moon HB, Lee DH, Lee YS, Kannan K (2012) Polybrominated diphenyl ethers, polychlorinated biphenyls and organochlorine pesticides in adipose tissues of Korean women. Arch Environ Contam Toxicol 62:176–184

Needham LL, Grandjean P, Heinzow B, Jorgensen PJ, Nielsen F, Patterson DG (2011) Partition of environmental chemicals between maternal and fetal blood and tissues. Environ Sci Technol 45:1121–1126

Nguyen KH, Pyo H, Kim J, Shin E, Chang YS (2014) Exposure of general population to PBDEs: a progressive Total Diet Study in South Korea. Environ Pollut 195C:192–201

Ni K, Lua Y, Wanga T, Kannanc K, Gosens J, Xu L, Li Q, Wang L, Liu S (2013) A review of human exposure to polybrominated diphenyl ethers (PBDEs) in China. Int J Hyg Environ Health 216:607–623

Norris JM, Ehrmantraut JW, Gibbons CL (1973) Toxicological and environmental factors involved in the selection of decabromodiphenyl oxide as a fire retardant chemical. Appl Polym Symp 22:195–219

Norris JM, Ehrmantraut JW, Kociba RJ (1975a) Evaluation of decabromodiphenyl oxide as a flame-retardant chemical. Chem Hum Health Environ 1:100–116

Norris JM, Kociba RJ, Humiston CG (1975b) The toxicity of decambromo diphenyl and octabromo biphenyl as determined by subacute and chronic dietary feeding studies in rats. Toxicol Appl Pharmacol 33:170

NTP. (1986) NTP technical report on the toxicology and carcinogenesis studies of decabromodiphenyl oxide (CAS No. 1163-19-5) in F344/N rats and B6C3F1 mice (feed studies). Research Triangle Park, NC: National Toxicology Program

Öman CB, Junestedt C (2008) Chemical characterization of landfill leachates—400 parameters and compounds. Waste Manag 28:1876–1891

Osako M, Kim YJ, Sakai S (2004) Leaching of brominated flame retardants in leachate from landfills in Japan. Chemosphere 57:1571–1579

Pardo O, BeserMI Yusà V (2014) Probabilistic risk assessment of the exposure to polybrominated diphenyl ethers via fish and seafood consumption in the Region of Valencia (Spain). Chemosphere 104:7–14

Park JE, Kang YY, Kim WI, Jeon TW, Shin SK, Jeong MJ, Kim JG (2014) Emission of polybrominated diphenyl ethers (PBDEs) in use of electric/electronic equipment and recycling of e-waste in Korea. Sci Total Environ 470–471:1414–1421

Perelló G, Martí-Cid R, Castell V, Llobet JM, Domingo JL (2009) Concentrations of polybrominated diphenyl ethers, hexachlorobenzene and polycyclic aromatic hydrocarbons in various foodstuffs before and after cooking. Food Chem Toxicol 47:709–715

Pettersson A, Karlsson M, van Bavel B (2002) Concentrations of polybrominated diphenylethers and thyroid hormones in human plasma from exposed workers. Organohalogen Compd 58:269–272

Prevedouros K, Jones KC, Sweetman AJ (2004) Estimation of the production consumption, and atmospheric emissions of pentabrominated diphenyl ether in Europe between 1970 and 2000. Environ Sci Technol 38:3224–3231

Reverte I, Domingo JL, Colomina MT (2014) Neurodevelopmental effects of decabromodiphenyl ether (BDE-209) in APOE transgenic mice. Neurotoxicol Teratol 46C:10–17

Roosens L, Abdallah MA, Harrad S, Neels H, Covaci A (2009) Factors influencing concentrations of polybrominated diphenyl ethers (PBDEs) in students from Antwerp, Belgium. Environ Sci Technol 43:3535–3541

Roosens L, D'Hollander W, Bervoets L, Reynders H, Van Campenhout K, Cornelis C, Van Den Heuvel R, Koppen G, Covaci A (2010) Brominated flame retardants and perfluorinated chemicals, two groups of persistent contaminants in Belgian human blood and milk. Environ Pollut 158:2546–2552

Roze E, Meijer L, Bakker A, Van Braeckel KN, Sauer PJ, Bos AF (2009) Prenatal exposure to organohalogens, including brominated flame retardants, influences motor, cognitive, and behavioral performance at school age. Environ Health Perspect 117:1953–1958

Rupp S, Metzger JW (2005) Brominated–chlorinated diphenyl ethers formed by thermolysis of polybrominated diphenyl ethers at low temperatures. Chemosphere 60:1644–1651

Schecter A, Pavuk M, Papke O, Ryan JJ, Birnbaum L, Rosen R (2003) Polybrominated diphenyl ethers (PBDEs) in U.S. mothers' milk. Environ Health Perspect 111:1723–1729

Schecter A, Papke O, Harris TR, Tung KC, Musumba A, Olson J, Birnbaum L (2006) Polybrominated diphenyl ether (PBDE) levels in an expanded market basket survey of U.S. food and estimated PBDE dietary intake by age and sex. Environ Health Perspect 114:1515–1520

Schecter A, Colacino J, Patel K, Kannan K, Yun SH, Haffner D, Harris TR, Birnbaum L (2010) Polybrominated diphenyl ether levels in foodstuffs collected from three locations from the United States. Toxicol Appl Pharmacol 243:217–224

Schenker U, Soltermann F, Scheringer M, Hungerbühler K (2008) Modeling the Environmental Fate of Polybrominated Diphenyl Ethers (PBDEs): the Importance of Photolysis for the Formation of Lighter PBDEs. Environ Sci Technol 42:9244–9249

Schuhmacher M, Kiviranta H, Ruokojärvi P, Nadal M, Domingo JL (2013) Levels of PCDD/Fs, PCBs and PBDEs in breast milk of women living in the vicinity of a hazardous waste incinerator: assessment of the temporal trend. Chemosphere 93:1533–1540

Shaw SD, Berger ML, Brenner D, Carpenter DO, Tao L, Hong CS, Kannan K (2008) Polybrominated diphenyl ethers (PBDEs) in farmed and wild salmon marketed in the Northeastern United States. Chemosphere 71:1422–1431

Shaw SD, Blum A, Weber R, Kannan K, Rich D, Lucas D, Koshland CP, Dobraca D, Hanson S, Birnbaum LS (2010) Halogenated flame retardants: do the fire safety benefits justify the risks? Rev Environ Health 25:261–305

Shoeib M, Harner T, Ikonomou M, Kannan K (2004) Indoor and outdoor air concentrations and phase partitioning of perfluoroalkyl sulfonamides and polybrominated diphenyl ethers. Environ Sci Technol 38:1313–1320

Shy CG, Huang HL, Chang-Chien GP, Chao HR, Tsou TC (2011) Neurodevelopment of infants with prenatal exposure to polybrominated diphenyl ethers. Bull Environ Contam Toxicol 87:643–648

Sinjari T, Damerud P, Hallgren S (1998) Competitive inhibition of 125I-thyroxin (T4) binding to choroid plexus by hydroxylated PCB metabolites. Organohalogen Compd 37:241–244

Stapleton HM, Dodder NG, Offenberg JH, Schantz MM, Wise SA (2005) Polybrominated diphenyl ethers in house dust and clothes dryer lint. Environ Sci Technol 39:925–931

Stoker TE, Ferrell J, Hedge JM (2003) Assessment of SE-71, a commercial polybrominated diphenyl ether (PBDE) mixture, in the EDSP male pubertal protocol. Toxicologist 72:135–136

Stubbings WA, Harrad S (2014) Extent and mechanisms of brominated flame retardant emissions from waste soft furnishings and fabrics: a critical review. Environ Int 71:164–175

Suvorov A, Girard S, Lachapelle S, Abdelouahab N, Sebire G, Takser L (2009) Perinatal exposure to low-dose BDE-47, an emergent environmental contaminant, causes hyperactivity in rat offspring. Neonatology 95:203–209

Tadeo JL, Sanchez-Brunete C, Miguel E (2009) Determination of polybrominated diphenyl ethers in human hair by gas chromatography-mass spectrometry. Talanta 78:138–143

Talsness CE, Shakibaei M, Kuriyama S (2003) Ultrastructural changes in the ovaries of adult offspring following a single maternal exposure to low dose 2,2′4,4′,5-pentabromodiphenyl ether. Organohalogen Compd Dioxins 2003. Boston, MA, 60–65

Thomsen C, Liane VH, Becher G (2007) Automated solid-phase extraction for the determination of polybrominated diphenyl ethers and polychlorinated biphenyls in serum–application on archived Norwegian samples from 1977 to 2003. J Chromatogr B Analyt Technol Biomed Life Sci 846:252–263

Thomsen C, Stigum H, Froshaug M, Broadwell SL, Becher G, Eggesbo M (2010) Determinants of brominated flame retardants in breast milk from a large scale Norwegian study. Environ Int 36:68–74

Toms LM, Bartkow ME, Symons R, Paepke O, Mueller JF (2009) Assessment of polybrominated diphenyl ethers (PBDEs) in samples collected from indoor environments in South East Queensland, Australia. Chemosphere 76:173–178

Törnkvist A, Glynn A, Aune M, Darnerud PO, Ankarberg EH (2011) PCDD/F, PCB, PBDE, HBCD and chlorinated pesticides in a Swedish market basket from 2005 – levels and dietary intake estimations. Chemosphere 83:193–199

Trudel D, Tlustos C, von Goetz N, Scheringer M, Hungerbühler K (2011) PBDE exposure from food in Ireland: optimising data exploitation in probabilistic exposure modelling. J Expo Sci Environ Epidemiol 21:565–575

Turyk ME, Persky VW, Imm P, Knobeloch L, Chatterton R Jr, Anderson HA (2008) Hormone disruption by PBDEs in adult male sport fish consumers. Environ Health Perspect 116:1635–1641

Uçar Y, Traag W, Immerzeel J, Kraats C, van der Lee M, Hoogenboom R, van der Weg G, Cakirogullari GC, Oymael B, Kilic D (2011) Levels of PCDD/Fs, PCBs and PBDEs in butter from Turkey and estimated dietary intake from dairy products. Food Addit Contam Part A 4:141–151

United Nations Environment Programme (UNEP) (2006) Pentabromodiphenyl ether, risk profile. Report of the Persistent Organic Pollutants Review Committee on the work of its second meeting, UNEP/POPS/POPRC.2/17/Add.1; 2006. Available at: http://chm.pops.int/Portals/0/download.aspx?d=UNEP-POPS-POPRC.2-17-Add.1.English.pdf

United Nations Environment Programme (UNEP) (2009) The 9 new POPs under the Stockholm Convention. Available at http://chm.pops.int/Programmes/NewPOPs/The9newPOPs/tabid/672/language/enUS/Default.aspx

United Nations Environment Programme (UNEP) (2010a) Technical review of the implications of recycling commercial Penta and Octabromodiphenyl ethers. Stockholm convention document for 6th POP Reviewing Committee meeting (UNEP/POPS/POPRC.6/2) Available at: http://chm.pops.int/Portals/0/Repository/POPRC6/UNEP-POPSPOPRC.6-2.English.pdf

United Nations Environment Programme (UNEP) (2010b) Technical review of the implications of recycling commercial penta and octabromodiphenyl ethers. Annexes. Stockholm convention document for 6th POP Reviewing Committee meeting (UNEP/POPS/POPRC.6/INF/6) Available at: http://chm.pops.int/Portals/0/Repository/POPRC6/UNEP-POPS-POPRC.6-2.English.pdf

US Environmental Protection Agency (US EPA) (2006) Polybrominated Diphenyl Ethers (PBDEs) Project Plan http://www.epa.gov/oppt/existingchemicals/pubs/actionplans/proj-plan32906a.pdf

US Environmental Protection Agency (US EPA) (2008) 2,2′,4,4′-tetrabromodiphenyl ether (BDE-47) (CASRN 5436-43-1). USA: Integrated Risk Information System, United States Environmental Protection Agency; [http://www.epa.gov/iris/subst/1010.htm

US Environmental Protection Agency (US EPA) (2009). Polybrominated Diphenyl Ethers (PBDEs). Action Plan. http://www.epa.gov/oppt/existingchemicals/pubs/actionplans/pbdes_ap_2009_1230_final.pdf

US Environmental Protection Agency (US EPA) (2010) An Exposure Assessment of Polybrominated Diphenyl Ethers. Washington, DC: US EPA, National Center for Environmental Assessment. EPA/600/R-08/086F. http://cfpub.epa.gov/ncea/cfm/recordisplay.cfm?deid=210404

van Leeuwen SP, de Boer J (2008) Brominated flame retardants in fish and shellfish – levels and contribution of fish consumption to dietary exposure of Dutch citizens to HBCD. Mol Nutr Food Res 52:194–203

Viberg H, Fredriksson A, Eriksson P (2003) Neonatal exposure to polybrominated diphenyl ether (PBDE 153) disrupts spontaneous behaviour, impairs learning and memory, and decreases hippocampal cholinergic receptors in adult mice. Toxicol Appl Pharmacol 192:95–106

Voorspoels S, Covaci A, Neels H, Schepens P (2007) Dietary PBDE intake: a market-basket study in Belgium. Environ Int 33:93–97

Vorkamp K, Thomsen M, Frederiksen M, Pedersen M, Knudsen LE (2011) Polybrominated diphenyl ethers (PBDEs) in the indoor environment and associations with prenatal exposure. Environ Int 37:1–10

Weber R, Watson A, Forter M, Oliaei F (2011) Persistent organic pollutants and landfills—a review of past experiences and future challenges. Waste Manag Res 29:107–121

Weil ED, Levchik SV (2008) Flame retardants in commercial use or development for textiles. J Fire Sci 26:243–281

Wen S, Yang FX, Gong Y, Zhang XL, Hui Y, Li JG, Liu AL, Wu YN, Lu WQ, Xu Y (2008) Elevated levels of urinary 8-hydroxy-2_-deoxyguanosine in male electrical and electronic equipment dismantling workers exposed to high concentrations of polychlorinated dibenzo-p-dioxins and dibenzofurans, polybrominated diphenyl ethers, and polychlorinated biphenyls. Environ Sci Technol 42:4202–4207

WIL Research Laboratories (1986) A range-finding teratology study in rats with DE-79. Submitted to U.S. Environmental Protection Agency under TSCA Section 8D. OTS0522298

Wong MH, Wu SC, Deng WJ, Yu XZ, Luo Q, Leung AO, Wong CS, Luksemburg WJ, Wong AS (2007) Export of toxic chemicals - a review of the case of uncontrolled electronic-waste recycling. Environ Pollut 149:131–140

World Health Organization (WHO) (1994) Environmental health criteria 162: brominated diphenyl ethers. Geneva: World Health Organization. Available at: http://www.inchem.org/documents/ehc/ehc/ehc162.htm

Wu JP, Luo XJ, Zhang Y, Yu M, Chen SJ, Mai BX, Yang ZY (2009) Biomagnification of polybrominated diphenyl ethers (PBDEs) and polychlorinated biphenyls in a highly contaminated freshwater food web from South China. Environ Pollut 157:904–909

Wu K, Xu X, Liu J, Guo Y, Li Y, Huo X (2010) Polybrominated diphenyl ethers in umbilical cord blood and relevant factors in neonates from Guiyu, China. Environ Sci Technol 44:813–819

Yang M, Qi H, Jia HL, Ren NQ, Ding YS, Ma WL, Liu LY, Hung H, Sverko E, Li YF (2013) Polybrominated diphenyl ethers in air across China: levels, compositions, and gas-particle partitioning. Environ Sci Technol 47(15):8978–8984

Yu YX, Huang NB, Zhang XY, Li JL, Yu ZQ, Han SY, Lu M, Van de Wiele T, Wu MH, Sheng GY, Fu JM (2011) Polybrominated diphenyl ethers in food and associated human daily intake assessment considering bioaccessibility measured by simulated gastrointestinal digestion. Chemosphere 83:152–160

Yu YX, Pang YP, Li C, Li JL, Zhang XY, Yu ZQ, Feng JL, Wu MH, Sheng GY, Fu JM (2012) Concentrations and seasonal variations of polybrominated diphenyl ethers (PBDEs) in in- and out-house dust and human daily intake via dust ingestion corrected with bioaccessibility of PBDEs. Environ Int 42:124–131

Zeilmaker MJ, Bokkers BCH, Noorlander CW, te Biesebeek JD, Jekel AA, Schothorst RC (2008) Polybrominated diphenyl ethers: occurrence in Dutch duplicate diets and comparison with exposure from European house dust. National Institute for Public Health and the Environment, The Netherlands, RIVM Report 320100003/2008. http://www.rivm.nl/bibliotheek/ rapporten/320100003.pdf. Accessed 27 Oct 2011

Zennegg M, Schluep M, Streicher-Porte M, Lienemann P, Haag R, Gerecke AC (2014) Formation of PBDD/F from PBDE in electronic waste in recycling processes and under simulated extruding conditions. Chemosphere 116:34–39

Zhang L, Li JG, Zhao YF, Li XW, Yang X, Wen S, Cai ZW, Wu YN (2011) A national survey of polybrominated diphenyl ethers (PBDEs) and indicator polychlorinated biphenyls (PCBs) in Chinese mothers' milk. Chemosphere 84:625–633

Zhang X, Zhang K, Yang D, Ma L, Lei B, Zhang X, Zhou J, Fang X, Yu Y (2014) Polybrominated biphenyl ethers in breast milk and infant formula from Shanghai, China: temporal trends, daily intake, and risk assessment. Sci Total Environ 497–498:508–515

Zhao G, Zhou H, Wang D, Zha J, Xu Y, Rao K, Ma M, Huang S, Wang Z (2009a) PBBs, PBDEs, and PCBs in foods collected from e-waste disassembly sites and daily intake by local residents. Sci Total Environ 407:2565–2575

Zhao G, Wang Z, Zhou H, Zhao Q (2009b) Burdens of PBBs, PBDEs, and PCBs in tissues of the cancer patients in the e-waste disassembly sites in Zhejiang, China. Sci Total Environ 407:4831–4837

Zhou T, Ross DG, De Vito MJ, Crofton KM (2001) Effects of short-term in vivo exposure to polybrominated diphenyl ethers on thyroid hormones and hepatic enzyme activities in weaning rats. Toxicol Sci 61:76–82

Zhou T, Taylor MM, DeVito MJ, Crofton KM (2002) Developmental exposure to brominated diphenyl ethers results in thyroid hormone disruption. Toxicol Sci 66:105–116

Zhu LY, Ma BL, Li JG, Wu YN, Gong J (2009) Distribution of polybrominated diphenyl ethers in breast milk from North China: implication of exposure pathways. Chemosphere 74:1429–1434
About this article
Cite this article
Linares, V., Bellés, M. & Domingo, J.L. Human exposure to PBDE and critical evaluation of health hazards. Arch Toxicol 89, 335–356 (2015). https://doi.org/10.1007/s00204-015-1457-1
Received:

Accepted:

Published:

Issue Date:
Keywords
PBDEs

Human exposure

Infants

Developmental neurotoxicity

Behavioral effects