Abstract
The α,β-unsaturated carbonyl group is recognized as alert for mutagenicity, attributed to (1) its direct reaction with DNA, counteractable by glutathione (GSH), and (2) oxidative stress caused indirectly by GSH depletion. Accordingly, the α,β,γ,δ-unsaturated lactone patulin (PAT), a mycotoxin detected in fruits and products derived thereof, is known to induce gene, chromosome, and genome mutations in vitro, its mutagenicity correlating inversely with intracellular GSH levels. Thus, the reactivity of PAT against DNA bases and nucleosides in the absence and presence of GSH and glutathione S-transferases (GSTs) was investigated under cell-free conditions using HPLC mass spectrometry techniques for identification of reaction products. Adduct formation with all four nucleobases as well as with purine base nucleosides occurred even in the presence of GSH, revealing several adducts of PAT, mono- and disubstituted with nucleobases/nucleosides as well as novel GSH–PAT adducts. In addition, novel mixed GSH–PAT–nucleobase adducts were observed. These adducts exhibited a ketohexanoic acid-type structure of the PAT molecule, C6 substituted with GSH and linking C1 of PAT with nitrogens of nucleobases/nucleosides via an amide bond. Formation of GSH–PAT–adenine adducts was not prevented by GSTs, and excess of GSH needed to reduce their formation was higher than for PAT–adenine adducts. The formation of mixed GSH–DNA base adducts has not been described for PAT or any other α,β-unsaturated carbonyl before, although the reaction mechanism seems to be applicable to a variety of α,β-unsaturated carbonyls occurring in food and in the environment.
Access options
Buy single article
Instant access to the full article PDF.
USD 39.95
Price excludes VAT (USA)
Tax calculation will be finalised during checkout.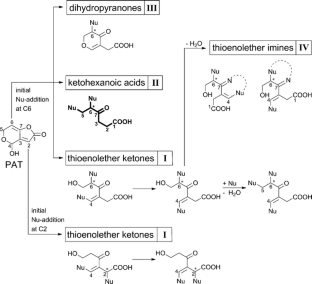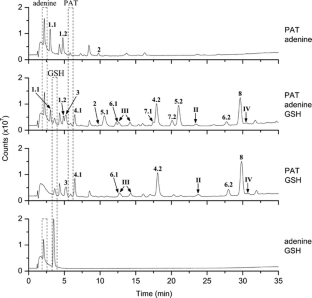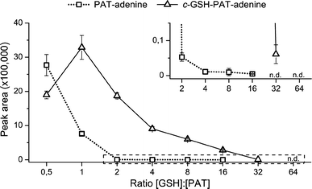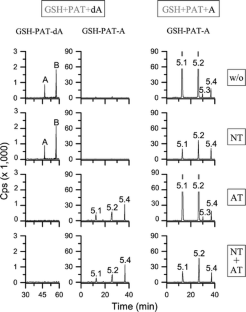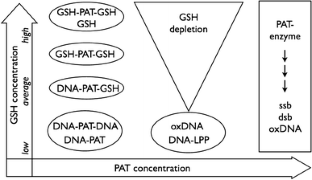 Abbreviations
CE:

Collision energy

γ-Glu-Cys:

Γ-Glutamyl-l-cystein

GSH:

Glutathione

c-GSH:

Cyclically bound GSH

l-GSH:

Linear-bound GSH

GSH–PAT:

Adducts of PAT with glutathione

GSH–PAT–adenine:

Adducts with both GSH and adenine bound to the PAT backbone

GSTs:

Glutathione S-transferases

MS:

Mass spectrometry full scan analysis

MS/MS:

Mass spectrometry product ion scan/multiple reaction monitoring analysis

PAT:

Patulin

PAT-adenine:

Adducts of PAT with adenine
References
Aaron CS, Bolcsfoldi G, Glatt HR, Moore M, Nishi Y, Stankowski L, Theiss J, Thompson E (1994) Mammalian cell gene mutation assays working group report. Mutat Res 312:235–239

Abraham WR, Nogales B, Golyshin PN, Pieper DH, Timmis KN (2002) Polychlorinated biphenyl-degrading microbial communities in soils and sediments. Curr Opin Microbiol 25:246–253

Alves I, Oliveira NG, Laires A, Rodrigues AS, Rueff J (2000) Induction of micronuclei and chromosomal aberrations by the mycotoxin patulin in mammalian cells: role of ascorbic acid as a modulator of patulin clastogenicity. Mutagenesis 15:229–234

Ashby J, Tennant RW, Zeiger E, Stasiewicz S (1989) Classification according to chemical structure, mutagenicity to Salmonella and level of carcinogenicity of a further 42 chemicals tested for carcinogenicity by the US National Toxicology Program. Mutat Res 223:73–103

Ayed-Boussema I, Abassi H, Bouaziz C, Hlima WB, Ayed Y, Bacha H (2013) Antioxidative and antigenotoxic effect of vitamin E against patulin cytotoxicity and genotoxicity in HepG2 cells. Environ Toxicol 28:299–306

Baillie TA, Davis MR (1993) Mass spectrometry in the analysis of glutathione conjugates. Biol Mass Spectrom 22:319–325

Barhoumi R, Burghardt RC (1996) Kinetic analysis of the chronology of patulin- and gossypol-induced cytotoxicity in vitro. Fundam Appl Toxicol 30:290–297

Berhane K, Widersten M, Engström A, Kozarich JW, Mannervik B (1994) Detoxication of base propenals and other α, β-unsaturated aldehyde products of radical reactions and lipid peroxidation by human glutathione transferases. Proc Natl Acad Sci USA 91:1480–1484

Bigorra J, Font J, Jaime C, Ortuno RM, Sanchez-Ferrando F (1985) Studies on structurally simple α, β-butenolides V. Reactions of protoanemonin with piperidine and C-nucleophiles. A general approach to its behaviour as electrophilic acceptor. Tetrahedron 41:5577–5587

Cardellach J, Estopa C, Font J, Moreno-Mañas M, Ortuño RM, Sanchez-Ferrando F, Valle S, Vilamajo L (1982) Studies on structurally simple a, ß-butenolides I. New syntheses of racemic γ-hydroxymethyl- α, β-butenolide and derivatives. Tetrahedron 38:2377–2394

Carrano AV, Thompson LH, Stetka DG, Minkler JL, Mazrimas JA, Fong S (1979) DNA crosslinking, sister-chromatid exchange and specific-locus mutations. Mutat Res 63:175–188

Chang RL, Wong CQ, Kline SA, Conney AH, Goldstein BD, Witz G (1994) Mutagenicity of trans, trans-muconaldehyde and its metabolites in V79 cells. Environ Mol Mutagen 24:112–115

de Melo FT, de Oliveira IM, Greggio S, Dacosta JC, Guecheva TN, Saffi J, Henriques JA, Rosa RM (2012) DNA damage in organs of mice treated acutely with patulin, a known mycotoxin. Food Chem Toxicol 50:3548–3555

Drusch S, Ragab W (2003) Mycotoxins in fruits, fruit juices, and dried fruits. J Food Prot 66:1514–1527

Eder E, Hoffman C (1993) Identification and characterization of deoxyguanosine adducts of mutagenic beta-alkyl-substituted acrolein congeners. Chem Res Toxicol 6:486–494

EU SCOOP (2002) Scientific Cooperation (SCOOP) Task Reports. Task 3.2.8. Assessment of dietary intake of patulin by the population of EU member states. Directorate-General Health and Consumer Protection, March 2002. http://ec.europa.eu/food/fs/scoop/3.2.8_en.pdf. Accessed Nov 27, 2013

Fliege R, Metzler M (1999) The mycotoxin patulin induces intra- and intermolecular protein crosslinks in vitro involving cysteine, lysine, and histidine side chains, and alpha-amino groups. Chem Biol Interact 123:85–103

Fliege R, Metzler M (2000a) Electrophilic properties of patulin. N-acetylcysteine and glutathione adducts. Chem Res Toxicol 13:373–381

Fliege R, Metzler M (2000b) Electrophilic properties of patulin. Adduct structures and reaction pathways with 4-bromothiophenol and other model nucleophiles. Chem Res Toxicol 13:363–372

Gates KS (2009) An overview of chemical processes that damage cellular DNA: spontaneous hydrolysis, alkylation, and reactions with radicals. Chem Res Toxicol 22:1747–1760

Glaser N, Stopper H (2012) Patulin: mechanism of genotoxicity. Food Chem Toxicol 50:1796–1801

Guéraud F, Atalay M, Bresgen N, Cipak A, Eckl PM, Huc L, Jouanin I, Siems W, Uchida K (2010) Chemistry and biochemistry of lipid peroxidation products. Free Radic Res 44:1098–1124

Gutsche CD (1954) The reaction of diazomethane and its derivatives with aldehydes and ketones. Org React 8:364–429

Janzowski C, Glaab V, Mueller C, Straesser U, Kamp HG, Eisenbrand G (2003) α, β-unsaturated carbonyl compounds: induction of oxidative DNA damage in mammalian cells. Mutagenesis 18:465–470

Koskinen M, Plná K (2000) Specific DNA adducts induced by some mono-substituted epoxides in vitro and in vivo. Chem Biol Interact 129:209–229

Kwon O, Soung NK, Thimmegowda NR, Jeong SJ, Jang JH, Moon DO, Chung JK, Lee KS, Kwon YT, Erikson RL, Ahn JS, Kim BY (2012) Patulin induces colorectal cancer cells apoptosis through EGR-1 dependent ATF3 up-regulation. Cell Signal 24:943–950

Liu BH, Yu FY, Wu TS, Li SY, Su MC, Wang MC, Shih SM (2003) Evaluation of genotoxic risk and oxidative DNA damage in mammalian cells exposed to mycotoxins, patulin and citrinin. Toxicol Appl Pharmacol 191:255–263

Pfeiffer E, Gross K, Metzler M (1998) Aneuploidogenic and clastogenic potential of the mycotoxins citrinin and patulin. Carcinogenesis 19:1313–1318

Rendic S, Guengerich FP (2012) Contributions of human enzymes in carcinogen metabolism. Chem Res Toxicol 25:1316–1383

Schebb NH, Faber H, Maul R et al (2009) Analysis of glutathione adducts of patulin by means of liquid chromatography (HPLC) with biochemical detection (BCD) and electrospray ionization tandem mass spectrometry (ESI–MS/MS). Anal Bioanal Chem 394:1361–1373

Schumacher DM, Metzler M, Lehmann L (2005a) Mutagenicity of the mycotoxin patulin in cultured Chinese hamster V79 cells, and its modulation by intracellular glutathione. Arch Toxicol 79:110–121

Schumacher DM, Wagner J, Metzler M, Lehmann L (2005b) Influence of decreased intracellular glutathione level on the mutagenicity of patulin in cultured mouse lymphoma cells. Mycotoxin Res 21:150–152

Schumacher DM, Müller C, Metzler M, Lehmann L (2006) DNA–DNA cross-links contribute to the mutagenic potential of the mycotoxin patulin. Toxicol Lett 166:268–275

Singh R, Farmer PB (2006) Liquid chromatography-electrospray ionization-mass spectrometry: the future of DNA adduct detection. Carcinogenesis 27:178–196

Tretyakova N, Sangaiah R, Yen TY, Gold A, Swenberg JA (1997) Adenine adducts with diepoxybutane: isolation and analysis in exposed calf thymus DNA. Chem Res Toxicol 10:1171–1179

Tretyakova N, Chiang SY, Walker VE, Swenberg JA (1998) Quantitative analysis of 1,3-butadiene-induced DNA adducts in vivo and in vitro using liquid chromatography electrospray ionization tandem mass spectrometry. J Mass Spectrom 33:363–376

Tretyakova N, Villalta PW, Kotapati S (2013) Mass spectrometry of structurally modified DNA. Chem Rev 113:2395–2436

Turner NJ (1984) Counter-irritant and other medicinal uses of plants in Ranunculaceae by native peoples in British Columbia and neighbouring areas. J Ethnopharmacol 11:181–201

WHO (1996) Toxicological evaluation of certain food additives and contaminants. WHO Food Additives Series 35; 847. Patulin. Prepared by: The 44th meeting of the Joint FAO/WHO Expert Committee on Food Additives (JECFA). World Health Organization, Geneva 1996

Wolf C (2008) Dynamic stereochemistry of chiral compounds: principles and applications. RSC Publishing, Cambridge

Yang G, Zhong L, Jiang L, Geng C, Cao J, Sun X, Liu X, Chen M, Ma Y (2011) 6-Gingerol prevents patulin-induced genotoxicity in HepG2 cells. Phytother Res 25:1480–1485

Zhou SM, Jiang LP, Geng CY, Cao J, Zhong LF (2009) Patulin-induced genotoxicity and modulation of glutathione in HepG2 cells. Toxicon 53:584–586

Zhou SM, Jiang LP, Geng CY, Cao J, Zhong LF (2010) Patulin-induced oxidative DNA damage and p53 modulation in HepG2 cells. Toxicon 55:390–395
Acknowledgments
The authors are indebted to M. Metzler and E. Pfeiffer for kindly providing PAT and isolated GSH–PAT adducts, A. Fekete (Metabolomics Core Facility, University of Wuerzburg, Germany) for performing accurate mass measurements, and U. Holzgrabe for providing access to the Agilent HPLC–MS/MS instrument.
Electronic supplementary material
Below is the link to the electronic supplementary material.
About this article
Cite this article
Pfenning, C., Esch, H.L., Fliege, R. et al. The mycotoxin patulin reacts with DNA bases with and without previous conjugation to GSH: implication for related α,β-unsaturated carbonyl compounds?. Arch Toxicol 90, 433–448 (2016). https://doi.org/10.1007/s00204-014-1443-z
Received:

Accepted:

Published:

Issue Date:

DOI: https://doi.org/10.1007/s00204-014-1443-z
Keywords
Patulin

Glutathione

Nucleoside

Adducts