Abstract
Polybrominated diphenyl ethers (PBDEs) are bioaccumulating flame retardants found in rising concentrations in human tissue. Epidemiological and animal studies have raised concern for their potential to induce developmental neurotoxicity (DNT). Considering the essential role of calcium homeostasis in neurodevelopment, PBDE-induced disturbance of intracellular calcium concentration ([Ca2+]i) may underlie PBDE-induced DNT. To test this hypothesis, we investigated acute effects of BDE-47 and 6-OH-BDE-47 on [Ca2+]i in human neural progenitor cells (hNPCs) and unraveled involved signaling pathways. Short-time differentiated hNPCs were exposed to BDE-47, 6-OH-BDE-47, and multiple inhibitors/stimulators of presumably involved signaling pathways to determine possible effects on [Ca2+]i by single-cell microscopy with the fluorescent dye Fura-2. Initial characterization of calcium signaling pathways confirmed the early developmental stage of hNPCs. In these cells, BDE-47 (2 μM) and 6-OH-BDE-47 (0.2 μM) induce [Ca2+]i transients. This increase in [Ca2+]i is due to extracellular Ca2+ influx and intracellular release of Ca2+, mainly from the endoplasmic reticulum (ER). While extracellular Ca2+ seems to enter the cytoplasm upon 6-OH-BDE-47 by interfering with the cell membrane and independent of Ca2+ ion channels, ER-derived Ca2+ is released following activation of protein lipase C and inositol 1,4,5-trisphosphate receptor, but independently of ryanodine receptors. These findings illustrate that immature developing hNPCs respond to low concentrations of 6-OH-BDE-47 by an increase in [Ca2+]i and provide new mechanistic explanations for such BDE-induced calcium disruption. Thus, these data support the possibility of a critical window of PBDE exposure, i.e., early human brain development, which has to be acknowledged in risk assessment.
Access options
Buy single article
Instant access to the full article PDF.
USD 39.95
Price excludes VAT (USA)
Tax calculation will be finalised during checkout.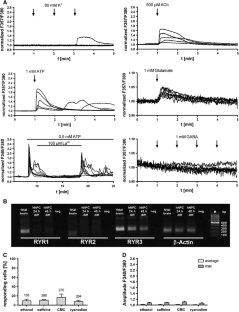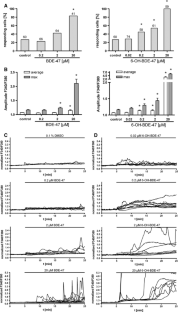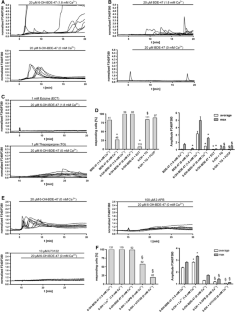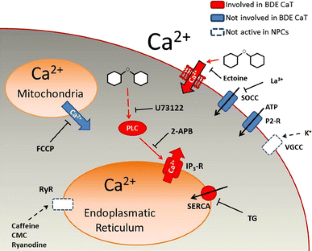 References
Athanasiadou M, Cuadra SN, Marsh G, Bergman A, Jakobsson K (2008) Polybrominated diphenyl ethers (PBDEs) and bioaccumulative hydroxylated PBDE metabolites in young humans from Managua, Nicaragua. Environ Health Perspect 116:400–408

Baumann N, Pham-Dinh D (2001) Biology of oligodendrocyte and myelin in the mammalian central nervous system. Physiol Rev 81:871–927

Berridge MJ, Lipp P, Bootman MD (2000) The versatility and universality of calcium signalling. Nat Rev Mol Cell Biol 1:11–21

Brown AD (1978) Compatible solutes and extreme water stress in eukaryotic micro-organisms. Adv Microb Physiol 17:181–242

Butt AM (2011) ATP: a ubiquitous gliotransmitter integrating neuron–glial networks. Semin Cell Dev Biol 22(2):205–213

Ciccolini F, Collins TJ, Sudhoelter J, Lipp P, Berridge MJ, Bootman MD (2003) Local and global spontaneous calcium events regulate neurite outgrowth and onset of GABAergic phenotype during neural precursor differentiation. J Neurosci 23:103–111

Costa LG, Giordano G (2007) Developmental neurotoxicity of polybrominated diphenyl ether (PBDE) flame retardants. Neurotoxicology 28:1047–1067

Delmas P, Brown DA (2002) Junctional signaling microdomains: bridging the gap between the neuronal cell surface and Ca2+ stores. Neuron 36:787–790

Dingemans MM, Ramakers GM, Gardoni F, van Kleef RG, Bergman A, Di Luca M, van den Berg M, Westerink RH, Vijverberg HP (2007) Neonatal exposure to brominated flame retardant BDE-47 reduces long-term potentiation and postsynaptic protein levels in mouse hippocampus. Environ Health Perspect 115:865–870

Dingemans MM, de Groot A, van Kleef RG, Bergman A, van den Berg M, Vijverberg HP, Westerink RH (2008) Hydroxylation increases the neurotoxic potential of BDE-47 to affect exocytosis and calcium homeostasis in PC12 cells. Environ Health Perspect 116:637–643

Dingemans MM, Heusinkveld HJ, Bergman A, van den Berg M, Westerink RH (2010) Bromination pattern of hydroxylated metabolites of BDE-47 affects their potency to release calcium from intracellular stores in PC12 cells. Environ Health Perspect 118:519–525

Dingemans MM, van den Berg M, Westerink RH (2011) Neurotoxicity of brominated flame retardants: (in)direct effects of parent and hydroxylated polybrominated diphenyl ethers on the (developing) nervous system. Environ Health Perspect 119:900–907

Ebert AD, McMillan EL, Svendsen CN (2008) Isolating, expanding, and infecting human and rodent fetal neural progenitor cells. Curr Protoc Stem Cell Biol Chap 2, Unit 2D.2

Eskenazi B, Chevrier J, Rauch SA, Kogut K, Harley KG, Johnson C, Trujillo C, Sjödin A, Bradman A (2013) In utero and childhood polybrominated diphenyl ether (PBDE) exposures and neurodevelopment in the CHAMACOS study. Environ Health Perspect 121:257–262

Faure AV, Grunwald D, Moutin MJ, Hilly M, Mauger JP, Marty I, De Waard M, Villaz M, Albrieux M ( 2001) Developmental expression of the calcium release channels during early neurogenesis of the mouse cerebral cortex. Eur J Neurosci 14(10):1613–1622

Fessenden JD, Wang Y, Moore RA, Chen SR, Allen PD, Pessah IN (2000) Divergent functional properties of ryanodine receptor types 1 and 3 expressed in a myogenic cell line. Biophys J 79:2509–2525

Fonnum F, Mariussen E (2009) Mechanisms involved in the neurotoxic effects of environmental toxicants such as polychlorinated biphenyls and brominated flame retardants. J Neurochem 111:1327–1347

Frederiksen M, Vorkamp K, Thomsen M, Knudsen LE (2009) Human internal and external exposure to PBDEs—a review of levels and sources. Int J Hyg Environ Health 212:109–134

Fritsche E, Cline JE, Nguyen NH, Scanlan TS, Abel J (2005) Polychlorinated biphenyls disturb differentiation of normal human neural progenitor cells: clue for involvement of thyroid hormone receptors. Environ Health Perspect 113:871–876

Fritsche E, Gassmann K, Schreiber T (2011) Neurospheres as a model for developmental neurotoxicity testing. Methods Mol Biol 758:99–114

Gafni J, Wong PW, Pessah IN (2004) Non-coplanar 2,2',3,5',6-pentachlorobiphenyl (PCB 95) amplifies ionotropic glutamate receptor signaling in embryonic cerebellar granule neurons by a mechanism involving ryanodine receptors. Toxicol Sci 77:72–82

Gascon M, Vrijheid M, Martínez D, Forns J, Grimalt JO, Torrent M, Sunyer J (2011) Effects of pre and postnatal exposure to low levels of polybromodiphenyl ethers on neurodevelopment and thyroid hormone levels at 4 years of age. Environ Int 37:605–611

Gassmann K, Abel J, Bothe H, Haarmann-Stemmann T, Merk HF, Quasthoff KN, Rockel TD, Schreiber T, Fritsche E (2010) Species-specific differential AhR expression protects human neural progenitor cells against developmental neurotoxicity of PAHs. Environ Health Perspect 118(11):1571–1577

Haak LL, Song LS, Molinski TF, Pessah IN, Cheng H, Russell JT (2001) Sparks and puffs in oligodendrocyte progenitors: cross talk between ryanodine receptors and inositol trisphosphate receptors. J Neurosci 21:3860–3870

Harishchandra RK, Wulff S, Lentzen G, Neuhaus T, Galla HJ (2010) The effect of compatible solute ectoines on the structural organization of lipid monolayer and bilayer membranes. Biophys Chem 150:37–46

He M, McCarthy KD (1994) Oligodendroglial signal transduction systems are developmentally regulated. J Neurochem 63:501–508

Herbstman JB, Sjodin A, Kurzon M, Lederman SA, Jones RS, Rauh V, Needham LL, Tang D, Niedzwiecki M, Wang RY, Perera F (2010) Prenatal exposure to PBDEs and neurodevelopment. Environ Health Perspect 118(5):712–719

Inglefield JR, Shafer TJ (2000a) Polychlorinated biphenyl-stimulation of Ca(2+) oscillations in developing neocortical cells: a role for excitatory transmitters and L-type voltage-sensitive Ca(2+) channels. J Pharmacol Exp Ther 295:105–113

Inglefield JR, Shafer TJ (2000b) Perturbation by the PCB mixture Aroclor 1254 of GABA(A) receptor-mediated calcium and chloride responses during maturation in vitro of rat neocortical cells. Toxicol Appl Pharmacol 164:184–195

Inglefield JR, Mundy WR, Shafer TJ (2001) Inositol 1,4,5-triphosphate receptor-sensitive Ca(2+) release, store-operated Ca(2+) entry, and cAMP responsive element binding protein phosphorylation in developing cortical cells following exposure to polychlorinated biphenyls. J Pharmacol Exp Ther 297:762–773

Kafitz KW, Meier SD, Stephan J, Rose CR (2008) Developmental profile and properties of sulforhodamine 101—labeled glial cells in acute brain slices of rat hippocampus. J Neurosci Methods 169:84–92

Kiciński M, Viaene MK, Den Hond E, Schoeters G, Covaci A, Dirtu AC, Nelen V, Bruckers L, Croes K, Sioen I, Baeyens W, Van Larebeke N, Nawrot TS (2012) Neurobehavioral function and low-level exposure to brominated flame retardants in adolescents: a cross-sectional study. Environ Health 11:86. doi:10.1186/1476-069X-11-86

Kim KH, Bose DD, Ghogha A, Riehl J, Zhang R, Barnhart CD, Lein PJ, Pessah IN (2011) Para- and ortho-substitutions are key determinants of polybrominated diphenyl ether activity toward ryanodine receptors and neurotoxicity. Envrion Health Perspect 119:519–526

Kodavanti PR, Ward TR (2005) Differential effects of commercial polybrominated diphenyl ether and polychlorinated biphenyl mixtures on intracellular signaling in rat brain in vitro. Toxicol Sci 85:952–962

Lentzen G, Schwarz T (2006) Extremolytes: natural compounds from extremophiles for versatile applications. Appl Microbiol Biotechnol 72:623–634

Maric D, Maric I, Barker JL (2000) Developmental changes in cell calcium homeostasis during neurogenesis of the embryonic rat cerebral cortex. Cereb Cortex 10:561–573

Marsh G, Hu J, Jakobsson E, Rahm S, Bergman A (1999) Synthesis and characterization of 32 polybrominated diphenyl ethers. Environ Sci Technol 33:3033–3037

Marsh G, Athanasiadou M, Athanassiadis I, Sandholm A (2006) Identification of hydroxylated metabolites in 2,2',4,4'-tetrabromodiphenyl ether exposed rats. Chemosphere 63:690–697

Matyash M, Matyash V, Nolte C, Sorrentino V, Kettenmann H (2002) Requirement of functional ryanodine receptor type 3 for astrocyte migration. FASEB J 16:84–86

Meier SD, Kafitz KW, Rose CR (2008) Developmental profile and mechanisms of GABA-induced calcium signaling in hippocampal astrocytes. Glia 56:1127–1137

Moors M, Cline JE, Abel J, Fritsche E (2007) ERK-dependent and -independent pathways trigger human neural progenitor cell migration. Toxicol Appl Pharmacol 221:57–67

Moors M, Rockel TD, Abel J, Cline JE, Gassmann K, Schreiber T, Schuwald J, Weinmann N, Fritsche E (2009) Human neurospheres as three-dimensional cellular systems for developmental neurotoxicity testing. Environ Health Perspect 117:1131–1138

Moors M, Vudattu NK, Abel J, Kramer U, Rane L, Ulfig N, Ceccatelli S, Seyfert-Margolies V, Fritsche E, Maeurer MJ (2010) Interleukin-7 (IL-7) and IL-7 splice variants affect differentiation of human neural progenitor cells. Genes Immun 11:11–20

Owens DF, Flint AC, Dammerman RS, Kriegstein AR (2000) Calcium dynamics of neocortical ventricular zone cells. Dev Neurosci 22:25–33

Pessah IN, Cherednichenko G, Lein PJ (2010) Minding the calcium store: ryanodine receptor activation as a convergent mechanism of PCB toxicity. Pharmacol Ther 125:260–285

Piper DR, Mujtaba T, Rao MS, Lucero MT (2000) Immunocytochemical and physiological characterization of a population of cultured human neural precursors. J Neurophysiol 84(1):534–548

Qiu X, Bigsby RM, Hites RA (2009) Hydroxylated metabolites of polybrominated diphenyl ethers in human blood samples from the United States. Environ Health Perspect 117:93–98

Reynolds BA, Weiss S (1992) Generation of neurons and astrocytes from isolated cells of the adult mammalian central nervous system. Science 255:1707–1710

Reynolds BA, Tetzlaff W, Weiss S (1992) A multipotent EGF-responsive striatal embryonic progenitor cell produces neurons and astrocytes. J Neurosci 12:4565–4574

Rice D, Barone S Jr (2000) Critical periods of vulnerability for the developing nervous system: evidence from humans and animal models. Environ Health Perspect 108(Suppl 3):511–533

Roze E, Meijer L, Bakker A, Van Braeckel KN, Sauer PJ, Bos AF (2009) Prenatal exposure to organohalogens, including brominated flame retardants, influences motor, cognitive, and behavioral performance at school age. Environ Health Perspect 117:1953–1958

Schreiber T, Gassmann K, Götz C, Hübenthal U, Moors M, Krause G, Merk HF, Nguyen NH, Scanlan TS, Abel J, Rose CR, Fritsche E (2010) Polybrominated diphenyl ethers induce developmental neurotoxicity in a human in vitro model: evidence for endocrine disruption. Environ Health Perpect 118:572–578

Staskal DF, Hakk H, Bauer D, Diliberto JJ, Birnbaum LS (2006) Toxicokinetics of polybrominated diphenyl ether congeners 47, 99, 100, and 153 in mice. Toxicol Sci 94:28–37

Svendsen CN, ter Borg MG, Armstrong RJ, Rosser AE, Chandran S, Ostenfeld T, Caldwell MA (1998) A new method for the rapid and long term growth of human neural precursor cells. J Neurosci Methods 85:141–152

Takeda M, Nelson DJ, Soliven B (1995) Calcium signaling in cultured rat oligodendrocytes. Glia 14:225–236

Tan Y, Chen CH, Lawrence D, Carpenter DO (2004) Ortho-substituted PCBs kill cells by altering membrane structure. Toxicol Sci 80:54–59

Tegenge MA, Rockel TD, Fritsche E, Bicker G (2011) Nitric oxide stimulates human neural progenitor cell migration via cGMP-mediated signal transduction. Cell Mol Life Sci 68:2089–2099

Ward CW, Protasi F, Castillo D, Wang Y, Chen SR, Pessah IN, Allen PD, Schneider MF (2001) Type 1 and type 3 ryanodine receptors generate different Ca(2+) release event activity in both intact and permeabilized myotubes. Biophys J 81:3216–3230

Xu G, Broadbelt KG, Haynes RL, Folkerth RD, Borenstein NS, Belliveau RA, Trachtenberg FL, Volpe JJ, Kinney HC (2011) Late development of the GABAergic system in the human cerebral cortex and white matter. J Neuropathol Exp Neurol 70:841–858

Yu K, He Y, Yeung LW, Lam PK, Wu RS, Zhou B (2008) DE-71-induced apoptosis involving intracellular calcium and the Bax–mitochondria–caspase protease pathway in human neuroblastoma cells in vitro. Toxicol Sci 104:341–351
Acknowledgments
We acknowledge the expert technical help of Ulrike Huebenthal and thank Marta Barenys for critical reading of the manuscript. Parts of this project were funded by the German Federal Ministry for the Environment, Nature Conservation and Nuclear Safety (BMU), by the German Research Foundation (DFG GRK1427), by the Research Commission of the Department of Medicine, Heinrich-Heine University Duesseldorf and the Faculty of Veterinary Medicine, Utrecht University. The authors declare no actual or potential competing financial interests.
Additional information
Kathrin Gassmann, Timm Schreiber, and Milou M. L. Dingemans have contributed equally to this work.
Electronic supplementary material
Below is the link to the electronic supplementary material.
About this article
Cite this article
Gassmann, K., Schreiber, T., Dingemans, M.M.L. et al. BDE-47 and 6-OH-BDE-47 modulate calcium homeostasis in primary fetal human neural progenitor cells via ryanodine receptor-independent mechanisms. Arch Toxicol 88, 1537–1548 (2014). https://doi.org/10.1007/s00204-014-1217-7
Received:

Accepted:

Published:

Issue Date:

DOI: https://doi.org/10.1007/s00204-014-1217-7
Keywords