Abstract
NecroX-5, one of the derivatives of NecroX series compounds, is a mitochondrial reactive oxygen species and reactive nitrogen species scavenger that inhibits cell death against various kinds of oxidative stresses. The objective of the present study was to evaluate the effects of NecroX-5 on neomycin-induced ototoxicity in transgenic zebrafish (Brn3C: EGFP). Five days post-fertilization, zebrafish larvae were exposed to 125 μM neomycin and one of the following NecroX-5 concentrations for 1 h: 10, 25, 50, and 75 μM. Hair cells within the neuromasts of the supraorbital (SO1 and SO2), otic (O1), and occipital (OC1) lateral lines were analyzed using fluorescence microscopy (n = 10). The terminal deoxynucleotidyl transferase-mediated dUTP-biotin nick end labeling (TUNEL) assay and 2-[4-(dimethylamino) styryl]-N-ethylpyridiniumiodide (DASPEI) assay were performed for evaluation of apoptosis and mitochondrial damage. Ultrastructural changes were evaluated using scanning electron microscopy. NecroX-5 decreased neomycin-induced hair cell loss in the neuromasts (NecroX-5 50 μM: 13.4 ± 2.0 cells, 125 μM neomycin only: 8.1 ± 1.2 cells; n = 10, P < 0.05) and decreased the TUNEL reaction. The ultrastructural analysis showed that the structures of mitochondria and hair cells within the neuromasts were preserved in zebrafish exposed to 125 μM neomycin and 50 μM NecroX-5. NecroX-5 decreased apoptosis and mitochondrial damage. In conclusion, NecroX-5 attenuated neomycin-induced hair cell loss in zebrafish.
This is a preview of subscription content, log in to check access.
Access options
Buy single article
Instant access to the full article PDF.
US$ 39.95
Price includes VAT for USA
Subscribe to journal
Immediate online access to all issues from 2019. Subscription will auto renew annually.
US$ 199
This is the net price. Taxes to be calculated in checkout.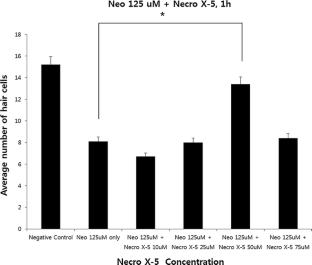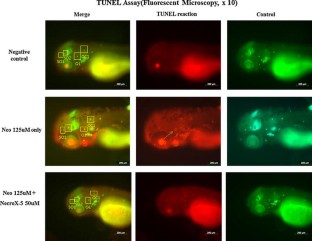 References
Barros TP, Alderton WK, Reynolds HM, Roach AG, Berghmans S (2008) Zebrafish: an emerging technology for in vivo pharmacological assessment to identify potential safety liabilities in early drug discovery. Br J Pharmacol 154(7):1400–1413

Bowman TV, Zon LI (2010) Swimming into the future of drug discovery: in vivo chemical screens in zebrafish. ACS Chem Biol 5(2):159–161

Chakraborty C, Hsu CH, Wen ZH, Lin CS, Agoramoorthy G (2009) Zebrafish: a complete animal model for in vivo drug discovery and development. Curr Drug Metab 10(2):116–124

Chang J, Jung HH, Yang JY, Choi J, Im GJ, Chae SW (2011) Protective role of antidiabetic drug metformin against gentamicin induced apoptosis in auditory cell line. Hear Res 282(1–2):92–96

Chiu LL, Cunningham LL, Raible DW, Rubel EW, Ou HC (2008) Using the zebrafish lateral line to screen for ototoxicity. J Assoc Res Otolaryngol 9(2):178–190

Choi JM, Park KM, Kim SH et al (2010) Effect of necrosis modulator necrox-7 on hepatic ischemia-reperfusion injury in beagle dogs. Transplant Proc 42(9):3414–3421

Choi J, Im GJ, Chang J et al (2013) Protective effects of apocynin on cisplatin-induced ototoxicity in an auditory cell line and in zebrafish. J Appl Toxicol 33(2):125–133

Coffin AB, Ou H, Owens KN et al (2010) Chemical screening for hair cell loss and protection in the zebrafish lateral line. Zebrafish 7(1):3–11

Delvecchio C, Tiefenbach J, Krause HM (2011) The zebrafish: a powerful platform for in vivo, HTS drug discovery. Assay Drug Dev Technol 9(4):354–361

Harris JA, Cheng AG, Cunningham LL, MacDonald G, Raible DW, Rubel EW (2003) Neomycin-induced hair cell death and rapid regeneration in the lateral line of zebrafish (Danio rerio). J Assoc Res Otolaryngol 4(2):219–234

Huth ME, Ricci AJ, Cheng AG (2011) Mechanisms of aminoglycoside ototoxicity and targets of hair cell protection. Int j otolaryngol 2011:937861. doi:10.1155/2011/937861

Kari G, Rodeck U, Dicker AP (2007) Zebrafish: an emerging model system for human disease and drug discovery. Clin Pharmacol Ther 82(1):70–80

Kim TY, Choi B, Park CH (2002) A study of structure of the sucker of common freshwater goby (Rhinogobius brunneus) and Triden goby (Tridentiger brevispinis). Korean J Electron Microsc 32(1):57–66

Kim JB, Jung JY, Ahn JC, Rhee CK, Hwang HJ (2009) Antioxidant and anti-apoptotic effect of melatonin on the vestibular hair cells of rat utricles. Clin Exp Otorhinolaryngol 2(1):6–12

Kim HJ, Koo SY, Ahn BH et al (2010) NecroX as a novel class of mitochondrial reactive oxygen species and ONOO− scavenger. Arch Pharm Res 33(11):1813–1823

Kim HJ, Yoon KA, Lee MK, Kim SH, Lee IK, Kim SY (2012) A novel small molecule, NecroX-7, inhibits osteoclast differentiation by suppressing NF-kappaB activity and c-Fos expression. Life Sci 91(19–20):928–934

Lee CK, Shin JI, Cho YS (2011) Protective effect of minocycline against cisplatin-induced ototoxicity. Clin Exp Otorhinolaryngol 4(2):77–82

Ou HC, Raible DW, Rubel EW (2007) Cisplatin-induced hair cell loss in zebrafish (Danio rerio) lateral line. Hear Res 233(1–2):46–53

Ou HC, Cunningham LL, Francis SP et al (2009) Identification of FDA-approved drugs and bioactives that protect hair cells in the zebrafish (Danio rerio) lateral line and mouse (Mus musculus) utricle. J Assoc Res Otolaryngol 10(2):191–203

Ou H, Simon JA, Rubel EW, Raible DW (2012) Screening for chemicals that affect hair cell death and survival in the zebrafish lateral line. Hear Res 288(1–2):58–66

Owens KN, Cunningham DE, MacDonald G, Rubel EW, Raible DW, Pujol R (2007) Ultrastructural analysis of aminoglycoside-induced hair cell death in the zebrafish lateral line reveals an early mitochondrial response. J Comp Neurol 502(4):522–543

Park J, Park E, Ahn BH et al (2012a) NecroX-7 prevents oxidative stress-induced cardiomyopathy by inhibition of NADPH oxidase activity in rats. Toxicol Appl Pharmacol 263(1):1–6

Park MK, Lee BD, Chae SW, Chi J, Kwon SK, Song JJ (2012b) Protective effect of NecroX, a novel necroptosis inhibitor, on gentamicin-induced ototoxicity. Int J Pediatr Otorhinolaryngol 76(9):1265–1269

Raible DW, Kruse GJ (2000) Organization of the lateral line system in embryonic zebrafish. J Comp Neurol 421(2):189–198

Rizzi MD, Hirose K (2007) Aminoglycoside ototoxicity. Curr Opin Otolaryngol Head Neck Surg 15(5):352–357

Rybak LP, Kelly T (2003) Ototoxicity: bioprotective mechanisms. Curr Opin Otolaryngol Head Neck Surg 11(5):328–333

Rybak LP, Whitworth CA (2005) Ototoxicity: therapeutic opportunities. Drug Discov Today 10(19):1313–1321

Scholz S (2013) Zebrafish embryos as an alternative model for screening of drug-induced organ toxicity. Arch Toxicol. doi:10.1007/s00204-013-1044-2

Selimoglu E (2007) Aminoglycoside-induced ototoxicity. Curr Pharm Des 13(1):119–126

Thu VT, Kim HK, le Long T et al (2012) NecroX-5 prevents hypoxia/reoxygenation injury by inhibiting the mitochondrial calcium uniporter. Cardiovasc Res 94(2):342–350

Ton C, Parng C (2005) The use of zebrafish for assessing ototoxic and otoprotective agents. Hear Res 208(1–2):79–88

Warchol ME (2010) Cellular mechanisms of aminoglycoside ototoxicity. Curr Opin Otolaryngol Head Neck Surg 18(5):454–458

Xie J, Talaska AE, Schacht J (2011) New developments in aminoglycoside therapy and ototoxicity. Hear Res 281(1–2):28–37

Zon LI, Peterson RT (2005) In vivo drug discovery in the zebrafish. Nat Rev Drug Discov 4(1):35–44
Acknowledgments
This research was supported by a Korea University Grant, by the Soo ENT Clinic and the Communication Disorders Center, Korea University, and by Basic Science Research Program through the National Research Foundation of Korea (NRF) funded by the Ministry of Education, Science and Technology (2010-0006038).
Conflict of interest
The authors do not have any conflict of interest.
About this article
Cite this article
Song, J., Chang, J., Choi, J. et al. Protective role of NecroX-5 against neomycin-induced hair cell damage in zebrafish. Arch Toxicol 88, 435–441 (2014). https://doi.org/10.1007/s00204-013-1124-3
Received:

Accepted:

Published:

Issue Date:
Keywords
NecroX-5

Neomycin

Ototoxicity

Zebrafish